Head of Household Winner – Memphis
Have nots – Kaysar, NicoleF, Christmas, David
Nominations – David & NicoleA
Power of Veto Players are – Memphis, David, NicoleA, NicoleF, Ian, Tyler
POV Host: Enzo
Power of Veto holder – Memphis
Power of Veto Ceremony –
Safety Suite – Christmas wins. Ian is her Plus One
Live feeds —-> Grab your Live feeds here. Try it free.
Rank the houseguests —-> Big Brother 22 Ranking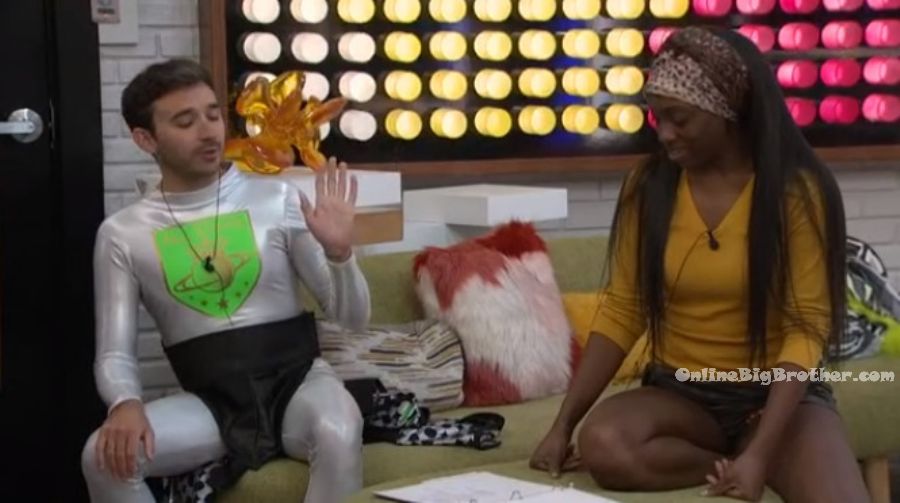 12:30pm Ian's punishment continues with lots of script readings. DaVonne helps with reading some of the characters lines.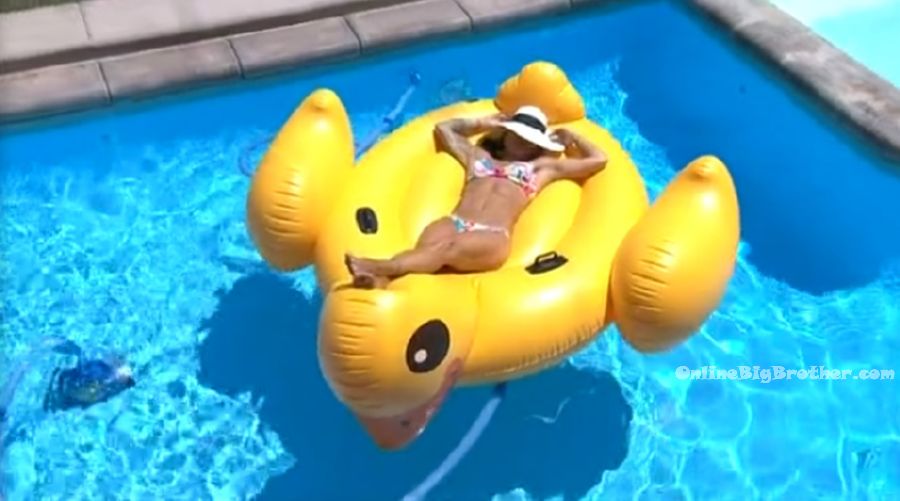 Backyard. Christmas, Bay, Kaysar, NicoleA, David, Tyler, NicoleF, Ian.

12:40pm Bathroom. Bay and Day.
Bay – Last night Cody was like Bay I've never seen you hang out with Janelle so much. I'm like I'm supposed to be! Day – who said that? Bay – Cody. Day – yeah that whole .. that was weird. That was weird as sh*t! I want to try to make Dani tell me about the three. But I have to figure out how to do it. I don't know if I should be like .. I need to try and get her to tell me about it. Bay suggests they head up to the nook. Bay – I need to figure out how to get her to tell me about the trio or the duo. I need to figure out what he is going to do with that veto. If David is still up there then.. but if NicoleF goes up there then that is a totally different conversation. I will tell him that we can talk but he needs to figure out what he is doing with that veto. kaysar said that people think that I'm in his alliance but I'm not. David joins them. Day – that other situation (putting up NicoleF) was only if one of you pulled yourselves down. It makes no sense for him to change his noms. Bay – he is so stubborn. Bay – if you stay what are you doing? David – this is it. Bay – you haven't been pulled into anything yet else? David – NicoleA and Kevin. Day – that's okay because we like Kevin. If you stay though ..that means she (NicoleA) is going. No matter who I am talking to or what I am doing .. this is the core. David leaves. Day – I don't think Tyler is working with anyone. I haven't heard anything. Bay – he is pretty loyal. Day – he (Cody) is trying to play like Derrick but he is doing it all so wrong! Bay – his only targets right now are Janelle and Kaysar. Memphis would be the one to come after us together. Day – I have to crack Dani. I really have to crack her. If Nicole wins HOH who would she put up? Bay – I think she is going to throw sh*t. Bay – best case is Enzo wins. Day – he isn't going to win an HOH. Cody won the first HOH on accident. He wouldn't have won that either.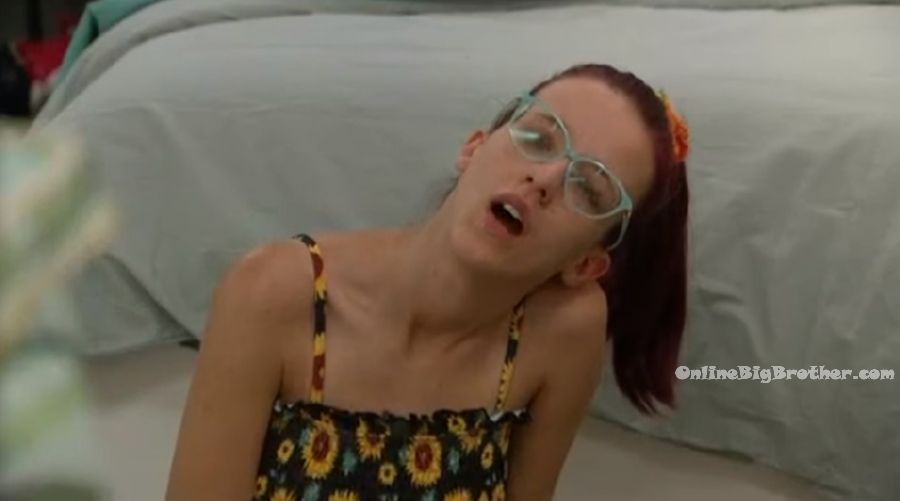 12:50pm Bedroom. Nicole and Christmas.
Nicole – this is very different from what we went through last season. Christmas – yeah it is a very different experience but there are similar triggers. NicoleA – it is very trauma .. PTSD. Christmas – do you have a sense of security with Memphis? NicoleA – no. Christmas – but you obviously had enough security to not play in the safety suite. Nicole – I just want to play and have fun. Christmas – decide how you're going to move forward and how you can get people to vote for you. Show you but not all your cards. Go to the bathroom and put on your warrior paint. Don't run around like Sam did or what's her name.. Joey. Nicole – I want to stay and know the shots I want to fire. Christmas – I can pep talk the sh*t out of you.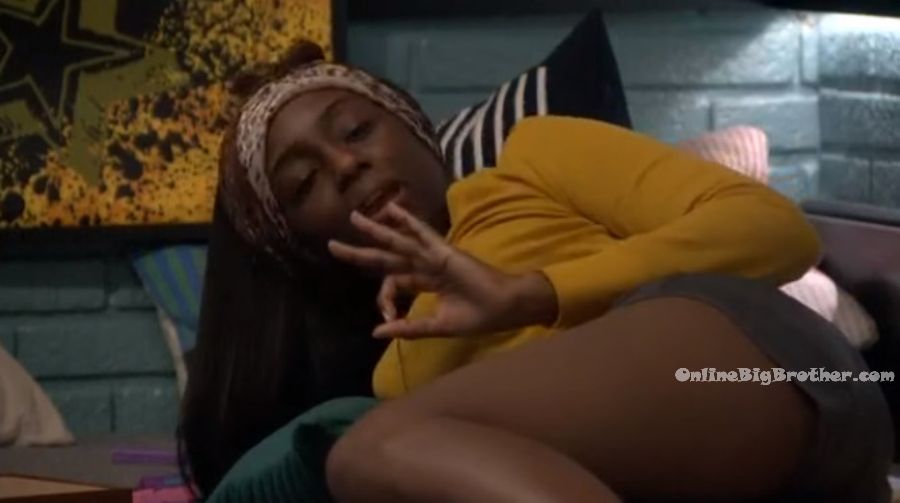 Janelle – what about you .. what is your preference on who stays? Ian – David is my buddy but its just the reality of it is .. he is strong. Janelle – he is hungry for it too. There is a certain element to that too. Ian agrees.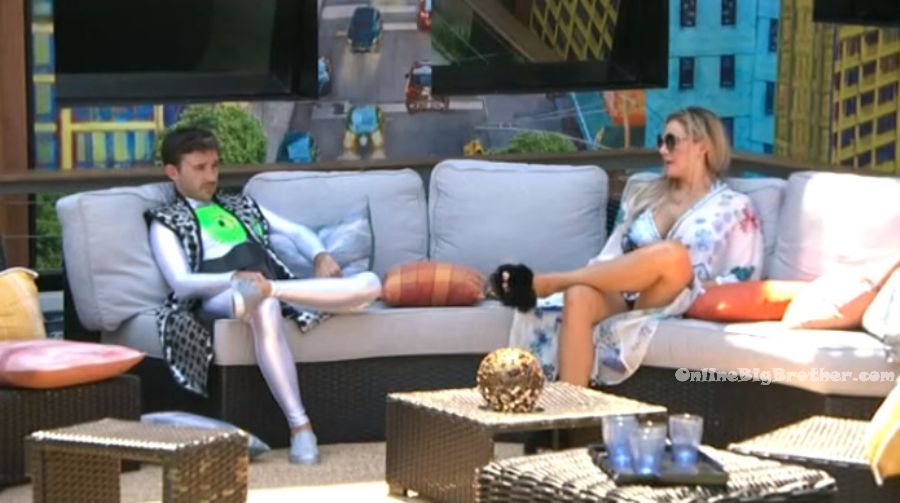 1:37pm Storage room. Cody and Memphis.
Memphis – I go calm down. Relax and I'm like okay so you're telling me if you were HOH and you won the veto you would backdoor Janelle!? Don't be a f**king.. Don't tell me to do something that you wouldn't do. Cody – see me I would easily backdoor kaysar .. They really want Janelle. Memphis – I am looking out for us two… the other 6 is great and we'll continue to look out for them but .. Cody – its a lot of numbers around us which is what we need. Memphis – no no I'm with you and I agree with you. I think if Janelle wins and you continue to do what you're doing she will put you up. Cody – we just want our group to stay good. The only thing that worries me is if they win HOH what will they do. Do you think it will be an issue? Memphis – as long as you're putting in the work with Janelle ..then I don't think it will be an issue. Cody – cool.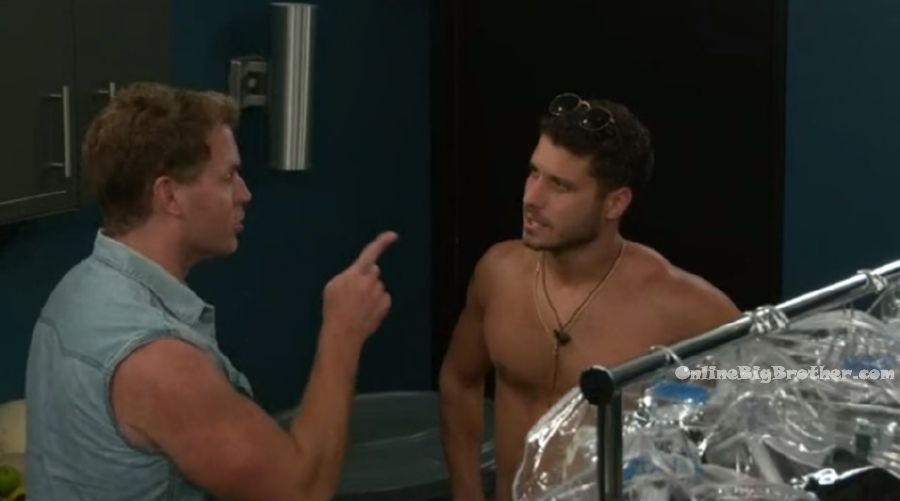 1:50pm – 2pm NicoleA and Janelle.
Nicole – have you heard anything? Janelle – no. Nicole – is there any plan in place.. does he have a target? Janelle – from what I've understood David is his target. Nicole – my impression was that you and Kaysar were solid. Janelle – we are solid. Nicole – and I thought Memphis would be on board with that. Janelle – Memphis doesn't want an alliance. Nicole – its not an alliance .. its just allies. I worry about the future of this game. Janelle – I do too .. believe me I do too. I will talk to him again. I do think that David is his target. Nicole – whatever you guys want to do ..If I'm not on the block I can vote with. Its so frustrating. Janelle – yeah it f**king sucks. If I keep pushing.. I'm going to go on the block. Nicole – we need to start worrying about week 3, 4 and 5. Janelle – I talked to Ian and if things remain the same .. he would vote foryou. You have me, Kevin, Bay, Kaysar, and Christmas. David is a bigger threat than you. I know you're worried but we're trying to help you. Kaysar is sticking his neck out on the line for you. You leaving would be disastrous. I will talk to Memphis again but I have to tread lightly with him. Nicole – I wish we could all talk to him. Janelle – it makes him uneasy. Nicole – but he isn't going to be HOH next week. Janelle – he wants to do his own thing and I can't keep pressing him.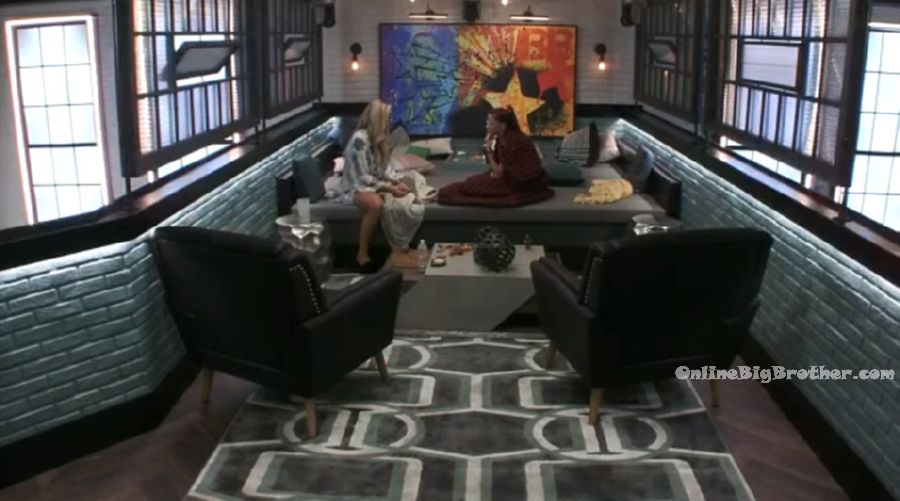 2:12pm – 2:30pm Bedroom. NicoleA tells Kevin about her conversation with Janelle. If you really were my ally you would be telling me how you're working to get me off the block. Janelle told me that Kaysar is doing me the honor of getting people to vote for me to stay. Kevin – you need to thank him. Nicole – she told me that and then I just went out to Kaysar and he was like this is what I need you to do. I need you to get Kevin to vote for you. Dani, Enzo, NicoleF.. the rest I can do. I really want to see if they're telling Bay and Day to keep me. Or are they saying only talk to these four people meanwhile they're telling the rest to vote me out. I am going to ask DaVonne if Bay is being told to keep me. If she is being told to vote me out .. I am blowing sh*t up after the veto ceremony. I am being honest with you the only person I trust is you. Kevin – ask him (Memphis) to sway people to keep you. Asking him to use the veto is asking him to blindside people. Nicole – I like that better .. If you push for people to vote to keep me I will owe you. Kevin – Ian is a number cruncher .. you have to tell him that it doesn't make sense to split the votes this early. He is risk adverse. Think about it from their perspective.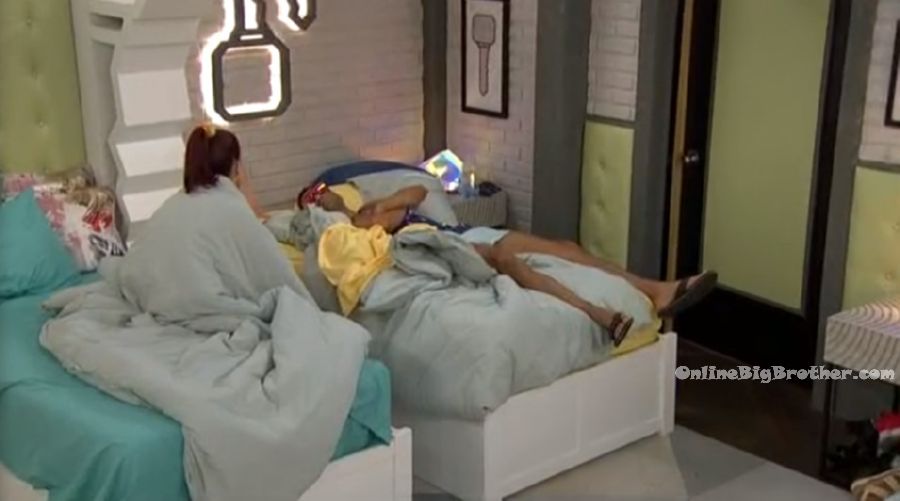 Bathroom. NicoleA and Dani
Nicole – I do want to see where your head is at. I have a fair number of people. Dani – What is the freakin deal with Janelle… like obviously she is going to try and save you right? This is like ..don't repeat this but my one worry is that people are linking you up with her (Janelle) and people with want to like.. Nicole – you have my word I am not. Dani – yeah but I am telling you for your sake. Like girl you know I freakin like you and trust you .. You know I do. I am telling you that people in the house are linking you up and she is not in a good spot so that sucks for you. Nicole – the care is not there. David walks in. Nicole – last week she was like hey lets hang out .. lets do makeup.. and now she is like ewww don't talk to me. Dani – so they're not helping you? Nicole – she said Kaysar is trying. Dani – don't repeat this but the only way to save you might be to sell someone out. So if we have to go there, don't freak out. Nicole – like a random person or a specific person. Dani – a specific person. Nicole – okay I was already thinking that.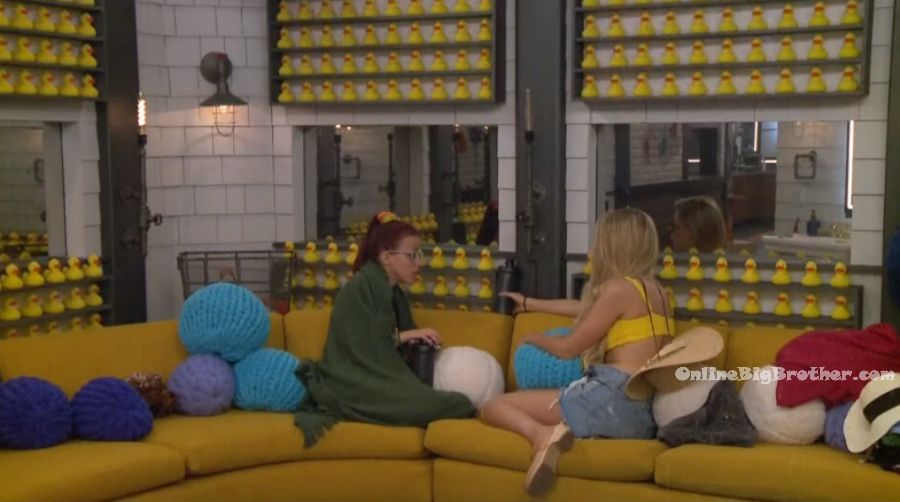 3:10pm Backyard. Kaysar and Nicole
Nicole – do I have your vote. Kaysar – of course you do. I am working on getting you 5 or 6 other votes too. Just get the people that I told you to get. Nicole – what if there is a tie. Kaysar – we will figure that out. Get me two or three solid yes's and I will get the rest. Nicole – okay I appreciate it. Kaysar – don't mention it. Nicole – I wish we could go up to Memphis now. Kaysar – no it doesn't include him… its too early to talk to him. Don't talk to Memphis about anything. Do not mention an alliance or anything. Nicole – do you know Memphis's preference? Kaysar – he wants the house to decide. If you talk to him at all just tell him you're still good with him and that you've got his back. Memphis joins them. Nicole – how are you today Memphis? Memphis – good.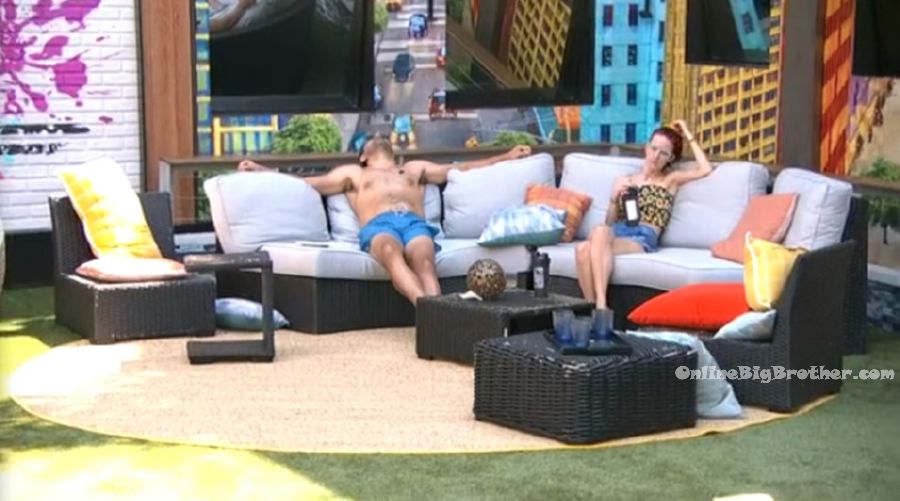 4pm Lounge room. Tyler, Bay and NicoleA.
Tyler – do you think that they're going to stay the same? Nicole – I wish we could just rally as a whole house. Because that happened in a previous season. They all went up to the HOH and said we want this to happen and if it doesn't we're all coming after you next week. He told me that its up to the house. Bay – so that means that he is not going to change it.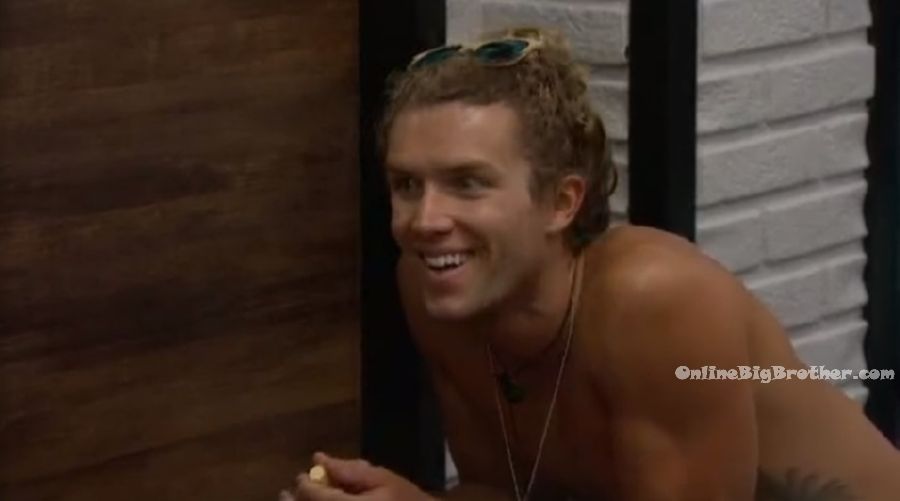 Outside the HOH room. Janelle and Kaysar
Kaysar – I told Nicole to get Ian, Kevin, Enzo, NicoleF.. Janelle – she is not getting NicoleF's vote. Kaysar – I know that but if that side of the house does not see her campaigning to certain people they're going to get suspicious. I want it to seem like she is campaigning to everybody so that she looks like a floater. Janelle – MMmmhhmm. Kaysar – I will speak to DaVonne, Christmas and Bay. And we'll make it official. Janelle – are you sure its a good idea to make it official? It could be bad for us. Kaysar – these people if you look at the past seasons there was a big group and everyone else didn't form anything and all got picked off. Janelle – I am just worried if we make an alliance and we lose power .. we're at the head of the alliance. Kaysar – no because we will never speak of it. Janelle – I really wish there were more pairs. Its hard to play being the only pair. Kaysar – if showmances can make it to the end .. two friends can. Janelle – I don't get how DaVonne is so smart but doesn't see that those four are together. Kaysar – people see what they want to see.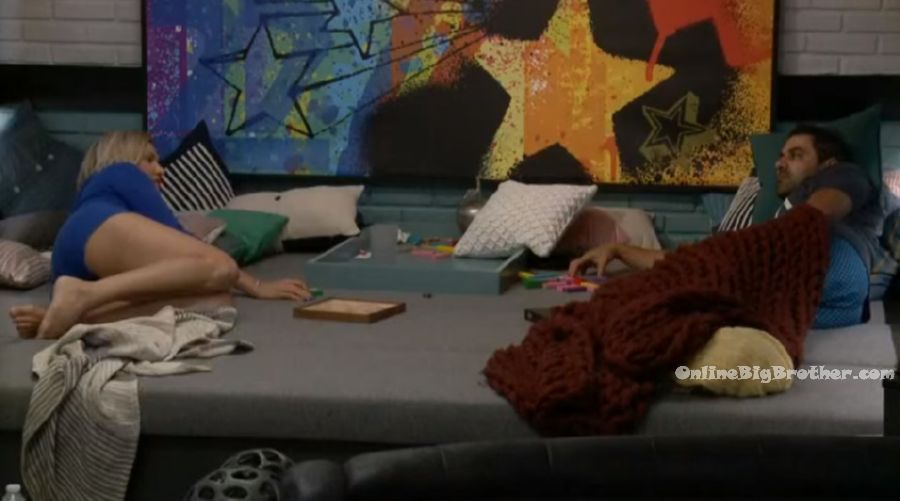 4:25pm Memphis joins them Janelle and kaysar. Janelle – he (David) is going to put us up if he stays. Memphis – I mean I don't think he has the balls to do that. Kaysar – he felt like he didn't get a chance to make a splash the first time so he wants to make a move. Janelle – he wants to make a name for himself. Memphis – we will make sure he goes. Janelle – I hope we have the votes. Do you think you could get Enzo to agree to vote him out? Memphis – I think so. Janelle – I think Ian would agree to vote him out. If David is gunning for us .. that's a weapon for them.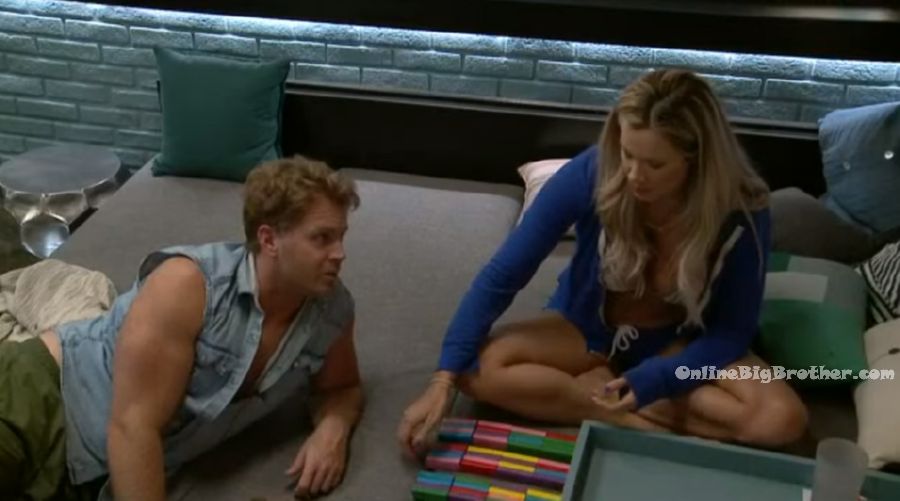 4:40pm Ian acting out another scene. The voice comes over the PA and tells him to do it again but with more tears..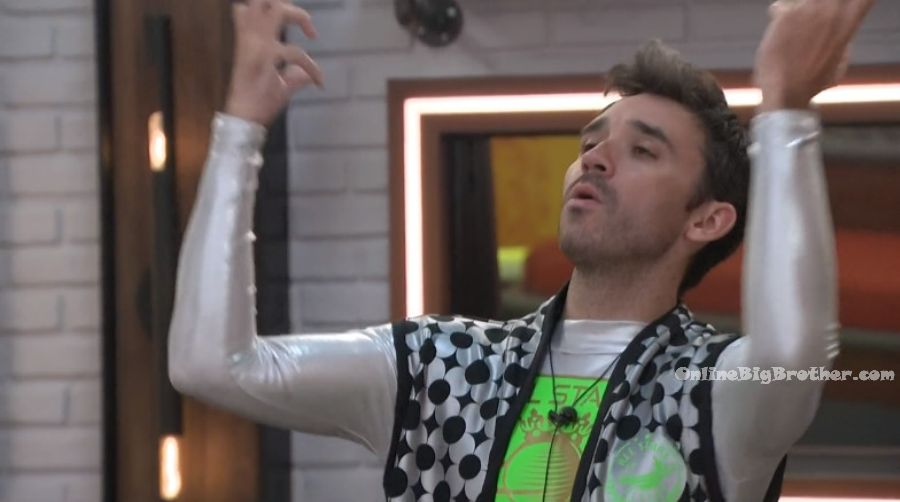 4:55pm Bedroom – Cody and Enzo.
Cody – I know how he (Memphis) is. I ain't going to be pushy like how Dani it. I can't be pushy with him.. because he will turn off to that. He doesn't like that because he is like that big alpha male kind of guy. I am just trying to bide my time. If we don't win comps we're going up. Enzo – you trust him even though he is all over the place.. Cody – you know why he is all over the place .. everybody knows he was a f**king G on his season so everyone is trying to get in with people because on his season .. he was literally .. on his season he was as good as Derrick, Dan .. he was incredible. I don't even know how he didn't win his season. He should have f**king won .. he played the whole house. He got screwed ..he's brilliant. I don't think he is going to do anything .. he is going to keep it the same. The only thing that makes me not want to get rid of David is the fact that NicoleA told us and everyone even though she was shunned by them… say we keep her they maybe able to say we're so sorry that happened. Enzo – NicoleA is going to be our f**king mole. She is going to tell us everything. We're going to have to get rid of Dave because that's who he wants to get rid of. Cody – I don't think he cares. I think NicoleA would be a mole for us. Enzo – just us. We can't trust anyone in this house but me and you. Cody – every time I talk to Day and Bay they wait for me to say sh*t. They ain't saying sh*t to me. If you're so tight with Janelle why am I hearing from Christmas that she's talking about me. Check your sh*t!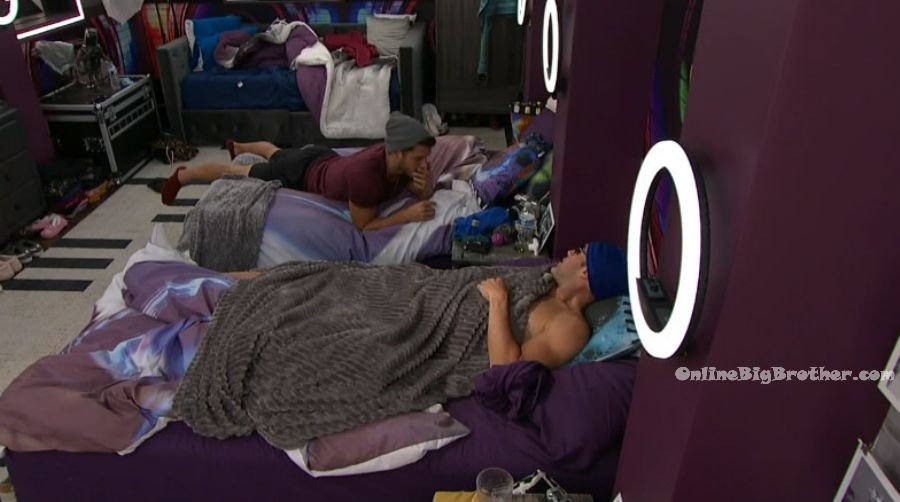 5:40pm Working out with Christmas in the backyard..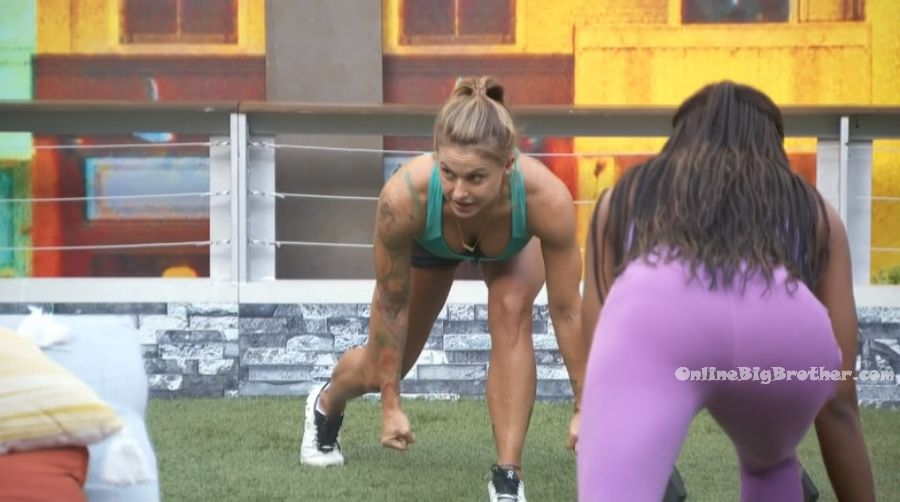 5:50pm – 6:20pm Lounge room. Dani and Cody.
Cody – I like both of them. For game I don't fully trust that she can't be coddled back from them. They were a group and made her feel like she was included in something. Dani tells Cody about the conversation she had with NicoleA. Dani tells Cody how she told Nicole that she doesn't think Memphis will use the veto and her only option would be to throw someone under the bus to save yourself. Cody – my god you're a f**king savage. That's a good thing. Dani – I said maybe that is your only move to stay and she said I've been holding some stuff in. So I am going to try and get her to drop a bomb on Janelle. Cody – my god that would be insane. You would be blowing up the DR too. It would be like walking in and out for you. It would be a monster play for you. And you would be the mastermind behind it. Dani – I don't think it would ever happen. Cody – but I don't think she (Janelle) ever said anything personal about Memphis because it has to be personal about Memphis. She might have to make up a lie if she really wants to stay… that could blow up in your face.. do not do that. Cody – who would you save if you got the safety suite? Dani – I don't friggin know. It depends on who is HOH. I would save NicoleF or you if I thought they were after you .. if not maybe DaVonne or something.
Show your support by making a donation.
If you're enjoying our live feed updates this season, please consider donating.
Any amount is greatly appreciated!
Your donations go directly to paying the fees required to run this site.