| | | | |
| --- | --- | --- | --- |
| POV: | Scottie | Next POV: | July 14th |
| POV Used | ? | POV Ceremony | July 16th |
| HOH: | Scottie | Next HOH: | July 19th |
| Noms: | Brett & Winston | Have Nots | ? |
Big Brother Spoilers – Power Of Veto Players Scottie, Brett, Winston, Rachel, Tyler, ROCKSTAR
HOST: Haleigh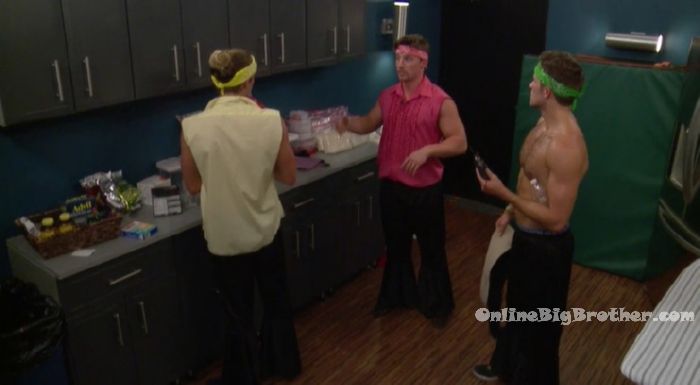 Power Of Veto WINNER: Scottie
2:28pm – 4:22pm When the live feeds return – Brett, Winston and Tyler are in the storage room. Brett talks about how he didn't realize they could keep doing 15 and coming back. I was almost done. I had three left. I was done before, way, way before. I'm an idiot. I don't know why I didn't ask that. I think the only way is if he wanted to backdoor someone. They leave the storage room. Brett continues to talk about how he didn't know he could keep going.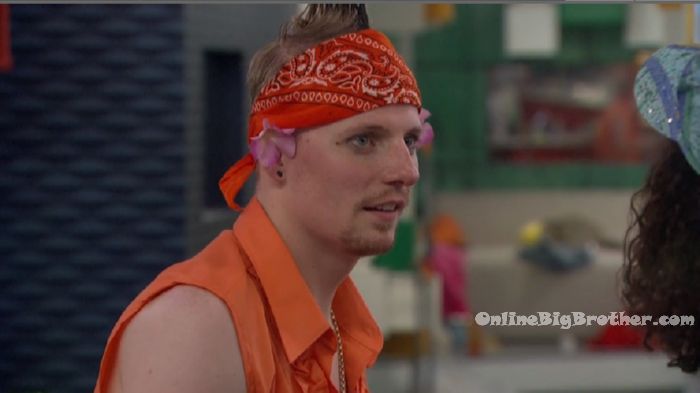 Kitchen – Bayleigh asks Scottie – are you going to take your sister? The one who got you on it? Scottie – I don't know. Bay – or your new girlfriend? Or you could give it to your parents? It literally said tickets for two Greece. Scottie – I'm not even worrying about that until after.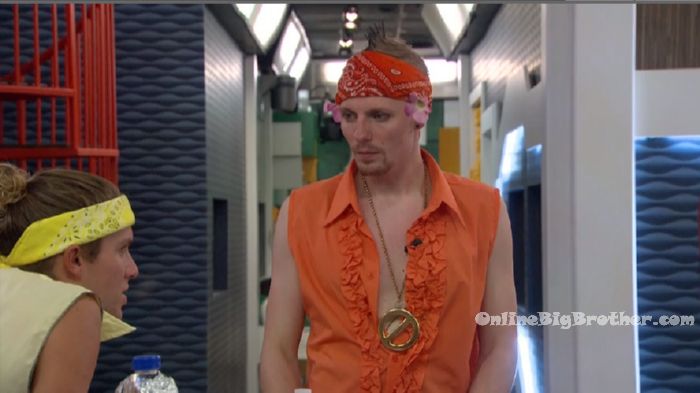 4:30pm Storage room. Brett and Winston. Winston – I say we go up there in the middle of the night just you and me. We ring the door bell and wake him up and have a meeting just us three. And we lay out a strategic plan till the end and I'm talking to the end with this kid. Its the only way he go for it. And I'm talking somehow, some way over the next few days if he's decided to use the veto on you. He has no one right now. I have it in my back pocket that he lied to the entire alliance that he voted for me. I will shut up and not spread that if you backdoor Kaitlyn. I'm talking about 3am. That's the only offer we can make him. I think he might, just might bite. Everyone knows I'm pissed off at him. NO one would expect us to work with him. Scottie joins them. Winston congratulates him. Winston – I'm sorry for blowing up on you. Its a game. It just sucks. Who are you going to take? (To Greece) Scottie – I have no idea. Scottie leaves.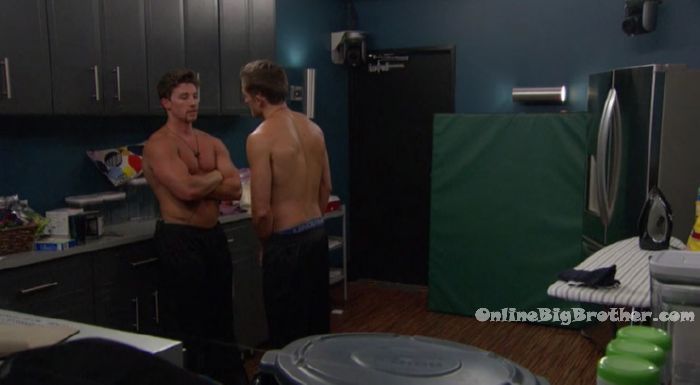 4:38pm Storage room. Brett – it doesn't make sense to back door Sam. It makes sense to backdoor Kaitlyn. It almost makes sense for you to go alone and for me to not be there. It might be more compelling to hear it from him to hear a final 2 from you. Winston – He's got no one to go that far with in the game. I don't care about Fes, he doesn't know the game. Winston – we're not going to campaign against each other. We try at 4 or 5 am. Brett – I don't want to say Kaitlyn because he won't go for that. Winston – the snake in the grass is Rockstar.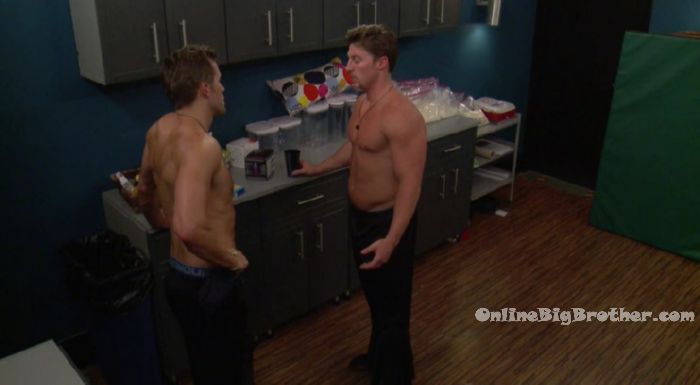 5:20p Kaycee and Scottie..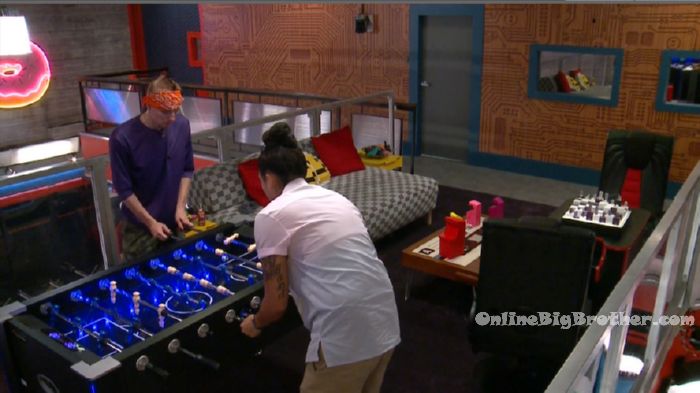 5:50pm – 6pm Bathroom. JC and Tyler. JC – Rachel just told me that she is voting for Brett. Tyler – to stay. JC – yeah to stay. Sam is voting for Brett. Angela is voting for Brett. That's three. Tyler – Kaycee might vote how they vote. JC – Four. JC – I think this is the only opportunity we will have to get him out (Brett). Tyler – agrees. JC – He is very liked. If we ever end up on the block with him .. we have no chance. Haleigh – I don't know how she will vote. Tyler – I think she will vote out Winston. JC – I think we have to vote for Brett. Rachel joins them.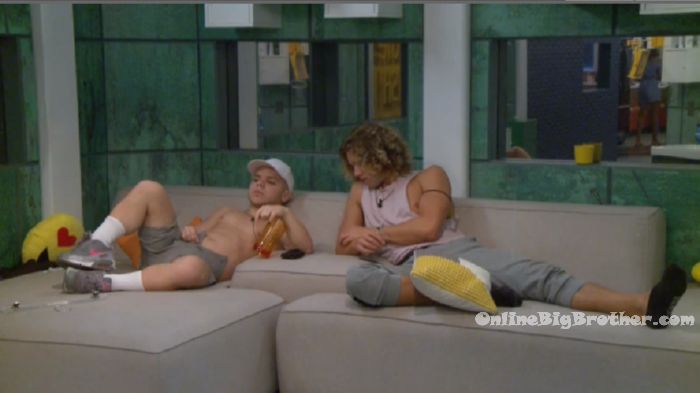 6:15pm Kaycee and Angela. Angela – JC told me that Rockstar was running around saying we need to evict Brett. I asked if that was true and she said no. Kaycee there side is going to want to keep Brett and our side needs to keep. Angela – see I don't know. Honestly I don't know. I talked to Brett and Winston last night and I can't remember what I told them about the app. Kaycee – what app? Angela – Sam's app.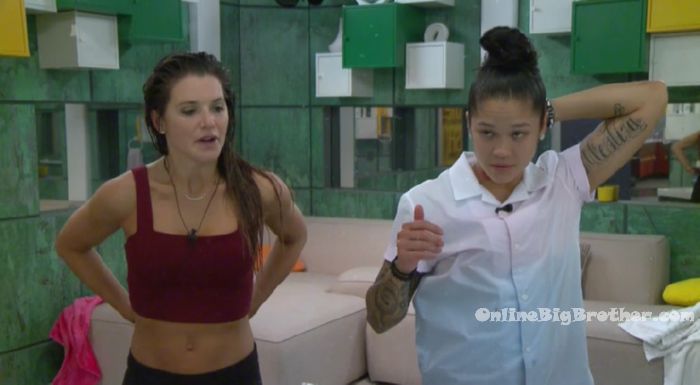 Lounge room. Kaycee, Rachel and Tyler. Kaycee – do you think he is going to use it or keep it the same? Rachel – I think he is going to keep it the same. Tyler – that was his plan all along. Rachel – I keep thinking its better to keep Brett. He is great at competition and will have a great chance at winning competitions than Winston will. Tyler – but the same thing is its a double edged sword. Rachel – Brett is a fierce competitor. Rachel – right now I feel like there is a target on my back .. with almost winning HOH and almost winning the veto. Like you.. it might be better keeping a competitor in the house. With this whole Scottie thing.. someone from level 6 has to win.
Tyler – He (Brett) makes stronger relationships with people and he does it on purpose. Kaycee – be careful what information you tell him. Rachel – I don't tell anything to anybody. I am just trying to take one for the team. If I have to make out with him I will. I am serious. If I had to do some manipulation I would.
6:23pm Storage room. Fes and Kaitlyn. Fes – have you talked to Scottie yet? Kaitlyn – for what? There is no plan, he's keeping the noms the same. Fes – who would you vote for? Kaitlyn – I don't know. Fes – we can always get Winston out. Kaitlyn – Brett is good for my game. I trust him. I don't trust Winston. I think I will just vote with the house. Fes – its scary if no one uses a power it will be 3 straight dudes out. Kaitlyn – Sam told me if the veto was used and I went up she would have saved me. Fes – really? Kaitlyn – yeah. I kept her here. I'm the reason she's here. Fes – you have to let me know if she is going to use it so that I vote.. Kaitlyn – obviously.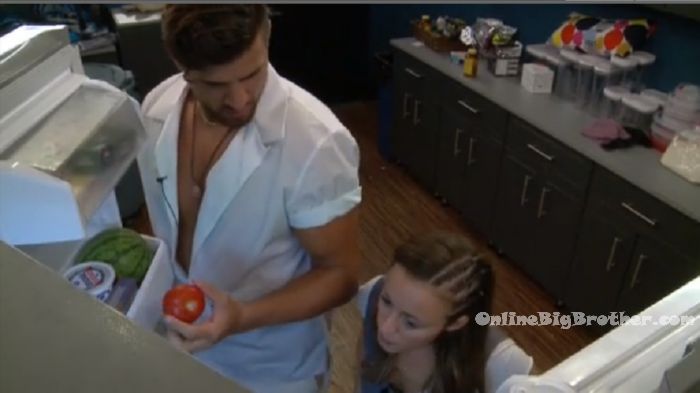 6:40pm HOH room. Kaitlyn and Fes. Kaitlyn – I feel like Tyler is much more of a target than you. I hear his name a lot more than your name. Scottie joins them. Scottie – I don't have a vendetta against either of them. Its that they're a pair. Fes – who would be more dangerous later in the game? Scottie – Oh Brett for sure. Fes – If Brett didn't know about the time .. hhe would have killed all of y'all by far. That's scary! I thought he wouldn't be athletic and that he was just a big muscular dude. They question if Brett or Winston have a power. Kaitlyn – they don't, they were asking me. Are you sure you don't. Fes – they're kind of being happy go luck but it might be because they want to enjoy their time left.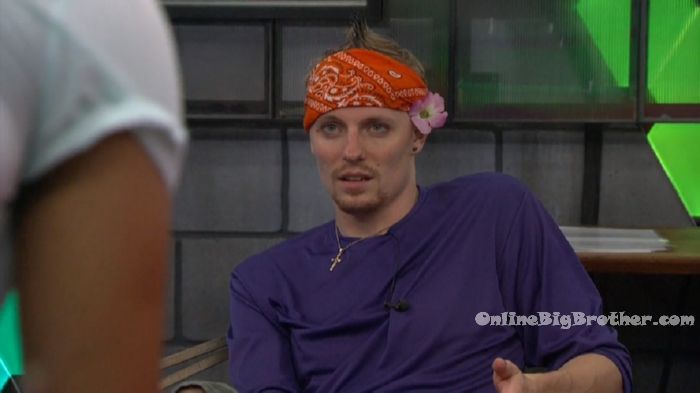 6:40pm – 6:50pm Bedroom. Bayleigh and Rockstar. Bayleigh – if Winston gets put on the block for a third week in a row, he is going to be broken. Rockstar – I agree. Bay – and everyone is on board. I just keep waiting for it to be our week to win. Of course I trust everyone. I don't think anyone has turned on me or anything. I feel blessed. I have a solid group of people that I trust. I just can't wait for it to be my turn. I am doing things a totally different way. Scottie says that he thinks America thinks we're cowards. I am excited. I am ready to do big things! Everyone is getting close to each other.. and we need to figure out if our group is going to be solid. I want to know we've got each others backs. I want Haleigh to see what is going on and for her to come to her own conclusion. Bay – if you got HOH what would you do? Rockstar – I would put up Winston and Angela and backdoor Tyler. I think Angela would pull herself off. Bay – do you think they would keep Winston over Tyler? Rockstar – Winston is far less threatening. Bay – absolutely. Rockstar – Tyler is liked by everybody. Its really bad for everyone. He has a great social game. He is a physical threat. Bay – don't say a word to anyone.. But I like that plan. We need to even the playing field.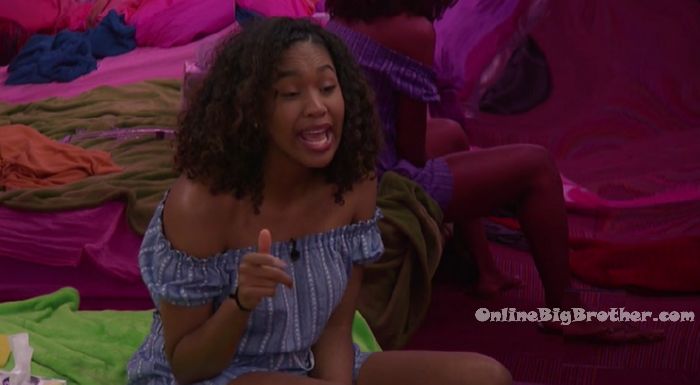 For all you folks that need a VPN I use this one
Rank the houseguests!
Easiest way to Rank the house guests use link below