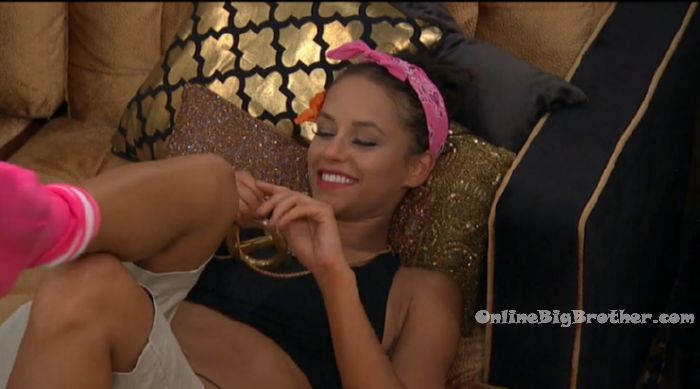 Check out our BB19 Ranking Grid. . rank your houseguests here
3:25pm – 5:17pm Big Brother blocked the live feeds for the Power of Veto Competition. The POV players were: Jessica, Josh, Ramses, Christmas. Cody & Jason
POWER Of VETO WINNER: Jessica
5:17pm The live feeds return. HOH room – Jessica is holding the power of veto. Jessica – that's the second power of veto comp you threw.
In the kitchen – Paul you guys are lucky. Paul, Raven and Kevin head into the storage room. Paul – as long as she doesn't use it, we're golden.
Havenot room Josh talks to the cameras. Josh – I hope the house keeps their word with me. BB blindside baby!
5:25pm Storage room. Paul – Christmas said she (Jess) doesn't want to use it. They don't want to ruffle more feathers. Raven – That's what Jessica said to Christmas in the bathroom. Paul – that means the plan is a go. As long as you and M are committed. Raven – we are. Ramses was like who do you want to see out of this house? And then he walked off and Matt said f**k that guys got to go. I was like yes baby. Paul – now that we have him pinned down, now we strike. And then Jessica and Cody can be as mad as they want to but that wasn't a good game move. You guys came back but this is a better move. Don't take any offense to it. Its a good move. Raven – Jessica just assumed we would vote Josh out. Paul – okay. Raven – that's okay but you're assuming. That's not a good game move. Use your brain. Paul and Raven leave the storage room.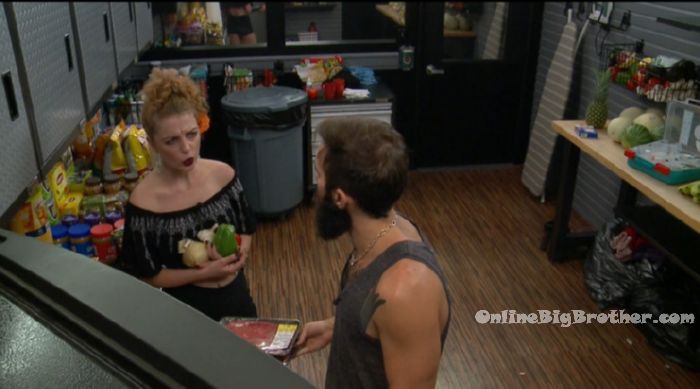 See what they can't show you on TV Try the live feeds for FREE!
Storage room – Mark and Paul.
Paul – I don't think they're using it. Mark – 1000% they're not. They're trying to do everything they can to mend fences. Mark – I just hope nothing changes between me and you. Paul – why would anything change between me and you. Mark – I just wanted to make sure. Paul – why would anything change? Don't ask me that. Josh is done. He's not going to roll over, he's not coming out of this.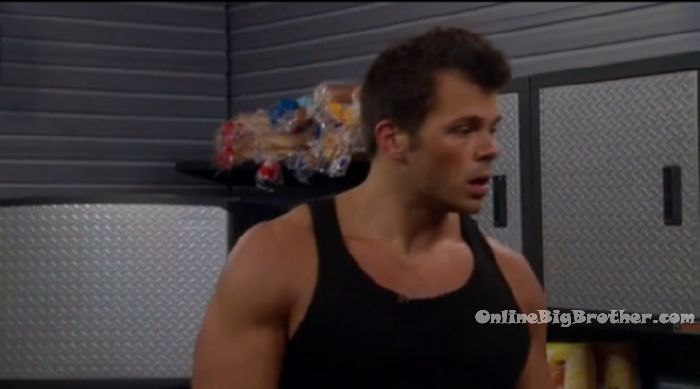 5:35pm – 5:40pm HOH room – Jessica and Cody.
Jessica – he thinks he's so smarter game-wise than he is. I love Mark as a person but in this game he isn't that smart. Cody – I don't love him as a person. Anyone that is that disloyal right off the bat is no friend of mine. Everyone had a chance of being my friend outside of this but after the back stab .. Jessica – there is no coming back. We're scaring the sh*t out of them. We're putting a bigger target on our backs but we earned it. We legitimately earned it. Cody – target or not target. We're good because of you. Jessica – I think Elena is a bit salty. I think she will go for this next HOH. I still don't think she would put us up. Cody talks about his conversation with Mark. Cody laughs at how Mark was wanting to put everything in the past and move forward. Jessica – I had to calm him (Mark) down when he was worried you were coming back in.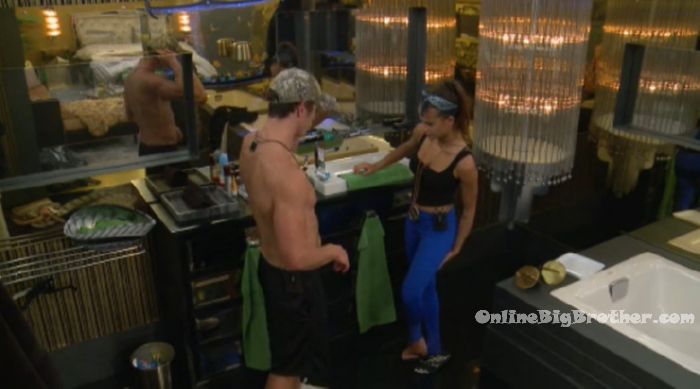 6:45pm Paul, Josh, Alex, Kevin, Christmas and Jason.
Paul – they'll probably have a conversation with you and you. Tell them anything. Josh is going home no matter what. Because the last thing we need is for them to switch the nominations. Leave everything the same. Don't create any waves. Josh is done! He knows it. You just cry, keep crying. Maybe even have a conversation with them and be like I know I'm going home this week. Just keep it civil.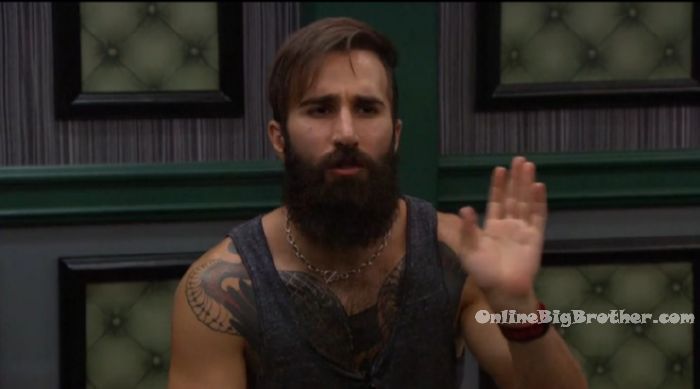 Josh is talking to the cameras again. Mark and I got heated. We threw sh*t on each other. I blew up his game, he blew up my game. But in reality everything that I called him out on… he is proving it right now. You're a flip flopper. You're shaddy and now you're riding it with Cody. Bro I'm going to blow your game up when I stay too.. You're a flip flopper eating meatball and you gotta go! Your word it KAKA! If I get past this week, you know I am going to put some respect on my name. Cody, Jess, Mark and Elena walking around like they own this place and they feel really safe when all I know the temptation will probably be a game changer and they shouldn't be walking around here all safe.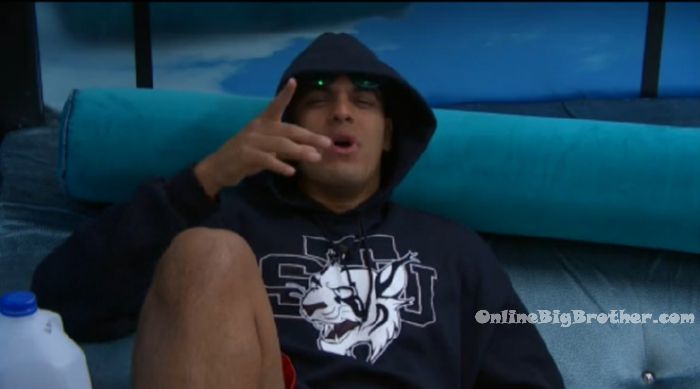 Kitchen – The house guests are eating and chatting. In the storage room – Alex hides in a plastic bag and scares Kevin and Jason. Kevin – What the F**K! You little sh*t head! They scare Elena next and then Mark but it doesn't even phase Mark. He just keeps talking.
Alex scares Mark and Jason #BB19
Kevin "What the F**K! You little sh*t head!"@bigbspoilers pic.twitter.com/kQI4BiYJhk

— Dawg (@DawgsBigBrother) July 23, 2017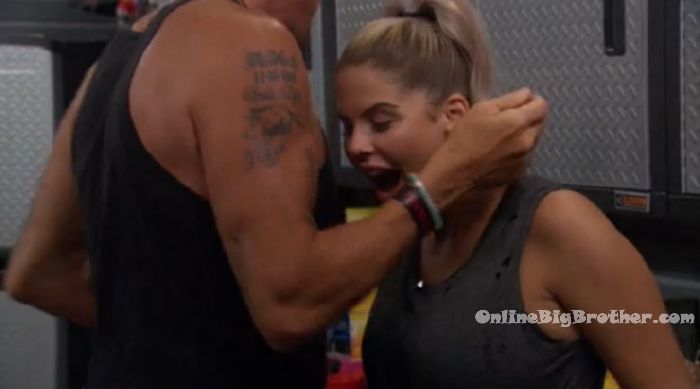 7:40pm – 8pm Bedroom. Elena, Paul, Kevin, Christmas, Jason and Alex.
Paul – you don't think anything weird? Christmas – if they backdoor anybody, Josh is going to go home. Paul – I don't think they are going to backdoor anybody. They don't have the numbers to do that. Christmas – then what's the question? Paul – are they going to keep the nominations the same .. and put someone else up there? Backdooring doesn't work unless everyone is on board. Christmas – if they put anyone else up there its not going to their way.
8pm Kitchen. Mark, Matt, Jessica, Cody and Ramses chatting about random things.
8:10pm Big Brother gives the house guests 6 beers and 2 bottles of wine. Ramses and Alex stash two and start drinking them. They feel bad and then bring them to the kitchen to share them. Paul wants to make sangria. Jessica and Cody head up to the HOH room to drink the HOH alcohol. Jessica – they're basically celebrating Josh leaving and I'm so happy about it. This is the best case scenario .. the house unifying over one person to be eliminated. There's no blood on our hands. Cody – and there shouldn't be any stress but now Paul is down there snatching beers out of peoples hands. Jess – to make his crap sangria. They're going to tell her (Christmas) that she can't drink because she's on meds. Cody – chug it down Jess I want to see you drunk. Jessica talks about her dad and how he always wanted to be on big brother. She holds up a photo of him and says that now he is on it.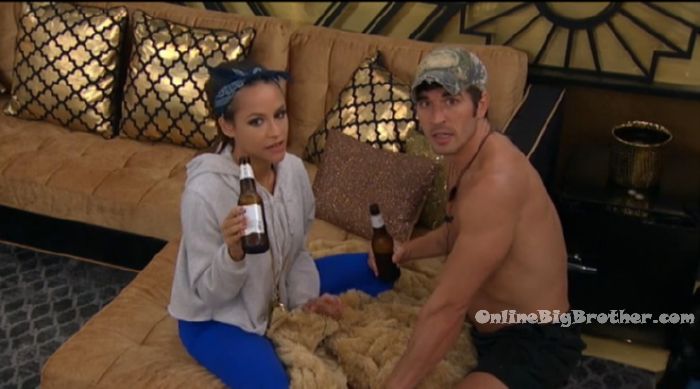 Mark joins them. Mark – you have no idea how happy I am that this is back on. Cody – you can walk up to Josh and smack him in the face. Jessica – I thought it was hysterical until he started acting like a little b***h. Mark – I f**king love you guys. Mark – I took it like a man and let him put the ketchup and mustard on me .. and he wanted to blow up after. Jess – he is the child.



Cody – I don't care if you walk up to him slap him in the face and make fun of his mom.. I would f**king back you up 100%. Mark – cheers to that. Jess – I think that Big Brother is celebrating that Josh is going and that's why they gave us the alcohol. Mark – how do you do that when there is only 1 havenot in the house. Cody – I hate the guy (Josh) so much. I hope they boo him. Jess – do you think it will be unanimous? Mark – no just because people want to stir the pot. Mark – next week will be interesting. I want to win it so bad. I just want to ensure me and the people that I really like Jury.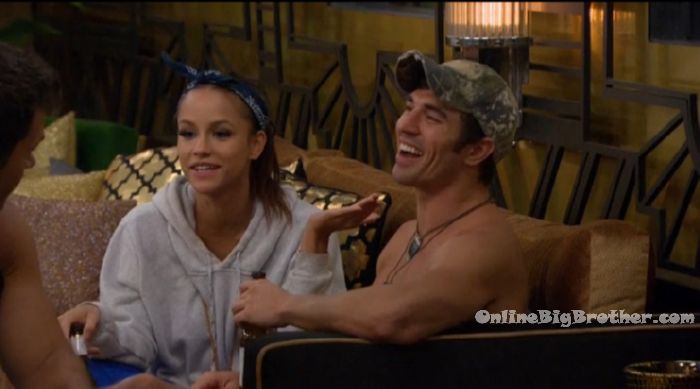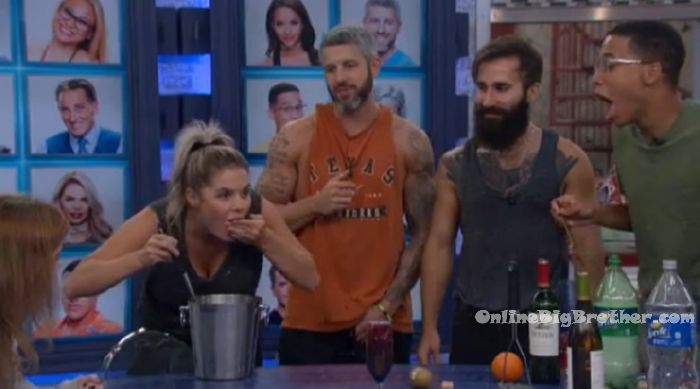 Circle chug @bigbrotherIand #BB19 pic.twitter.com/VDgbDkiNgx

— Dawg (@DawgsBigBrother) July 23, 2017
8:55pm Paul, Kevin, Christmas, Alex, Raven and Matt.
Paul – and point proven. (Ramses just went up to the HOH room to hang out with Cody, Mark, Jess and Elena) You understand what I am saying now? We need continue to make her (Jess) feel like the week is done and then we do what we do. (That Josh is going home and then send Ramses home instead. 7 – 3! 7 -3! Matt – it couldn't be. Paul – count the numbers right now bud. And then we'll be like sorry dude that was just a better move. We didn't want to upset you.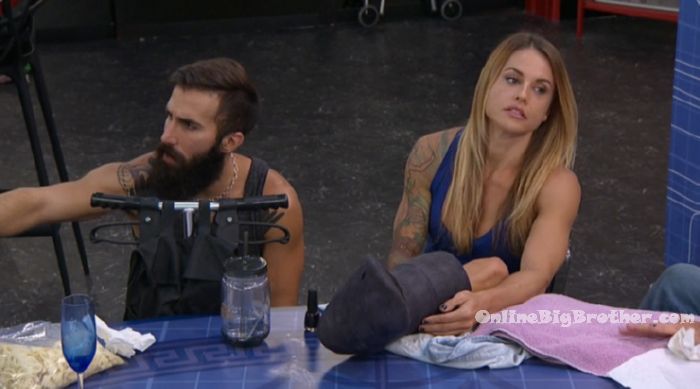 Links to the ranking system
Rank your house guests here
For those of you that like Statistics here are some expanded reports.