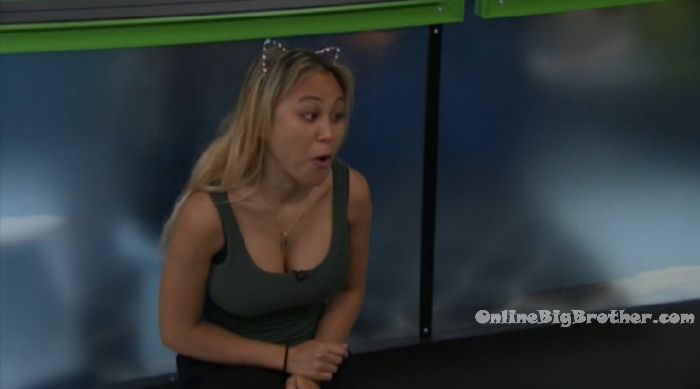 Check out our BB19 Ranking Grid. . rank your houseguests here
2:15pm Lounge room. Jessica and Alex
Jessica – I don't know this but I am going to go off a hunch … are you not exactly thrilled with nominations? Alex – No. Jessica – you're not happy with them? Alex – no. Jessica – I had a feeling you weren't and so I want to explain why I did what I did. You feel like you can manipulate Josh's vote but from experience I know he is too much of a wild card to be controlled. The problem with Josh being in the house is that he distracts me. He distracts me from competitions, he distracts me from ceremonies that we have in the house. He is a constant distraction and he's throwing off my game. He might not be a huge target because he's not a big competitor. He is still throwing off my game and my equilibrium. I need him out of this house so that I can proceed with a clear mind. I know that there are bigger targets in the house but I need him out first so that I can pursue them. Alex – I want them both out of the house .. because they're both on my list. I just have to weight out which one angers me more. I understand. I just have to look at because they have both broken a pair of my glasses now. I am not happy with either of them. I understand where you're coming from and I'll think about it. I will talk to Jason too. Jessica – I want to keep the numbers as balanced as possible but I still want Josh out of this house. And I know that might affect your side of the house because you think you can manipulate his vote. I just wanted to make sure you didn't think I was back on that side of the house. Cody can compete for HOH next week and we can still take out a number. For my game, I need my focus back. This kid is ruining it for me so I need him out of the house. I need him out of this game. Alex – I was more unset think about which one. Alex – you can talk to Jason too. Jessica – as long as if he wins the veto, he doesn't use it. Alex – No he won't use it. I already talked to him. I can promise you that.
FLASHBACK and watch everything you missed: Live Feed 7 day FREE Trial!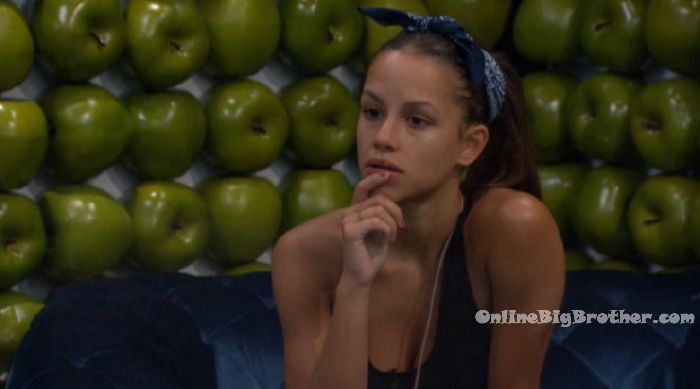 2:30pm Kitchen – Mark and Cody.
Cody – now what happened in the house I am happy.. I could have had a better experience. And the feeling I got outside the house was good. Mark – my word. Clean slate. If you want to give me a punch. Cody – no, no, no. Mark – but as far as game play … I'm not going to throw you up as a pawn, as a target or anything. You are completely safe in my book till the rest of the game. Obviously final 4, 3 then its just competitions. Cody – we'll figure it out. Yup. Mark – I would not back door you. Trust me dude! I am happy you're back. Cody – you know what's great too. Its kind of a target rich environment for both of us. You know what I mean. We'll figure out who and when, but like now its like I really trust this person. You know what I mean. Mark – pieces are going to keep shifting and moving forward. I told you and Jess that now that you're back you guys have nothing to worry about with me. And her and Elena are getting closer, which is good. Cody – I am surprised at how well the 25K, temptations and curses have been kept from us. Mark – the last thing we heard was that the temptation was accepted and the curse was yet to come. Cody – Christmas got the second one and I bet the third one went to Paul's third closest person. Its Paul's following. You don't think it was Dom? Mark – no, because her demeanor never changed. It could be Alex.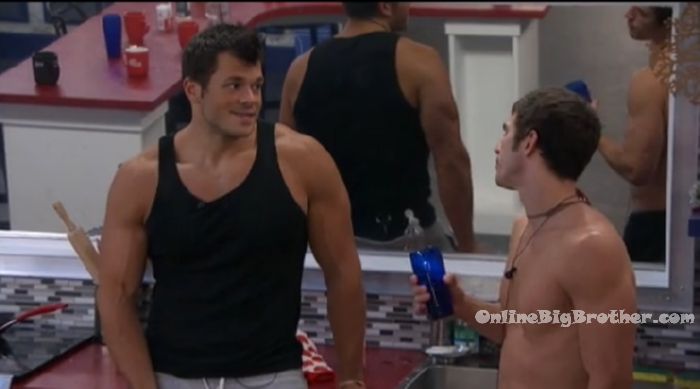 2:50pm Jessica, Christmas and Raven doing their makeup in the bathroom.
3:25pm Big Brother blocks the feeds… The Power of Veto competition is happening now.
The POV players are: Jessica, Josh, Ramses, Christmas Cody, Jason

See what they can't show you on TV Try the live feeds for FREE!
Links to the ranking system
Rank your house guests here
For those of you that like Statistics here are some expanded reports.