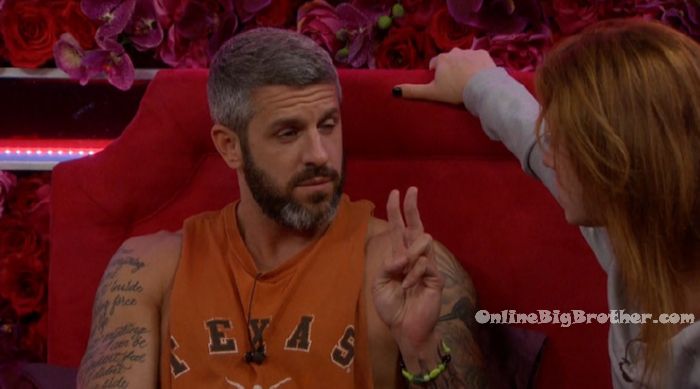 Check out our BB19 Ranking Grid. . rank your houseguests here

9:15pm Bedroom. Matt & Raven.
Raven – When Jessica and Cody ask why did we vote out Ramses instead of Josh, Josh is not our target. Ramses was. Sorry its our best game interest. We're thinking about our own game and not your game. And Josh is really not a big competitor so he is not ,, doesn't matter. He is not a threat. Matt – but this is what's going to happen, okay. Jess and Cody are going to ask us who we're going to vote out and we're going to lie to their faces. Raven – are they ever going to ask us though? Matt – I don't know. I am assuming they will. Raven – I don't think they will. Matt – We'll see. If we vote Ramses to go home and one of the three of them win HOH. One of us are going home .. 100%. When we are already going to be sending Ramses home next week even if he doesn't f**king go this week. I am 100% down for this plan, I just want you to realize that if we do this it increases our chances of going home next week. Raven – I really don't think it matters because Jessica and Cody are just trying to appease the house. They're going to do whatever they have to do to get on everyones good graces and backstab later. They are that type of people. I don't think it really matters what we do. If we follow them or don't follow them. Or not follow them but do what they want. Matt – so you think that if we vote to keep Ramses and Cody wins HOH, that he is putting us up? Raven – one of us. Well not one of us but someone else. Matt – so you think it will be the same result regardless if we vote Josh or Rmases out. Raven – yes. Matt – I disagree with that. I'm down to do it but its a much riskier play especially a week before jury. For the group this is the best move. For me and you this might not be the best move for us as individuals. Raven – Ramses threw my name under the bus to Alex and he won the 25K.. I think. (Kevin won the 25K)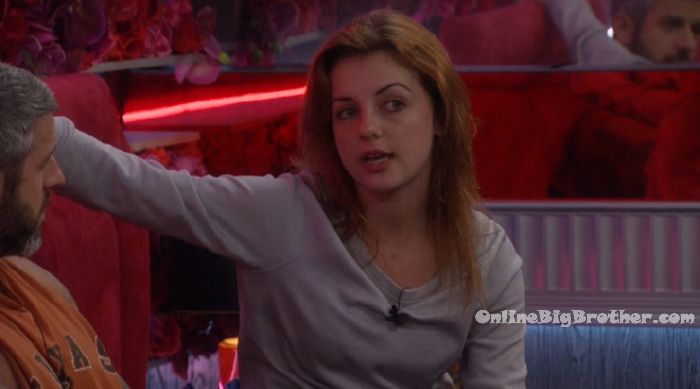 9:20pm Paul joins them. Matt – I am obviously voting how ever the group wants but you realize the if we do this it increases the chances of every single of us going home next week. Probably at least triples it. Paul – yes, but Cody is the only one that competes. Mark sucks at competitions and Elena wouldn't make that move. Matt – what would she do? Paul – Elena wouldn't even want that HOH. Raven – Elena looked at me and said I don't want to win HOH because I don't want to have to put them up. Paul – Mark is not a good competitor. Matt – agreed, he sucks. Paul – Cody is the only one that we have to out compete and we know that Cody is good but not that good. Matt – if we do this it 1000% increases the chance of one of the three of us going home next week. Paul – its probably me and I am willing to take that heat because if we get steamrolled its f**ked. I'll take that heat, I don't give a sh*t. Matt – I don't want you to go home. Paul – I can beat Cody in competition. Ramses has been on everyone's radar for weeks. Josh can go any time. Matt – you think we can swing that to Jess and Cody afterwards. Paul – I don't give a sh*t. Paul – as long as we always keep someone who is bigger target than us they will always go after his over us. I could win HOH next week and put up Cody and Jessica and say f**k you and f**k you. Matt – we get passed next week I would put my middle fingers up and say f**k you. Paul – Jess said something to Christmas – he (Josh) throws off my game. Ramses joins them. Paul – you aren't on peoples radar. You haven't done anything to piss everyone off. Ramses – I really haven't. Paul – we just had noms last week the temptation. They wouldn't have another nomination one. Ramses joins them. Paul says they were talking about a coup d'etat. And asks Ramses to explain it.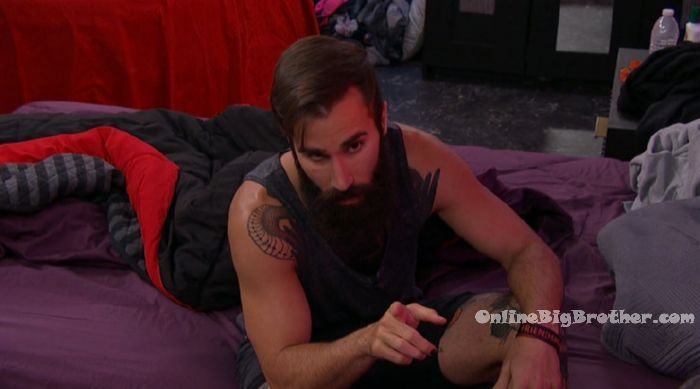 See what they can't show you on TV Try the live feeds for FREE!
10:22pm Big Brother opens up the backyard.
10:24pm Bathroom. Josh and Jessica.
Big Brother switched the feeds to Jess and Josh mid conversation. Jessica – I'm not starting anything with you but that's on you to uphold that. You know what I mean. So if that's what you want great. I am not planning on starting any arguments with you. But if that's what you want, I would respect that. I want you to enjoy your last few days here. This is a great experience and I don't want you to go out regretting anything. So if you can go out like that then I support it. Josh – thank you.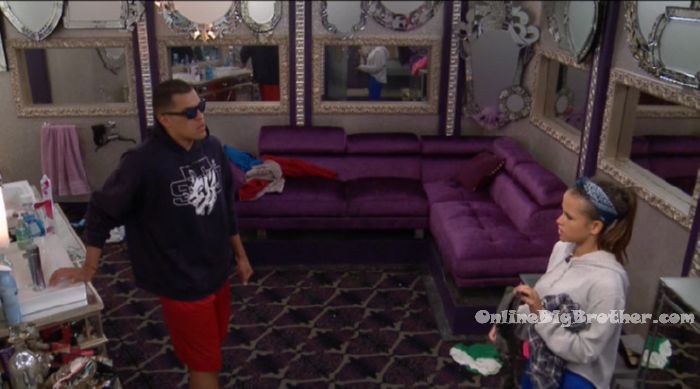 10:40pm Bathroom. Christmas and Josh.
Christmas – the vote should be 7 – 3. Josh – does Kevin know? Christmas – yes. Josh – do you think he will keep me over Ramses? Christmas – yeah. All we're waiting for is to make sure Jessica doesn't change the seats. But you have to keep doing what you're doing. Did you talk to them? Josh – I told them that I just wanted to leave in peace because I knew this was my last few days. Christmas – I don't think she will change the noms. I am going to tell her that I want to vote for you to stay. I don't want it to be a landslide because you've had my back. Josh – I will hide. And on Thursday, I am losing my sh*t after those votes come in. I'm a be like you're a meatball! You're a meatball! You got blindsided! Its game on! Christmas – we'll talk about it afterwards and come up with a strategy. Josh – okay.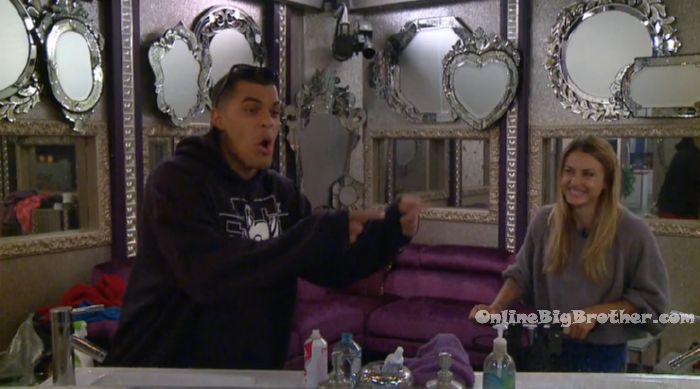 10:55pm
11:15pm Kitchen. Elena asks Josh are you okay? Josh – I'm trying to be. Elena hugs him.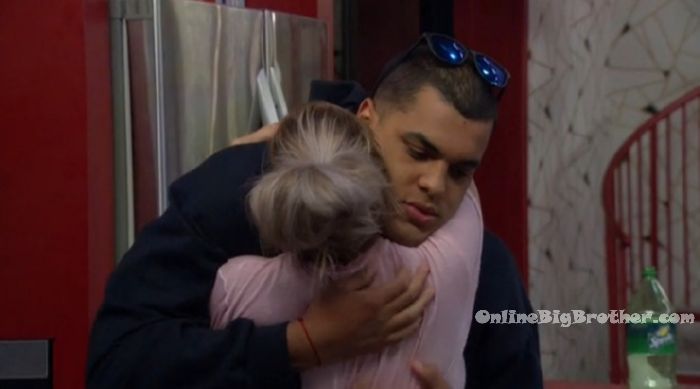 11:35pm Hammock. Matt and Raven.
Matt – can you imagine if he came into the kitchen tomorrow and said Mark you're a little b***h?! Raven – I feel like Mark would be the type of person to punch someone. Matt – oh easily, easily! He legitimately to this second does not think he did anything wrong. I'm like are you even serious right now dude! Raven – he thinks Josh deserved it. Matt – are you serious guy?! Matt – what planet are you living on?! My god he is so delusional! If that was me and my dad saw that he would be like you're such a pu$$y! Such a b***h move.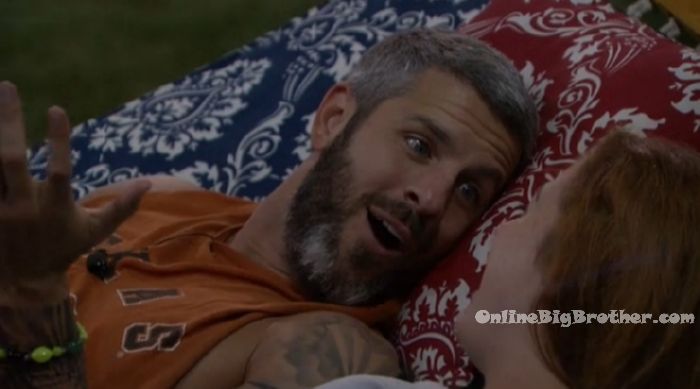 11:55pm Matt and Raven talking about their lives outside the house / parents. Jason and Kevin playing pool.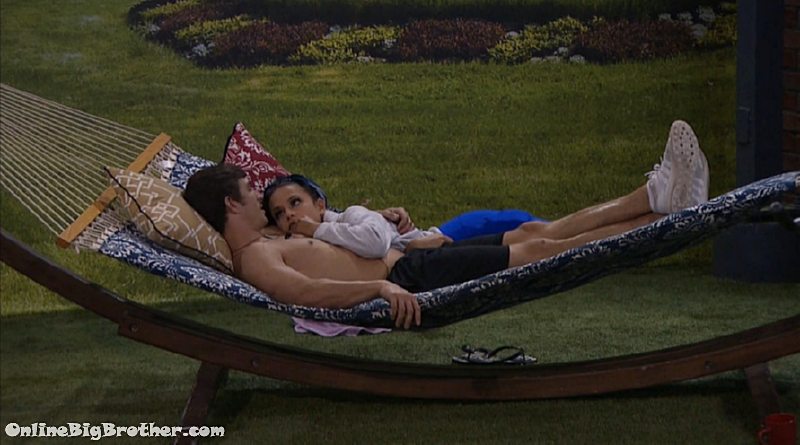 12:15am Jessica and Cody Hammock
Jessica saying that her and Josh were the only people that talked to Dominique near the end of last week.
Jessica brings up that Paul was telling her not to have conversations with Dom. HE had brought up to her that people have noticed her talking to dominique and it's not a good look for her game. Jessica now knows that is what Paul was doing to them when Cody was on the block. Paul was telling everyone to not talk to them.
Cody says he doesn't trust Mark, if Mark was HOH Cody thinks Mark would backdoor him. Cody says Mark will always go with the majority of the house he'll always make the safest move.
Jessica – he'll let the power go to his head
Cody says he might take a shot at Paul next week. Jessica says this week she wants Josh gone, She wants a unanimous vote.
Jessica – Alex needs to fall in line and do what she said she would.
Jessica – if she votes for Ramses's to go I'll f*ing take a shot at her
Jessica bring sup Alex telling her she will keep her safe after Cody was evicted, "So putting me on the block is keeping me safe"
Cody – that bugs the sh1t outta me. There's nothing safe about a pawn situation.
Cody – she (Alex) owed me a lot more loyalty than that.
Jessica – she absolutely did..
Jessica says her game was in jeopardy because she rallied to help Alex
Jessica – I wanted to give her a kick in the a$$ that's so hard
Cody says Alex knows she f*ed up she's been avoiding him since he's been back.
Jessica says she could have gone home last week they didn't have the numbers. Jessica mention how Alex could never have anticipated Dom blowing up the way she did. There was a real danger Jess going home. Jessica now wishing she had put Alex up this week.
Jessica – if I didn't gain so much respect fort Jason last week I probably would have.
Jessica- I would have put up Alex if it wasn't for Jason… she was saved by Jason and she doesn't even know.
Cody – they are partners in this game.. which is kinda funny.. Ramses is a great Pawn to utilize
Jessica- he's got no alliance member in the house no nobody is mad
Cody – Kevin always give me intel heads up
Jessica- he's great.. love him
COdy now saying that Jason and Alex are on his radar now. Jason, because this morning he told him he voted to evict him.
Cody says he risked everything to save Jason.
Jessica – he's lucky he told yo that this morning and not before noms.. cause I would have put them both up
Cody – what a idiot..
Jessica – I wold have thrown up Alex and Jason and nobody would have blinked
Cody – it's a target rich environment..
Cody says he's glad Alex and Jason did what they did because now he knows it's just him and Jessica to take out the house.
Jessica – Alex controls Jason .. I'm telling you, you were wrong about her. She was not happy about you coming back into this house, Zero!
Jessica brings up last week when Alex was HOH she would talk to her and Jason saying "HOw sick would it be if the'res a battle back and Cody stepped back in" Alex would shoot the idea down saying it would never happen.
Jessica – she was completely negative about it and when the battle back was announced she would say I don't want anyone back unless it's Jillian.
They agree Raven isn't the America's sweetheart they thought she was.
Jessica says throughout the course of a day she hears raven speak with 6 or 7 different voices.
Jessica – tells me to not trust her.. my gut says to not trust her there's something off about her
Jessica – I honestly don't don't don't trust Raven
Cody says Raven is very gossipy
Jessica – she feeds off drama
Cody impersonates Mark, "Cody, I'm so glad you're back in the house.. Jess is like my little sister"
Jessica says Mark threatened her in front of the entire house
Cody – don't think i'll ever forget that
Jessica points out how so many people in this house have had safety blankets on, they've never been on the block, they've never been in danger yet they still try and give advice.
Cody – you know what's going to be funny.. how much they are going to sh1t themselves when they find out you got hat third temptation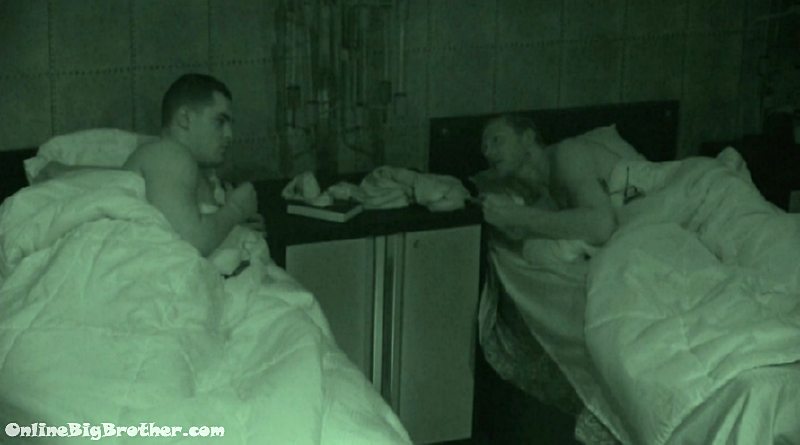 1:30am Josh and Jason
Josh saying how the house is united they want to get rid of Cody, Jess, Mark and Elena.
Josh – Mark is f*ing shady.. He's flip flopping..
JOsh – I can't believe Alex gort wasted..
Josh wants to "Go Ham" on cody after the vote.
Jason says Cody performs well with "rage" behind him so best way for them to beat Cody in a HOH is not to talk sh1t to him
JOsh – that's so true.. But I'm still doing some sh1t
Jason says Cody makes everyone act weird
Josh – he's arrogant egotistical personality
1:53am Jessica and Cody HOH
Jessica telling him he's wearing girls pants.
Cody doesn't think they are "there's nothing girly about these pants.. "
Jessica – not even the material is made for d1ck.. I see your d1ck outline
Jessica – I thought they were Alex;s and they were left here from her HOH
Cody – what is girly about these pants..
Jessica- do you wear boxers
Cody – no all I wear is silkys..
4:28AM zZZZZZZZ
7:00am Sleep yo.
932am Everyone still sleeping.
Links to the ranking system
Rank your house guests here
For those of you that like Statistics here are some expanded reports.