| | | | |
| --- | --- | --- | --- |
| POV: | Faysal | Next POV: | ? |
| POV Used | No | POV Ceremony | July 2nd |
| HOH: | Tyler | Next HOH: | July 5th |
| Noms: | Sam, Steve | Have Nots | ??? |
1:45pm 2:55pm
Big Brother blocks the feeds for the Power Of Veto Ceremony. When the live feeds return – we learn that the Falsay the POV holder decided not to use the veto. The nominations remain the same.
On the Block: SAM & STEVEN
2:55pm The live feeds return. Faysal, Steven and Kaitlyn. Faysal to Steven – Supposedly Angela and Winston are all happy now. Steven – yeah. We have a better chance of putting them up next week. Kaitlyn – we did the safest thing for the house. Steven – we have the numbers. All we need is seven. Faysal you did the absolute right thing. Kaitlyn – you know that right? Faysal – yeah. Steven – anyone else up there might crack. I got this. I'll smoke my cigarettes over there and keep my mouth shut. I won't say sh*t. I'll act all sad for the cameras. YADA YADA YADA! That will be the end of it. Steven and Faysal shake hands. Steven – great job! That's a lot of pressure up there for the cameras. Hold on I've got to get my sade look. Faysal – I don't put up the replacement noms so he wouldn't have put them up (Winston or Angela). Steven – it don't matter. Faysal – We've got to win on Thursday.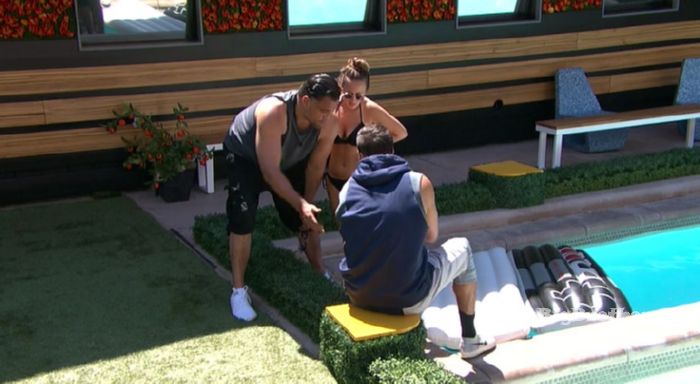 3pm In the bathroom – JC, Angela and Winston.
JC – I had to grab Bayleigh one to one after and tell her you cannot backdoor her. If she has the half or something. And she comes for you.. Whatever I'm not talking .. Steven is going home no matter what.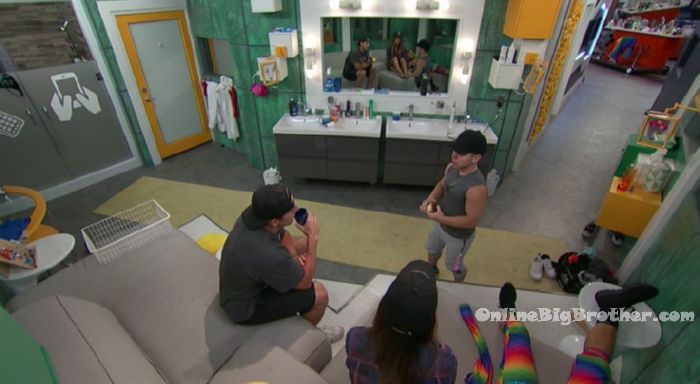 3pm HOH room – Sam and Tyler. Sam – are you okay with that. Tyler – MMMHHmmm. Sam – I didn't know what anything was anyway. Tyler – He was the one person that was playing that I was worried about what he would do you know. Tyler – make sure if you're ever talking about me with anyone.. make sure you don't say anything good about me because people will catch on. Sam – I say all the same good things about everyone. Everyone is under the impression that JC or Brett has the power thing. Did you start that intentionally? Did you and JC come up with that? Tyler – nope. JC just thinks Brett has it. Pretty much everyone thinks Brett has it. No one thinks you have it and I haven't said sh*t. I just go along with it. Sam – ok, good. Don't! I thought you and JC came up with that .. it would be in our best interest for the longevity of our game if we save it. Tyler – exactly. Sam – so you're working with Winston? Right? Tyler – yup and Brett. Sam – against Swaggy? Tyler – yes. Sam – for all we know you could be on the block in three weeks and we might need it to save you. I feel like you have a guilty conscience about something. Tyler – I don't. Just he longer we talk, the more people suspect us. Tyler – even if there are only 6 votes to keep you.. I will make sure they all vote for you. Right now I know all the 6 that are voting for you. Sam – Haleigh and Kaitlyn are the only two question marks for me. Me and Kaitlyn had that conversation and I thought things were all good … and then when you were helping me into the diary room and she was talking to me like I was a dog! B***H I WILL CUT YOUR HEAD OFF!!! Tyler – I know that pissed you off. Sam – she was like come on, come on.. good girl. Tyler – just don't react on it.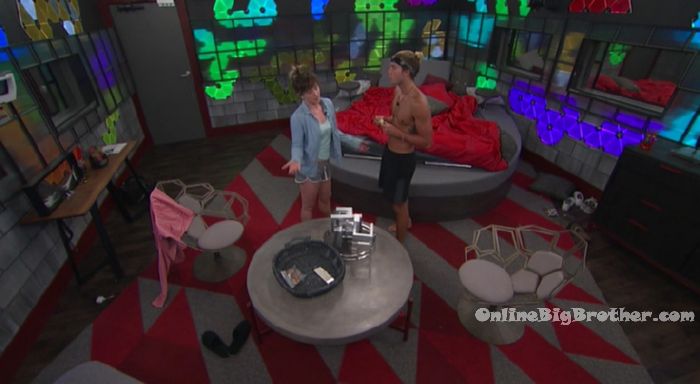 3:08pm Bedroom – Bayleigh – what happened with Haleigh and Kaitlyn? Rockstar – what are you seeing? Bayleigh – I'm seeing what you're seeing. It scared the sh*t out of me..so what do we do? Rockstar – its none of my f**king business.
Bayleigh – its none of my business but if y'all fall out, we all fall out.. I need y'all to get your sh*t together. Rockstar – if it was my business I would yank Kaitlyn's crying a$$ and bounce her a$$ home.. but its not my business.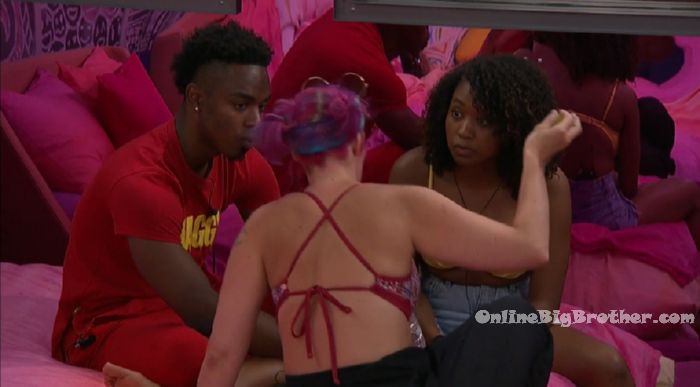 3:35pm – 3:45pm Bathroom – Scottie, Sam and Kaycee chatting about random things. Meanwhile in the backyard – The guys are working out and the others are suntanning.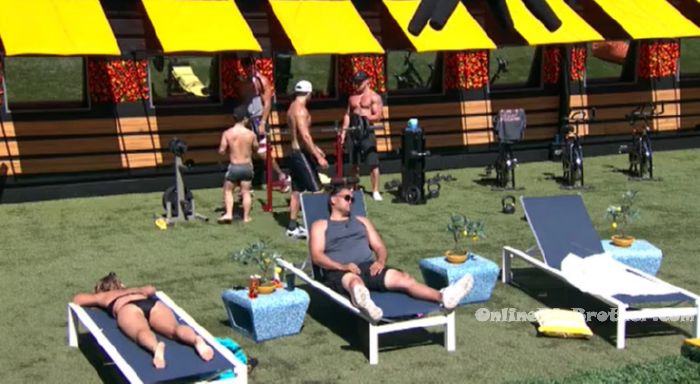 4pm Hammock – Angela and Rachel talking. Angel – I just can't stand being around them. Rachel – who? Angela – who? Angela – all of them after finding out they were trying to backdoor me. Knowing that they were trying to do that and that Rockstar was in on it … me and Rockstar had a 10 minute conversation today. The first time we've talked. She knew she had to be nice today. My ears keep ringing .. does that mean someone is talking about me? JC joins them. JC – when Swaggy and Fez came to me and told me if we win the veto, why shouldn't we use it? I was like guys I'm not targeting you. If I break that and I get Swaggy or Fez out … then one of them stays and then they're going to target me. I can't risk it. I don't need this HOH unless its me and Swaggy .. then I'll go for it. If its one of you five, then I will throw it to you guys. I don't know where Brett's head is at? I don't know if he is completely willing to get into an alliance with us. After this HOH, you guys have no choice but to make a move. Angela – yeah if I win HOH I have to make a big move.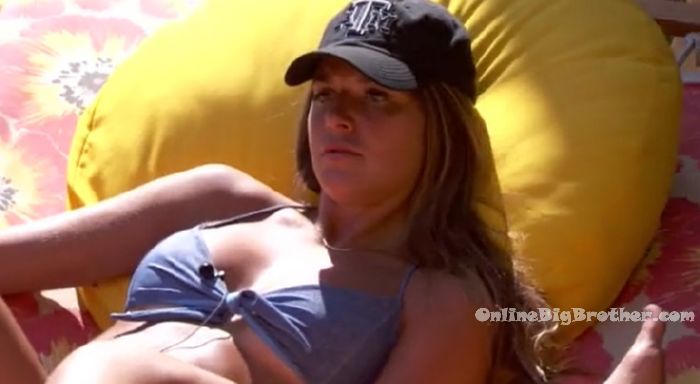 Rank the houseguests!
Easiest way to Rank the house guests use link below