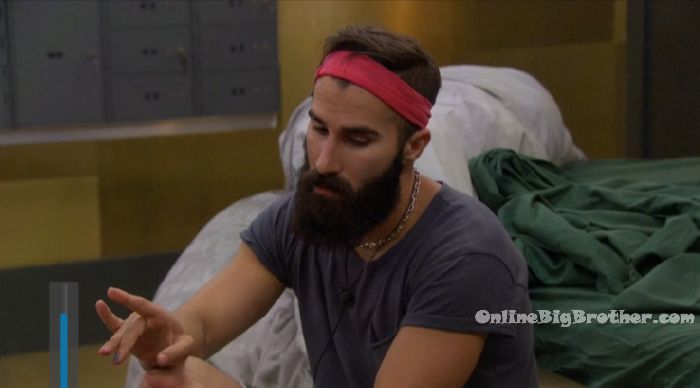 FLASHBACK and watch everything you missed: Live Feed 7 day FREE Trial!
8:55pm HOH room – Paul, Mark, Cody, Matt

Paul – lets have a quick meeting before we get inturruped. These girls are crazy as t!ts! Mark – its crazy. Paul – its almost too much. And they are smart because they attach onto all of us and we never have a minute alone. Lets take advantage of this time right now and figure out what our next best game move is. They are way too emotional. Mark – I couldn't agree more brotha! I'm just watching it all day long. The looks, the comments.. Paul – we need to make it through the next 3 weeks. Mark – do you think we can make it through the next 3 weeks? Paul as long as us four win. Because if we're always in power they will respect our word. If they're in power .. F**K! Things will get more complicated because lord knows they like to make things complicated. Paul about this week who should go up / go – realistic option between Jason and Ramses… I think Jason because him and Alex are like this now (really close). Ramses he doesn't have a clear distinct side he is on. He doesn't talk game with us .. His brother is a superfan .. you know he coached him. Its not that he is a threat .. he just doesn't talk game with us. Jessica heads up to the HOH. Paul says boy talk is over. Jessica complains about how Josh wanting to talk with her. She says she ditched him and came up to the HOH room. Raven joins them. They all talk about how annoying Josh is. Paul – what is funny to me is that everyone feels the same way about him. Its one thing we all agree on. Matt – One thing I feel bad about is that he is going to look back on this and be embarrassed. Raven – every time he sees me he tells America – I'm so sorry, this girl is an angel! Jessica – where did he come from .. he is so ignorant about everything. Mark – he just rubs everyone the wrong way. They comment on how Jillian is a bit crazy too. Paul – I say we just use them both as pawns. Matt sees Kevin on the spy screen – I love Kevin. Paul – he is so funny. I hope he makes it to jury. I will take a bullet for Kevin just for him to make it to jury house. Mark – I think he really misses his family. Paul – we're giving him a new wave of life.
9:10pm Lounge room – Jillian and Alex. Jillian – I have just been through so much to be here and I don't want to go out. It sucks and I feel like they don't care. I really have been through a lot more than anyone here.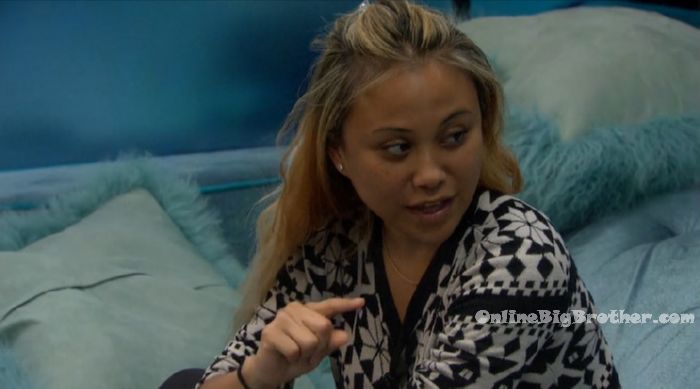 9:30pm HOH room – Kevin joins Matt, Mark, Jessica and Paul. Paul asks him who do you think has the curse? Kevin – I'm f**king cursed! I'm trapped in this house with you guys. I don't know what the curse is. Paul – of the people on the other side who do you think potentially has the curse? Kevin – I think Ramses. Josh just went up to Cody and said are you in the Marines? Isn't that the branch that doesn't fight? He just said I think I stuck my foot in my mouth. Cody was just looking at him like WTF?! Jessica – I am impressed that Cody didn't grab him by his neck. They all can't believe Josh said that to Cody. Matt – he literally said if we ever fight Russia .. I want to do it hand to hand. Kevin – the Marines are the ones that go into fight. Kevin heads back downstairs. Matt – there has to be something wrong with him dude! Jessica – he is the one that Christmas called out for not flushing the toilet when he pisses. Mark – I would dislocate everyone of my fingers before I let Josh beat me in a competition.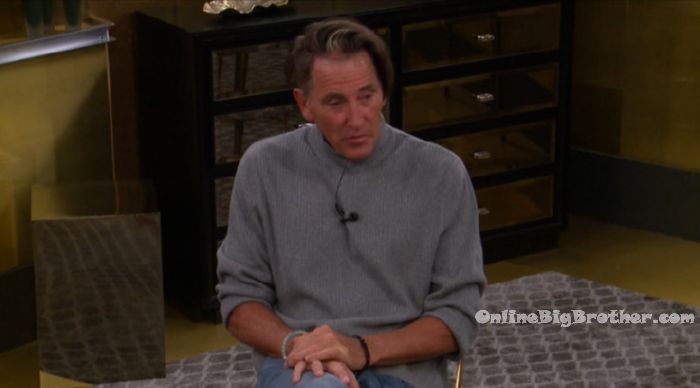 9:45pm Outside the HOH room – Ramses, Christmas, Jillian and Alex.
Christmas says that she just walks away from Josh. I don't even say anything. Jillian – we're in a room with spikes and this crazy dude. Christmas – it was heavy the first 6 – 8 days. He was worried they're going to get me. I'm like you're safe! Jillian – are you guys excited about the nomination. From what I've heard, someone is influencing his (Cody) decision. I hope it is Jason. If it is someone else it might be me (going). I'm not targeting anyone. I'm just trying to get off of everyone else radar. Christmas – I think you're doing a good job.
10:15pm – 10:30pm HOH room – Paul and Ramses.
Paul is telling Ramses all about Big Brother 18 when he called Michelle a c**t, when he called James a "little Korean man" and why he lost. Kevin strolls in wearing his suit. Paul – what are you bored? Kevin – no, Dom is interviewing me.
Watch the NEXT WEEK of the Live Feeds for FREE!
Click here for your: 1 Week Trial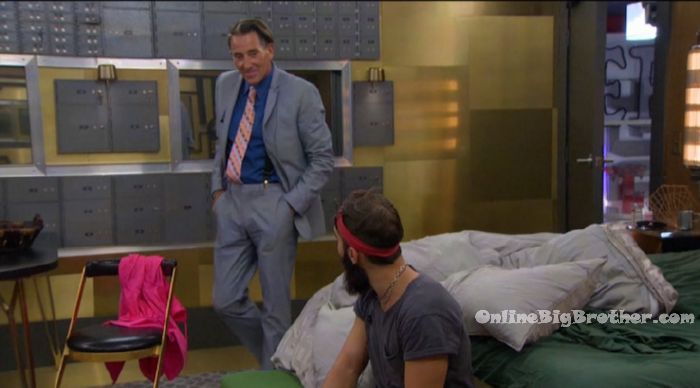 10:30pm Alex & Jason
Jason – if he puts Paul up would you vote him out? Alex – yes, but I don't think he will. He said I should come talk to him before because he making a power move. Jason – that might be Paul. Alex – I think Paul is good for us. Jason – I think so too. What if he does put him up? What would you do? Start thinking about that. I don't think anyone really knows but my gut is telling me its going to be Paul. Jason jokingly says – if he puts me up.. I better have your vote! Or I'll knock your teeth out! I'll punch your old man.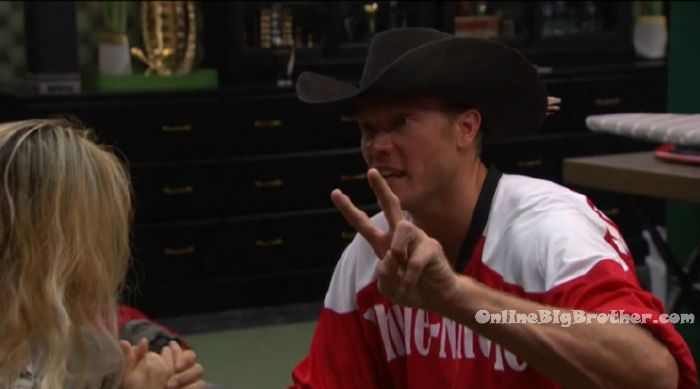 11pm – 11:45pm Dominique "the dominator" starts interviewing Kevin. She asks him basic things about who he is, where he's from, and his experience so far inside the house. After Dom interviews Mark. Christmas asks Mark – is it a showmance or a romance with Elena? Mark – I hope it could be a romance. Kevin – outside in your other life .. do you have a girlfriend there? Mark – no, I'm very single. Ramses – Mark how much do your boobs weigh?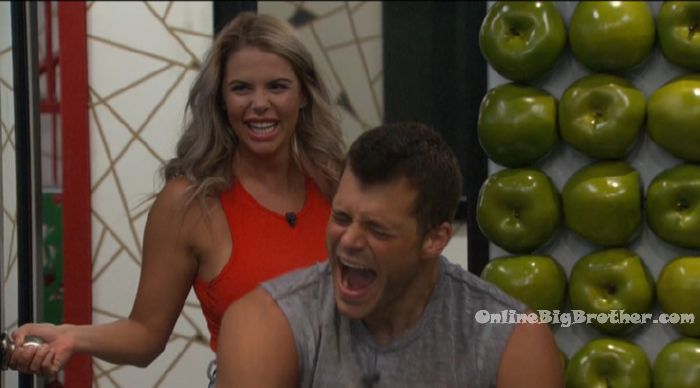 Mark's party trickhttps://t.co/iS7BSC5a8n#bb19 @bigbspoilers pic.twitter.com/qyziog8rrO

— Dawg (@DawgsBigBrother) July 2, 2017
12am Mark comes up to the HOH room and tells Cody that he was talking to Dom – People don't like the couples. Did you get a sense of that? People are worried about the couples. I was talking to Dom and she said she was talking to someone and said she isn't going to name names but they were like I don't think its fair that these girls get attached to the guys and go through the game. Then I was doing the show with Dom and Christmas was just blatant.. Dom joins them. Cody – I'm making deals for the couples and Dom. And I'm going to make them tomorrow morning before the ceremony. Jessica joins them. Cody – I'm going to make sure that everyone that's close to me is protected. I'm going to try and hedge all bets. Tomorrow I'm going to be wheeling and dealing. Dom asks Mark to go play chess.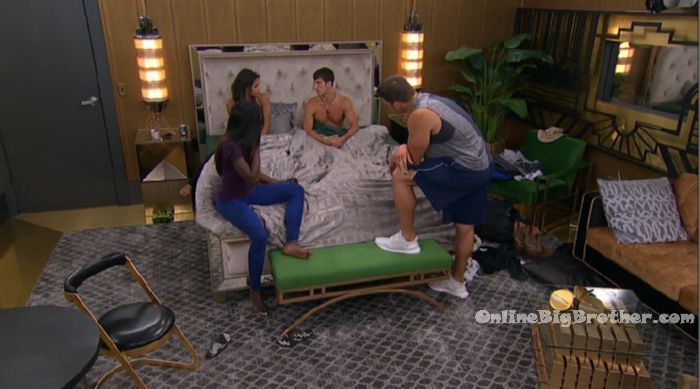 Links to the ranking system
For those of you that like Statistics here are some expanded reports.