5:18pm Bathroom – Cody – game talk has become lame. Jessica – is that why you left? Cody – I can't be around any group now because I don't want to talk about any of it. Jessica – what do you want to talk about? Why is the sky blue. Cody – I think I have that understanding. Jessica – do I need to campaign to you again? Cody – I was more insulted than anything. Jessice – I can't believe you did the first time.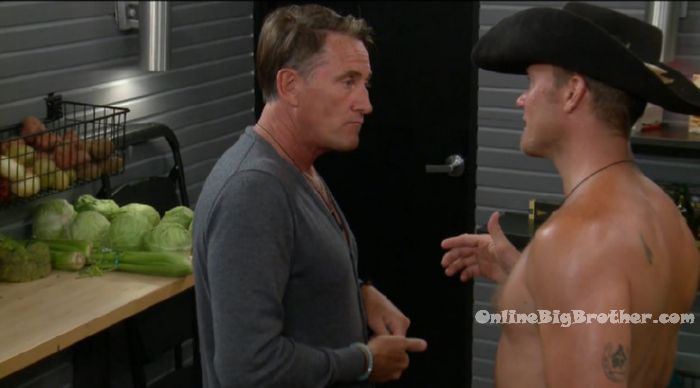 5:35pm Storage room – Jason & Kevin.
Kevin – do you think they're just trying to trim the fat? Kevin – oh without a doubt bro. Jason – you know what I mean like try and get rid of certain people. Kevin – yeah. They don't tell me anything. If you go up, I would never vote against you. Jason – I'm just trying to figure out .. did they ask you if you wanted to go out before the jury selection? Kevin – F**K NO! I'm winning this motherf**ker! That's how I get out. You watch and see! I ain't part of the plan. I'm winning! You'll see! Kevin and Jason leave the storage room.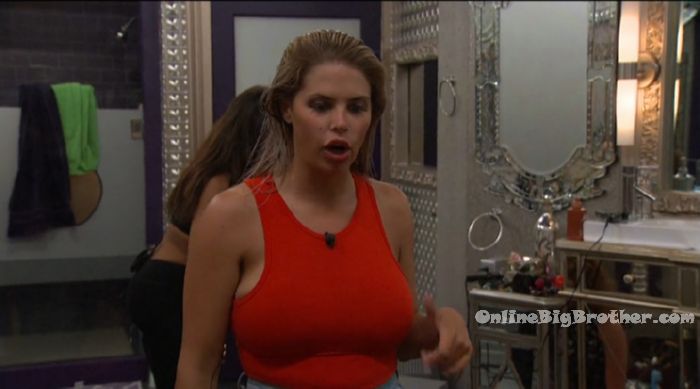 5:45pm Bathroom –
Elena tells Cody – Matt is totally egging it on. Prepare for the worst and if Alex wins HOH next week that will be her target. Egging her on …like she needs to go. Obviously that is worst case scenario .. lets get HOH. She has been especially nice to me .. and I will continue to be civil until we kick her out. Solid plan? Cody – yeah.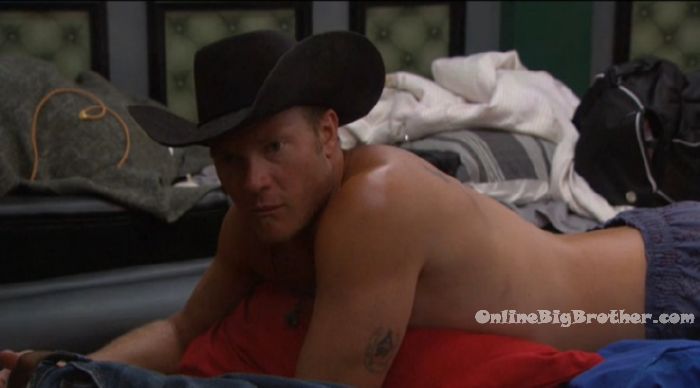 6pm – 6:30pm Christmas and Jason are talking in the bedroom. Kevin joins them. Jason talks about how he was thinking last night how Paul and Josh are the same age. He talks about how mature and educated Paul is compared to Josh. You put these two people side by side .. this kid doesn't even compare .. he doesn't have a prayers chance against Paul. Christmas leave. Paul joins them. Jason tells Paul – you're lying about your age. Paul – no I'm not. Paul – Nobody likes Josh. He's pissing off the same .. everybody! Jason – he's a tool. Kevin – do you know how lucky he is he got that extra week?! Because he better win POV, HOH, HVP, PIMP! Because if he don't win nothing he's G-O-N-E! He just doesn't stop. He never goes to bed. Now he's got what's her name (Dom) in the s*x room. They head out of the bedroom to the kitchen.
FLASHBACK and watch everything you missed: Live Feed 7 day FREE Trial!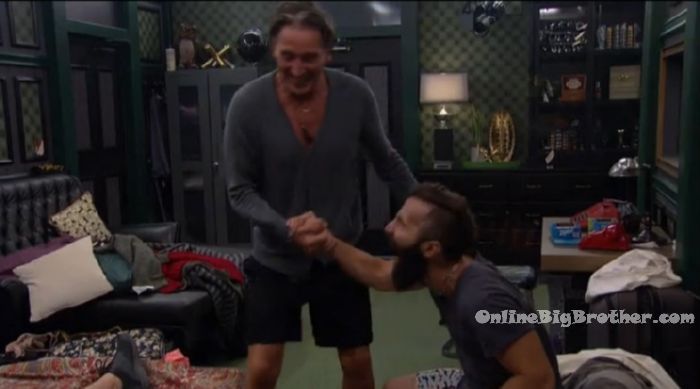 6:50pm – 7:05pm Bathroom – Paul, Matt, Dom, Raven, Cody.
Paul talks about BB18 and how he loved being on the season but hated the other people. Matt – is there anything else you could have done to win? Paul – no. Matt – what was your vote? Paul – 5 to 4. And one of the girls after said she just wanted to see a girl win. Matt that's the difference of 450,000! Did anyone not vote for you who you thought would? Paul – Davonne. Even if I had taken James, I still would have lost because the people on my season didn't vote based on what we did. I won more comps and escaped the block 6 times and just did more. They did not vote on who did more. My fans were more upset than I was. My biggest mistake was my speech. She said I started this game day 51 and I should have said I had to start playing this game since day 1. I took Nicole because she deserved it. James did NOTHING! If I lost to that, that's not something I could respect. I am fine losing to Nicole because she worked for it. James did f**King nothing!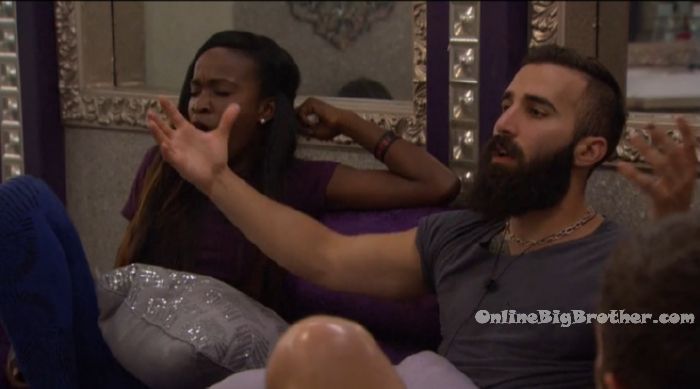 7:15pm – 7:30pm The house guests are eating the sloppy joes that Christmas made. Christmas tells Jessica and Elena that on the inside of the bathroom door there's lipstick marks. Elena – is it lips? Christmas nods. Jessica asks was it pink? Christmas says yeah. Jessica – that was Jillian then. She always wears pink.
Christmas finishing off the OJ #bb19 @bigbspoilers pic.twitter.com/9ktYZmHeNu

— Dawg (@DawgsBigBrother) July 2, 2017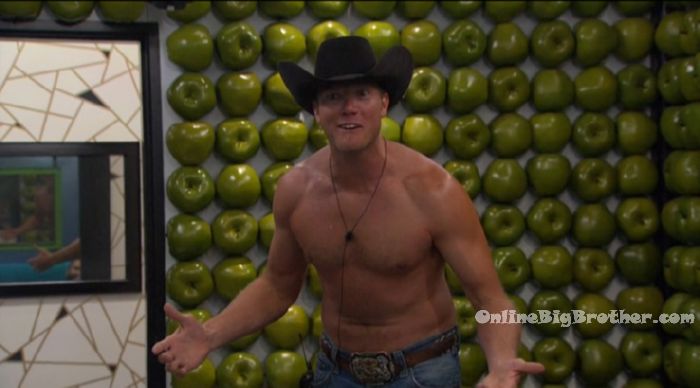 7:50pm Lounge room – Jason tells Kevin, Josh, and Paul about how was hosting a charity event and had to fart. He says he sh*t his pants and had to walk side ways off to the bathroom. He says his pants were stained. He went back out there and his wife Holly commented on how something stunk. Kevin – you must have been drinking whisky. Paul – that makes you sh*t your pants? Kevin – if you've never done it before.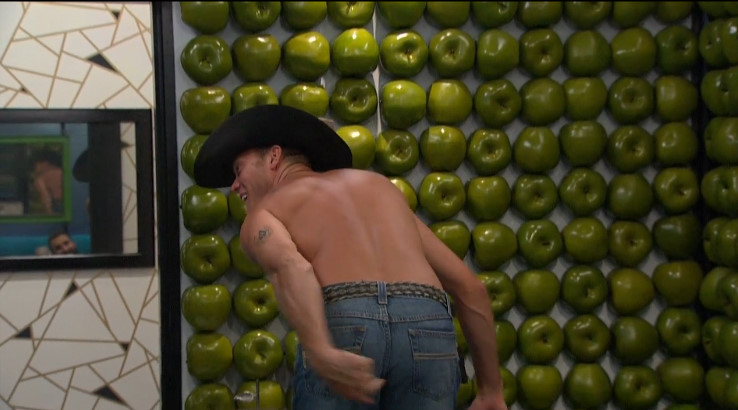 8:15pm Jillian comes into the lounge room and Josh leaves. Jillian tells Kevin – I'm going to kill him. I told him that he is annoying people. So he went to Dom and said that I'm targeting her. Kevin – you're going to get through this week. I know how the next two people that are going according to me and its not you.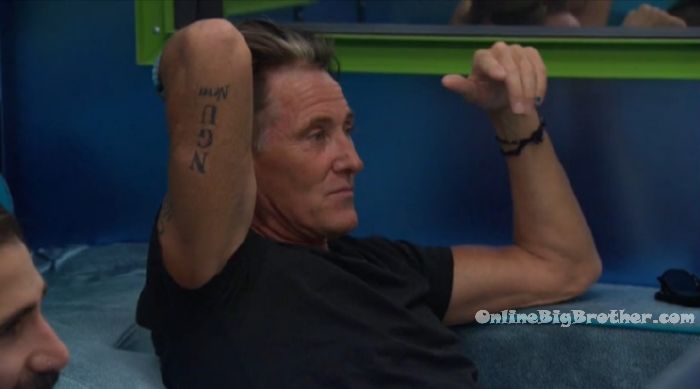 8:10pm Outside the HOH room. Mark – I can't tell if she's telling me or if I'm playing her. Dom – that's a bad thing .. that means you're becoming attached. That means she's doing an exceptionally good job if you can't tell. She doesn't let me be around you for too long. Mark – I feel like she is getting more attached to me because I'm getting more attached to her. I don't talk to her about game. Dom – maybe you should. You're really good at hiding so you need to bait her. Mark – I just want it to be tomorrow. Dom – Its going to be shocking. Elena joins them and they ask if she wants to sit in on the chess lesson.
Try the Live Feeds FREE for 7 DAYS! Click here for your: Big Brother 19 FREE Trial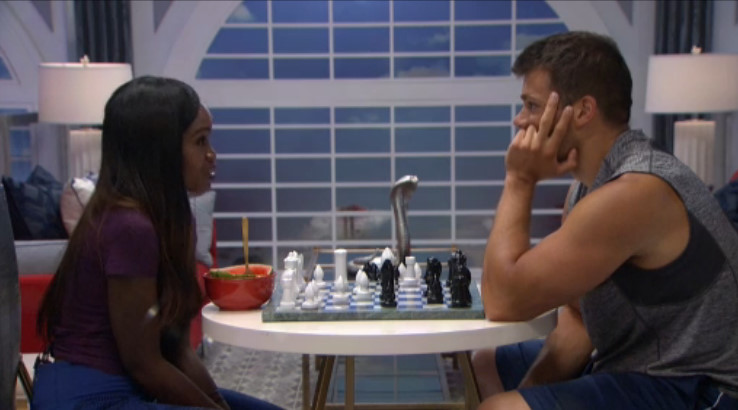 8:20pm HOH room – Jessica and Cody. Jessica – at this point I don't know who I want out more Alex or Josh. For my sanity or my game. Cody – I can get Alex to not target us. Jessica – she has calmed down a lot more the last few days. She said she wants to break up the showmances. Cody – I think I can stop her. Cody – I want to compete against everyone … but if it were me and Raven up there … I would be like give her the money. Give her the money. Jessica – I don't think you would even have to say that. Jessica – I can't imagine anyone ever putting her up. Cody – they better not! I'll come at em!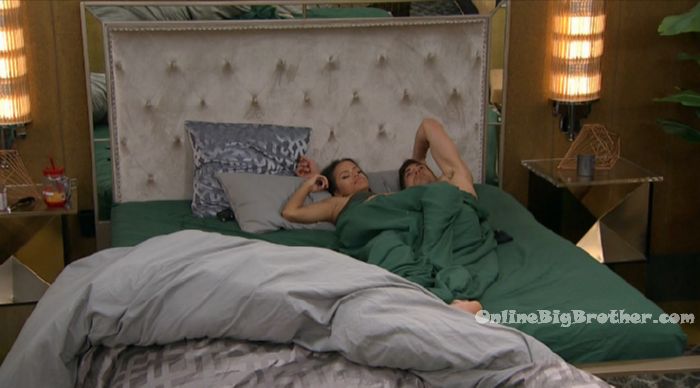 8:35pm Kitchen – Alex tells Kevin – you look different with a turtle neck on. Kevin – what sophisticated? debonair? Lovely? Someone you would be attracted to? Alex – 20 years ago yeah!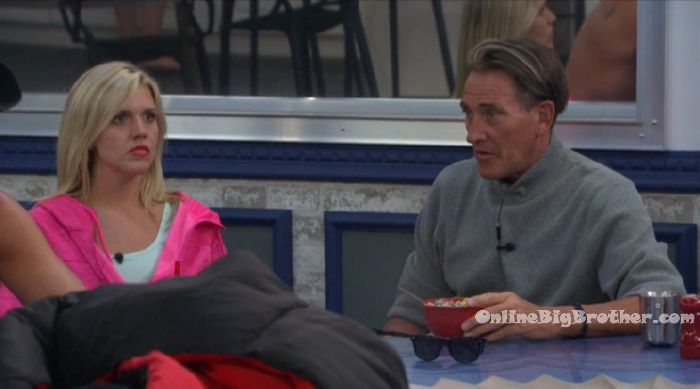 Links to the ranking system
For those of you that like Statistics here are some expanded reports.