Check out our BB19 Ranking Grid. . rank your houseguests here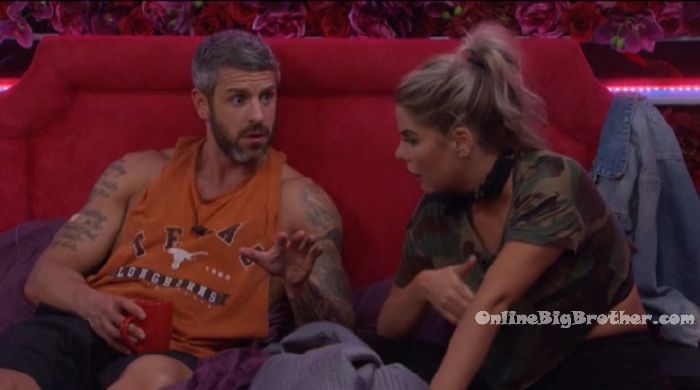 See what they can't show you on TV Try the live feeds for FREE!

9pm Bedroom – Mark, Matt, Elena & Raven.
Matt – I'm proud of all of you, this was a tough week. Mark – how it all worked out .. Paul won but it was like everybody. Raven – it was a team win. Elena – I had 20 – 30 tickets. Mark – can you imagine what was going through Cody's mind just watching us get the tickets and give them to Paul. Matt – he (Cody) looked you in the eye and told you a direct lie yesterday. Mark – I know that which is why I hugged Paul. Elena – Cody came up to me today and said you're not worried are you? I said its the big brother house of course I'm always worried. He said you're good for a week, I'll do anything to ensure I'm the target and not you. I'm sure he hates me now after see me give 15 tickets to Paul. Matt – he hates us now .. after he destroyed all of our games. Elena – I have empathy.. Matt – I have empathy but there are consequences to your actions. There are things you don't do as a man. You don't look another man in the eye and lie to him. Mark – yup, when you do that .. its over. Elena – if you want to say in the house you should probably vote where the votes lie. The number of Christmas to stay are more likely because of math, according to math. Elena – I'm not going to be especially nice to them. Matt – I will go home before I look someone in the eye and lie. Mark – I understand its a game but we hadn't even evicted one person. Raven – I was really happen when Paul won. They all agree. Matt – I would have been so upset if Paul thought that we were involved in that (Cody trying to put Paul up as the replacement). Elena – I'm probably going to make more cheeky comments until I'm over it. They all put their hands in a circle and say friendship. Paul joins them. Elena – I will never trust Ramses. Christmas – he was the swing. Raven – as soon as the vote came out Jason's head dropped. Paul – Alex did let me cut her in line a few times. I will tell you that. Matt – respect. Paul – I'm putting that point in my head. Jason, nope. He was gunning for it. Elena – because he knew he f**ked up the votes. Kevin joins them. They comment on how he got attacked a couple times. Kevin – first Ramses when I was coming in the door and then Cody came and said Ramses called me a name. I don't care though, he's a kid. They thank Kevin for voting with them. Mark gives him a hug.
9:05pm Bedroom. Kevin – Christmas is even less of a threat. Alex – what Josh did… He's a cry baby and he's going to cry even more. Kevin – I didn't want to be HOH because it comes with a lot of other sh*t. Lets just lay low.
9:10pm Lounge room – Cody and Jessica.
Cody – There is nothing I can say. What the f**k do you want me to say. They head into the bathroom. Jason walks in and Cody says brutal! Jason – yeah. Cody and Jessica head back into the lounge. Cody – you're worried about me going to Dallas and finding some chick. Jessica – I'm worried about a lot of things.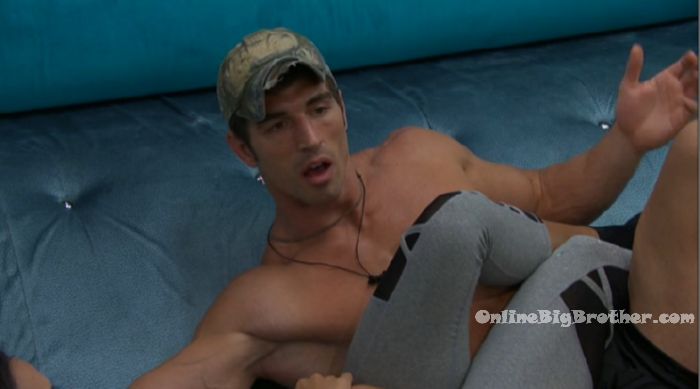 9:15pm Bathroom – Jason and Alex.
Alex – if he gets in my face… tell him to stay away from me because I don't want to hear his bullsh*t. Jason – just say you're below me or something. Don't say derogatory sh*t. Just says I can't listen to anything that comes out of your f**king mouth. Alex – I want them both gone. Jason – I'll go to Paul and be like I'll always be on the block. Fighting, getting off. Alex – if you go on the block I will fight for you. I swear! Just don't stress about it. Jason – Paul goes up to Ramses and he flips because he's a piece of sh*t. Alex – I will tell Paul what he has. (the curse) He has a dog tag that says BB on it. Jason – f**k Ramses! Piece of sh*t!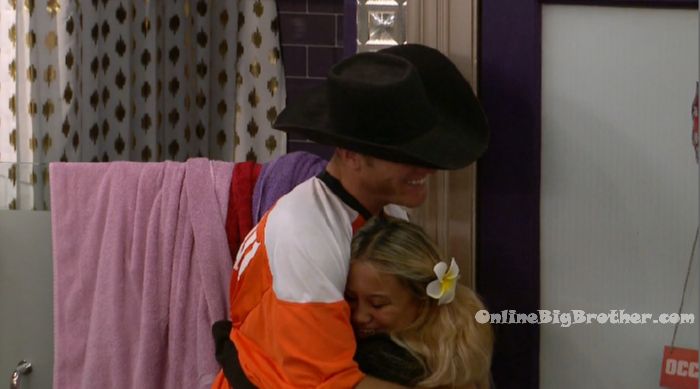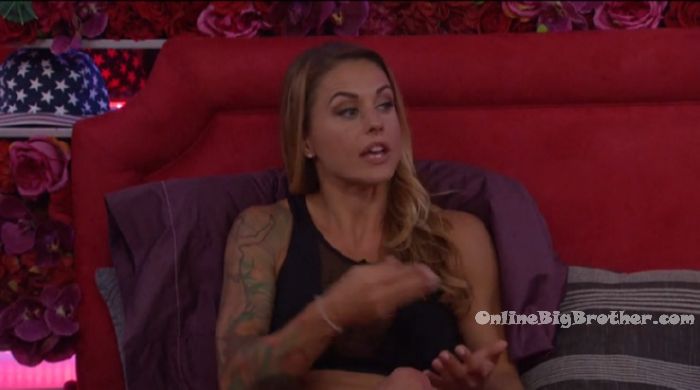 FLASHBACK and watch everything you missed: Live Feed 7 day FREE Trial!

9:40pm – 10:05pm Bedroom – Paul, Mark, Elena, Christmas, Dom,
Christmas – that competition showed our solidarity. We took another leap of faith. All he (Jason) had to do was I know I voted with Alex but I committed to Jillian. I will tell you what Ramses said that to me. And I am okay with that and I didn't approach him again. I let it lie because he had the balls to say it and not lie. He at least earned a point with me. Where Jason broke my f**king foot and can't even give me damn f**king vote! If he had just said I committed to this, I would have respected it. Paul asks them if they can turn it up the next couple weeks so that he can go back on standby. Christmas – I've stepped it up. Paul agrees. Christmas says that she has surgery on Monday. This was the worst possible break with the longest recovery time. Everyone is going to know I'm getting surgery when I leave on Monday. Paul – just say you're going to a check up. Christmas – they're going to have to do pins and screws in my foot. There is a 6 month recovery time. I am here and you have my vote. Don't put me up or I will murder you in your sleep. If America gives me the temptation, if I need to share I will to strategize. Paul – once you know what my plan is keep that in the back of your mind if and when the temptation presents itself. Its a great plan but I don't want to be a bad guy and send someone else home because I f**ked something up. I need a really strong group. If we have a strong group Cody is gone 100%! If not Ramses is gone. Its about Raven and I can't have her go home on my eye. She's a trouper. The ultimate end of the plan is to have Cody and Raven next to each other on the block. Good luck campaigning homie! Paul then give the middle finger. You already look like an a$$hole. Christmas – are you going to backdoor him? Paul – hell yeah. I am going to give him the same chance he gave me and you.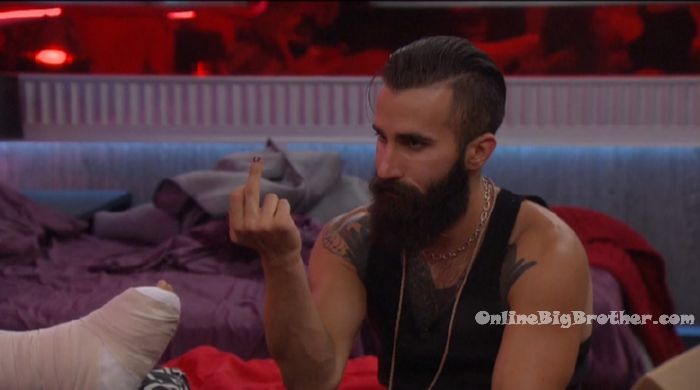 9:50pm – 10pmCody & Jessica start moving their stuff into the havenot room. Kevin asks what they're doing? Cody – I know we're going to be in there anyways so we might as well move in now. Jessica and Cody head into the havenot room. Jessica – lets just wait and see what the curse is. We can't be hot headed right now. We need to be careful. Cody – how about this let me tell Kevin and Jason when Ramses isn't around because I want to keep those guy's trust. Jess – okay if that's what you want to do.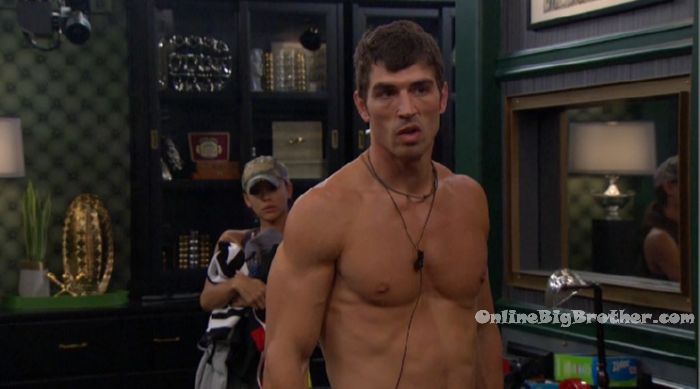 10:15pm Cody, Jessica, Alex, Jason.
Cody – I said I want to make a deal with you. Make us havenots just don't put Josh in there with us. Who the f**k knows if he can even respect that f**king deal. Alex – I can't even tell you how much they hated the fact that I respected you. They hated it. For one why are you so afraid of a girl?! And two, she deserves to be here.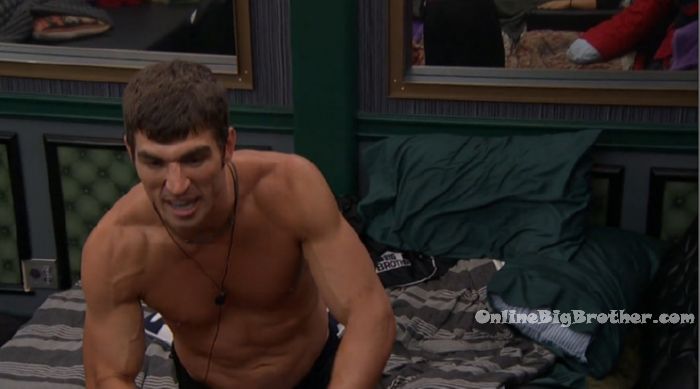 Jessica – I literally can't listen to him (Josh) lie to my face anymore. I'm like you look like a f**king ret@rd! Alex – we stuck to the plan. Cody – I looked at everyone's face and Kevin he looked destroyed. Jessica – This f**king little tw@t (Josh) is going to be an outsider no matter what group he goes to. At least when you say something to someones face, at least be honest about it. And not sit here and f**king b***H. He was like oh I voted on an emotional level. No f**king sh*t you did. Josh comes out of the havenot room and says you guys haven't spoken to me till Wednesday. Jess – oh my god then don't be a f**king liar. Josh – I haven't said anything bad about you. I'm not going to argue with you. Jess – stop crying about everything and acting like a f**king victim because I am sick of it. Josh – I'm not acting like a victim. You haven't had a conversation with me since day 2. Cody – you've been a victim noises this whole time. Josh – how am I a victim. Cody – you act like a child and make pouty noises all the time. Josh – god bless you. I wish you the best in life. If I've acted like a victim its because I've been through some real sh*t in my life. Cody – get over it, everyone of these people has a story. Josh – I had a lot of respect for you, I did. And you guys are making this game very personal. Jess – I'm in my room unpacking and you want to keep telling me lies. Cody – and this is after we said don't talk to us anymore. We don't want to talk to you on a personal level at all and yet you keep talking. Josh says cool and walks away.
FLASHBACK and watch everything you missed: Live Feed 7 day FREE Trial!
Jessica – I'm going to go in that DR and tell them that if they don't get Christmas to shut the f**k up I am going to SNAP! Cody – I knew Christmas was poison from the start. Jess – just because you say something with a smile on your face doesn't make you a good person. Cody – Paul said its nothing personal.. bullsh*t. I hate you and I hate you and I hate you. Jess – this is like really challenging. Cody – I feel you. If someone says something to me in my real life I would say something back especially to these losers. Jess – I can't stand bullsh*t. I'm allergic to it.
10:20pm
Josh goes to the bathroom and starts crying. Dom and Raven comfort him. Josh – how am I the victim? Raven – Don't let them take you out of this game. Dom – Don't entertain it at all. Its best to just walk away. Mark – who can they talk to? Elena – no one. Mark – who can you talk to? Elena – all of us. They're the ones that are isolating themselves.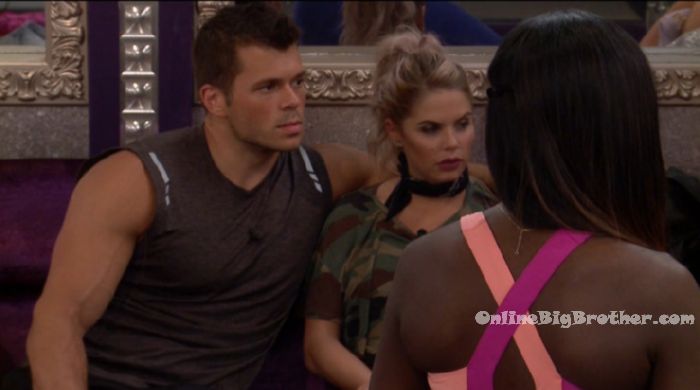 10:40pm Lounge room – Josh talking to himself.
Josh – I'm 23 years old and I've grow so much in the 15 days I've been in this house. I think I am playing alone and honest game. I don't owe anything to Cody and Jess. In 15 days they have not looked at me. They have conversations and don't look in my eyes. So when you need a vote is when you come talk to me? And then I don't vote your way and you call me a coward and this and that?! I am not going to act out of character any more. I'm not going to back down to nobody. I have a lot of respect for Cody. The little conversations we've had I had respect for him but for you to say that I am acting like the victim. I know everyone has a story and other things going on. Josh starts talking about his grandfather and dad and then starts crying. I know who I am, god knows who I am and my family know who I am. I'm a strong motherf&*Ker.
Links to the ranking system
Rank your house guests here
For those of you that like Statistics here are some expanded reports.