Check out our BB19 Ranking Grid. . rank your houseguests here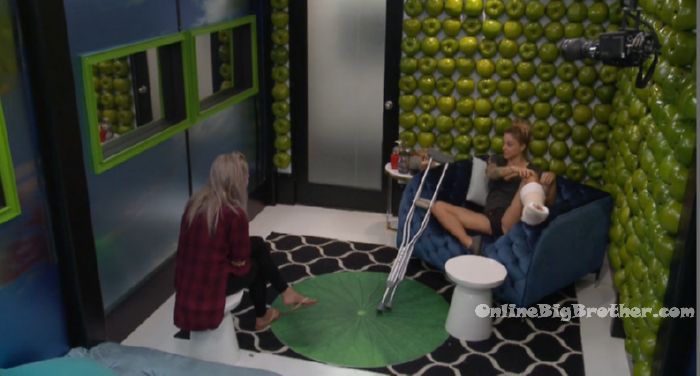 See what they can't show you on TV Try the live feeds for FREE!
2:10pm Lounge room.
Christmas – I think our team is doing very well. Elena – I think it would be really awesome I could make it to final 4. Christmas – I work best in a team. I get fired up when someone believes in me. I know I'm capable but its just nice to have that reinforcement behind you. I will sacrifice for the team. I will work hard for the team .. just don't vote me out because I am petty. The reason you vote me out.. 1 it will never be because I back stabbed you. 2 don't f**king have a pity party. Don't think I can't handle it. Because if I couldn't handle it, I would have gone home last week. They (Production) gave me a choice and I said absolutely not.
2:20pm Bedroom – Paul, Mark and Elena.
Paul – Any weird news? I hear Jason has been talking to Cody and Jessica pretty much this whole day. Elena – MMMhhhh. Mark – I was sleeping all day and they told me about the battle back. I'm like freaking idiot. Paul – but that's not even a thing. You cannot bank on that. Mark – just the fact that he's saying it. Paul – and that they're plotting it. Mark – I said bro .. looked at him in his face … 2 weeks, 2 targets, jury. That f**king simple and you're not one of them so why become one. I got it, I got it, I got it! Paul – so Ramses and Jason and Jessica. Lets say there is a battle back. Lets make it difficult for him. Face your girlfriend. Face Ramses. Face Jason. Paul – Megan quit… so there's Jillian, Cody and room for 3 more. Mark – do you think Cameron? Lets just say two more. Paul – I wouldn't even be tripping about it. Mark – I'm not, I just think its comical. Paul asks Kevin – what did you tell Ramses yesterday. Kevin – I told him to not try hard in it. He said he wouldn't. Then when he came in after the veto he was pouting… I think he knows.. He said he didn't try and that he could have done it quicker. Paul – bullsh*t. Josh said he f**king ran. There is no way, it makes no sense. And I told him all he had to do was max out his time and he couldn't do that. Paul – Alex said that she relayed the info that she is going to stay on the block because she wouldn't vote against (Cody). She said it front of Ramses and Jason so if that information comes back its through it on or the other. Mark – she relayed it differently to both though so we'll know if it comes back to us. Elena – I'm over Jason.
See what they can't show you on TV Try the live feeds for FREE!

2:30pm – 3pm Bedroom – Mark, Elena, Jason, Kevin, Paul.
Paul – any news from your fellow toads? Jason – no. Mark – they're not trying to make deals with anybody? Jason – how?! Mark – I'm not talking so I don't know. Jason – how are they possibly going to rally? Paul – they can't rally this week or next week. But possibly if there is a pre or post jury buy back. Paul – you've got to make Alex feel comfortable and I can't imagine she feels comfortable with you talking to Jessica and Cody. How do you feel about Ramses and what he tired to pull f**king over everybody? Jason – the same thing I've felt since day 1 when he threw my HOH comp. Paul – you think he won the 25 grand? Jason – yes!! (He didn't Kevin did ) I have to keep telling Alex that… the f**king guy is really good but he is a twerp. Paul – I'm concerned that Ramses is making side deals with Cody and Jessica. Jason – no way, never! Them to hate that twerp. Paul – all I am concerned about is that those three (Cody, Jess and Ramses) are trying to rally something. Jason – well they would have to include me. Paul – which is why I am asking you now. Jason – I feel like I have leprosy. Paul – which is why I am asking you. You're around them more than anyone else. Jason – I have no other choice. I have to stay on a lily pad, I sleep in the havenot room with them. The only time I get out of my f**king suit is in the f**king pool. They don't talk. Paul – as long as Alex knows and doesn't feel uncomfortable. Jason – well if she is uncomfortable then she can go kick rocks. Paul talks about Ramses almost f**king things up. Jason – everything he does f**ks things up for everyone. Paul – I want to sit him down and ask him what part of max out your time did you not understand. Jason – I don't think he's gay, I think he's heterosexual. Jason to Paul – why are you so leery? You're the one in control. Paul – I'm not leery. I am just trying to feel out for the next couple of weeks.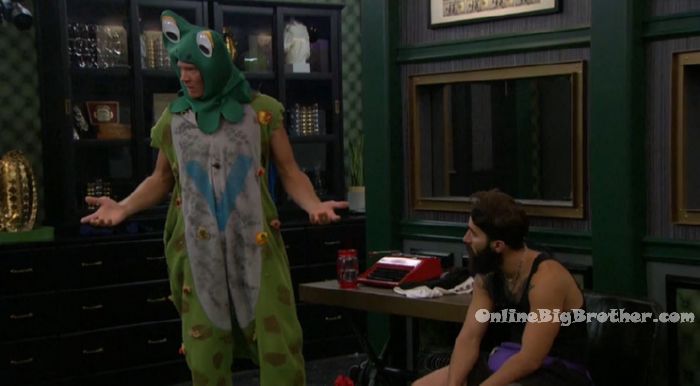 Jessica cam:

3:35pm Elena, Mark, Matt and Raven make a Mark sandwich.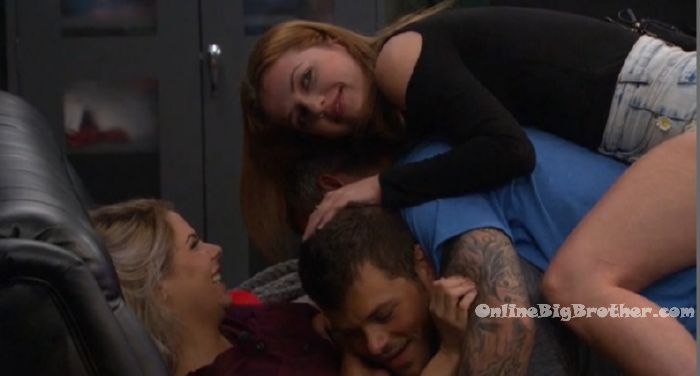 3:45pm Lounge room – Dom talking to the camera. Dom – I advice is to not lie at all. Find a creative way to avoid the question or not answer. When you lie its becomes harder to remember the lie. Stay true to yourself. TO love is to love without condition… Big Brother was bored so they switched the feed.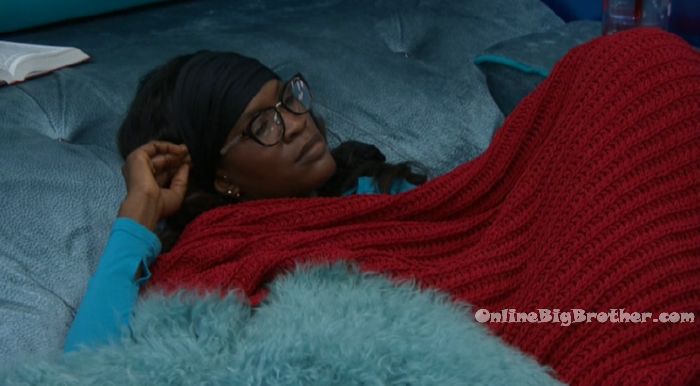 4:15pm Mark and Kevin play pool.
3:50pm – 4:30pm Matt and Christmas.
Christmas – I think we should heavily consider Jason and Jessica and then backdoor Ramses. Ramses is going to go do his own thing anyways and he is already making an alliance with them. (Cody & Jessica) We can promise something.. he will give us a little information. He won't give us all but he will give us a little bit. Christmas – Jessica will go after me or Elena. She will probably try and backdoor me. She is talking to Elena but she isn't talking to me …so I know I'm her primary target. Paul joins them. Christmas goes over the idea to put up Jess and Jason with Ramses as the backdoor. Paul – yeah, we can do that. Lets just make sure we win HOH.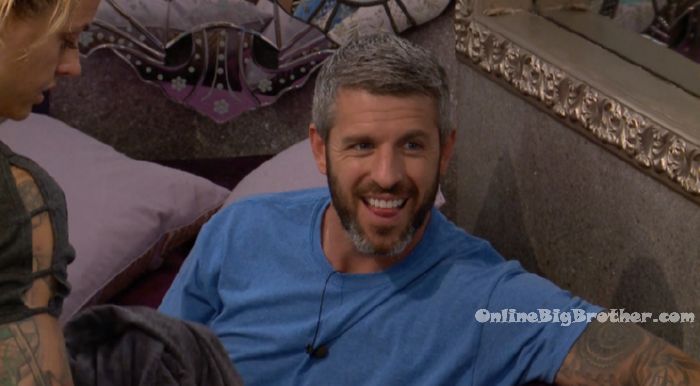 Check out our BB19 Ranking Grid. . rank your houseguests here
4:50pm – 5:10pm HOH room – Kevin and Paul.
Paul – I don't trust any of these mother f**kers. Kevin – I trust Mark more than Matt. I definitely don't trust Jason anymore. Paul – that guy is a f**king idiot. Everyone is now associating him with Jess and Cody. The guy is not intelligent. Kevin – he doesn't care. He doesn't give a f**k. He wanted to leave and I was like no, you can't. Paul – really? When? Kevin – this morning. He says it off the hip. He said he wanted to throw a chair through the window and escape. Paul – now after this week I'm going to back out. (LOL bullsh*t. I highly doubt that.) And let them f**k up. Because no one is going to do what I did. Kevin – and no one can put you up. You've got another week (safety) after this week. Kevin – then its Jess, Rams and Jason. Paul – Josh is actually doing well for himself. This big group is going to eat themselves alive .. I can see it coming. Kevin – Alex is with you now. Paul – I know. Kevin – She is one of the top three here. She even said if she wins HOH she would put up Jess and Ramses. Paul – I'm laying low for the next while. Only when there is danger will I win again. Kevin – everything is going perfect. Paul – I think Christmas is going to get kicked out soon. People don't like bossy… so you just have to let her be bossy.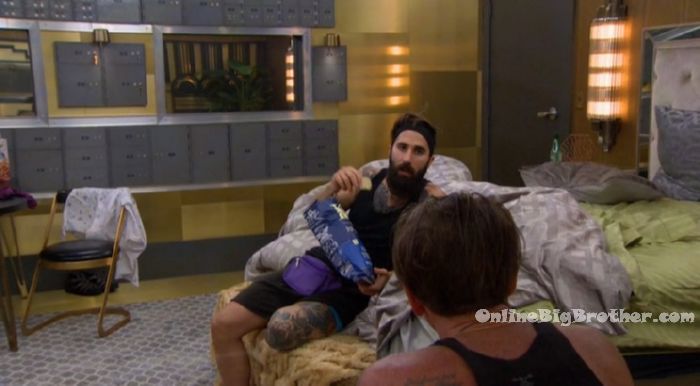 See what they can't show you on TV Try the live feeds for FREE!
6:15pm Bedroom – Josh and Jason.
Jason – why is everyone acting so weird? Josh – I don't know, I think you need to stay away from Cody. Josh – just lay low. I never talk to those two. Jason – who says we can't talk to those two? Josh – its just a game. Everyone is acting fishy right? Jason – yeah. Josh – whatever I tell you is to help you. Don't tell anyone anything. If you do it will f**k both of us. Just go with the flow. I haven't spoken to those two so they're making up lies to save their a$$.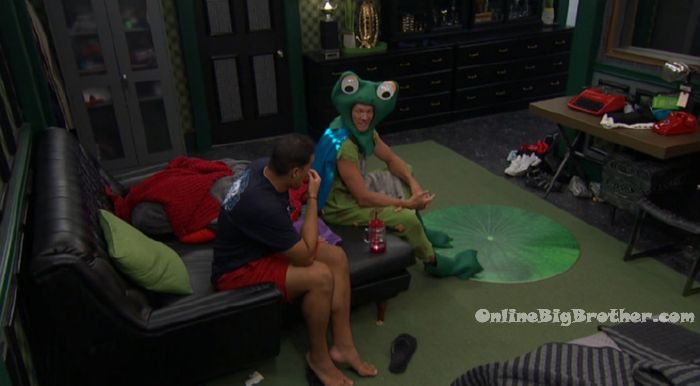 6:25pm – 6:45pm HOH room – Mark, Elena, Paul.
Mark – you don't pick it up, unless it is directed towards you. Paul – extremely persistent. Elena – I'm sure her intention wasn't to attack you. Paul – no it is. I got that today. She said I'm going to rekindle a relationship with Ramses and Jason and I was like why? What more do you need to find out? If anything it will just make you more paranoid. And she was like you have your methods and I've got mine. So don't worry about it. Paul – if you don't want my advice .. then we can talk in a week when you ask why people are looking at you weird. Mark – And then try and express yourself to a group.. she's just like a little Chihuahua. Paul – you guys have to win dude. Mark – I just want to win due to how some people are when you try to talk to them. Raven and Josh join them. They talk about the veto competition and how long each station took.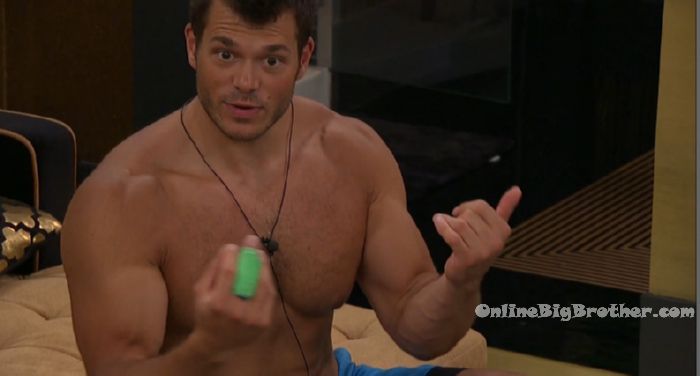 6:50pm – 7pm Cody and Jessica hanging out in the lounge room.

7:25pm – 8:25pm HOh room. Paul, Christmas, Raven and Ramses are talking about dogs. The conversation turns to talking about Thailand. Paul says the most beautiful lady in Thailand was a lady boy. Paul tells a story about his friend that had an experience with a lady boy. They talk about Thai food. Christmas says that Thai hot is will "r@pe your mouth" its so hot.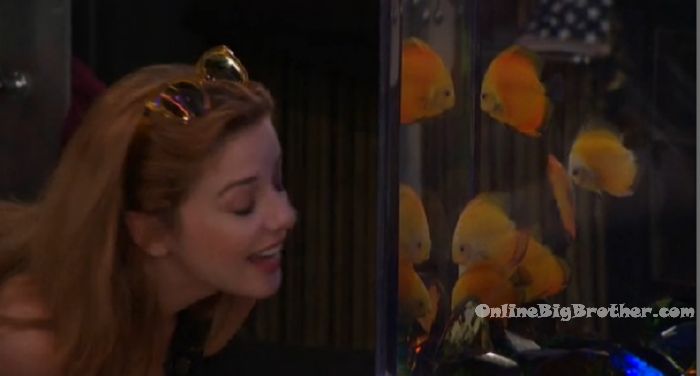 8:10pm – 8:25pm Bathroom – Matt, Mark and Elena.
Matt – on the off chance she (Jess) doesn't go next week I didn't want to tell her to go f**k herself all week. Elena – that thought crossed my mind too. Mark – 3 days.. or 4 days till HOH. Matt – its crazy how critical that is. I will see how her (Jessica) attitude is on Thursday after he is evicted. Jessica hops through to go to the washroom. Jessica leaves. Matt – It can either go one of two ways… she (Jessica) can either be positive or she can fall apart. If she falls apart, I am keeping her. If you're completely useless, stay as long as you want.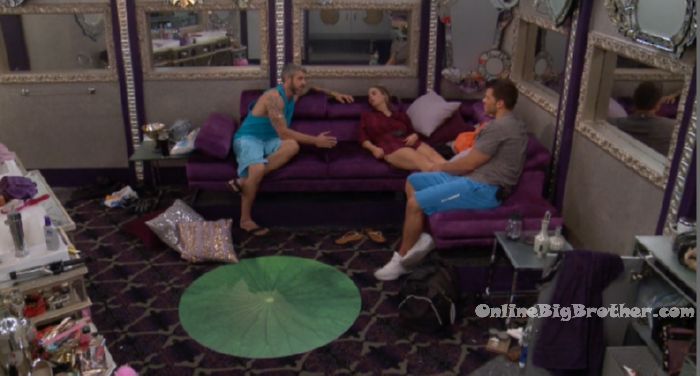 8:50pm – 9pm Lounge room – Kevin, Jason and Alex. They're talking about random things. Paul joins them. Jason tells a story about being at a carnival and a guy was selling suckers laced with something. He says the FBI was chasing the guy and Jason ran into him and they both fell down allowing the FBI to arrest him.
8:55pm – 9pm Havenot room. Cody and Jessica are talking about taking a road trip. Jess – I guarantee that Paul is already planning to take out Alex and then me so that when there is a battle back you will have to compete against her.
Links to the ranking system
Rank your house guests here
For those of you that like Statistics here are some expanded reports.