Check out our 
BB19 Ranking Grid. 
. rank your houseguests 
here

See what they can't show you on TV Try the live feeds for FREE!

9:20pm Havenot room.
Cody – I'm just going to pretend that you've never had s*x before. Jessica – you're my one and only. Cody – wait?! I would be. Jessica – would be ..if it had happened yet. Jessica – would it be okay if I parade you around LA? Cody – would it be okay if I parade you around the rest of my life? Jess – you're getting brownie points today. Big fan of Cody today. Cody – Don't think there isn't cool points for having a babe for a girlfriend. If I .. I mean if we were. Jess – ah wait what?! All I heard was girlfriend. I'm not your girlfriend. You haven't asked me yet. Jess – hopefully the guy that is watching my dog is … is like… Cody – killing your dog?
Jessica – no he wouldn't. He's a sweetie. It was never going anywhere. It was just to pass the time. And I told him that all the time. He was also a lot younger than I am. He is 21. He's a sweet kid so he would never be mean about anything. I don't think. He's a boxer so it would be good to see you go toe to toe. Cody – I need to get back into my fighting proficiency.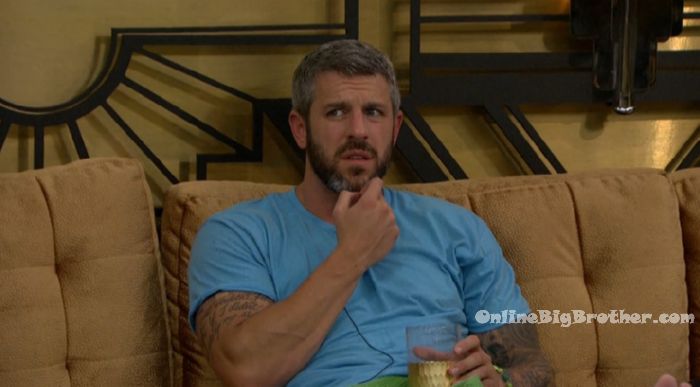 9:40pm – 10:45pm HOH room – Paul and Matt.
Paul – I guarantee he (Cody) doesn't have the balls to come at me like he did to Josh. Matt – of course not, he wouldn't come at me like that or Mark. That was not very honorable. Paul – if that's what you think of Josh, why would you let someone like that get under your skin. Matt – three or four separate meeting he blatantly disrespected him. Not that I didn't love every minute of it because I did. Paul – If you're going to dish it out. You better be able to take. I am ready for tomorrow. I have a hunch on what that veto is. Matt – hopefully Josh gets player pick and he picks me. Paul – the only way this can get f**ked up is Ramses. Matt – the odds of him (Cody) getting picked and winning are low. Paul – we know he doesn't have the temptation so I don't care who has it. Paul – She (Jess) is secluding herself. The girls aren't. Dom joins them. Raven joins them. Paul – so when are we getting Raven out? Raven – when am I stabbing you with these heels? They talk about how they think Christmas won the temptation. Dom – it makes sense they (America) would give it to her. Paul – three people that f**ked her over are now hopping. Its so funny dude! What are the odds man! I wonder if she will stick around after her surgery. Dom – she said she just wants to make it to jury.

See what they can't show you on TV Test out the live feeds for FREE!

10:30pm Cody & Kevin.
Kevin – you got to win. Cody – it all depends on that chip. Kevin – 10% chance. Cody – I was trying to figure out the odds. You know what's funny, they thought by having Ramses put himself up this week that it would help their chances but the thing is, it took his chip out of there so now there's a better chance they pull my chip out of there. They didn't think about that! It just goes to show that they needed a team to take me out. The only way to take me out is to not having me compete. Kevin – and then they'll be after Alex next. Cody – no, you'll have to help her out. Mentally she'll break down. They'll torture her. Kevin – exactly.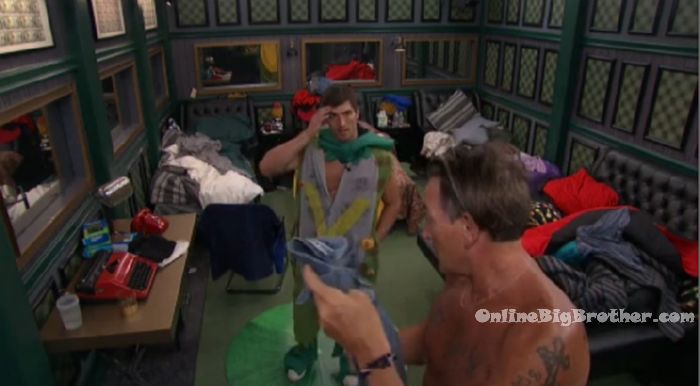 11:40pm Cody and Jessica are still secluding themselves in the havenot room.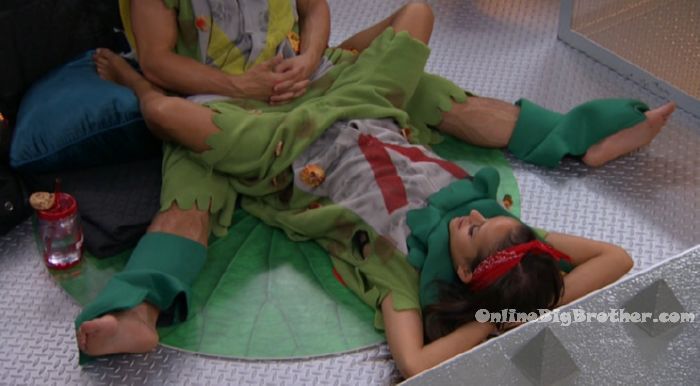 12:10am Kevin puts the kangaroo costume on and hops around with Jason. Josh then jumps on Jason's back. Jason starts hoping around. Josh jumps off because he's scared Jason will break his foot too. Christmas says she was having flashbacks.
12am – 12:50am Mark and Dom talk at the chess table about random things. Christmas then plays Mark.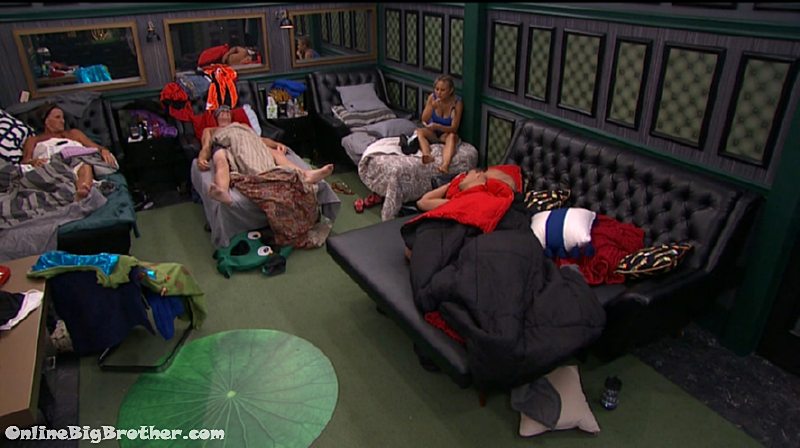 1:03am Outsiders goofing around.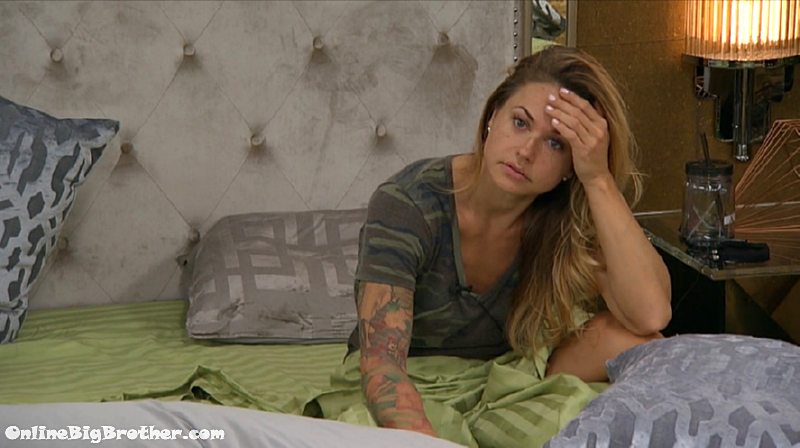 1:08am HOH Paul and Christmas
Paul – walk me through this temptation so I know what it is
Xmas – did you tell Elena
Paul – no
Xmas – we'll probably end up using it tomorrow if there was a time to use it
Paul says people are starting to think Christmas has it.
Xmas says the temptation nots a big thing.
She goes on to explain what the temptation will do for her. If Cody's name gets picked in the POV she can jump up and swap out with him.
Paul – he will f**** implode
Paul – that's awesome another odd in our favour
Christmas – this week is bye Cody
Paul – he's a d1ck head
Christmas – I'm sorry you failed by your mission
Paul – stop crying about it
Christmas says every single person in the house is aligned for this same move (get Cody out)
Xmas laughs
Xmas – I hope Josh wins..
They laugh at the scenario where Cody is nominated in his frog costume against Ramses and Josh.
Xmas points out how Jessica is already starting to try and reintegrate.
Paul doesn't trust her says doing that is making a mistake.
Paul – she's going to blame everything on Cody.. Cody is probably telling her I'm leaving this week
Xmas – she can't go in a room without him, it blows my mind
Paul – this plan is flawless
Xmas – he's going home on Thursday PERIOD
Xmas brings up her conversation with Jason earlier today.
Paul – Jason's a idiot
Xmas says Alex and Jason aren't very tight.
Paul – good work with the temptation and the curse
Xmas – thank you … thank you
Xmas – I've never seen such a great plan be executed so well in BB (groan)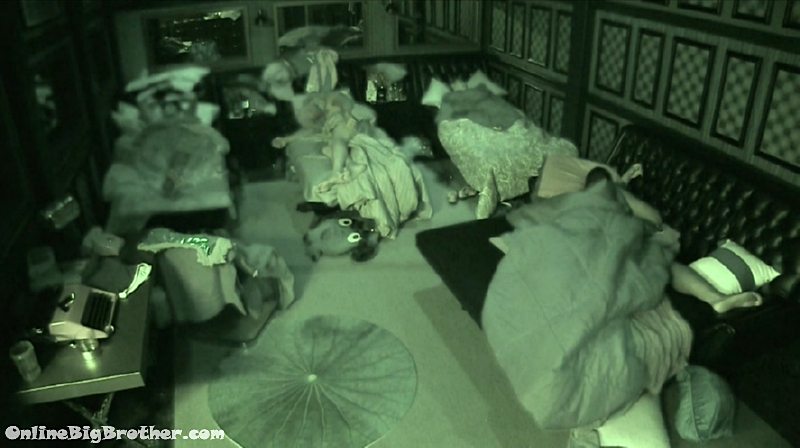 1:31am outsiders
Kevin – I'm sweating like a mother.. I mean it man.. It's dripping down my back.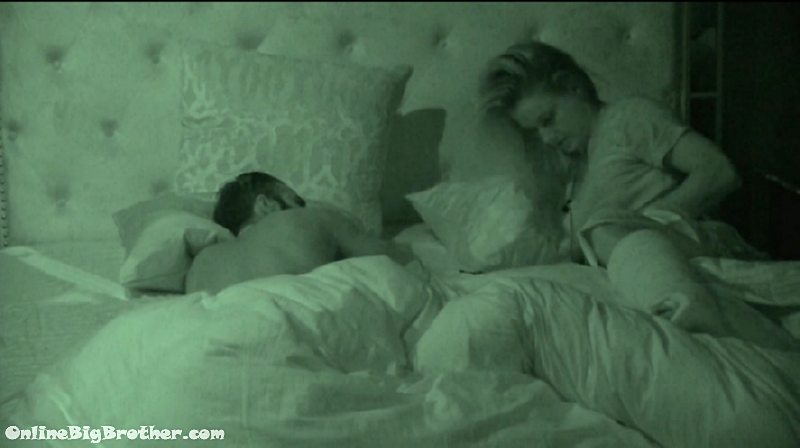 1:32am Paul and Christmas
Paul talks about is super emotional cats.
Paul says he wants to move to New York and start the next chapter in his life. "expand my network, explore my opportunities, continue my brand see where it takes me"
Paul – I want to say I live in LA, London and New York by the age of 25.
Paul – LA is getting a little slow for me.. it's slower than New York, once I got a taste of New York theres no turning back.
Paul says he wants to open a coffee shop in LA.
Paul complains that the meet and greets are draining, "it's work I see it as work.. I'll capitalize on some meet and greets for about 6 months.. the money is good"
Xmas talks about where she lives and how "SLOW" it is, says she's thinking of moving to LA.
Xmas – I hope CBS likes me and wants o put me in something out.. I'm supposed to be filming this really cool show in October.. it's like Madmax meets monster trucks and WWE.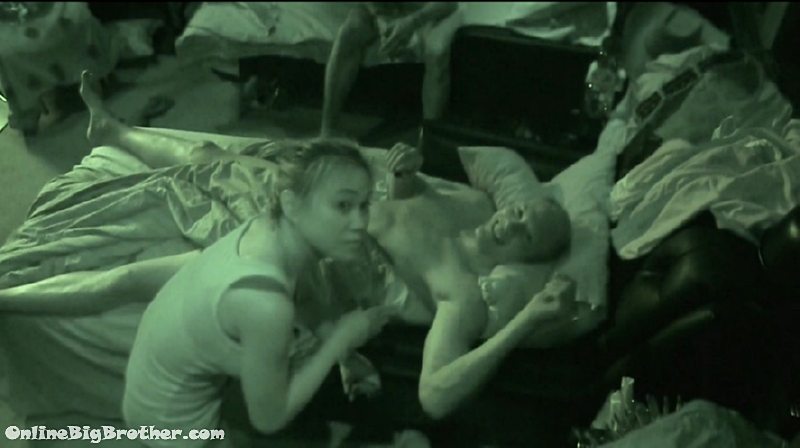 1:40am Outsiders goofing around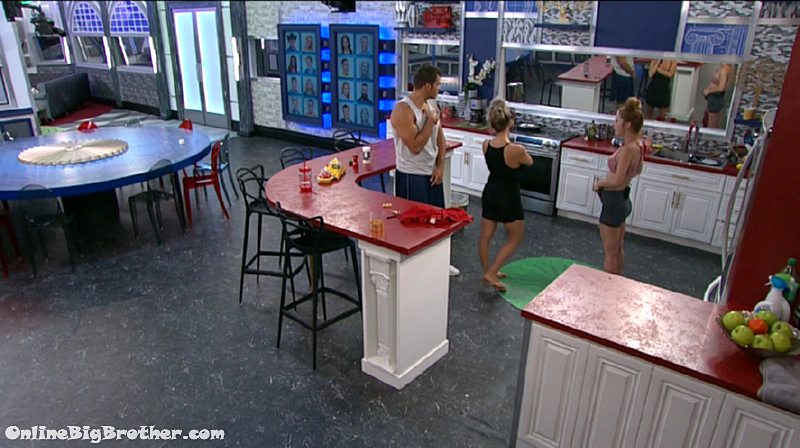 1:45am talking about how they would have picked Josh instead of Jason to be the frog.
Frog passing through #BB19 @DawgsBigBrother pic.twitter.com/PYGH2kxJHk

— OnlineBigBrother.com (@bigbspoilers) July 8, 2017
1:56am Christmas rubbing Paul's back (I'm living in some parallel universe where Christmas Abbot is in a showmance with Paul from Big Brother)
Christmas and Paul #BB19 @DawgsBigBrother pic.twitter.com/gI5t9QZejO

— OnlineBigBrother.com (@bigbspoilers) July 8, 2017
2:00am Mark working out.. (never a bad time)
Mark complains to Elena that he has "testosterone" to burn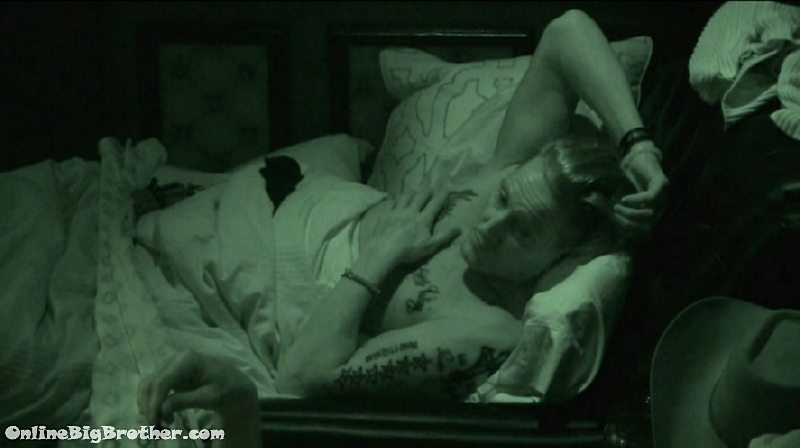 2:21am Jason and Kevin
talking about production.
Jason – they know more about use than we know about us
Kevin – you and Alex that's it. going to keep it cool from now on
Kevin says Mark, Matt and Paul were saying that Jason was voting out Jillian
Jason – they wanted to flip you.. that's how they flipped Josh and Ramses
Kevin says they have to win HOV 2 weeks in a row… "no one can beat us it's me you and Alex"
Alex is back starts calling Ramses a "Rat bastard"
Alex – Mark's not going to screw us right now.. but Matt's a b1tch..
Jason – a B1tch
6:37am Everyone sleeping
Links to the ranking system
Rank your house guests here
For those of you that like Statistics here are some expanded reports.