| | | | |
| --- | --- | --- | --- |
| POV: | ? | Next POV: | Aug 11th |
| POV Used | ? | POV Ceremony | Aug 13th |
| HOH: | Haleigh | Next HOH: | Aug 16th |
| Noms: | Kaycee and Angela | Have Nots | |
Big Brother Spoilers Haleigh nominated Angela and Kaycee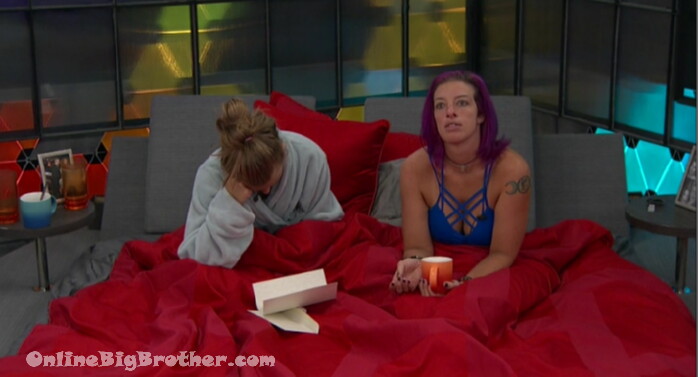 9:08pm HOH Haleigh and Rocks
Haleigh mentions how Tyler was telling her if he didn't see his face on the nom board he will know that they are working on improving their relationship.
Haleigh – no Tyler.. if you don't see your face there you know I'm working to backdoor you
Rocks – JC has loyalty to fes..
Haleigh says JC has been actively working with the other side.
Rocks says if JC goes up Fes would be livid..
Haleigh – it's not like he's a number for us..
Haleigh says JC is a scary person
ROcks – if you put Angela and Kaycee up if someone else win they'll put us up together ..
H – I think people will do that anyways
Rocks – no t if we keep winning.. that's the goal
Haleigh not saying she's leaning ot putting JC up instead of Kaycee.
Rocks points out that Kaycee and JC are both on te other side but JC is closer with that side.
Rocks says if Fes flips out at her putting JC up she can tell Fes to win the veto and take him down
Rocks suggest she tells Fes that JC running around saying they are in a showmance is why they haven't spent as much time together. She's trying to defeat that image of them in the house.
Rocks – he should be running around saying I have a showmance that's bad for my game and it's bad for you game.. it's the reason I've put distance between us.. he's going around saying that which makes it harder on us fes.
Haleigh says Rocks is just as important as fes is not more says that fes doesn't have to tell Rocks to leave.
H – god I wish Bay was here dude..
Rocks – I know
H – F***
Rocks – it was so shitty..
H – not one person apologized..
Rocks – yeah .. she knew she was going.. she totally did.
Rocks – she talked me out of being a crazy a$$hole too .. I thought about you that we're riding this out together and that wouldn't be good
H – if you leave this game I don't know hat the f* i'm doing here
Rocks – I feel the same way..
Rocks – you put Kaycee up it can go 1 of two ways she and Angela could support each other or she's going to be too wrapped up in her own head to support Anegal which would be uncomfortable for Angela if she's not on the block than she can constantly hug her.. and comfort her and stuff like that..
haleigh – I kinda want o put them both up there so one of them will be there regardless
Rocks – I hope it';s Angela
H – I was thinking that too
Haleig mentions that if Kaycee is on the block and someone wins Hacker they'll wan to take Kaycee down. They can work with Fes and Angela on the block.
Rocks – remember Brett called us the floaters that are always in the HOH room
h – that's what we're doing this week.. just floating on by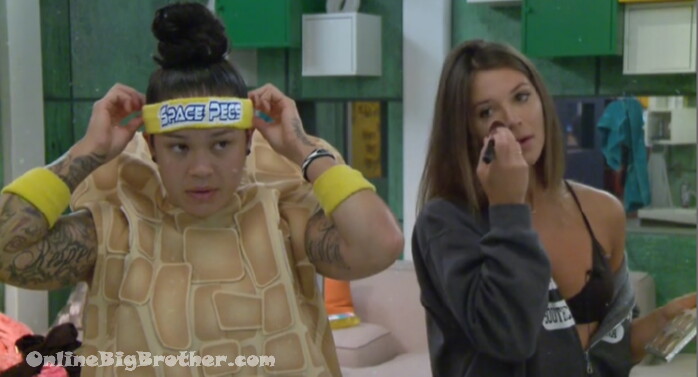 9:42am Kaycee and Angela
Kaycee – we just got to stay calm there's shit sitring up on it's own..
Angela – I'm worried that I said to Scottie about Haleigh and Fess pitching to put Tyler and him together on the block
kaycee – ohh yeah
Angela – I'm sure Scottie told Haleigh that I told them..
Kaycee – I don't know.. we got so much stuff on him..
Angela – honesty I don't know what to expect..
Kaycee says Scottie has been throwing out JC's name.
Tyler joins them hopefully not 2 of us
Kaycee – I don't see that
Kaycee leaves.. Tyler tells her they have to win the Hacker competition. Angela thinks the nominations will be Sam and JC.. (ZOMG)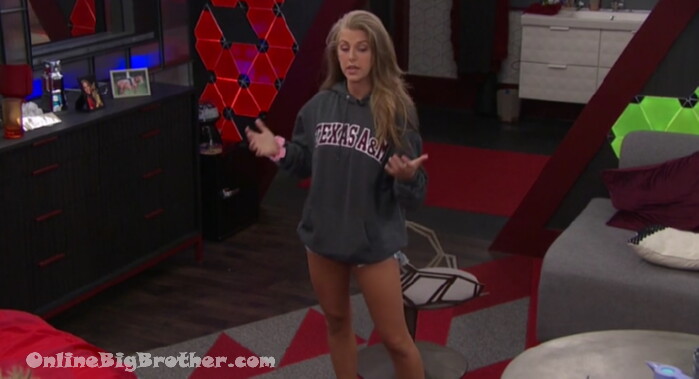 9:53am Haleigh is practicing her speech
H – Guys as you all know the further we go in this game the harder this gets every week.. when making my nominations I try to keep in mind who do I talk to the least in this hose who do I know the least about and who do I feel the least comfortable with ______ BLANK I want you to know this is not a personal attack on you with the way things played out last week I thought this would be the smartest move I know you said you are never coming for me but people say a lot of things in this house.. I think outside this house you and I will be great friends and I really hope you don't take this the wrong way
H – ______ BLANK I also want you to know that this isn't a personal attack on you. I genuinely care about you and I genuinely think out side this house that we will also be friends I had to nominate two people and you and I dont' exactly have that firm of a relationship.. we really don't talk that much. Not that you would come after me I just don't know where your head is at so with that being said you guys are my two nominations and I hope this week can go as smooth as possible and that neither of you take this very personally.
H – I wanted to do something crazy shit but one person is staying..
S – maybe both
H – That's not comforting Scottie
S – both Angela's nominations stayed last week
H – i know
S – she has someone she wasn't aligned with win Hacker and ruined everything
H – that b1tch
Haleigh – we have to win the hacker you and I were first and second place.. you have to tell me if you win
Scottie says she will know his "feelings, thoughts and sayings to everyone everything all the time"
Haleigh says if they get the hacker power theirs a move they can make, "And it's not Tyler.. me and Tyler had a really good conversation last night" (Wounded lamb)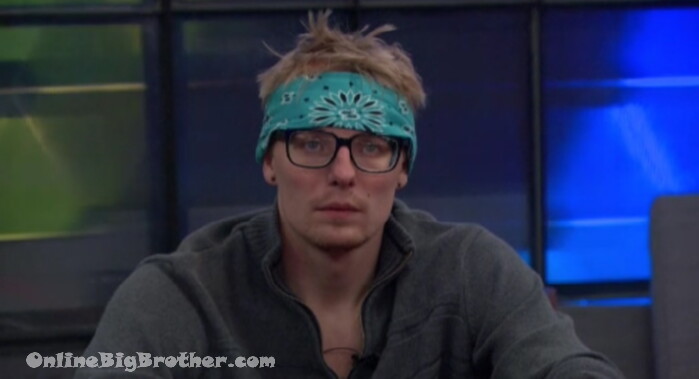 Scottie says he's very fishy with Sam he's been watching her
Sam – she's always talking about how she doesn't want to be here but the second the girl who you put her up and insulted her wins HOH you start playing the gmae and she goes to ROCKSTAR to do it whos close to you "
Sam – I'm just saying I smell smoke..
H – do you think she'll be a good nom
S – no
H – she was really emotional and pretty much lost it..
S – this is the first time she has had to be worried.. she said she has no deals which is not true.. she has a deal with Tyler and she had to have a deal with Kaitlyn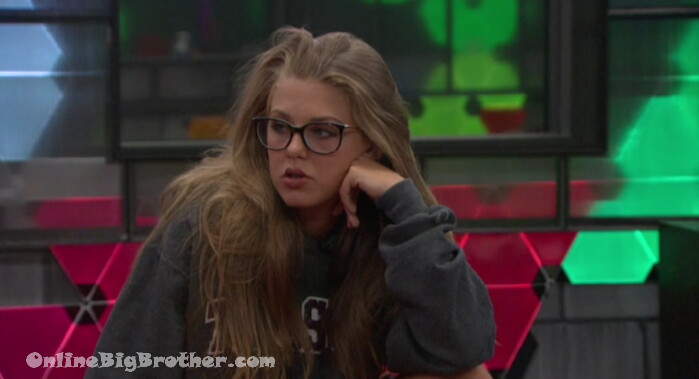 H – who do you think I'm nominating today
S – Angela .. either JC or Sam
H – ok
Haleigh says Sam shook her hand and look her in the eyes saying she woundnt put her up..
– I don't want to make a move anre great it
S – if she's telling you she hasn't made deals that's false.. she's made them pink y promise with me.. before Steve left..
Scottie lists all the deals he's heard Sam make.
Haleigh – I'm going to go have a conversation with her..
Fes comes in..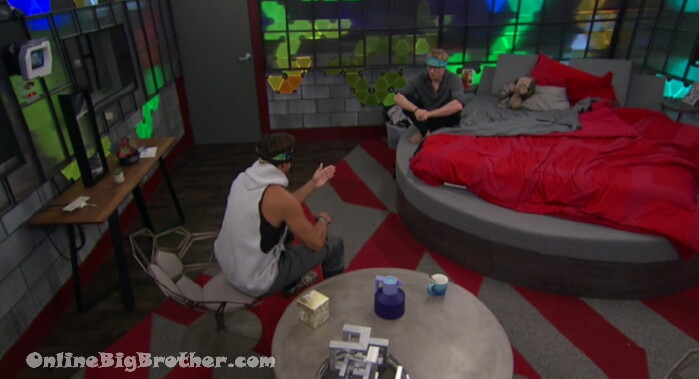 10:18am Fes and Scottie 
Scottie says he heard that Haleigh, Bayleigh  and Fes were throwing his name under the bus.. Fes denies it. (LOL)
10:47am Feeds are down for the nomination ceremony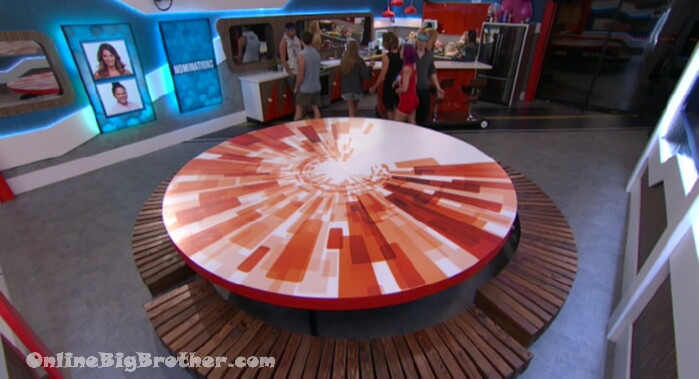 11:17am Feeds back hugs all around…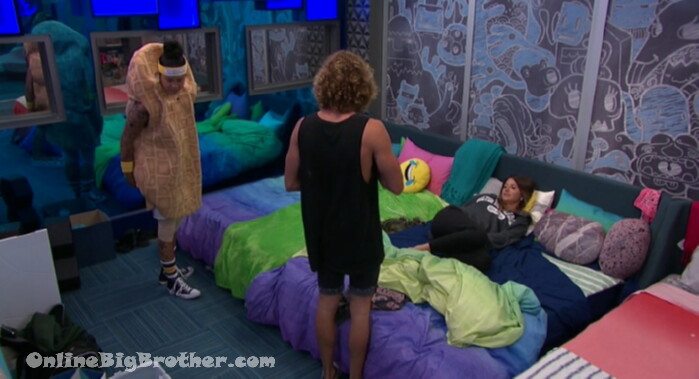 11:20am Tyler tell Kaycee the plan is to backdoor him.
A real easy way to support the site if you are an amazon shopper is to make your purchases through our link. You pay the exact same thing but we get a small % commission. It doesn't cost you anything and helps us out.
Amazon Canada
Amazon USA