| | | | |
| --- | --- | --- | --- |
| POV: | ? | Next POV: | Aug 11th |
| POV Used | ? | POV Ceremony | Aug 13th |
| HOH: | Haleigh | Next HOH: | Aug 16th |
| Noms: | Kaycee and Angela | Have Nots | |
Big Brother Spoilers – Tyler or JC one of those will be Haleigh's treat but of course the hacker and Veto can change all of this. Also keep in mind that Tyler has the Cloud app. If the Hacker compe and Veto don't go Level 6's way he pops the cloud app before the Veto ceremony and he's save from the backdoor.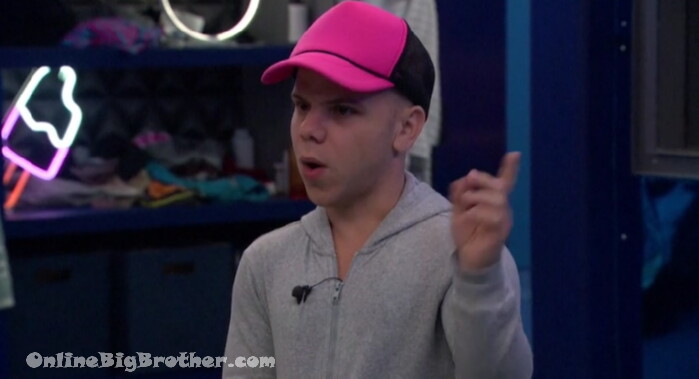 11:19am JC, Angela and Kaycee
JC saying that Scottie and Sam were both working hard to get off the block. Scottie more so he got "in their heads"
Kaycee/Angela (not sure which one) "they can go kiss their a$$"
Angela – we can hangout in public now..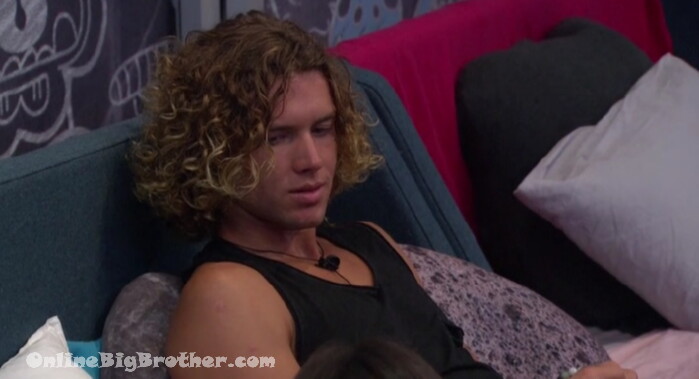 11:19am Angela, Tyler, JC and Kaycee
Kaycee says Scottie is in their ear..
Tyler tells them – Don't say anything to Scottie ever again
T – whats the Hacker plan..
Angela – I don't know..
T – take one of us off..
Kaycee – I thought all along we were in an all girls alliance called the maneaters.. that;'s crazy I thought this whole time we were in a all girls alliance
T – for god sake I'm a peanut..
Kaycee – you said I was in the all girls alliance twice and I'm a peanut
JC – a peanut on the block
Tyler – Sam .. she's gone .. I didn't check on her enough.. not game wise personal wise and Bayleigh check on her So did Rockstar
Kaycee – you turned me into a peanut you put me up as a peanut it's war..
Brett bros in… "babes.. total babes in my boook.. well coffees ready you'll need it"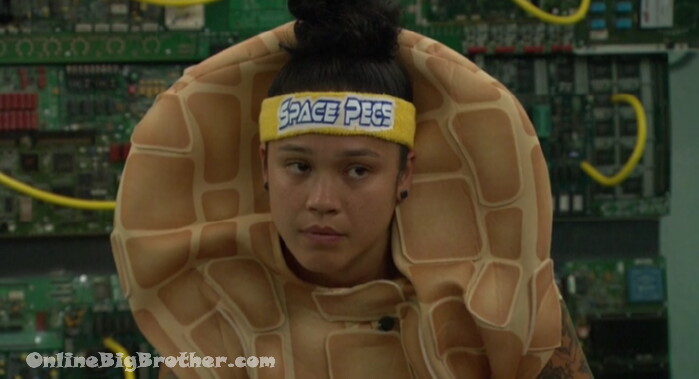 11:29am have nots KAycee and Tyler
KAycee can't understand why haleigh didn't put Sam up, "sam put her ass up that would be the least blood on her hands"
T – Bayleigh got to sam by just talking to her.. Sam is playing on a personal game
Kaycee – yeah she is she;'s f*ing with our game..
T – I told her Sam people think we are final 2 so we have to spend time apart
T – she doesn't understand shit she's like you don't check on me and Bayleigh checks on me
T – If I win Hacker I'm taking you down if I took Angela down it would be too obvious I'll put up F*ing ROCKS and I'll put myself in the veto and I'll take down Angela.. should I put myself in the veto or Should lI put you in the veto
Kaycee – to play
t- yeah
k – We'll figure it out..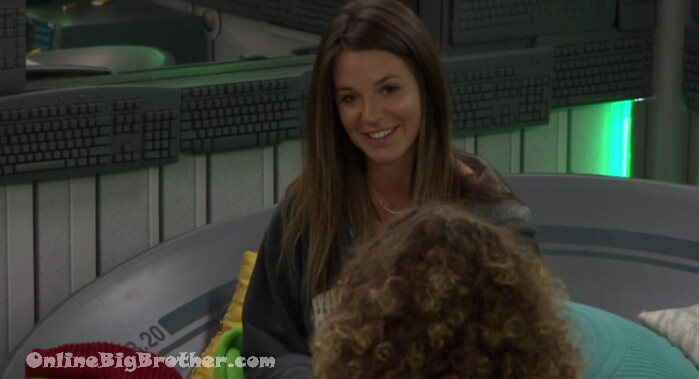 Angela comes in..
Kaycee – f*ing Sam dude..
They agree if they win Hacker they'll slap ROCKS on the block
Kayce e- F*ing Sam.. Sam put her a$$ up and f*ing rockstar.. like.. but probably because she vote bayleigh and was an emotional wreck.
tyler goes on about how he tried to distance himself from Sam because people thought they were in a final 2 and now Sam is upset because he's been distant. He tried to tell her this, ,"She doesn't understand"
Kaycee – Scottie has been in their ear..
They agree Scottie is telling the other side everything they are saying to him
T – we'll be fine.. i'll be fine..
K – what was the reason to put us up
A – we don't talk game.. and that I thought she was the hacker and I'm coming after her after I told her I didn't think she was the hacker..
kaycee – she just put the most blood on her hands
A – Sam asked to be on the block..
Tyler says he promises them these nominations were there to backdoor him.
A – we have to win hacker..
Kaycee – we got this f* them
T – i'm telling you right now I can win the Hacker.. I can win it.. I got three last week.. and I was on slop.. I'm dialed in right now
kaycee – whatever happens I love you guys
A – i love you to
T – it's not over it's not even close
Angela says JC might get caught in a lie and get backdoored.
Angela says she still thinks the hacker was bayleigh..
T – f* this..
They hug it out..
kaycee – you f*ed with the wrong peanut.. you put the peanut up with my sister..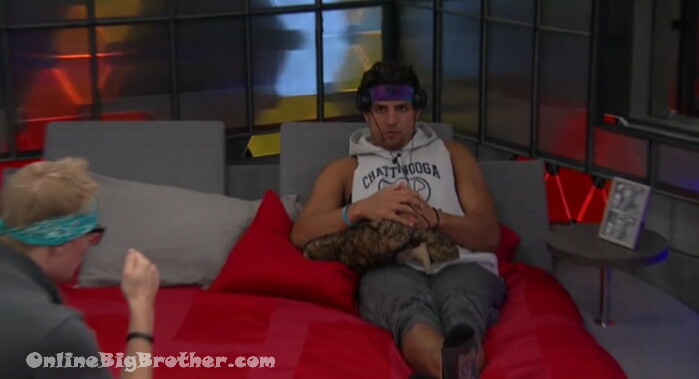 11:24am Scottie and Fes
They are talking about allainces that JC has told them about.. comparing notes abnout JC.
Fes – bayleigh made a top three with him without me being there.. why would Bayeligh do that..
Ha – to cover all angels..
Fes – I was also told bayelgih made a top three with Angela and Kaycee
Ha – yeah I know from JC
Scottie people are trying to f* with us..
FEs – it's not people it's one person who is that one person..
Fes – what is JC doing..
Scottie – he's floating…
Scottie – he's legit trying to get us pissed at each other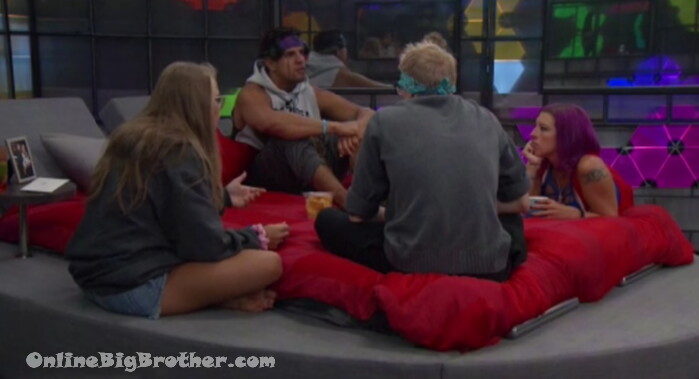 11:31am The HIVE
fes – I like JC I don't think he would wrong me
H – can we just establish that this four is a good four
Scottie – YES
H – and we trust everyone in this four
Rocks – yes
Fes – ok
H – so going forward I don't need anymore of this who said this who said that
Fes – what do we do about JC
ROCKS – keep him at an arms distance..
Ha – listening when he has something to come to me with..
Haleigh says they reevaluate what he says and figure out what is bullsh1t.
fes says JC has been planting seeds in his head. Bring sup that when bayleigh won HOH he kept repeating to him how much he loved bayleigh.
Haleigh – it it really just occurring to you that he might be the bad guy
Rocks – he's actually a genius do you know he's like a lawyer..
JC comes in ..
Fes – you ready for that hacker comp..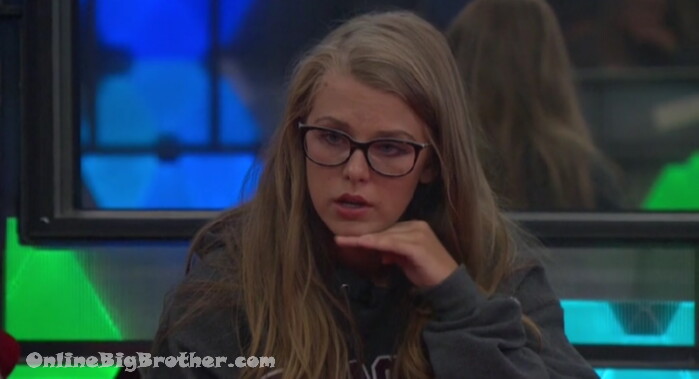 11:41pm Brett and haleigh
Brett says he'll keep the noms the same if he wins the Hacker. Haleigh is happy that is what she wants. Invites Brett to hang out with them.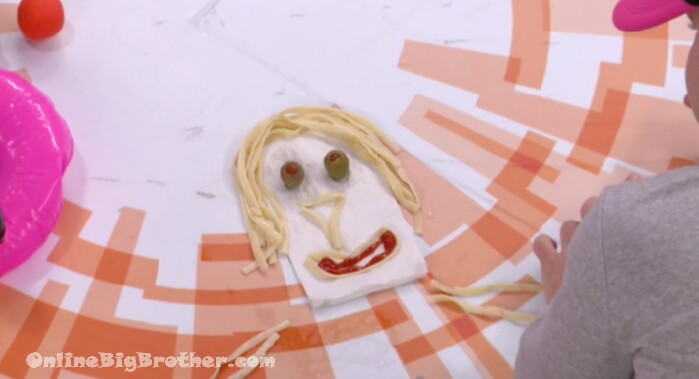 noon JC makes a Kaitlyn memorial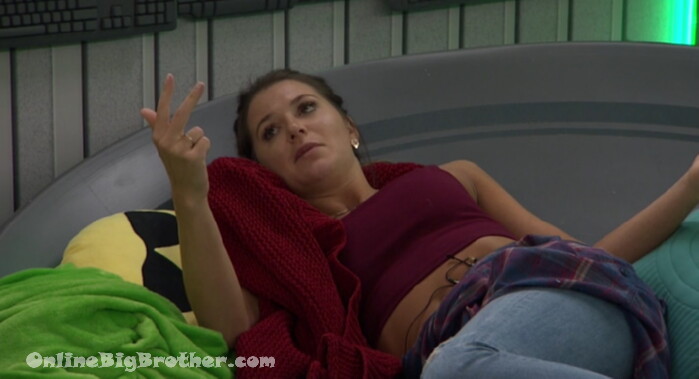 12:40pm Angela and Kaycee
A – block party…
A – I don't think we should put ROCK up I think we should put Sam up.. becuase .. lets say me and Sam are oin the block SAm is goign to be like vote me out… vote me out..
A- if ROCK is up there we don't have teh numbers, Sam has flipped she with them
A – it needs to be Sam and one of us on the block..
K – there's a much better chance that we all stay if sam goes up .. she'll be like vote me out vote me out..
A – if it's me a rocks .. lets go through the votes .. you, Tyler, BRett, JC, VS Sam, Scottie, FEs .. wait..
they got over their math..
A – you, brett, tyler, jc voting to keep me and for ROCK it would be Sam, Scottie, Fes,
Kaycee – you think Sam
A – Sam has flipped
A – they Cancel one vote out then it's three to three it goes down to the HOH.. We don't have the numbers
A – it would be easier to campaign against SAm.. Sam wants to go home I want to be here..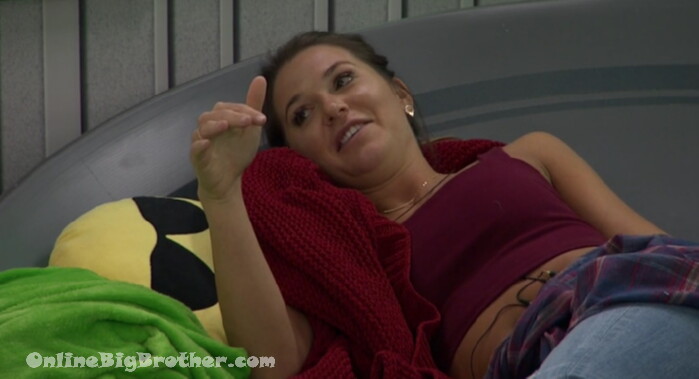 A – wait the Hacker deletes one vote.. we have to win the hacker that's the only way we are safe
A – if we don't win the hacker we don't have the numbers because they are going to delete one of our votes.
Kaycee – ROCK is a solid vote on their side.. Sam I feel like sh'es not fully flipped.. you know what I'm saying.. ROCK(head) is a solid vote.
A – if we win the hacker we need to put SAm up if we don't win teh hacker we need to put ROCKSTAR up (Wait how the f* are you going to put rockstar yup)
LOL kaycee just asked her that… they laugh.. I laugh..
Angela says if they don't win the Hacker competition and they win the veto Tyler goes up, "If we don't win the hacker we're f*ed"
Kaycee – I think Sam is the better replacement..
A – if we have the Hacker than we have the vote regardless of where Sam votes
They wrap themselves in knots going over votes…
Kaycee – I feel like Sam will vote out ROCK over me.. I feel pretty confident..
Kaycee now saying they need to put ROCK up because that way it'll be only Scottie and Fes on that side voting to keep ROCK.
Angela says she still thinks Sam will scream send me home if on the block but recognizes that's going out on the limb.
Angela – all we have to do it plant some seeds in Sam's head..
they now agree ROCKS goes up if they win Hacker.
A – Right now I feel more safe on the block than off..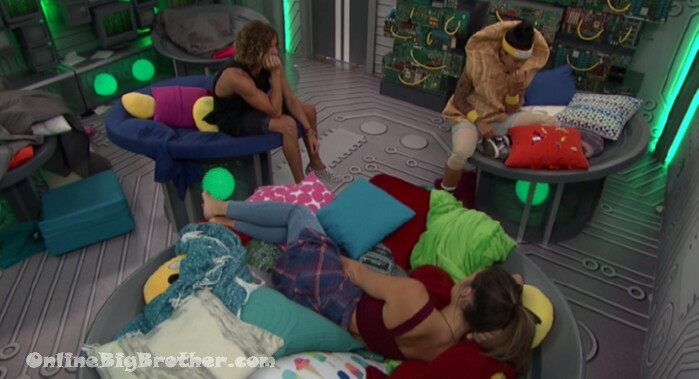 Tyler has joined them..
They agree they have to win Hacker to keep level 6 safe..
Kaycee – we got to put ROCK up because she's a solid for them.
They go through all the permutations .. If they win hacker and veto then the other side loses a member.
Angela – if we win the hacker we'll always have the numbers
Tyler tells them Sam will keep KAycee over the ROCK and THE ROCK over Angela.
Angela wonders why Sam "hates" her
T – she doesn't hate you she said something weird to me
T – she said like.. Angela is bad for you and I can tell
T – I was like how can you tell
T- she was like I never wanted you more than just a friend
A – that comment Sam made makes no sense
T – I don't understand .. I don't check on you.. I guess she thinks now that I am in love with you because you sued the veto on me and she thinks .. I dunno
"This Hacker competition is what will make or break us"
T – what if after the hacker the noms stay the same? we have the veto.. so …
T – she'll try to backdoor me but I can get out of that ..
They wonder who the replacement will be if it can't be Tyler, "JC, Sam or Brett"
Tyler doesn't think the hacker will put him up because that would guarantee he plays in the veto.
T – If you [Angela} and Rockstar are on the block at the end of the week I will have to distance myself from you
A – i know
Tyler is going to get closer to Sam to secure her vote.
(I've been thinking Sam had a thing for Tyler since almost the beginning.. Just a gut feeling I have, Sam has been awfully weird about telling Tyler how she's not interested in him in a girlfriend way)
Haleigh shows of some HOH Moves #BB20 pic.twitter.com/GXFIo5Uag5

— OnlineBigBrother.com (@bigbspoilers) August 10, 2018
1:23pm Feeds go down for hacker competition..
Feeds down for the Hacker comp.. #BB20 pic.twitter.com/W1m9FFuojR

— OnlineBigBrother.com (@bigbspoilers) August 10, 2018
Get down…
Donations are very important in keeping this site running. Please if you like the content consider a way to support our efforts