| | | | |
| --- | --- | --- | --- |
| POV: | ? | Next POV: | Aug 11th |
| POV Used | ? | POV Ceremony | Aug 13th |
| HOH: | Haleigh | Next HOH: | Aug 16th |
| Noms: | ?? | Have Nots | |
Big Brother Spoilers Angela and KAycee or Angela and JC are going up. Haleigh is going to try to backdoor Tyler. Hacker competition played today.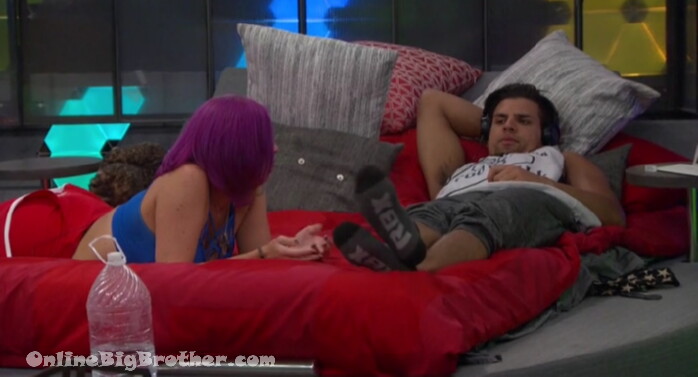 2:07am Haleigh says she feels like a d1ck wearing her HOH robe around.
Rocks says Kaitlyn wore hers.
Haleigh tells Rocks she'll head downstairs to grab some food then they can snuggle.
Rocks tells her after that she;ll leave Haleigh alone but start Friday night "Im moving in"
Haleigh leaves..
Fes complains that he finally gets a chance to talk to Haleigh without all the f*ing people in the HOH
Rocks laughs
Fes – this whole time 51 days I've never got to talk to Haleigh without someone like coming in.. Finally one of us won HOH where I can now have a real conversation with her.
Fes – it's like YEAH we're working together but I can have hours and hours conversation with her everyday otherwise people will be saying whats' up with that.
Rocks – right
fes – I was excited she won HOH now I'm hearing all this sh1t.. that's why I'm pissed..
Fes – the poeple I'm had backs in this game 3 of them are gone 1 of them turned on us so I really didn't have her back
Fes – no it's just you and her.. and I actually do like JC and I do trust him for me he has y'alls best interest to
ROCKS – ish
Fes – ish
Fes – he's never said anything about y'all .. I know he rides for me that's why I'm including him in the people I got in this game
Fes – I would rather I leave and the house looks like idiots .. I'm leaving you all can tear each other apart..
Rocks brings up with all the flips in the house and people looking at her side ways (own it) she's always done what she said she would do
Rock – how f*ed up that our alliance member turned on our other alliance member and we lost him
2:25am HOH Haleigh, Fes and Rocks.
Haleigh tells them after she's done eating the Oreo's she's going to sleep. Angela – it'll be interesting to see Angela unravel. she's had such a comfortable composure this whole time"
Haleigh – I nominate you Angela and you Kaycee.. guys we are getting down to the last few weeks of this game and the further we go in this game the harder it's going to get. I know we all have amazing relationships we've built theses friendships but this is the p[art of the game that sucks.. I had to nominate 2 people and I've made my decision based on how close I was on everyone in the house.
H- Angela, you and I are friends and I think we will be friends outside of this house.. it's that what she said to Bayleigh.. inside of this game we haven't had much game talk.. and with everything that happened last week it just makes me think that you will definitely come after me.
H – Kaycee, I think your a$$ is floating through the entire game
FEs – yes please say that
H – Kaycee this was hard for me because you haven't wronged me in any way… however I do know you are an extremely.. how can I word this.. you're social game.. I had to put someone next to Angela and due to hoe closely y'all are related .. how closely ou play this game together
H – I had to put two people and and you and Angela are really close
H – I genuinely care about both of you you both have 2 chances to chance this situation
ROCKS – I like it ..mines was going to be… theirs only a few people left here that haven't felt the discomfort of being on the block
H – I thougth about that but someone might use that next week on fes.. because he hasn't been on the block yet
Fes – aweee…
Haleigh tells them they are making themselves targets by hanging out in the HOH all the time
Rocks says Haleigh is her only friends in the house.. "if me being here tips them off.. now"
Fes – if I win [hacker].. how does this work we keep it a secret of tell
Haleigh – you do whatever you want..
Rocks – if one of us wins since there's no time to talk about it leave the nominations the same.. then we'll discuss who plays in the veto.
Haleigh – Agreed. Rocks – Did you hear that Fes
Fes – discuss veto.. what
Rocks – whoever wins leve the nominations the same and then ./.. pick you to play in the veto
fes – of course.. at this point what does it do make me a big target for winning the veto they already know I win vetos.. there's a 50% chance I get picked to be in the veto. It's harder to backdoor someone this late.. I mean it's not hard..
haleigh – it's not that hard that is what we are trying to do this week.. (Tyler)
fes – it's 50/50.. we have 10 .. three of them are already up there which leaves 7 .. 3 out of 7 so little less than 50% chance.. next week it'll be a 50% chance.
Fes – do you thinks kaycee is going up..
haleigh says kaycee doesn't know after talking to her she hasn't thrown anyone under the bus.
FEs goes on about how Kaycee has floated 51days "what's mind blowing.. She turned on Bay FAST… I thought that was a hands down given vote"
Fes – when Bay was HOH she was up here cuddling with her
Rocks – I know…
Rocks – they turned on RAchel
Fes mentions more about Bay and Kaycee during Bay's HOH. "They would go on sushi dates.. it was Kaycee and Bayeligh.. they were close.. she like [turned on her] .. no question"
Rocks – how come kaycee is considered a floater but Brett isn't
Fes – Brett's been on the block twice..
Fes says to him a floater is someone that hasn't done anything in the game hasn't made any tough decisions
Haleigh – yeah .. basically hasn't made any moves ..
ROCKS – yeah
Rocks leaves..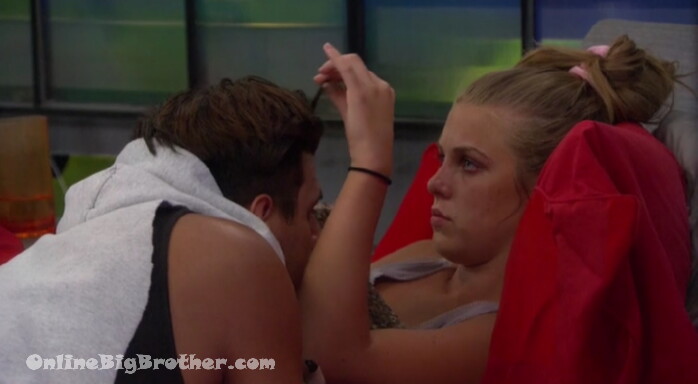 Fes – sorry for freaking out
h – it's ok.. I just don't want you freaking out
Fes says JC has his back.
FEs is getting pissed that Rocks is spending all the time in the HOH.
Fes – I think I am calling a house meeting tomorrow.. about me and you
H – I just won't show up and I'll put you on the block..
Haleigh is playing with fes' hair
Fes – I don't like you playing with my hair..
H – sorry .. it's a habit..
H – I'm sad Bayleigh is gone..
Fes – I know we could have saved her.. if we stuck with the plan
fes thinks JC would have voted to keep Bayleigh. "he was scared"
H – I just wish she was here.. she didn't deserve to be ton the block..
H – Fes what are you doing.. you are not spending the night.. it's 2:30 in the morning we have to be up at 8.. we have a competition in the morning nad it's goign to be mental..
Fes says this is finally when people have left her room. "you want to celebrate.. "
H – we can go to sleep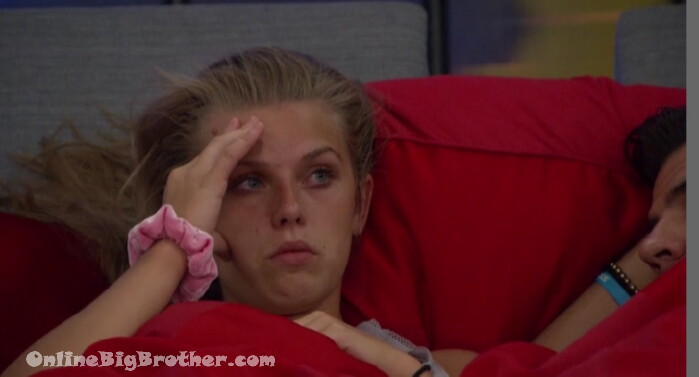 Fes – you want to crack open the wine
Ha – no I'm tired and  I want to go to sleep soon.. I don't want a headache tomorrow and feel like sh1t.
Ha – we all came to this game to wine.. you have to remember that..
Fes asks if she thinks he would turn on her
Haleigh says she doesn't know him "I don't know what you would do Fes.. I don't really know yo I know yo in this house but I don't know yo umy whole life.. we all came here to play this game to win you always have to remember that. I would like to think that you wouldn't"
Fes – I would rather go out trusting you 100% and if I go out this house and you did something to me ok screw it.. other than telling you all these things getting paranoid and getting out of this house and finding out it was the game.
Fes – I don't think you have feelings with Brett but i see you hanging out with him.. a couple weeks later you come to me.. it's so obvious I'm like what's going on here..
They both comment on the audience reaction when they voted bayleigh out.
Haleigh is pissed they could have kept Bayleigh
Fes – now we have Rockstar
H – Rockstar doesn't have a power..
Fes – rockstar doesn't bring anything to the table.. I still love her she's still on our team..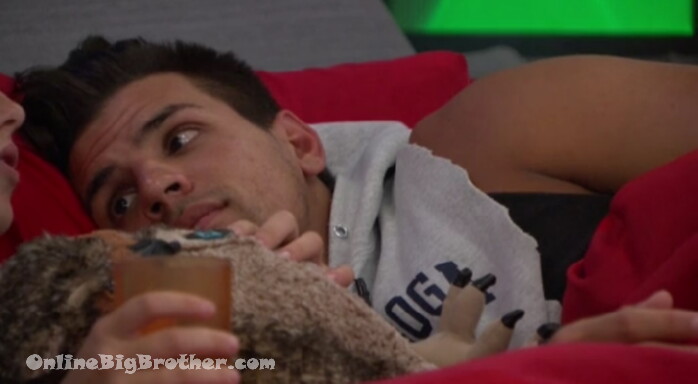 Fes – You look really hot in that picture with your mom by that way.. look at that body.. I don't even need to look at that picture I can see it right here.. (Groan) Fes brings up Brett telling him that Rockstar really did come up to him for a deal a"she;s not use to being denied.. she;'s got a dude she's got kids she's not used to being denied.. her being called out like that really made her upset"
Fes brings up kailtyn telling Brett all "that stuff" like she wanted to have sex wit him. Why would she be telling him "that stuff" and want Winston out.
fes – telling Brett that stuff.. Brett would never come after her knowing that Kailtyn has the hots for him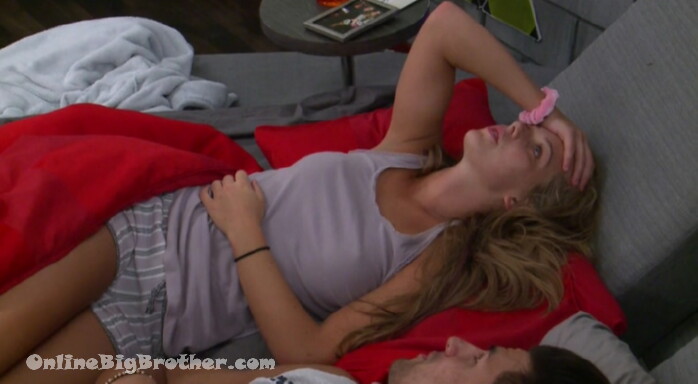 Haleigh – it could have been Rockstar that flipped both times.. (lol)
Fes – I don't think so
Ha – it could definitely (own it)
Fes – my money is on … I think Rockstar said that.. if it was Rockstar it was Rockstar and who
H – Bayleigh
fes – I don't thin kit was Bayleigh why would she flip and turn around put him back on the block .. you know what I'm saying.. Maybe Tyler. Tyler voted for him to stay this time too
H – I don't have to bite my nails this week
fes – we'll see after tomorrow.. if I'm going up (from hacker)
H – we need to go to bed fes so we're not tired
Fes – ok Haleihg this is the first time in 51 days I've had a 1 on 1 wit you..
Haleigh tells him she won the hacker comp last week because she went to bed at 10 got up and ate breakfast.
Fes whimpers "it'll be so lonely down there
Fes keeps wanting to stay up and talk Haleigh wants to sleep. Fes says Rockstar is going to be up haleigh's a$$ all week.
Fes = it'll be so lonely down there..
Haleigh tells him she wants to go to bed in 5 minutes
Fes – lets talk for 20 minutes.. can we be happy we won something
Fes – turn off the lights.. I'm not sleeping up here.. I'll wait for you to go to bed then I'll go downstairs..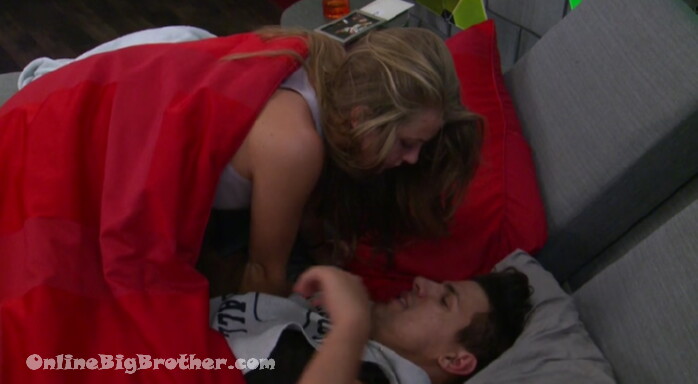 3:22pm fes still hasn't gone to sleep.. Every couple minutes haleigh asks him to .
Fes still won't go to bed.. Haleigh keeps telling him to go to bed .
Fes now asks for another song..
Haleigh – I'm f*ing tired..
3:30am after whimpering to stay he finally leaves…
Ha – why were your pants off?
fes – I had baskeball shorts on it was f*ing hot 9Sure)
Ha – HUG ME
Fes – I did..
Ha – you want me to kiss your cheek..
Fes mmmmhmmm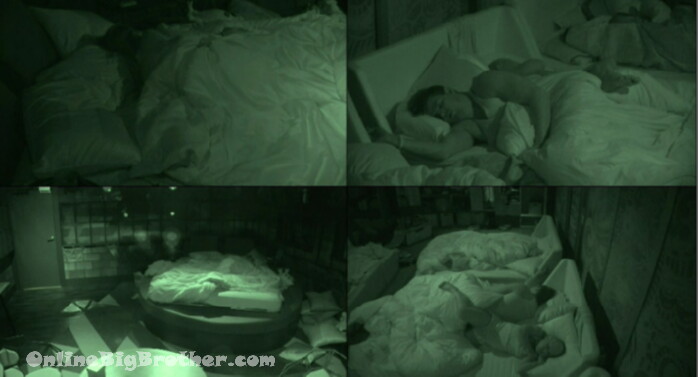 4:30am ZZZZZZZZ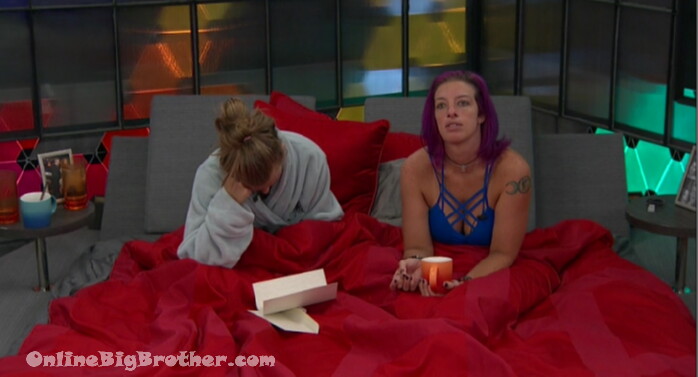 8:57am Rocks and Haleigh
Haleigh – Angela thinks she's going up..
They talk about thing they could say to Kaycee.. "you're not my target"
H – I don't know what is going on with Fes.. the way he's reacting to me questioning if he's flipped is not a normal reaction..
Haleigh – is eyes were red and blood shot.. I don't know if he shot up with heroin or meth…
Haleigh – Scottie is not our enemy right now is we have the power right now he's with us…
Haleigh talks about her parents being into Big Brother every summer it was what they would watch together. Adds that her dad was really into it which is weird becuase if you saw him you would never guess it. He;'s the type of guy that likes "Deep Alaska"
Haleigh – is Sam in my blindspot
Rocks – Sam is here to be a comfort as long as she's needed..
Haliegh doesn't want to put KAycee up just Angela.
Rocks – I think Bay would be OK with you putting Kaycee up