Head of Household Winner – Holly
Have note are: Jessica, Nicole and Sam
Nominations are: Sam & Nick
Power of Veto Players are –
Power of Veto holder –
Power of Veto Ceremony –
Powers in the game
Christie – Panic
At any of the next four Power of Veto Ceremonies, Christie can turn the Golden Power of Veto into the Diamond Power of Veto and allow the current veto holder pull someone off the nomination block, but instead of the Head of Household naming the replacement nominee, the veto holder names the replacement.
Field Trip
America votes for 3 houseguests to go on a field trip that will put one houseguest's game on the line
Grab your live feeds —-> BB21 Live Feeds Subscription Link
Rank your houseguests —-> Big Brother 21 Ranking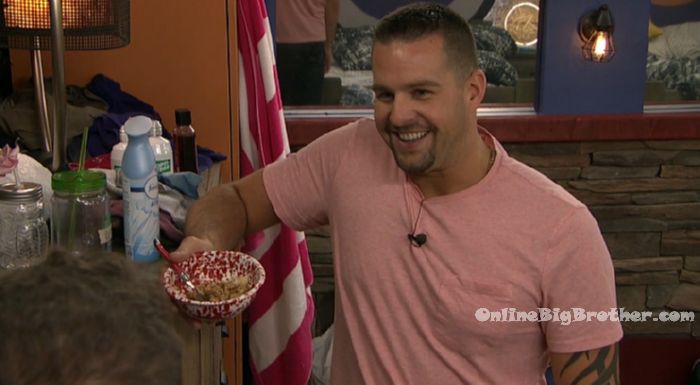 5pm Bedroom – Nick and Sam.
Sam – Alright Jess is out to get you? Big whoop! Is she going to go win something and then throw you up? Who cares? You have us in the game, we've got your back. Look at the couples, you really think you're above Christie and Tommy?! You think you're there? We can help you get there. Maybe Nick mentioned your name but those people he mentioned it to were saying it right back at him. It goes both ways and in a million years he would never go after you. If you did not put us up right now there would be so much trust right now. He was like alright let me ask you this … would you very put me up? I said yeah Michie I could swear on my kids .. I was like whatever screw it because I don't care I would take it back and do it anyway. I said I would swear on my kids I would never put you up. And I would swear that Nick would never come after you either. We would be here for the long haul, Nick and Bella were super excited to work with you, like we are in it. Let switch it up. You're accomplishing nothing by getting us out. And if your majority friends trust you so much they should see that you're looking out for your game. They were like ah these are good points. Nick – I am going to pitch that you would rather me in jury than Jess. And if we're in the game we're bigger targets so they can always take us out. Sam – I gave them a bible pitch, I was like remember when Jesus ..the majority wanted Jesus out.. they wanted to crucify him .. so what did they do they took him to pontius pilate and he washed his hands and said you can have this man .. and pontius pilate walked away thinking he had a clear conscious as the majority. Holly this is you the majority is saying for what?! And you're being pontius pilate I'm just going to give the majority what they want. What is that accomplishing for you? We never betrayed you in our alliance. My loyalty is what I have in this game and I never betrayed anyone. I felt really good with that one. Sam leaves the room. Nick to the cameras – Never give up in big brother! Targets always change in big brother. All we have to do is chill. I know Michie wants to keep me. The good thing is that Christie said that she got her friend back so she might pitch to keep me. I will do what I have to. Its essentially Gr8ful minus Bella and Me and then all the floaters. Why take me out?! Yeah I tried to keep Bella?! But what was I supposed to do!? They can't fault me for that. Now I lost someone I love. I would never go after Jackson.
5:11pm Big Brother blocks the feeds for the Nomination Ceremony.

6:01pm The live feeds return. Nick – its a game. Don't be upset.
Holly Nominated: Nick and Sam
Boat room. Nick and Kat.
Kat – You still have the veto. Nick – yeah, I shot my shot and got f**ked. That power really f**ked me last week. Kat – but she didn't use it. Nick – yeah but just the threat of it. Its okay, I'm really not mad. I created the best alliance in the game and then got myself out of it. I was just looking too far in the game. I should have just let it play out. Even though I was saying stuff to other people, I still had their back. I could have put them up but I didn't. I would have had my chance week 3 if I wanted. If I don't win (the veto) they are probably going to tell you to vote me out. Do what's best for your game. I know you know about the vote my week too. Kat – no I didn't. Nick – people are saying that you knew about the vote flip. Kat – who said that? Nick – I'm not saying names. I already got myself in enough trouble saying names. Kat – I did not know about that because why would I vote. Nick – because they said they wanted you to pretend that you didn't know. Kat – I definitely did not know. Nick – well Kat, I don't care either way. Kat – I didn't! Nick – Its okay, I believe you. Kat – why would they say that? Nick – to talk sh*t, I don't know.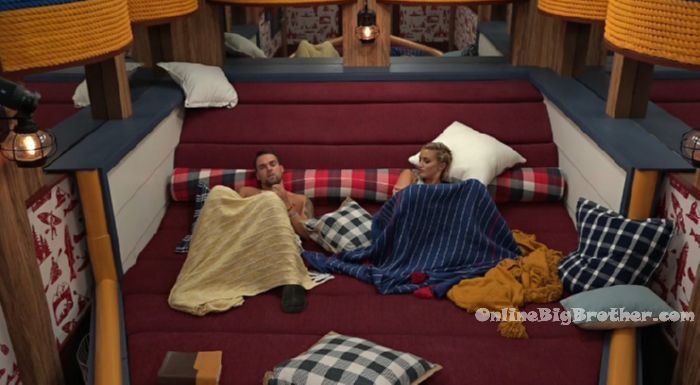 6:11pm – 6:30pm Boat room. Nick and Sam.
Sam – I really want you to win the veto. I would throw it to you. Nick – why? Sam – because I feel like if you were to come down they would put up Jess and she would go. It pissed me off how Jess is acting because she is acting like she worked herself into the crowd like they accepted you.. because they want your vote. You didn't do anything because your game sucks. Nick – if I did win and got myself off .. you definitely have a better chance at staying. Sam – if it was down to me and you.. I would probably throw you the veto. Nick – if they (production) want me to stay I feel like they're going to give me the shuttle comp or something athletic so that I can beast it. Yo! If you get house guest choice you have to pick Jess. Sam – why? Nick – because you want someone that you can beat. Nick – why would you pick anyone else? Sam – I was going to pick Cliff so that I could beat him … and if he won he would have to be loyal to me to pay me back. Nick – the best case scenario is if we pick Nicole, Cliff and Jess. In any other season there are two sides. We have one side and then 6 floaters. They head out of the room to go eat with the other house guests.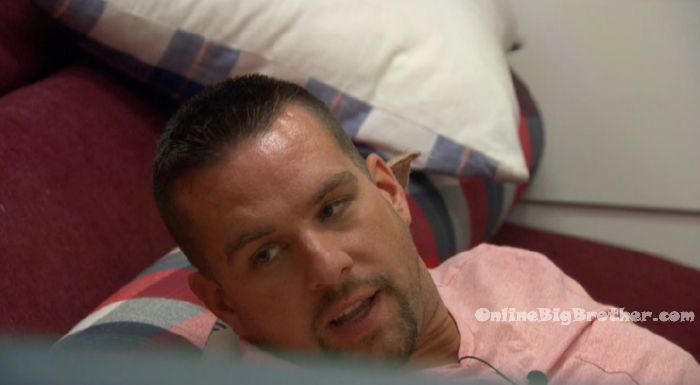 Bedroom. Jack and Sis.
Jack – has Sam made a decision if he knows if he wants to go before jury or what? (To go home to his family or go to jury) Like because he literally just flipped out on Jess and was like … not on Jess but outwardly talking sh*t about Jess. So he's just signed his ticket and is ready to go. Sis – oh f**k, I don't know. He did talk to Holly and say can you please just keep me and Nick so that we can go to jury together. Jack – so he doesn't care if he goes to jury or not. Sis – I don't know. Do you know who he is going to choose if he gets house guest choice? Jack – he would choose you. Sis – why I wouldn't take him off. I don't think anyone would take him off. Jack – if he picked me as house guest choice, I would take him off. Sis – you're f**king lying. Jack – no I would. Sis – Liar, why!? Jack – because if he would trust me to do it.. I would. Sis – why? Jack – because I'm a person. Sis – I'm a person too and I wouldn't take him off. Jack – that is my motto in this game.. Sis – but Kat offered to be a pawn if one of them come off. If you took him off that would be fine because he wouldn't come after me. Jack – I don't know, maybe I'd throw it. Sis – Nick has to go though. Jack – the way the game is they both have to go.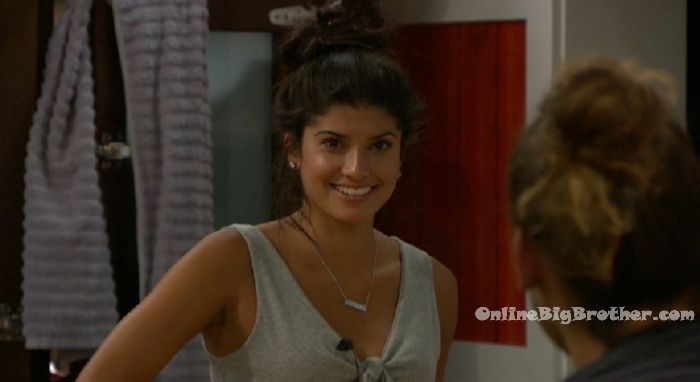 6:37pm – 7pm Boat room. Nick, Jack and Sam.
Nick – I would pick Jess if I got house guest choice. I wouldn't pick Cliff because he will just go with the house. If lost to Jess in a shuttle .. I mean it wouldn't matter anyway if I didn't win. Tommy joins them. Sam – I am always super nice to Jess but she pisses me off by the things she says to me. I take it with a grain of salt. I don't hate Jess as a person. I just get irritated by the things she says. Someone is telling Jess that if I won HOH I would definitely put her up.. I would definitely put her up but the reason why I would put her up is because I would never put a guy up on the block. It would always be a girl and she would be first to go. I love women. Tommy – how do you know this? Sam – because she was cool with me and now she is weird. Jack – I'm thinking its (veto comp) going to be spelling. Nick – I hope not!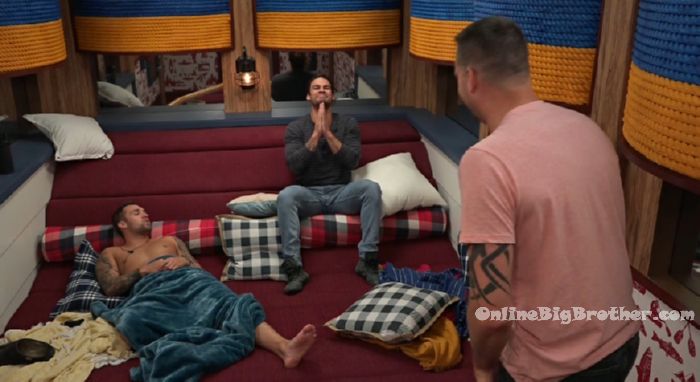 7:06pm – 7:15pm HOH room. Holly and Jackson.
Holly – I don't know if you were in here earlier when I said my other idea.. its freaking brilliant and the best part is that Kat came to the same plan herself and didn't even realize that it was already in my mind. If one of them takes themselves off with the veto I am going to put up Kat as the pawn. Jackson – perfect. Holly – because no one would vote her out and it reassures the house that her and I are not working together. I think its great! Jackson – it is. Holly – then she could continue to fly under the radar and people would not expect that .. I think they would buy it because of you and her fighting .. I think she has my back unless she is a serial killer pathological liar. I think she has my back and I have hers. I know she does. She drives me crazy too. Jackson – people that are good at winning random stuff we have to be on good terms with.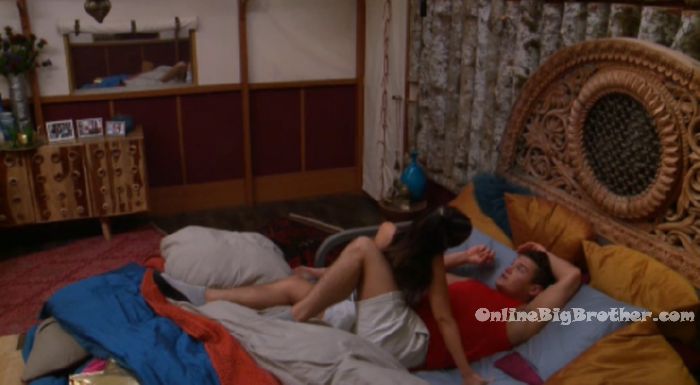 7:27pm Bedroom. Christie and Nick. Christie – I think that a lot of it has to do with you two together are scary… as a duo …probably scarier than you and Bella together. Nick – really?! Christie – and probably because you were the only one to vote to keep Bella. Nick – oh that's a bulls*t excuse because ..say every other reason but don't say me not voting out Bella because no man would vote out their girl. Christie – she (Holly) didn't even say that she had a target. Nick – I think I am just going to pick a weak player. I don't think I can trust anyone to .. If I save myself am I going forward. Christie – of course. Nick – I knew if I didn't win this HOH I was going to go up. If I don't win (the veto) its going to be really hard to get votes. Tommhy, Sam and Jack join them. Nick and Christie rehash the events leading up to Bella and Nick becoming the targets. Nick – I respect Holly's move.. it just sucks because now my word doesn't mean sh*t. Christie – if you stay in this house then it will again. We can start fresh.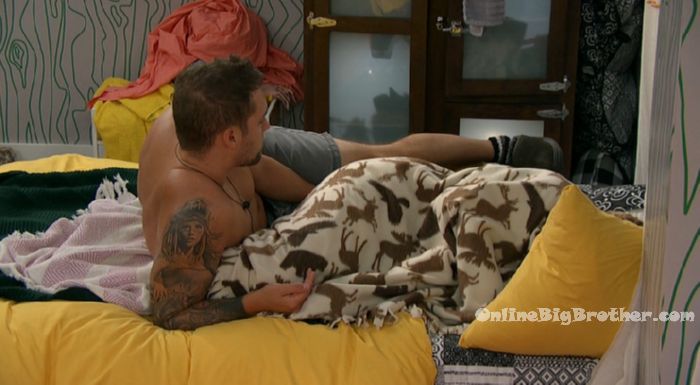 8:10pm – 8:25pm HOH room. Sis and Holly. Sis – so you don't think you'll be together when you get out of here? Holly – I don't know. Like when we get out of here I want to go on a road trip across the country or book a ticket to Thailand. And meet people and go on trips and explore and fulfill myself that way … and like he wants to go to Vegas. Sis – yeah. Holly – I don't know what else he wants to do. Which is fine he is 24 and still finding himself. Holly – I have to pry my hand out of Michie's hand when we're sleeping. Sis – oh I love that. My ex was like that and I miss him. I think about him a lot and I wonder what he is thinking. He is probably thinking I am never going to talk to this b***H again. I screwed up .. well I ended it with him. Holly – I am so curious what my ex is thinking. Jackson and Jack join them.




8:55pm Bedroom. Nicole and Jess.
Jess – Maybe I am a lot less empathetic because I have already been on the block. Its not my turn, its their turn. I've already gone through it. And actually went through it in the beginning to where I didn't get the chance to create those relationships with people because I was on the block. Nicole – MMMmhhmmm.. I went up after veto and I didn't get a chance to perhaps fight for myself and take myself off. Jess – you were first hand affected by that relationship. Nicole – scapegoat. Sis joins them. Sis – I don't know where you guys stand but I don't.. Jess – want it (veto) to be used. Sis – so like if Nick or Sam were to be like hey Sis I want to choose you .. I would be like Okay but I probably won't use it. Because I don't want to put Holly having to put someone else up. Jess – neither would I. Sis – like that doesn't make sense .. why don't we just keep it the same. Jess – that's an awkward situation .. just in case you're picking me I'm not using it. Sis – like why would we use it and risk someone else going up? Jess – I don't think either of them would choose me so..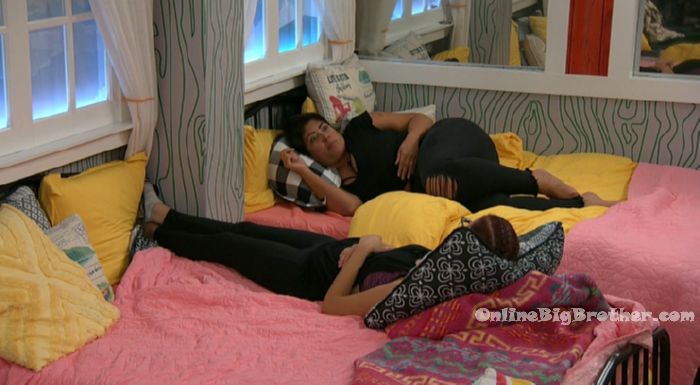 9:40pm The house guests are lounging around and getting ready to go to bed early. In the bathroom. Jack and Christie are studying the days/events of the season thus far.
10pm Holly calls everyone to the living room. Holly – this week there will be 3 havenots. However I will not be choosing them. Havenots this week will be determined by their performance during the Pose-in-Ivy Competition. This means the first 3 to fall meaning Jessica, Nicole and Sam are havenots for the week. Sam starts fake crying. Jackson – prepare for the fiber intake. Sam – I already have butt problems. Jackson – it loosens things up. Sam – yeah but its the wear and tear down there. Nick – oh because you guys were sh*tting out blood. Jackson – I literally shat blood. Imagine you have a faucet and then you pour cement down it.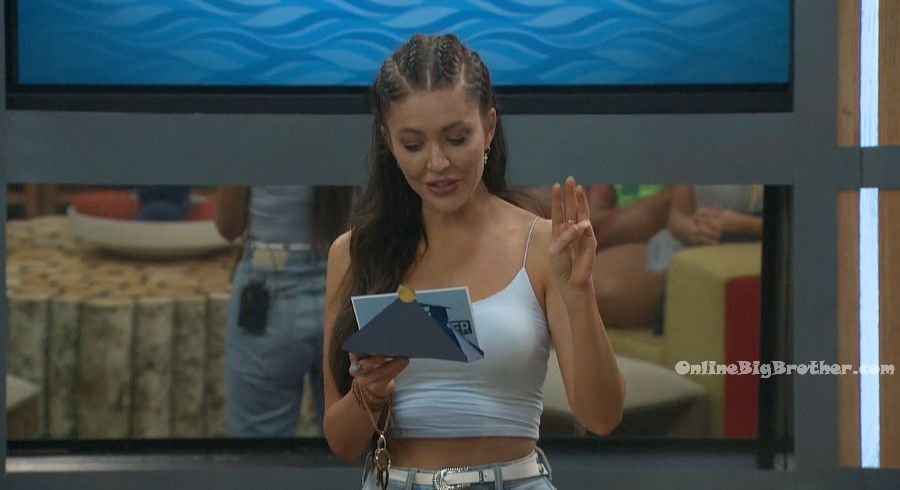 10:10pm Camp Comeback havenot room. Sam and Nicole.
Sam – I am thinking if I get House Guest choice I am thinking of picking Cliff. Nicole – People are already discussing it. Its scary. Sam – what do you mean? Nicole – Like if house guest choice is picked you can't feel obligated to take them down because you would be obligated to Holly and it should be an easy week. Sam – well if they ask you.. just say no then. Sam – he (Nick) would probably do Jess because Jess can't win. He would have more of a chance of beating Jess and we just beat her. Nicole – like I would feel better playing in it and not doing well so you guys could win it. Jess brought it up to Sis and Sis was like I wouldn't use it. Sam – Let say Cliff wins veto ..if I am feeling comfortable I am wondering if we could execute.. me and Cliff would have a huge blow out fight to the point that I would think he is going to save me.. and then he would use it on Nick. And that way I would be like WTF?! And then Jess would go up next to me and Jess would get voted out.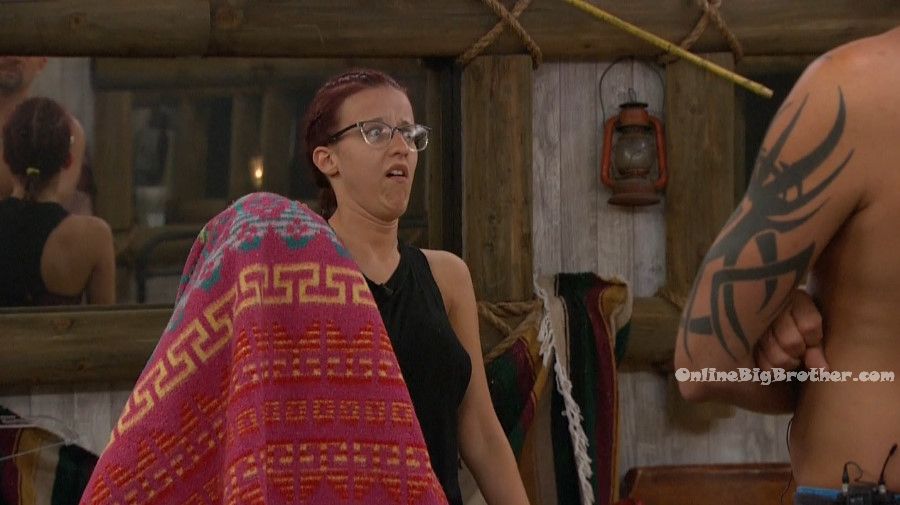 10:50pm kitchen. Cliff and Holly. Cliff – if you need to .. if he picked me.. I could go a little bit lower speed. If for some reason I ended up winning it.. I promised that I would do it. Holly – just do whatever is best for you.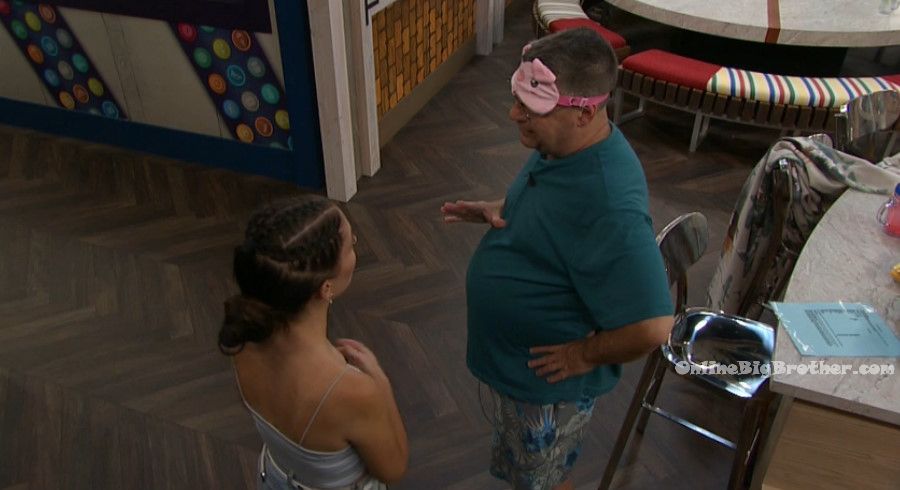 11:18pm Bathroom. Nicole and Jess. Jess – this is going to be an interesting week. Nicole – I think it will be good for you guys. Nicole – build bridges. If Nick goes, we're going to need him (Sam), because he doesn't have anybody. Build bridges, I am telling you. You both need each other and you're both not seeing it. Jess – I want to trust him like I trust you, like I trust Kat, like I trust other people. I need to be able to trust. I feel like that is so cowardly… for him to throw me, you and Kat under the bus. Just throw one of them and have one of them go this week. Like that hurts me.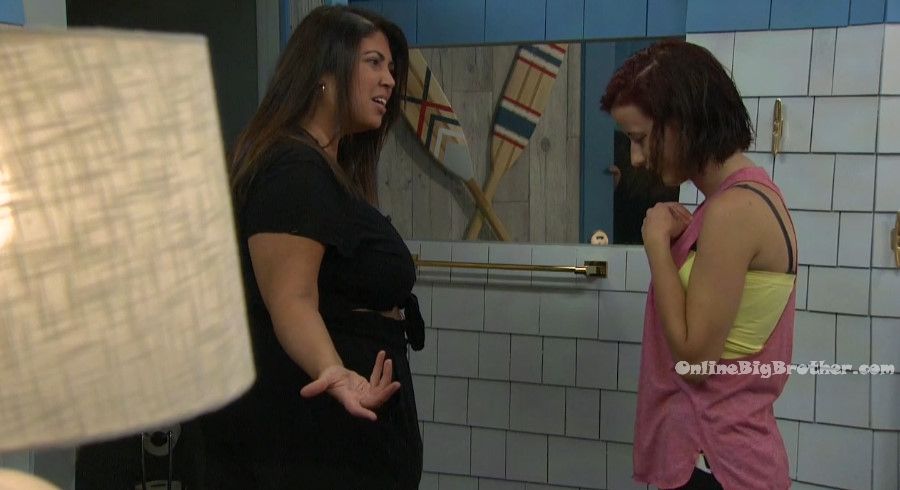 12am Kat shows off her new hairdo..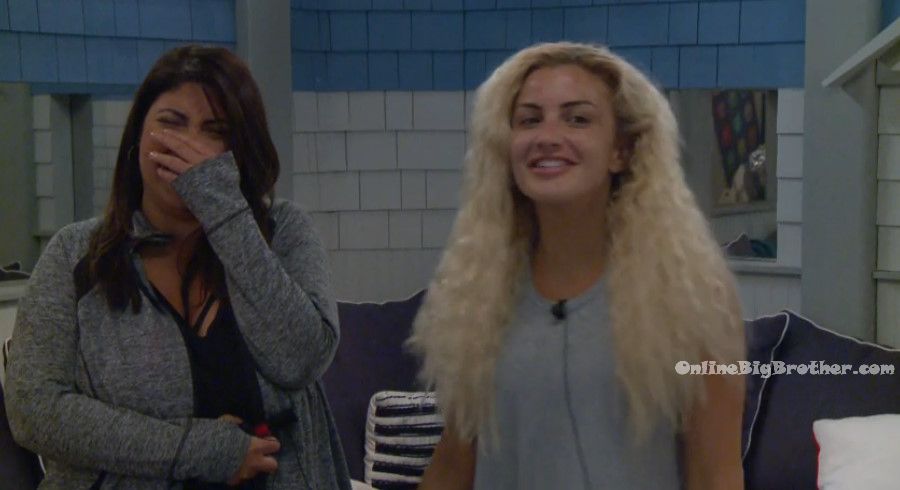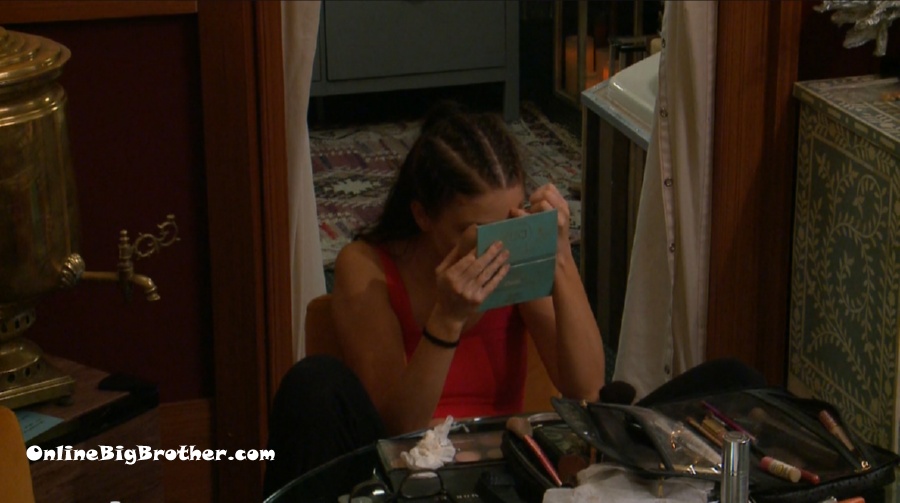 12:45 am Holly putting on the finishing touches to her makeup today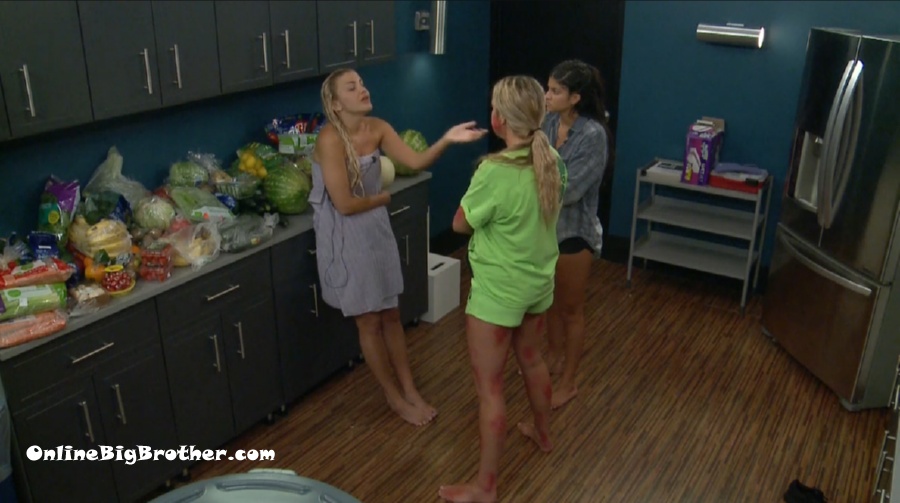 12:46 am Sis, Kat, and Christie
Complaining that it's too hot in the house
Sis – I'm really upset right now I walked in there (DR) telling them to F*ing turn the heat down
Kat goes on about Nicole being the person that told Nick Kat knew about the flip when Cliff/Nicole was on the block. They wonder why should would do that. Kat thinkgs that Nicole is looking for a place to land she's scared.
OBB wouldn't be possible with our your support!
If you are one of the generous people that donate to help keep the updates coming, we're giving out a bit more this year. Check out this page for more details: OBB Members