Head of Household Winner – Holly
Have note are: Jessica, Nicole and Sam
Nominations are: Sam & Nick
Power of Veto Players are – Holly, Sam, Nick, Cliff, Jessica and Tommy
Power of Veto holder –
Power of Veto Ceremony –
Powers in the game
Christie – Panic
At any of the next four Power of Veto Ceremonies, Christie can turn the Golden Power of Veto into the Diamond Power of Veto and allow the current veto holder pull someone off the nomination block, but instead of the Head of Household naming the replacement nominee, the veto holder names the replacement.
Field Trip
America votes for 3 houseguests to go on a field trip that will put one houseguest's game on the line
Grab your live feeds —-> BB21 Live Feeds Subscription Link
Rank your houseguests —-> Big Brother 21 Ranking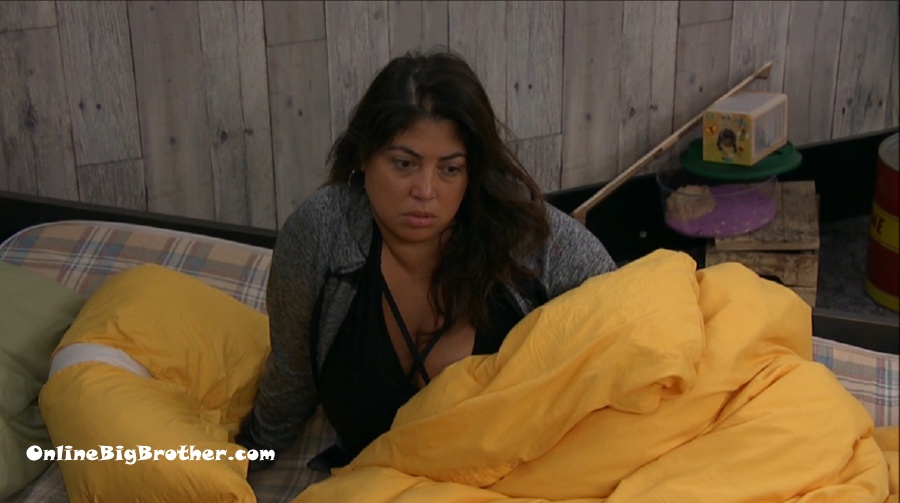 9:32 am Jessica tries to solve the Dixmier conjecture but fails. Decides to get ready instead.
listens in on Sam, Jack chatting .. sees Jack smiles
Jack – hey their sunshine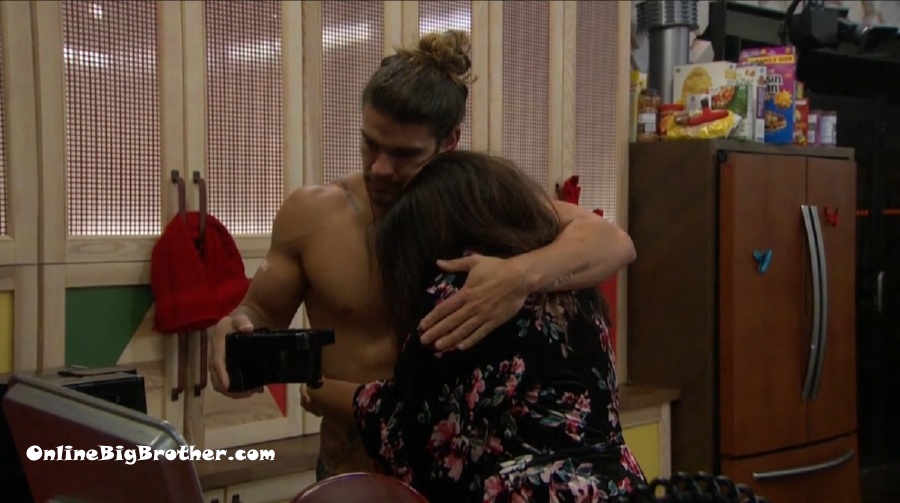 Jess – they woke us up at nine. Ohh you're so warm
(Sweet she got a hug.. go jess)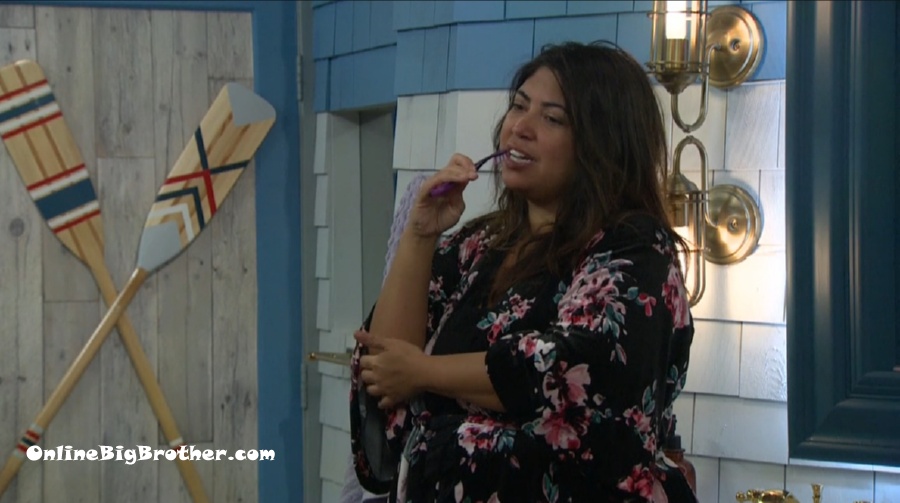 Chats with Nick and Cliff. They talk about how Christie would have been a have not this week but she got the poison ivy punishment.
Nick – they didn't want to give her two punishments
Jess – they've done it before
Nick – if she didn't get poison Ivy she would have been back on slop
Cliff – I do too
(it just keeps getting better)
Jess – I wonder if I could go the whole week without slop.. I could just have protein shakes the whole time
Nick says it's not enough calories Cliff agrees they think it's not a good idea eat the slop.
Sam joins them says he can eat a bowl of slop "when I'm starving" He'll starve until lunch eat slop then protein shakes.
They talk about how production doesn't let them "jack" the beds up anymore they can't alter anything in the have nots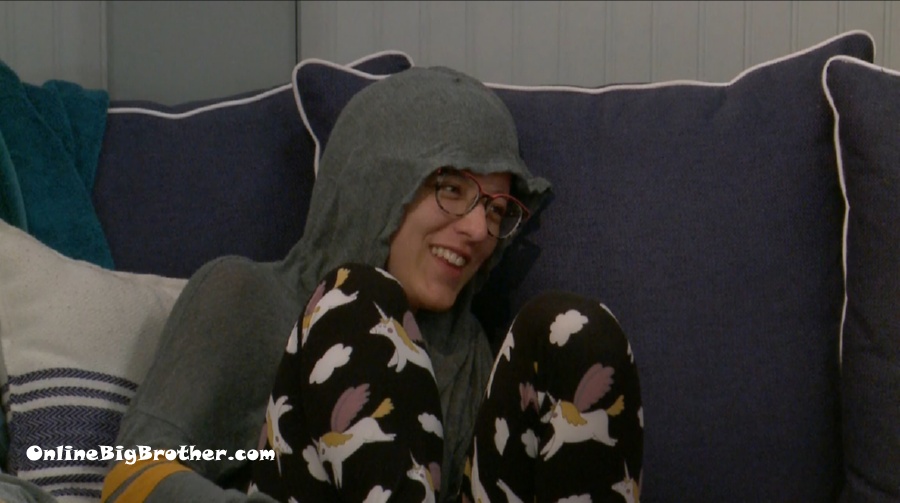 10:04 am Nicole had a rough first night as a have not. Sounds like she was very enthusiastic about it yesterday not so much now
They talk about the double standards in the house. How the 6 can do anything they want but the rest of them get shit for everything.
Sam is thinking about picking Cliff if he gets houseguests choice. (power and fury)
Nick says he will "because you took him off the first week"
Nicole says she's being bombarded by the other side "People are like, why would you do that. none of use will use it, why would we use it.. Nobody would use it. blah blah blah " (She's impersonating them in an annoying voice)
Nick says he'll pick Nicole
Nicole warns him she won't do well
Nick – I was thinking her or Jess but Jess might try to win it (DO NOT involve Jess)
Nick – can someone riddle me off why the f* me and him are scary now
Nicole – I told you they like to find public enemy
Nick – jack and sis are the best two in the game
Nicole – public enemy was Bella they got rid of her, then you, then you Nick, Sam)
Sam – how we can do nothing and they can do everything
10:09 am Cliff joins them says sis is in his room sleeping and he's no good doing the towel shuffle "I'm not mobile enough to do that"
Sam – if I pick you for houseguests choice would you play
Cliff – let me think… I'll be real honest with you if it came down to it I would rather you win than me
SAm – I want Nick to win POV pull himself off I throw a pity party Jess goes up next to me jess goes home
Cliff – let me think about it
Tommy joins them "Ohh yeah" (this is when I change the feeds)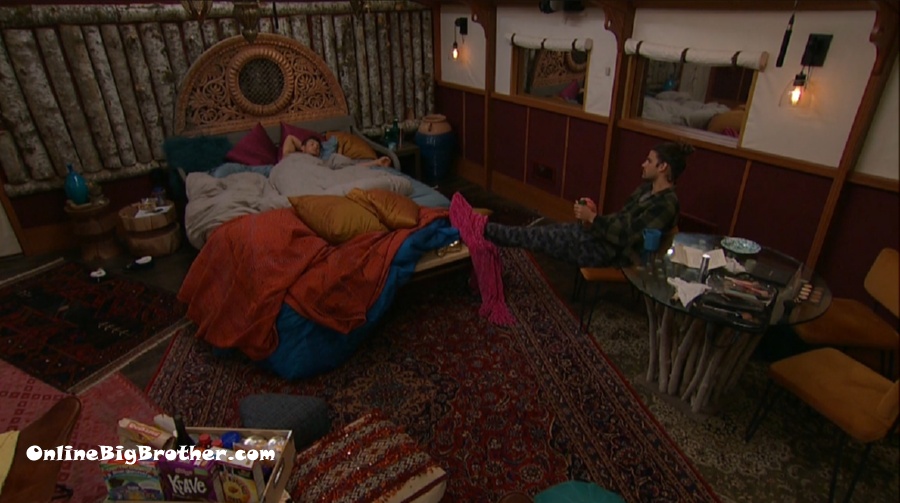 10:25 pm jack and Jackson
Jack is pushing for Nick to go home. Jackson really wants to win the veto.
(My douche coverage will be light. I can only handle so much)
10:39 am Jess is back hanging out .. Still working on getting ready.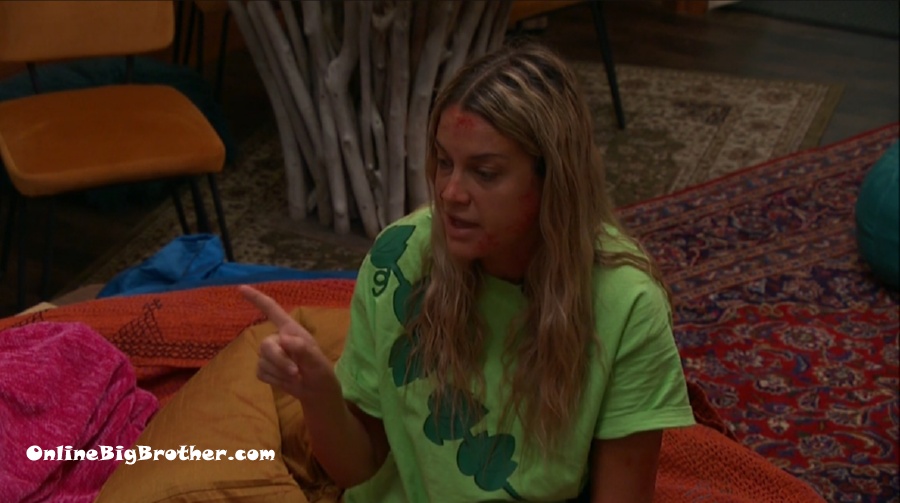 10:46 am Christie and Jack are talking about getting Nicole out next because she's rallying "that side"
Jack about Nicole – Why did you try out for this show"
Christie – that's how I feel
Jack – what was your inkling that made you want to sign up for this… shoot your shot make your move.. (I dislike him)
Jack says if Nicole wins he's going up and so is Christie
Christie – I'm not going up.. she loves us she loves the girls. She won't put me up
Christie – I don't see her putting you up
Holly joins them says Jess and Nicole might win a luck comp but they will never win anything else.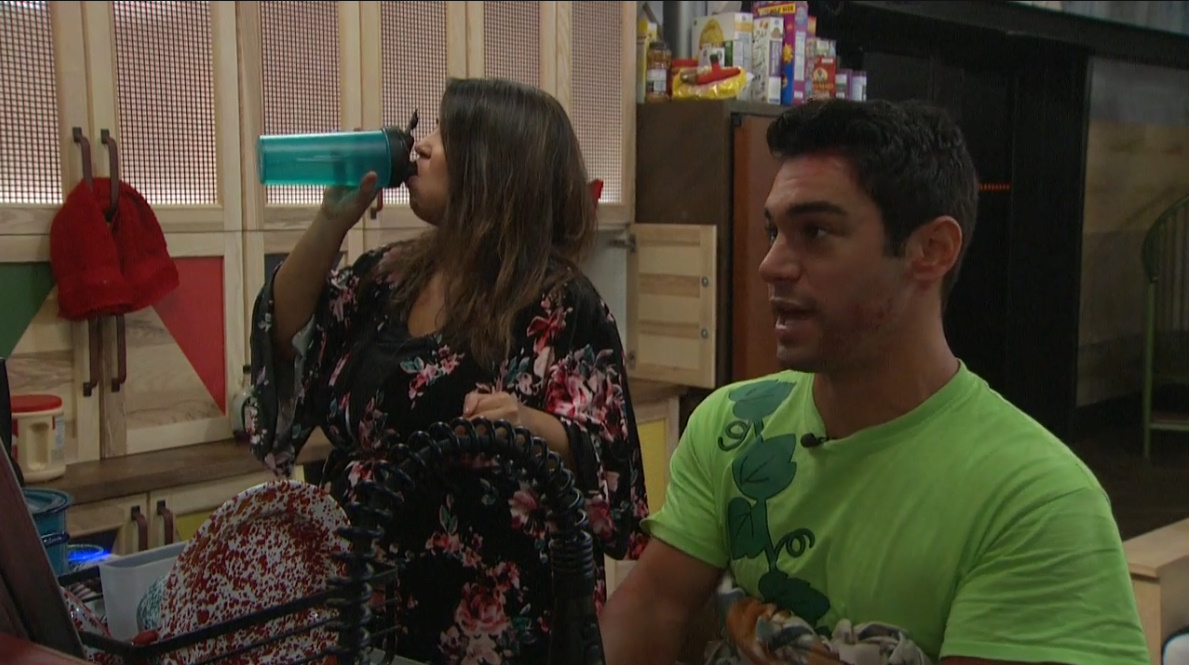 11:08 am Tommy and Jess
Tommy tells her his parents house will be the location of their get to together and his house will be the "Centre hub for the east coasters".. they have a pool and he's a "planer" it'll be great!
(The poison ivy punishment is a green shirt… so blatant this season.)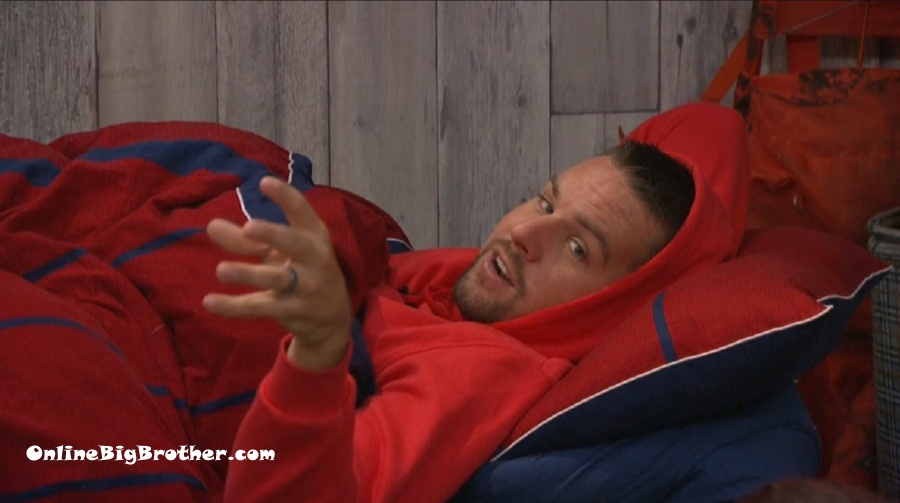 11:33 am Sam and Nicole
They go over Nicole's performance in the upcoming POV (if she gets picked) should she throw it or keep it. What if the scenario arises where she wins the veto. Like if it comes down to the veto or wearing a leotard.
Sam – do what's best for your game don't screw yourself if there's no way around it like that
Nicole – take the veto
Sam – you can take the veto you can talk to Holly right after and me like. I'm so sorry this was not the plan I don't want to wear a leotard and I swore on everything I would use the veto on Nick we talked about it before. I swore on everything because I was not supposed to win and now that I won I can't go back on my word (OMG yes throw it back at them)
Sam – she'll be like OHH you did and you'll be YEAH like this was not the plan I didn't mean to do this I never lie to anybody I didn't think I was going to win
Sam – do that
Nicole is worried they will screw her.
Sam – your name never comes up in a bad way, Even if you screw us I don't think we will blow your game up
Sam brings up that Sis told him "when Ovi was evicted he hugged Jack and said I had " Feeds cut…
When we're back Nicol is saying how out of the loop she is.
Nicole – if you were to stay and Nick goes home
Sam – It wouldn't be that bad for my game
Sam – it was dumb for Cliff's game to get rid of Bella, He should have Broke his word
Nicole – or anything flush out the power I don't understand you still put Bella up and the power still out there
Sam – he should have lied and broken the trust he would have all of us in his corner.
They agree Nick f*ed up telling kat about the plan during Cliffs HOH. (Lie to Christie)
Nicole – How come you guys can't come up with a plan cause that's like dishonest and disloyal but they've been doing that .. you know how many names Christie has dropped and it's like Okay but if like me or you say a name it's like AWWWHHHHH how dare you say our name
Sam – it's a whole double standard.
Nicole – I'm happy I'm in this room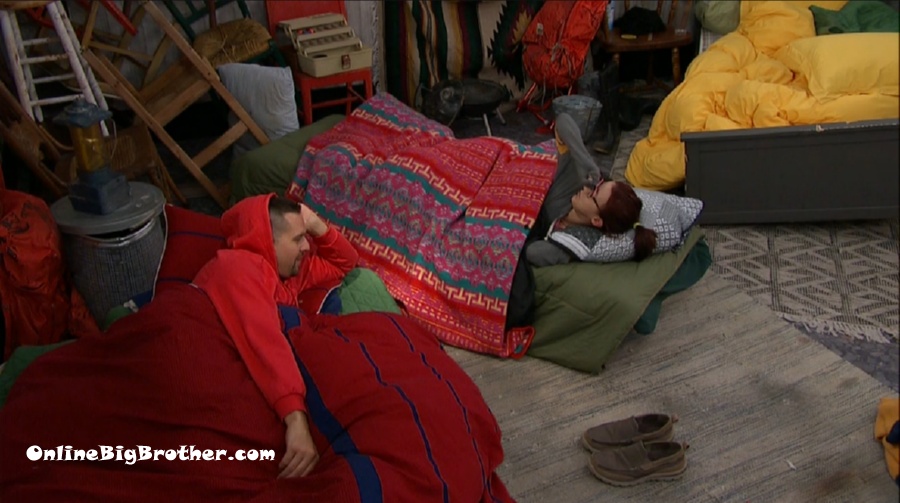 NOON Sam says he will put up Jack and Holly if he wins HOH "there could be hope at the end of the tunnel"
11:51 am
Looks at these cool kids, Christie, Jackson, Holly, Sis et al bashing Sam and Nick (it's so barf I can't watch it)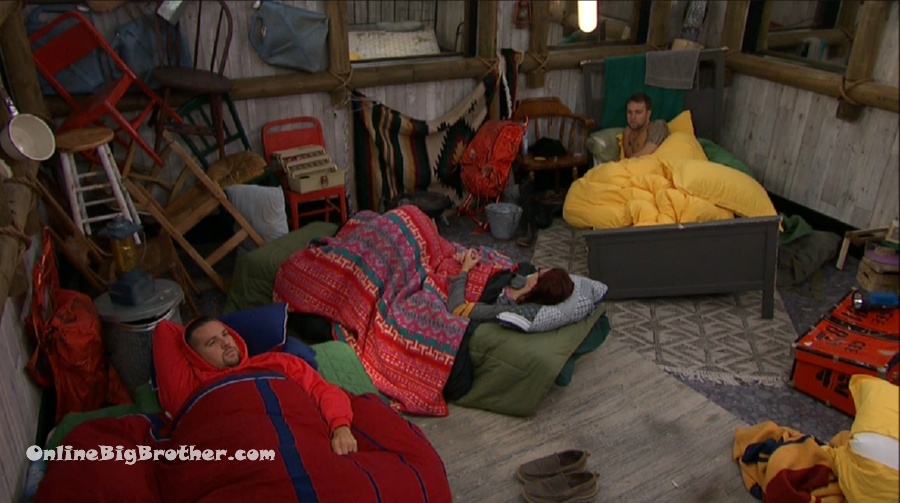 12:23 pm Nicole, Nick and Sam
Nick – Nicole have you ever seen a season with only one side of the house
Sam – are we the other side is this a side
Nick is amazed that Nicole and all of them never built a floater alliance.
Nicole – I was on your side and you f*ed that up
Nick – I wasn't fully switched
Nick – they won 4 outta 5 HOH's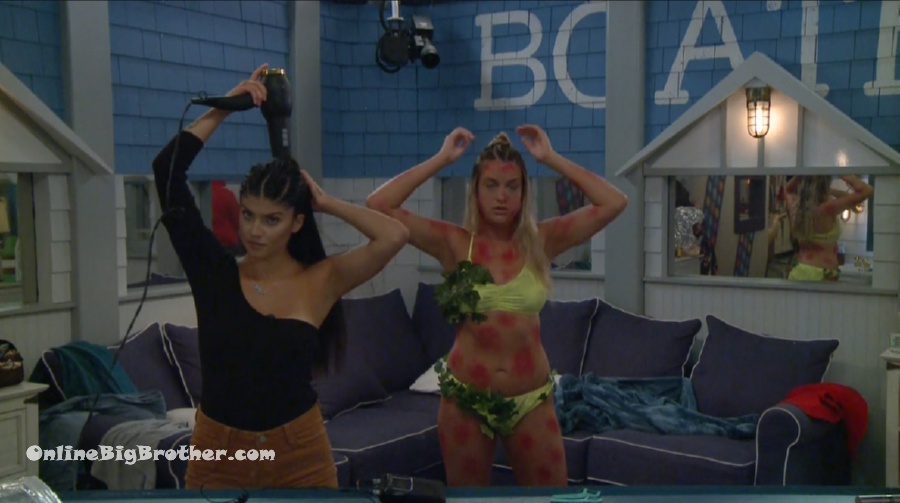 12:41 pm ohh look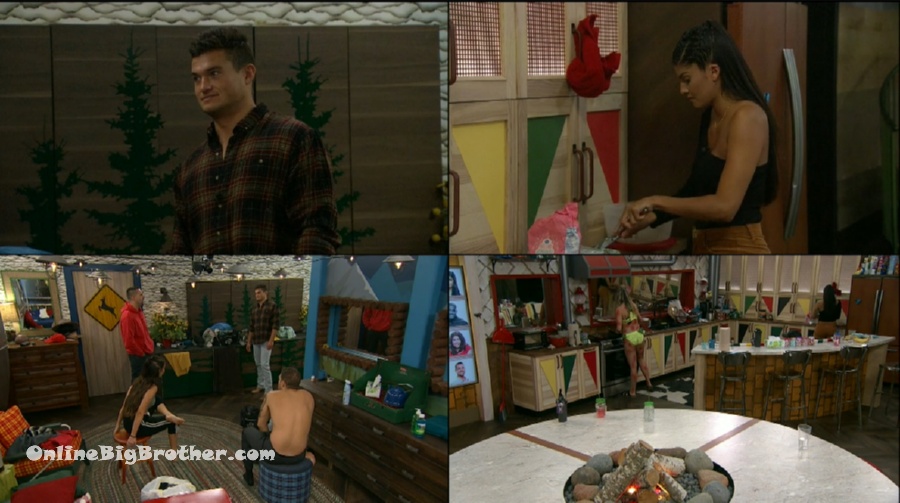 1:24 pm
Veto players picked -Holly, Sam, Nick, Cliff, Jessica, >and Tommy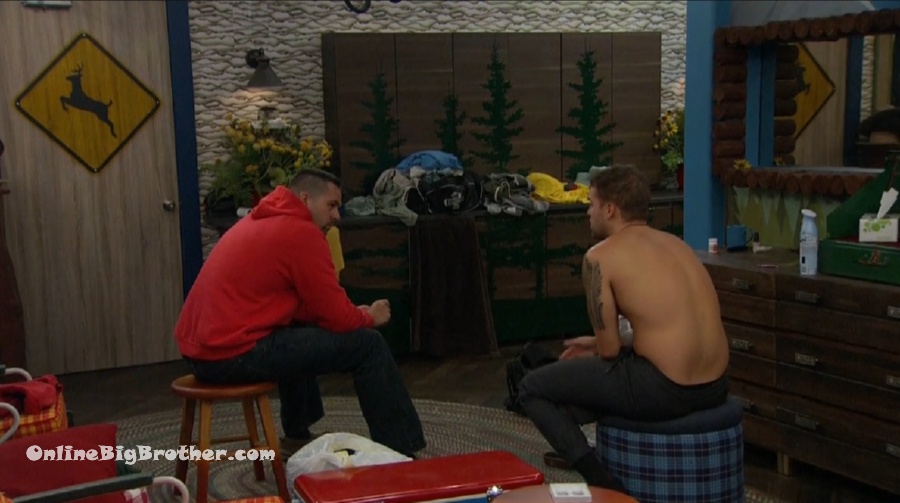 1:31 pm Prophets
Nick says he's taking a big pay cut being on the show.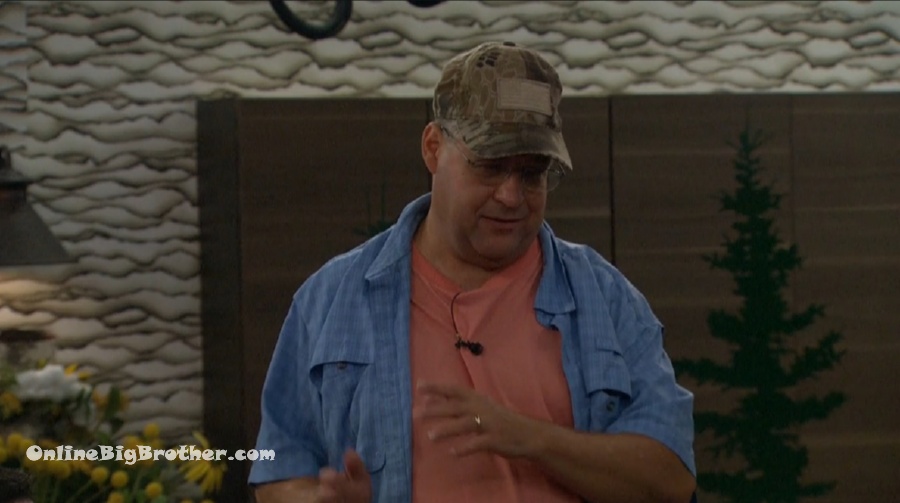 Cliff joins them Says he's getting his leg "Super wrapped" because he's bringing it
Cliff – the longer you all are here the more protected I feel. I feel like you are target number 1
Sam – I've been loyal to you since day one you know that
Cliff whispers "if one of y'all are in front of me go for it"
Cliff – I'll do anything possible to make it as close as possible
Cliff – the last thing I want is for me to win this and have pressure from over there
Cliff – If I start weezing and slowing down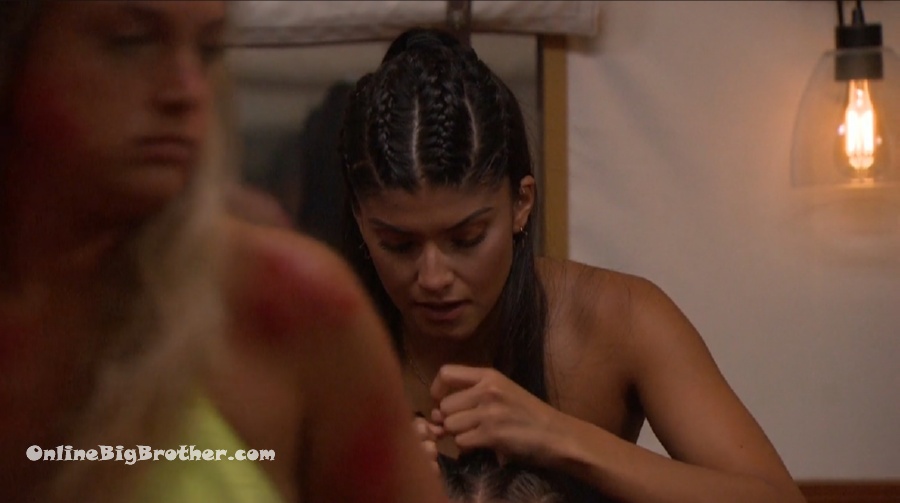 prepping for the POV
2:40pm Bedroom. Sis and Christie.
Christie – if Nick stays on the block I am voting him out. There is not one thing that can change my mind. If he stays on the block. I am voting him out if he stays on the block. And if he doesn't that's fine. I am over it, I am done being fake with him. Done with his lies. Done with his second and third chances. Done, let him go home to his girlfriend and get his cross back. I am done! Kat – did Nick call me his little b***h or did he tell people that he had me in the palm of his hand. I am fine with either I just want to know for my goodbye message. Sis – palm of his hand. Kat – back the the drawing board. Christie – you could say I know you thought you had me in the palm of your hand but buh bye!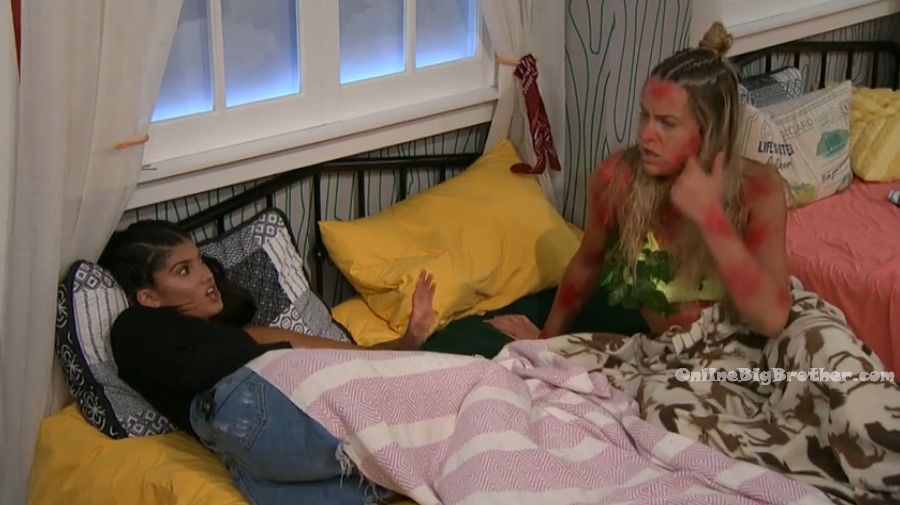 2:46pm Bedroom. Tommy to Holly – I want to win this one for you so that you don't have to put anyone else on the block. Holly – If one of them come off, I would put up Kat. Tommy – well she volunteered anyway. Holly – and I'm not dead set on either of them leaving. Its fine either way. Tommy agrees. The good thing is, one of them is going to leave this week.. so there's no pressure.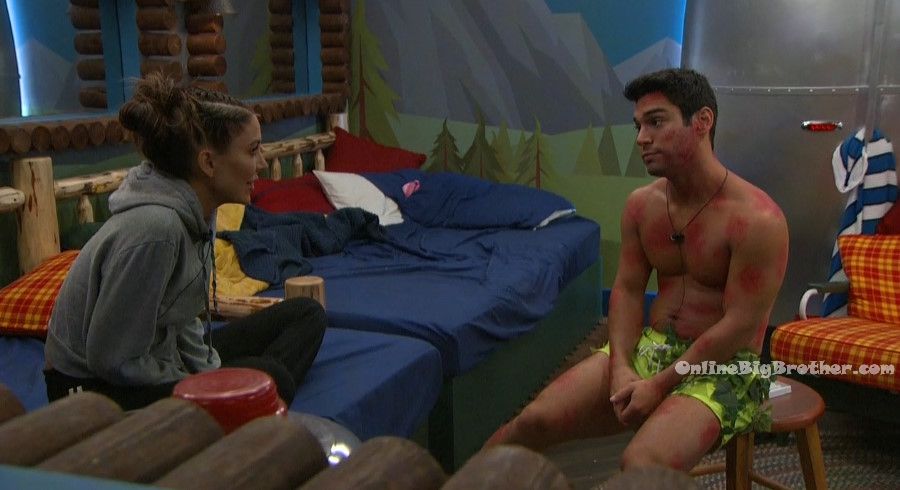 3:40pm All the house guests are lazing around waiting for the POV to start…

3:55pm Bathroom. Cliff to Jess – Its pretty straight forward what I have to do. I don't want you going on the block. I don't want you, Nicole or Kat going on the block. Therefore, they need to stay on the block. Its that cut and dry. I think its a done deal unless he (Nick) wins it. Jess – yeah. Cliff – and I'm not representing him in this challenge so there is no obligation to pull him off or anything. And in a perfect world you or Tommy win it and its all out of my hands. And you do what you're going to do and it buys you some trust and credit with everyone as well and we're all better off as a result. I don't take anything for granted until its there and its happened.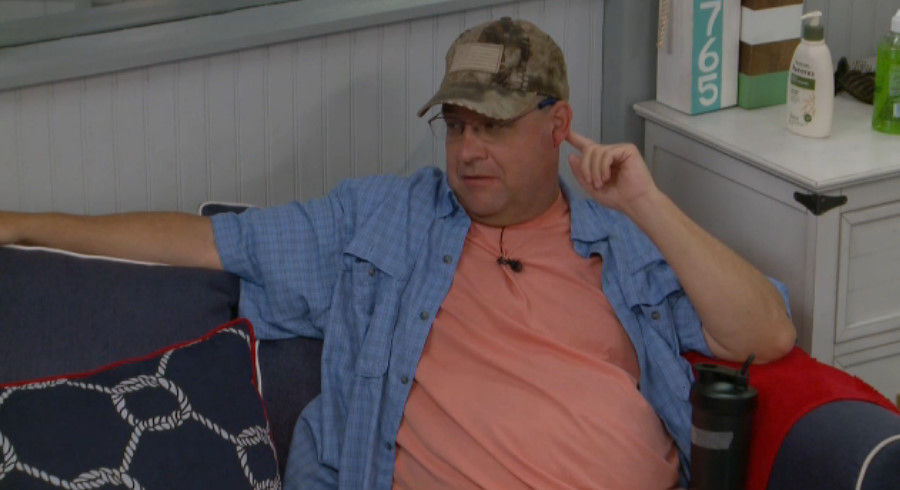 4pm – 4:15pm Sam and Sis.
Sam – even if I don't get voted out before Nick.. it still sucks because I have nobody. Sis – when you're alone I think it would benefit you to find a group. Sam – what group all you guys are taken. What did I ever do to anyone here? Sis – they just want to have at least one of you gone. I hope you win the veto. I really hope you don't go back and tell Nick what I tell you. Sam – I won't. Sis – it wouldn't matter if you threw him under the bus.. he would be leaving anyways. Sam – everyone is shutting me out because they say the don't trust me but what happens if I win HOH. Even if I put Jess and Nicole up.. and one of them go home. I would go up the next week regardless.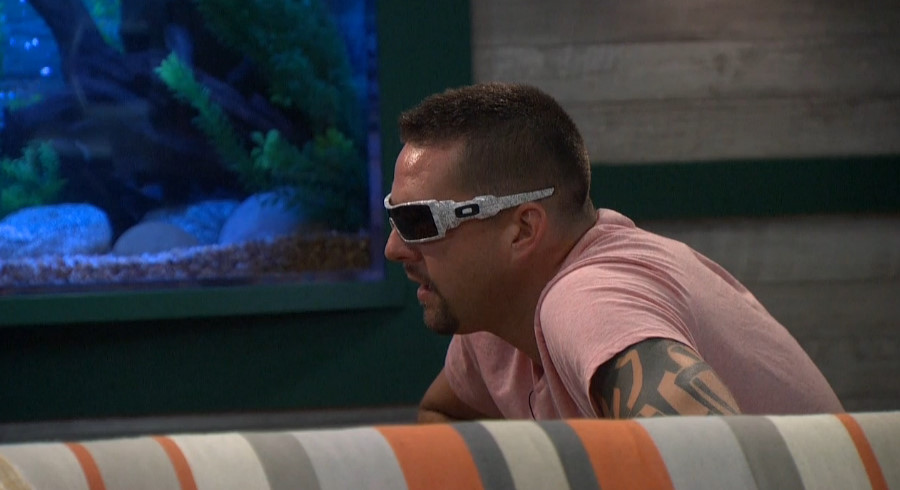 4:45pm Bathroom. The house guests are sitting around chatting about slop and other random things.
4:50pm Jackson is rolling Holly using the kitchen rolling pin.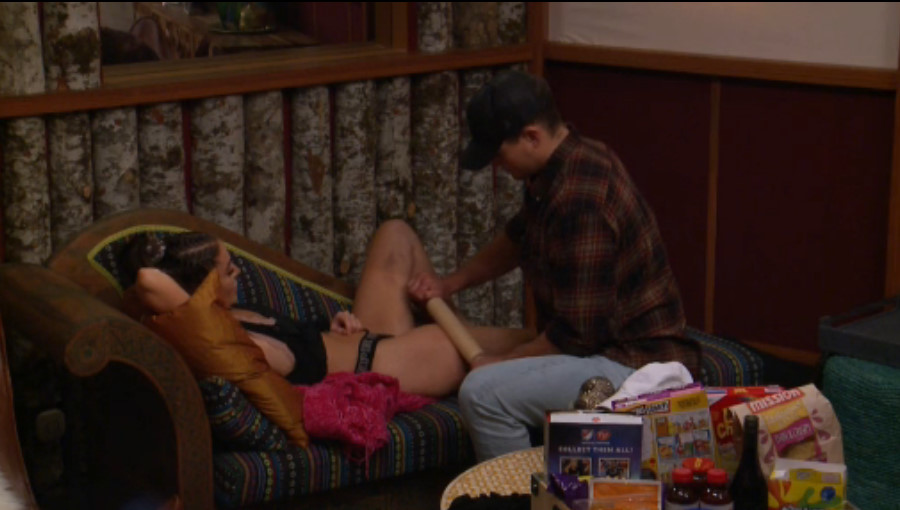 5:10pm – 5:20pm Living Room. Sis talks to Christie and tells her that if Sam were to stay and win HOH he would rather put up Nicole. To prove that we can trust him and stuff. Then Nicole would go home and he couldn't play in the double eviction which means we could win it again if we wanted to. Or if we won HOH he is willing to go up as a pawn. He said he would only go up as a pawn if it was against her and if we wouldn't switch the votes and get her out. And then if he were to win HOH after that he would go after Jess and not us. Christie – no one is going to vote for her .. she isn't going to win anything. Christie – I am not trying to win this next HOH, I would rather win the double eviction. Sis – I am certain he wouldn't go for you or any of the 6. I think we should get Nicole out first. I really think that she would gun for us during the double eviction.
5:45pm HOH Room. Holly Jack and Jackson hanging out. Jack – they (Sis and Sam) were talking upstairs for awhile like he's got some sort of plan. Holly – he keeps saying he does. I heard he is so confident that if Cliff won the veto he would be fine with Cliff taking Nick off. He wants Jess up there. He keeps wanting me to put Jess up which I am not going to do. I don't see any point in doing that. Jack – she is such a great tag a long. Holly -fantastic tag a long. Nicole is too aside from being a frickin' snake. She hasn't proven to win anything and if she does in a luck thing then she is definitely coming after us. I just don't know who. Jack – she does need to be expendable because we just bought Cliff 2 weeks. She's got to go on the second week after this week. Holly – yeah. She is next out after the guys (Nick & Sam). Jack – and you want to keep Jess as long as possible. I don't know I love Kat and Cliff. Jackson – hey guys no game talk please.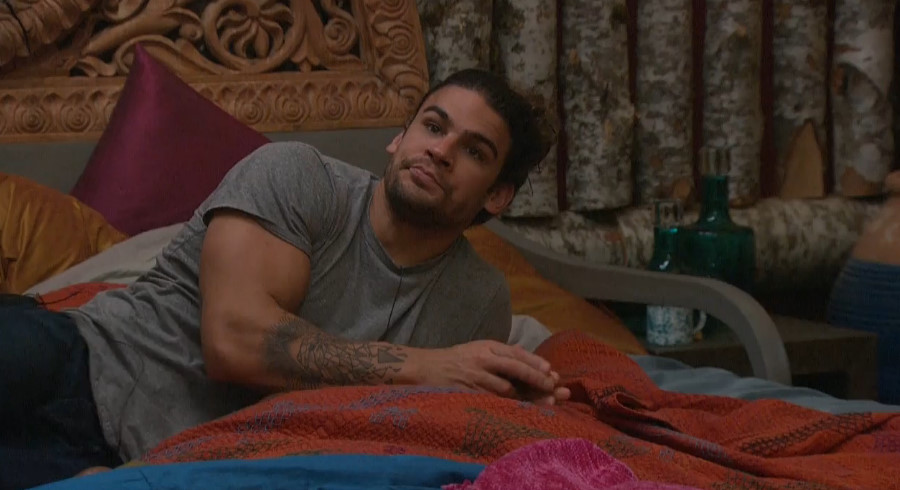 6:10pm Bedroom. Christie and Sis.
Christie – I'm not saying that nobody would vote me out but I don't think I would go. And I literally will backdoor Michie if that's the case next week if I'm in power. Sis – this is why I think we should keep Sam .. because lets say we do get down to it with us 6 and Cliff.. Kat and Sam. I think we could convince Sam to go for Michie. Christie – oh 100%! Sis – I really think its sticking with Michie the whole thing about Jack and us four. And I think he told that to Holly and its sticking with her too. Christie – she is acting weird. Sis – and she is so easily influenced. Michie is annoying me now too. He is being extra sweet to her now. Christie – I am all over him. Sis – you and me should talk to Sam. Christie – I don't want to give him any information like we're divided but just give him more attention. Sis – I don't want to sound like a savage but I think we should go after then before it gets down to the six. Christie – that's not being savage.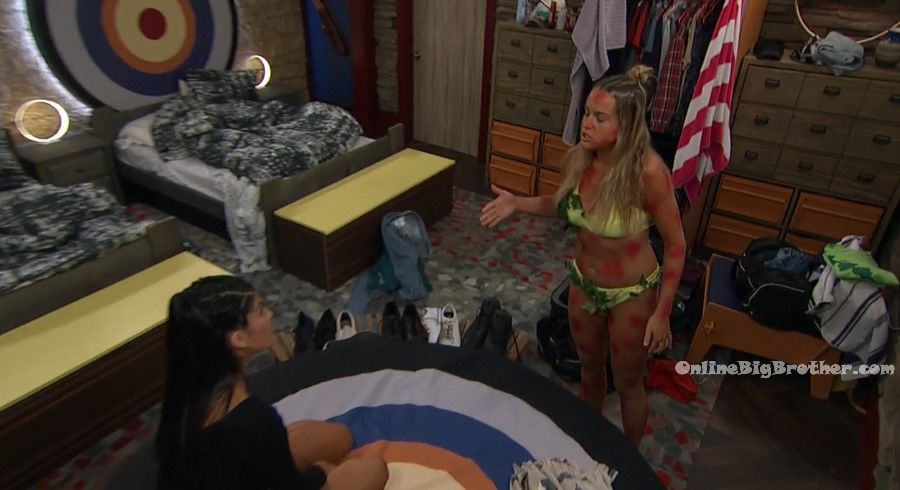 6:18pm Big Brother blocks the feeds for the Power of Veto Competition..
8:09pm The live feeds return … Nick won the veto