POV Holder:
Victoria
Next POV
July 19th
POV Used
Yes
POV Ceremony
July 26th
HOH Winner 1:
Frankie
HOH Winner 2:
 Cody
Battle of the Block Winner
Jocasta/Amber
Next HOH/ Next BOB
July 24/July 25
Original Nominations:
Brittany/Victoria(Cody) Jocasta/Amber (Frankie)
Final Nominations:
Brittany & Donny
Have Nots
?
POV Players
Cody, Brittany, Victoria, Caleb, Nicole, Zach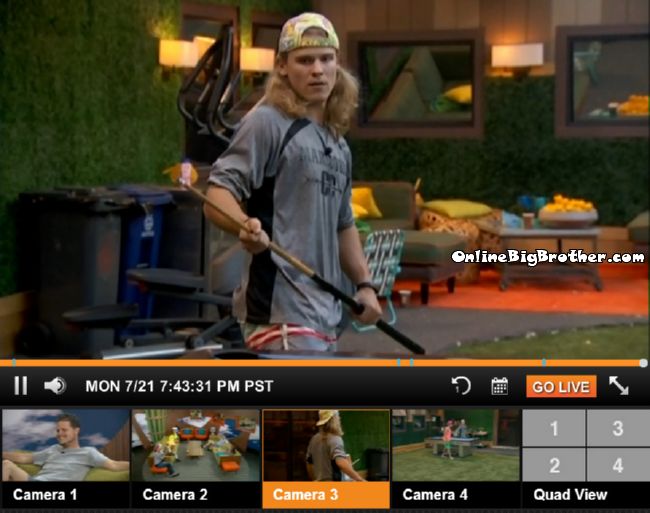 7:42pm Pool table Hayden and Zach
Zach – Dude the HOh is the biggest one by far
Hayden – Dude it can be double eviction
Zach – Do you know who you are putting up if you win HOH
Hayden – I want Amber gone.. I don't know maybe Jocasta and Victoria
Zach says that is what he's got planned.
Hayden leaves and Donny joins Zach to play.
Zach els him he's not going home "it did not go like we wanted to .. i talked to him to and he was thinking about it..but…"
Donny talks about Cookie pudding , cookie, milk, and cool whip let it sit in the fridge for a couple hours and all the milk gets absorbed.. called Cookie pudding.
Donny says they have to come up with a plan collectively before the HOH. He doesn't want them to say right now who they will put up because things might get around and people get paranoid.
Donny says his plan this week is talk nothing about nothing.." people lie and lie"
Zach says what is getting him is how everyone thinks they know what people will do.they don't know sh1t.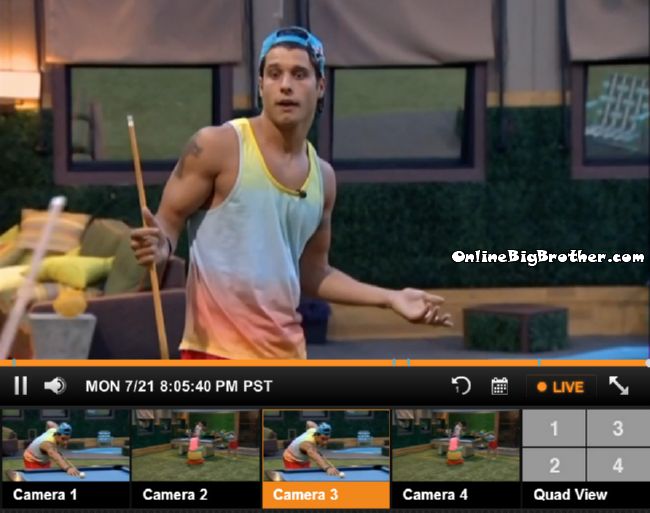 8:01pm Backyard Frankie, Zach, Derrick and Cody
Cody tells him all that sh1t Zach was saying about amber went back to Amber.
Zach – Dude Caleb is such a b1tch dude..
They are trying to think about who they need out first Caleb or Amber. Derrick says Amber will crumble if Caleb goes. Derrick mentions she may blow them up if she goes me. Frankie says they need to take them both out in a double eviction.
Cody says he likes Nicole shes "Ride or die"
They agree it will be a 10 zero vote. Derrick says Donny told him Jocasta told Brittany to her face she didn't have her vote.
Cody tells them they need Brittany to think she has a fighting chance. the last thing they need is Brittany blowing people up
Zach questions what does she have to blow them up with
Derick – we never worked with her
Cody – we don't need any more dissension
Cody and Derick saying that Amber has come back to them. Derrick points out he still sees Jocasta and Amber talking a lot.
Amber joins them
Cody start talking about hoping Brittany doesn't blow up. Amber – "I just need to know how we are voting"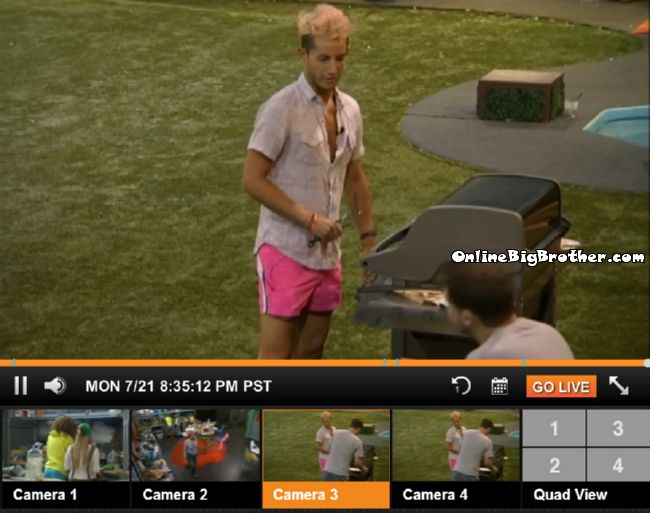 8:36pm Frankie and Derrick
Derrick says Brittany is going to be hell to deal with, he thinks there is zero chance of her staying.
Frankie almost would rather Brittany doesn't think she has a chance.
Derrick – "Ya well she does so she will be working it
Frankie – in her mind she does
Derrick – she has two votes.
Derrick says if Caleb had gone up he was going home. Frankie says they were guaranteed 5 votes to evict Brittany. Frankie just didn't want to have to deal with Caleb on the block the house would be a mess.
Derrick points out that Caleb has no idea how close he came to going home today.
Frankie brings up a talk he had with Caleb,he's going to put up Jocasta and Victoria and use Donny as replacement
Derrick – Perfect
Frankie – He's 100% locked
Derrick that should get us to jury
8:43pm Hammock Zach and Victoria
I can't stand Amber I don't know why I hate her
Zach I don't like Amber, Brittany and Caleb
Vic all he does is talk about himself
Zach doesn't he realize.. hasn't someone said something
Victoria has noticed Caleb's ego has gone down a lot. "I won more competition than him"
Zach says Caleb is realizing caleb knows nobody likes him because he's always by himself.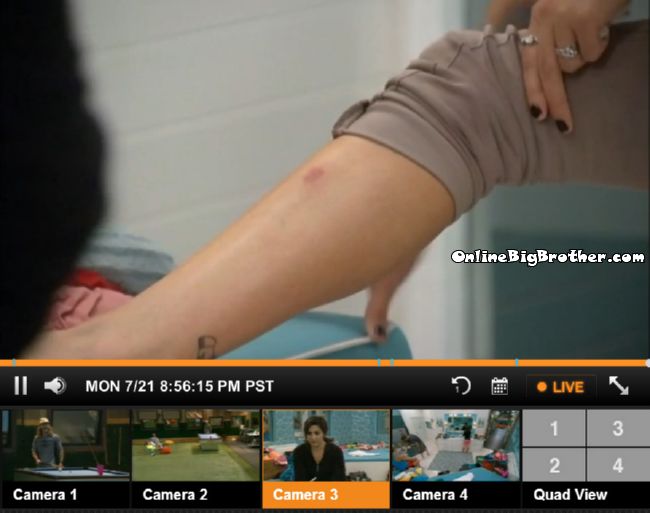 8:57pm Bathroom
Christine is showing Frankie her spider bite. He tells her to draw a circle around it and if the discolouration goes beyond that circle she needs antibiotics. She doesn't' think it's growing just changing colour.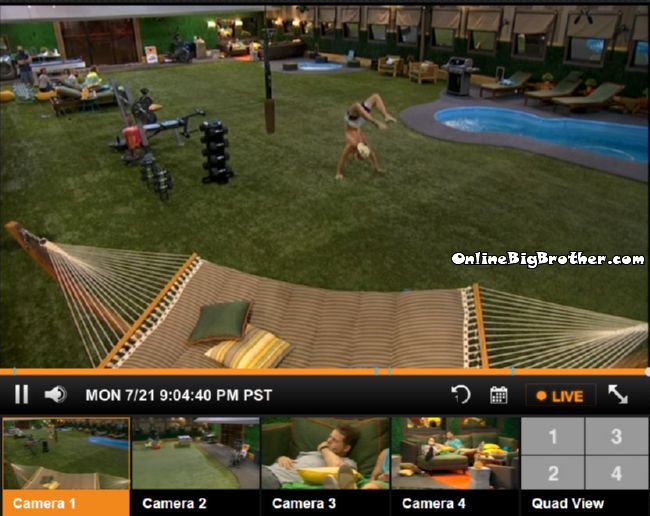 8:59pm Hayden showing us all that he's not a physical beast. ( He's been trying to make it across the backyard on his hands it's absolutely incredibly hard to do. Caleb tries and can't)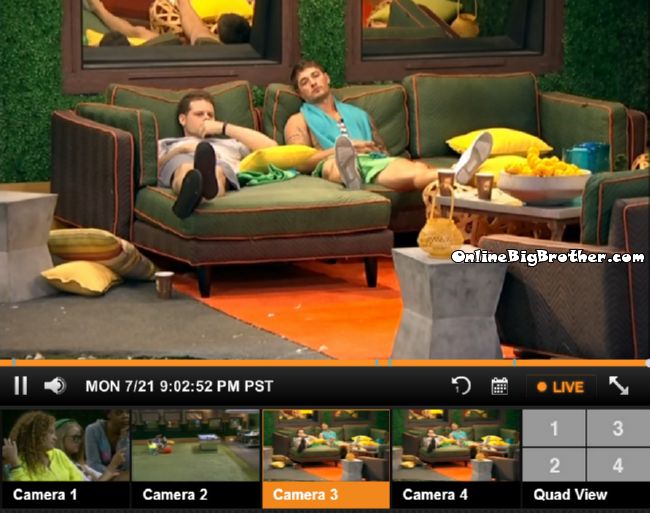 9:02pm Backyard Caleb and Derrick
Derrick saying she's going to try but she doesn't have the numbers and she's not going to get them.
Caleb – Every Time I yawn I taste pickle
Caleb says he's going to make it across the backyard before he leaves. Caleb says he'll try tomorrow.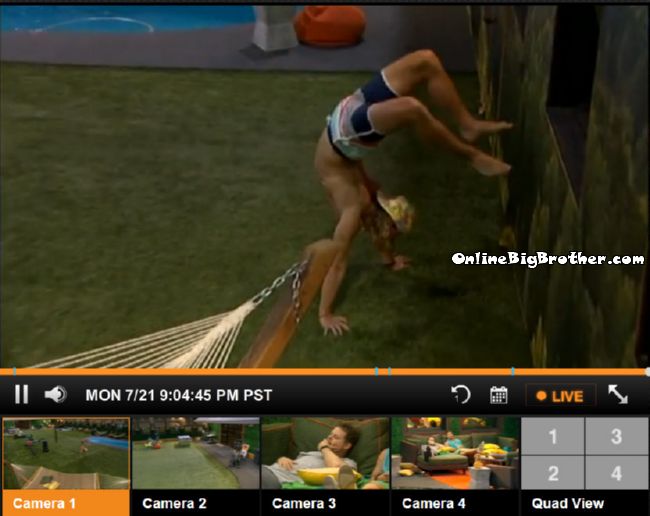 9:05pm Backyard Hayden makes it walks the entire distance of the backyard on his hands.
With a live feed subscription you can go back and rewatch all the events we highlight in this blog.
Try It Free! Get 24/7 access to the house for 48hrs before you decide!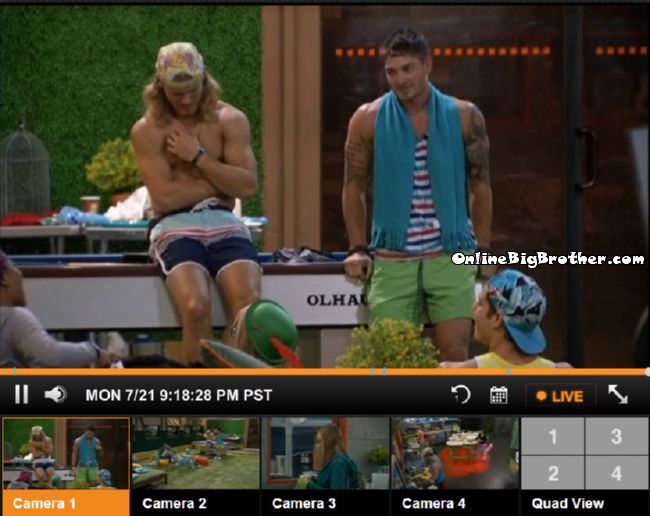 9:20pm backyard Nicole, Jocasta, Donny, Amber, Cody, Caleb and Hayden
Caleb saying he killed a fly and ate it was training for survivor, "It was on the table put it on a chip with Humus and ate it.. survivor here I come
Hayden – Caleb do you think they will give you chips and hummus on survivor.
Caleb – I've eaten worms i've eaten grasshoppers"
Donny points at a dead beetle on the ground tells Caleb to eat it "Eat that eat that beetle"
They all look and find it covered in ants. Caleb gets the raid can and sprays it to kill the ants. Caleb tells them if he gets on survivor he would eat that bug.
Caleb "I had a tough decision I had 3 days to choose Survivor or this.. they wanted me for survivor"
Caleb adds that he is going to do 'naked and afraid' after survivor. (Burt before he goes to the moon which will happen right after he climbs everest on his hands)
They talk about last season a crew member got bit by a snake and died because it got infected.