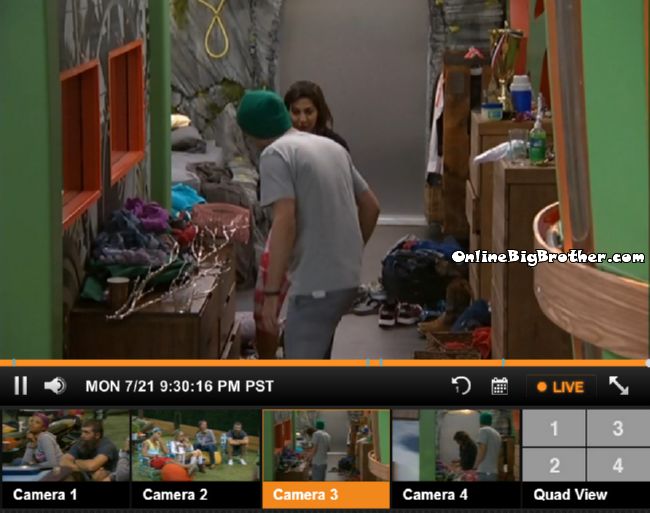 9:30pm Derrick and Victoria
Victoria says she heard that Derrick knew Donny was was going on the block. "Everyone new"
Derrick – "I swear that is 100% not true who told you".. Derrick tells her he bet's was Zach he's the only one that would have known.
Victoria says it wasn't Zach.
Victoria – you swear not to say anything
Derrick – of course it's me and you
Victoria says it was Christine and Nicole that pulled her aside.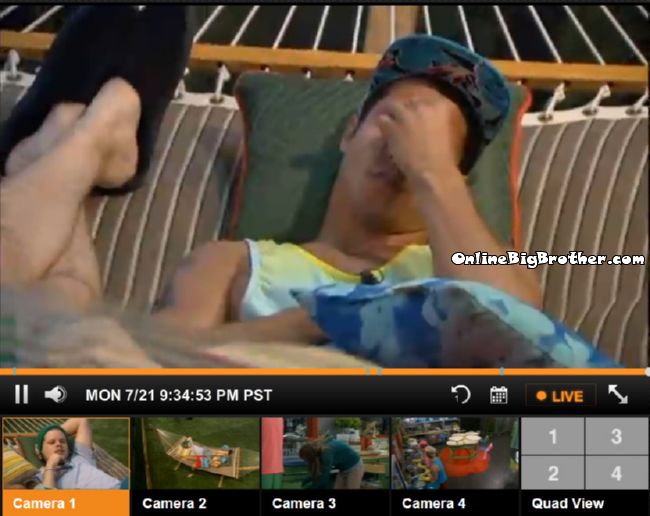 9:34pm Hammock Derrick and Cody
Derrick – this is for Hitman only nobody else.. we got to be more tight lipped.
Cody – I love it
Derrick tells him Christine and Nicole told Victoria that Derrick and other people knew Donny was going on the block. "If that gets out it's horrible it makes us look bad and them look good"
Derick says they cannot be too trustworthy now., "Let it die it won't hurt us"
Derrick – "Dude this is why we can't have a 5.. 6 person alliance because only two people win money"
Cody – why would they do that"
Derrick – "It's true because Victoria is dumb as a stump .. they (Nicole/christine) are setting themselves up for the long term .. playing ahead.. developing wedges.. you know old school strategies trying to separate themselves but keep with us"
Derrick says Caleb could put up Zach, jocasta, Donny this is why they are sitting pretty
Derrick – Hayden will put up Amber
Cody and Derrick agree they are set up great for next week.
Derrick says if Zach talked back to him he would knock his F***ing teeth out".
they agree HAyden loves them they want him around but they know he will choose Nicole over them if it comes down to it.
Derrick says Christine and Nicole will take each other over them. Cody thinks Christine will burn Nicole.
Derrick says Christine isn't' going to win any HOH's
Cody – that's not good for us man
Derrick know say they are just using her for the"talking"
Derrick She's not going to win HOH let us do all the dirty work and stay clean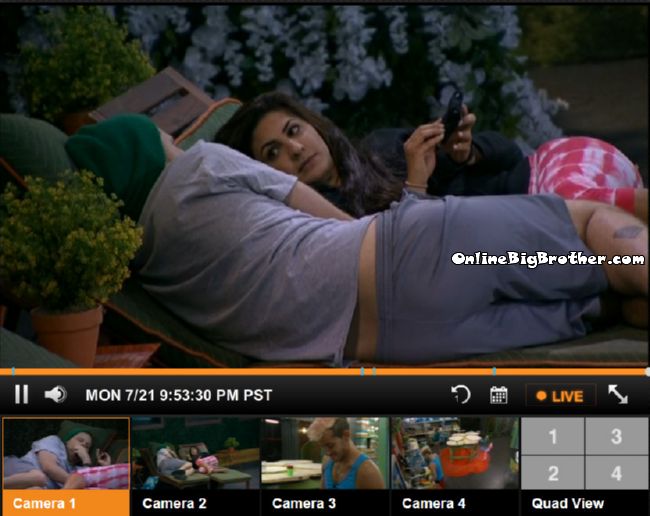 10:00pm Derrick and Victoria
Derrick tells her to watch what she says to ZAach he's got a big mouth. Victoria cannot understand why Cody and Zach are friends. Derrick says same agee and he's not thinking they talk much game. Victoria disagrees says she thinks they talk a lot of game.
Victoria says game wise she trusts Christine more than Nicole. Nicole doesn't know much she's like Christine's shadow. Victoria asks him if he trusts Christine. Derrick doesn't know exactly says he only really talks to one girl about Game and that is Victoria.
Victoria says she thinks people are secretly working together.
Victoria goes on about how nice and sweet COdy is. Derrick tells her she better not choose cody over him in teh end.
Victoria – "You're my number one for real I would never choose anyone after you"
Victoria says Christine is a really good actress and Frankie is lieing about his
Derrick thinks Zach is who he says he is so is caleb "He's told everything"
Derrick – "I wish I have a secret that I can tell you all.. A good one"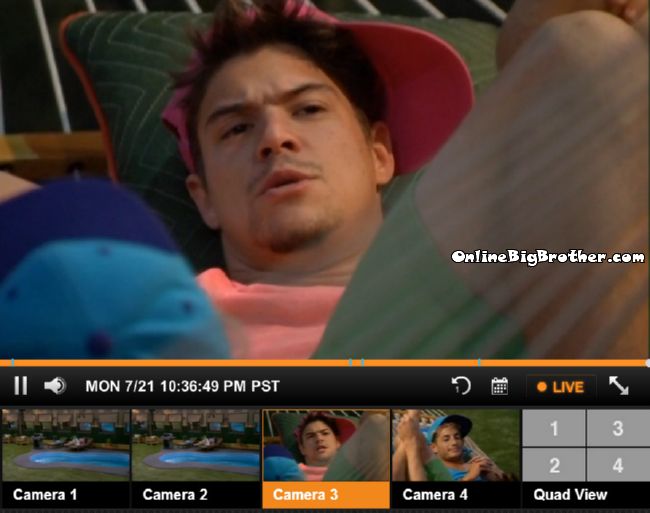 10:31pm Zach and Frankie
(Zach just came back from the Diary room where they filmed the goodbye messages)
Zach – "They egg you on in there.. they're like NO IT HAS TO BE MEANER"
Frankie says he so happy right now because there is no tension. They agree it would have been insane if Caleb went up. Frankie – "I would have been like when Devin put you up.. running around like a lunatic"
Zach thinks Caleb could have gone home Frankie agrees says it would be 5-5
Frankie recommends they backdoor Amber. Zach questions how good Amber really is in competitions.
Zach – If it's between her and donny i'm putting her up
Frankie says zach has reason she is coming after him but if Frankie puts her up it would be stupid
Zach is certain if one of them(Jocasta, Donny, Amber) win HOH he's going up.
Frankie says his dad lives in a million dollar mansion. Zach says he heard that story three times. Don't forget about his dad making 50 thousands dollars a day but having to pay his employees, buy equipment and utilities. Zach "Dumbass I know how a business runs" Zach having trouble believing these outrageous stories."Did you ride a porsche to school where the hell did you park your horse"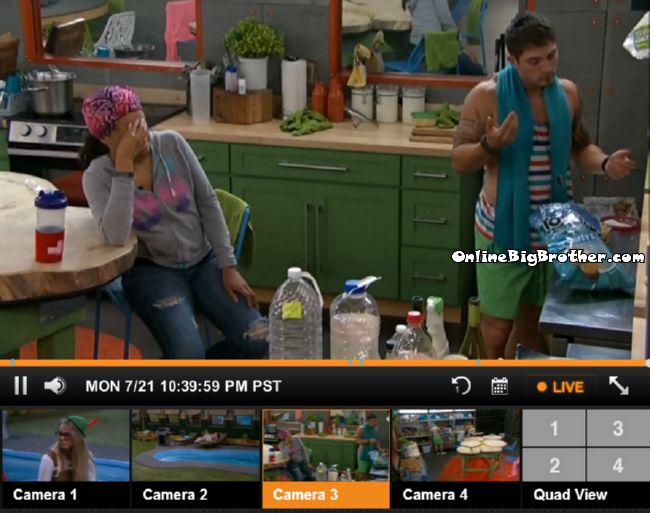 10:39pm Caleb and Jocasta
Clabe is telling her Brittany is going home and they are going to walk out and it's an endurance contest. Jocasta thinks it will be double eviction. They go back and forth wild competition speculation.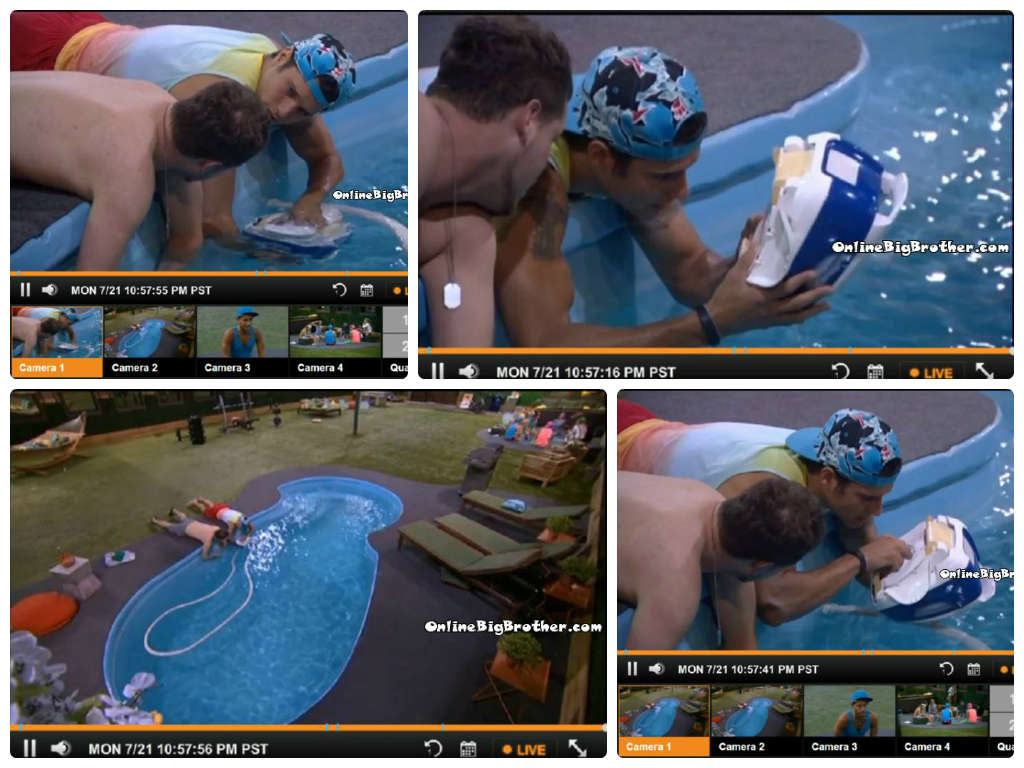 Cody and Derrick fix the Pool Vacuum
11:14pm Pool Derrick and Cody
Derrick saying to him they want to keep the numbers as lopsided as possible if the other side wants to make a move they can't pull it off they won't have the numbers.
Derrick – But you know the real reason I want to keep Donny.. is to take out Frankie"
Derrick says Donny is going to target Christine as well.
Cody think he'll do it after Frankie.
Derrick doesn't know for sure. he hopes so "Donny doesn't like her he thinks she's the f*** rat. to be honest she is"
Cody laughs and agrees.
Derrik "I won't call her a rat but she does have a big mouth "
They need people like Donny in the house to do some battling.
Derrick mentions that everyone thinks Cody is super tight with Zach.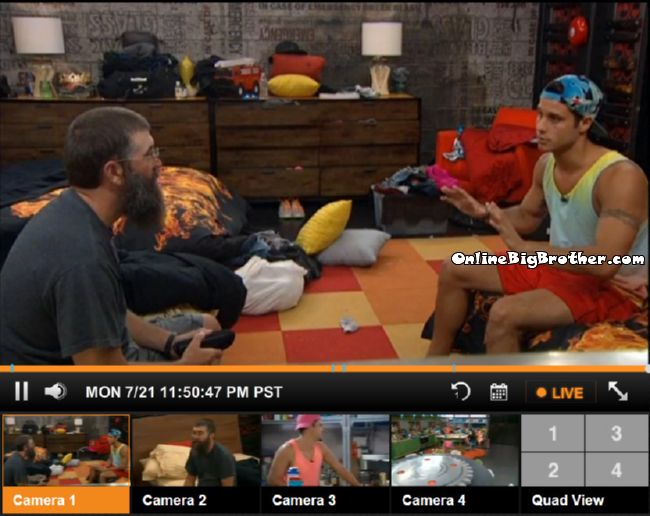 11:46p Fire Room COdy and Donny
COdy says he talked to everyone and got them to swear to god they don't vote him out. He's furious that he didn't put Caleb Up "He's so f***g stupid he doesn't know this game"
Cody says Dony is nominated so that it's a 10 to 0 vote, Brittany doesn't know that though.
Donny says it's still a risk being on the block even if all these people say they won't vote him out.
Cody reiterates that putting Donny up was to make sure Brittany goes hom. Donny – "I'm keeping my mouth closed i'm not going to stick my foot in it"
Donny explains that he feels that Devin was right there is a group of people over here and Donny, Victoria , Jocasta and Brittnay over there.
11:58pm Fireroom Caleb and Donny
Donny brings up that Nicole is likable like him why not put her up instead.
Caleb says the reason is Nicole tried so hard to get the Veto he wanted to repay her some way and he thought not putting her on the block was it.
Donny – how are people returning the favour for me for getting Devin out.. it's done I won't hold it against you most people would.
(Feeds cut to fish)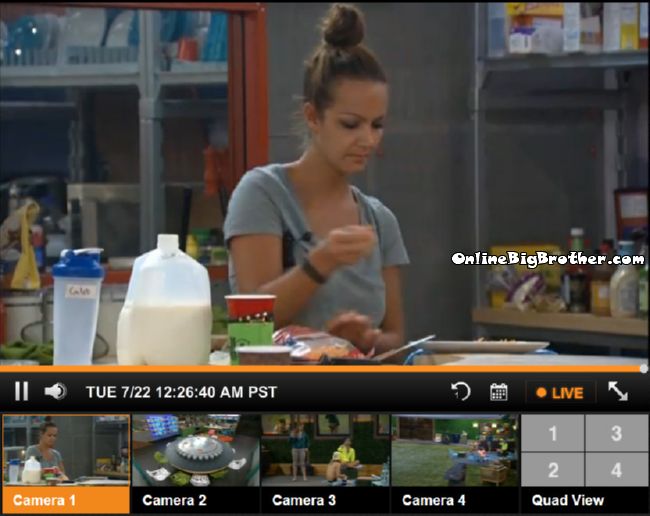 12:26Am Brittany wakes up!
12:32AM Backyard couch Devin, Nicole, Christine. Hayden and Amber
Christine mentions how Devin would take a breath after every 3rd word. Frankie says during the POV competition Devin looked like a namila "He looked like Blanka from street fighter"
12:42Am Frankie and Christine having a "date"
They agree they had a very successful day. Christine says Nicole is scary she's not good with keeping her mouth shut. "Christine "you and me are good at keeping our cool with everyone"
Frankie says if Cody had put up Caleb the blow up would have been huge. HE thinks Cody would be hiding in his HOH room the entire time. Frankie "He can crush your spin in his A$$"
Frankie says Cody was hesitate with keeping him in the loops this week. Christine – 'We're sitting so good right now"
Frankie told Cody he wasn't against the move to Backdoor Caleb he was just not agreeing with the time. Christine – Do we backdoor Amber or Caleb first? Frankie thinks if Caleb goes first they can bring Amber in and let her know they sent Caleb home for her game. If Amber goes first Caleb will be driven by revenge and will be unstoppable .
They agree COdy putting up Caleb would have been the stupidest move in tha game.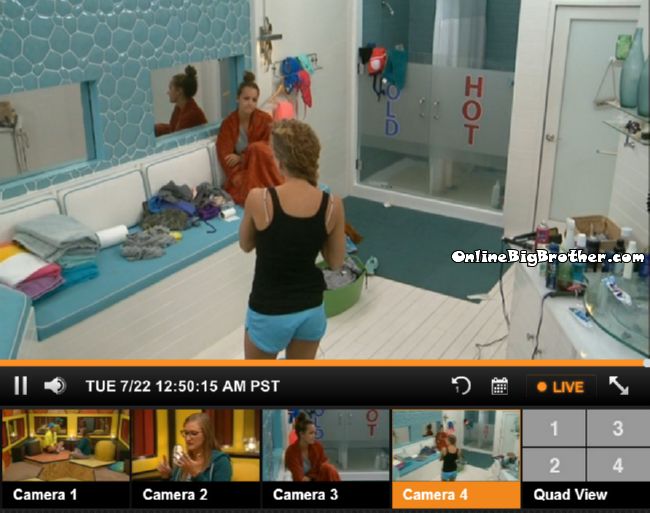 12:51AM Amber and Brittany bathroom
Amber tells her she doesn't know how everyone is voting she wants to be honest with Brittany.
Amber – "right now i'm doing everything I can"
She asks her if she's had a chance to talk to everyone.
Brittany says Cody told her he's doing everything to keep me to stay.
Brittany thought Cody picked Donny because he wanted her to stay but now she doesn't think she has the votes.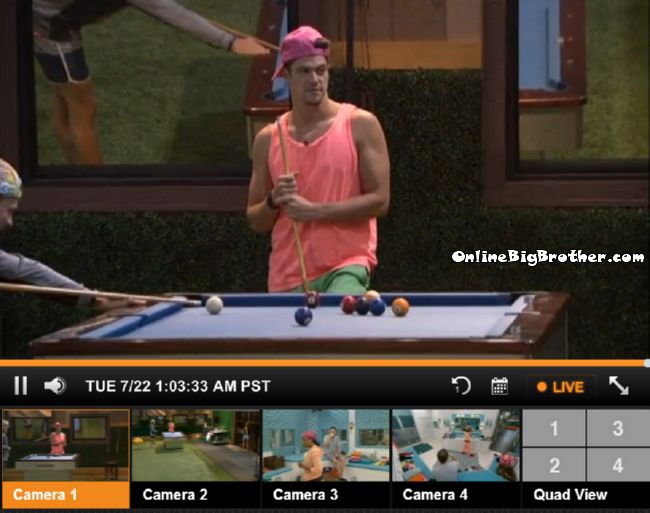 1:04AM Hayden and Zach
Hayden Saying Amber and Caleb have to go. Zach agrees says Amber is the worst. Hayden cannot stand Caleb, they start impersonating Caleb, "Hey you know I had 4% body fat.. hey you know I was given a choice Big Brother or survivor.. I was 4% body fat shredded". Hayden mentions how much it will kill him if Caleb gets into Jury with his 5 thousands and makes more money than them two. This is why Hayden wants Caleb gone before Jury.
Alliances (Some Of these are dead)
Zankie = Frankie/Zach
Bomb squad = Caleb, Amber, Frankie, Derrick, Cody, Christine, Zach, Hayden
Team America = Donny, Derrick, Frankie
Nicotine = Christine/Nicole
Not a showmance= Hayden/Nicole
Los Tres Amigos = Derrick, Cody, Zach
The bottom Feeders = Derrick/Nicole
We hate Devin = Christine and Zach
Outsiders = Brittany, Victoria, Jocasta, Donny
Old timers = Jocasta/Donny
Stalker = Caleb/Amber
Quad Kings = Derrick, Zach, Cody and Hayden (still being built)
Trilogy = Nicole, Christine & Hayden
The Detonators = Derrick, Frankie, Zach, Christine, Cody
Final 2 Deal "The HITMEN" – Cody & Derrick
More polls here https://www.onlinebigbrother.com/big-brother-compendium/big-brother-16-polls/
[polldaddy poll=8198814]
[polldaddy poll=8194643]
Share it YO!
Tweet