POV Holder:
Victoria
Next POV
July 19th
POV Used
Yes
POV Ceremony
July 26th
HOH Winner 1:
Frankie
HOH Winner 2:
 Cody
Battle of the Block Winner
Jocasta/Amber
Next HOH/ Next BOB
July 24/July 25
Original Nominations:
Brittany/Victoria(Cody) Jocasta/Amber (Frankie)
Final Nominations:
Brittany & Donny
Have Nots
?
POV Players
Cody, Brittany, Victoria, Caleb, Nicole, Zach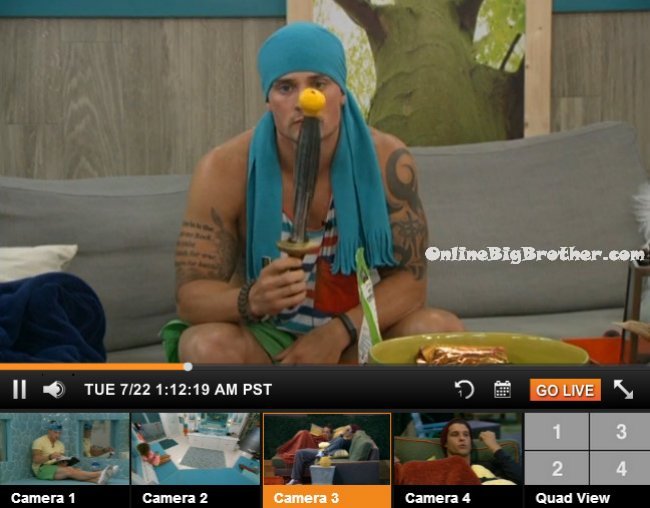 Big Brother 16 Live Feed FREE TRIAL – Use the FLASHBACK feature to watch everything you've missed!
1:15am – 2am Up in the HOH room – Caleb, Amber, Derrick and Cody are talking about Brittany going home and what they need to tell her. Caleb says if Brittany asks me I am telling her that I am going with the house. I can't put a target on my back. Caleb says I feel like the whole alliance is voting to evict her. Caleb says that Nicole, Christine won't vote for her to stay either. Amber says Victoria might vote to keep her but it doesn't matter either way which way she votes. Caleb says there is no hope in keeping her. She is going out on an 11-0 vote. Cody says people were saying why did Caleb feel so safe in the veto to take the money over the veto. Cody says because I told people who ever kept me safe is safe. Caleb didn't put me up so I am not going to put him up. Caleb asks who was asking why did I feel so safe to take the money? Cody says Victoria and Donny. Caleb says Brittany deserves to be here longer than Victoria Derrick says long story short.. everyone not in the alliance needs to go home. It doesn't matter which order. Derrick says she could be playing up that mother card. Her house is bigger than most of ours and she drives a 5 series BMW. She could have come in her saying I'm doing good but I could always be doing better. If she's not with us she's against us! Caleb starts talking about the date he is going to have with Amber and after dinner he is going to tell her there is a second part to this date – a 4 day 5 night cruise to Atlantis. I'll ask her if she wants to go AND if she doesn't want to go I will drop kicker in the face and she can pay for her own food. Then I will post on face book who what's to go on a cruise.. do you know how many girls will want to go with me.
2am UP in the HOH room – Christine, Frankie and Caleb are taking. Frankie and Caleb are looking at Christine's spider bite. Caleb says if you squeeze it all the green puss will come out. Christine says oh I want to but they told me not to. Caleb says if you put heat on it, it will draw it right out. Christine says that Amber cleaned the whole bathroom all by herself. Caleb says that's why she's a keeper. Zach joins them. They all laugh at how Victoria thinks Amsterdam is a part of Germany. Zach says Victoria kept saying its part of my history I know 1050% sure. Zach says its a part of the Netherlands. They laugh that Victoria even went to the diary room to ask because she didn't believe them. Cody comes out from having a shower and Caleb and Zach start dancing. Frankie asks what's going one??!
Out in the backyard – Nicole is talking to Hayden. Nicole says that she can't trust Victoria. I can't trust people that are always happy. Cody joins Nicole outside. Cody says that he thinks Hayden and Nicole could have a sneaky showmance. Nicole says no. Cody asks if they've kissed. Nicole says no. Cody says I am going to go ask Hayden the same question and if I think you're lying then you're going to be my next target. Nicole says we haven't done anything. Cody says okay you're my next target. Just kidding. Nicole says that Victoria has done more than I have. She's had her hand up his shirt and .. I'm not going to step on anyone's toes. Nicole says I'm here to play the game man! Cody starts talking about how Caleb was trying to convince Victoria that what he did in the veto competition was a good decision and anyone who thinks otherwise doesn't know the game. Cody says its literally killing me to not blow up on him. Derrick says kill'em with kindness. Amber comes out and says that if you guys don't stop peeing on the toilet seat I am going to set up cheerios for you to aim at. Cody says well its not me I sit down when I pee. Caleb makes fun of Cody. Cody says that he was tramatized when he was younger that he and his brother used to pee on the seat when they were younger and their dad said I sit when I pee so, so do you! I sit down with the ladies so they don't have to live with pigs! Cody comments that he whips the tip with toilet paper too. Caleb starts asking Hayden if he wipes. Cody says go ahead and ask, you're just proving my pen!s is cleaner than yours. Cody says that's how you get UTI's. Cody gets called to the diary room.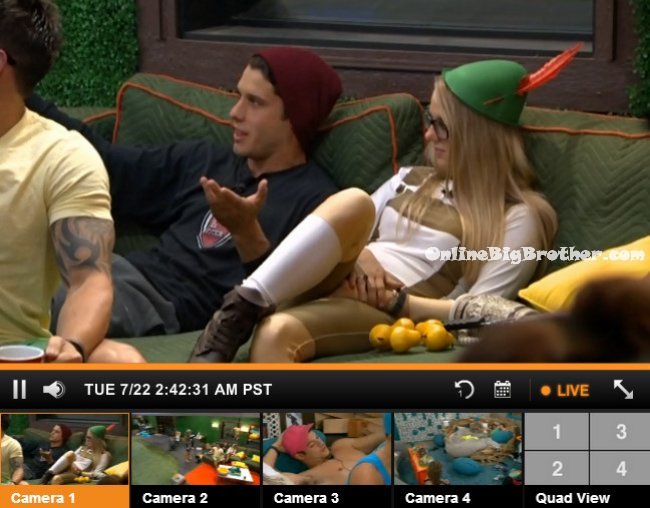 3am – 3:35am In the kitchen – Nicole and Christine talk about how annoying Brittany and how they're not changing their votes. Chirstine says freaking Amber and Caleb think Brittany should stay. Nicole says that Caleb is so embarrassing. Christine says its all because of Amber. Nicole says its embarrassing for his family, I really hope they show it like it is. Christine says oh they are. They talk about how hilarious it will be to see on tv. Christine and Nicole head to bed. Derrick joins them. Nicole goes and scares Zach when he comes out of the storage room. Zach comes back into the bedroom with a butter knife and tells her that she better be scared of him. I am going to scare the sh*t out of you! You best believe! I am going to scare the f**king Sh*t out of you! Zach leaves. Nicole says that it was actually scaring her that he had a knife. That's why were not allow to have knives.
TEST out the Big Brother 16 Live Feeds for FREE with the 2 Day Trial!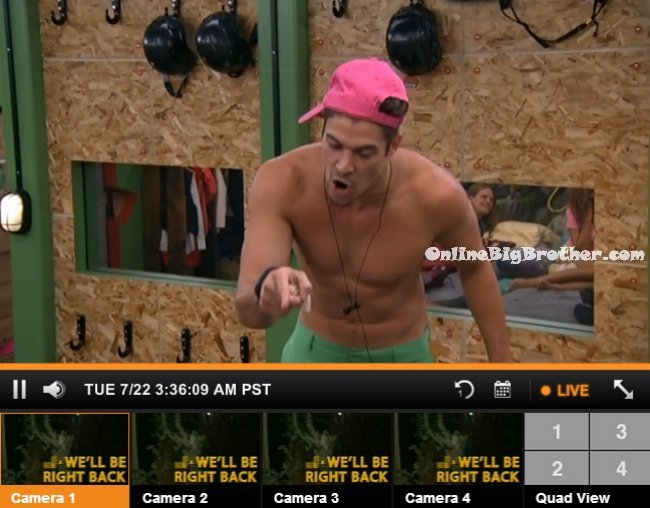 3:40am Out in the backyard – Zach asks Brittany if she is okay. Brittany says no. I feel like I didn't even get to prove myself. Zach says its not over. Brittany says I feel like that's the direction it is going. Zach says you need to start cutting deals. Brittany says I just don't know how I got stuck as one of the outsides here. I got stuck being so alone. Here I am on the outside and I've been fighting to be here. I am loyal and keep my word. Nobody can say they see me as a personal threat, especially against Donny. Brittany says I know you guys have your group that's going to make it to jury. I deserve to go to jury. Zach says its lose, lose. You have to campaign your a$$ off. Brittany says people won't even sit next to me. Zach says I am right now. Brittany says its not fair. I won't even try for HOH. Its not fair for me to be away from my kids for this long. I have f**king kids I need to be here as long as I can. Zach says I am 50/50 on my vote as long as you promise not to come after me. Brittany says I won't come after you. Zach says okay you have my vote. Zach says tomorrow you need to campaign to Christine because Donny is coming directly after her. If you can get Nicole and Christine you're golden. Zach heads inside. Zach tells Caleb that he feels bad and says that Brittany isn't coming after us.
WATCH the next 48 hours for FREE – Big Brother 16 Live Feed TRIAL!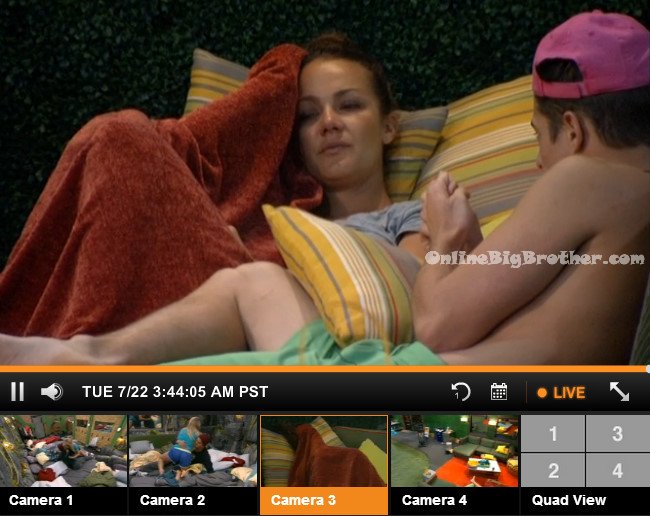 4am – 4:35am Cody comes out to ask Brittany what she is doing all solo. Brittany says I am shunned right now. I don't even think I have the votes any more. Do you think Zach will vote for me? Cody says I'm not sure, I haven't talked to him. Brittany says he just told me he would vote for me. Amber said now that she doesn't even know. That she needs to wait and see what the house is doing. Brittany says I have tried the sad look, the happy look and the mad look and nothing is working. Cody says oh I see, so you're an actor. Cody and Brittany talk about life outside the house.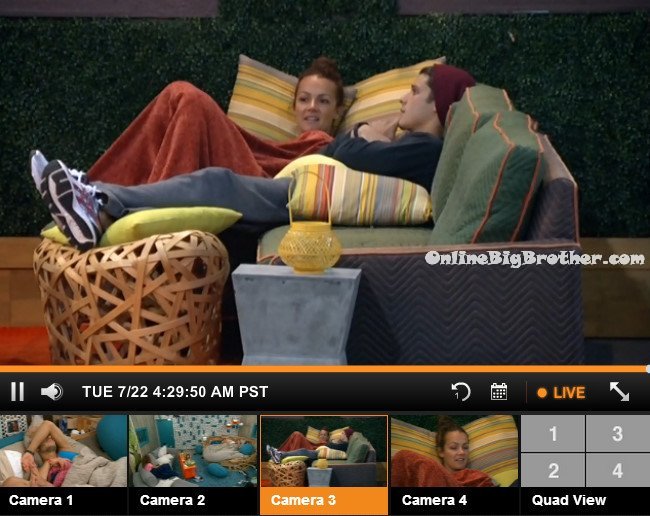 5am In the HOH room – Zach and Amber talk about relationships. Zach says I haven't been in a relationship since grade 10. He says that he feels you don't really get into relationships until you're done college. Zach asks I'll get lots of girls when we get out of here right!? Frankie says not if they watch the show. Zach laughs. Zach tells Frankie if I was gay I would be obsessed with you. Well even though I'm not I'm obsessed with you. Cody joins them and they jokingly ask him if he can leave the room so they can finishing talking. Cody says am I allowed to use my room or no? I cant even hang out in my own room. Cody jokingly says get the f**k out of my room. Zach says I actually felt bad for Brittany for a second and then I was like wait no I'm Zach-Attack! Amber asks what do you think about me Zach? Zach says what do you mean, what do I think about you. You're in my alliance that's what I think about you.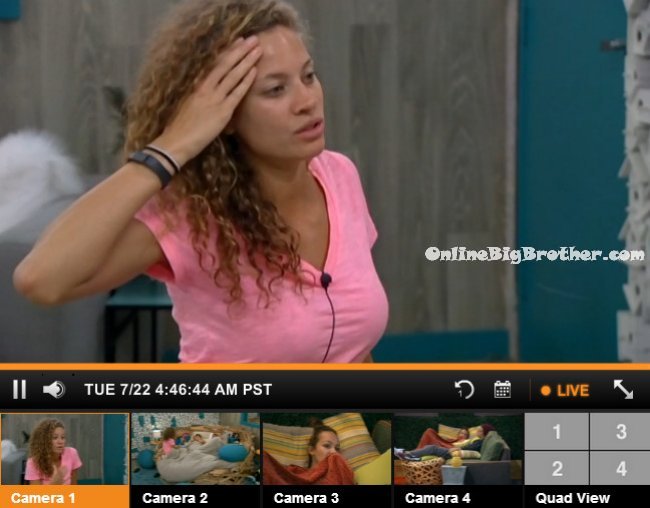 5:20am Amber leaves the HOH. Zach and Cody talk about how Brittany said to Zach that she know everything about their alliance. AND guess who told her everything.. Amber! Zach says she is such a f**king snake! Frankie joins them. Cody says that Caleb honestly wants Brittany to stay. He is a f**king idiot. Cody tells Zach to not tell anything to Caleb because it gets backs to Amber. He literally tells her everything. Frankie starts laughing about how Caleb said he's going take Amber to Atlantis. Frankie says that Caleb said he can't wait to be in the jury with Amber because she will be honest in there. Frankie says you're right! Let me send you there! They laugh. Zach says I don't think I've lied, I said white lies. Frankie says I lie, I lie all the time.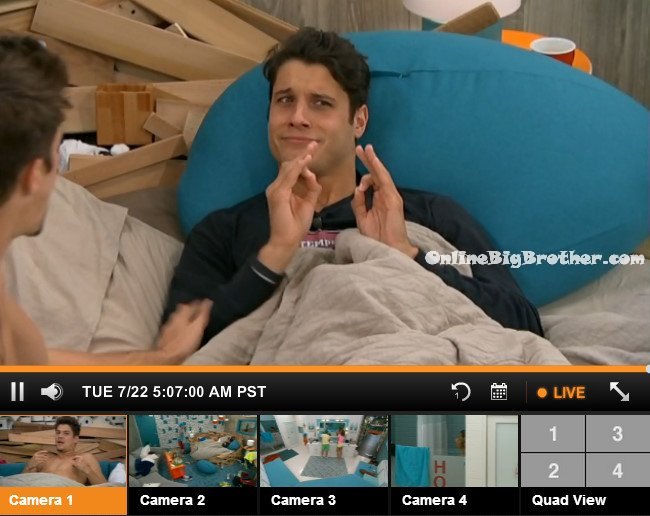 Zach says that Caleb wondered who would get America's favorite. Zach says I figured Donny, Nicole, Frankie. Zach says that Caleb said he would get it beacuse he put his life on the line for a girl. Zach says Caleb said right now, there are shirts being printed saying "Beast Mode Cowboy" Cody says Caleb is so full of himself. Cody comments that Amber says that she tries to see the good in people, .. but wasn't she talking crap about Victoria?! They laugh.Cody says I wish Brittany's picture was a lot hotter. Frankie says maybe it looks better in black and white, we'll see on Thursday! Zach says that he love how Caleb says he is going to win every competition but he has only won one. They laugh.
6:45am All of the house guests head to bed..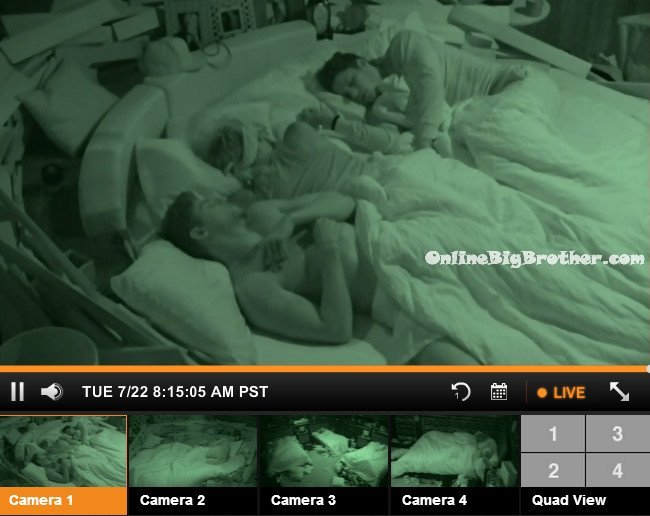 9:40am All the house guests are still sleeping. No wake up call yet..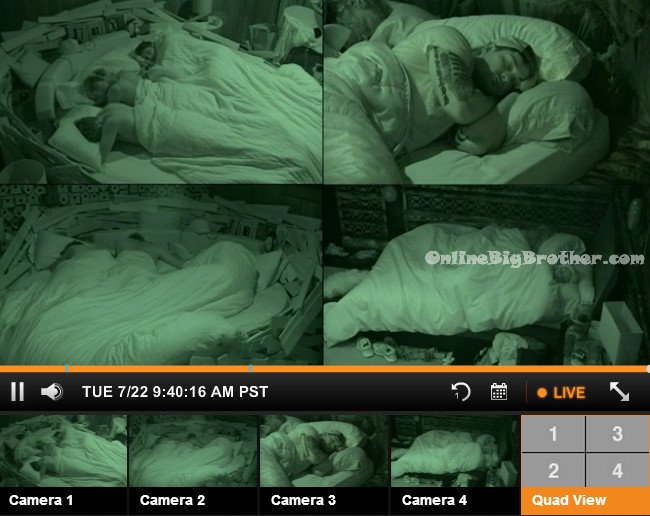 10am – 10:30am Big Brother wakes up the house guests. When the live feeds return only Donny and Jocasta are awake.
Alliances (Some Of these are dead)
Zankie = Frankie/Zach
Bomb squad = Caleb, Amber, Frankie, Derrick, Cody, Christine, Zach, Hayden
Team America = Donny, Derrick, Frankie
Nicotine = Christine/Nicole
Not a showmance= Hayden/Nicole
Los Tres Amigos = Derrick, Cody, Zach
The bottom Feeders = Derrick/Nicole
We hate Devin = Christine and Zach
Outsiders = Brittany, Victoria, Jocasta, Donny
Old timers = Jocasta/Donny
Stalker = Caleb/Amber
Quad Kings = Derrick, Zach, Cody and Hayden (still being built)
Trilogy = Nicole, Christine & Hayden
The Detonators = Derrick, Frankie, Zach, Christine, Cody
Final 2 Deal "The HITMEN" – Cody & Derrick
More polls here https://www.onlinebigbrother.com/big-brother-compendium/big-brother-16-polls/
[polldaddy poll=8198814]
[polldaddy poll=8194643]