POV Holder:
Victoria
Next POV
July 19th
POV Used
Yes
POV Ceremony
July 26th
HOH Winner 1:
Frankie
HOH Winner 2:
 Cody
Battle of the Block Winner
Jocasta/Amber
Next HOH/ Next BOB
July 24/July 25
Original Nominations:
Brittany/Victoria(Cody) Jocasta/Amber (Frankie)
Final Nominations:
Brittany & Donny
Have Nots
?
POV Players
Cody, Brittany, Victoria, Caleb, Nicole, Zach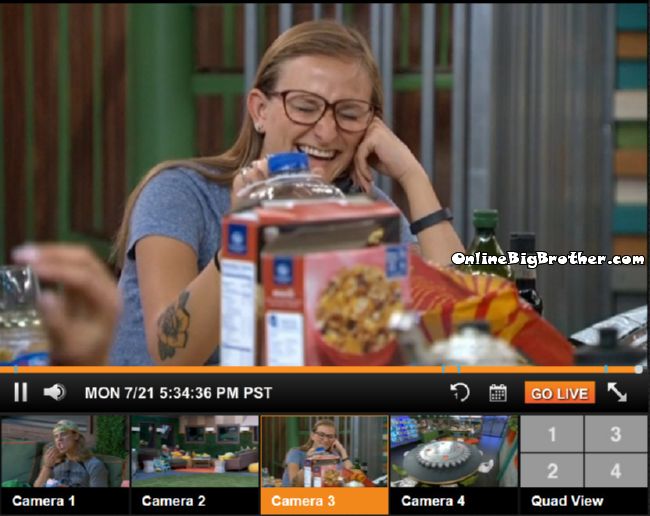 5:30pm Kitchen Christine, Frankie, Nicole, Derrick, Donny and Victoria
THey are laughing about Brittany spending all her time with Cody. Christine and Franke say Brittany doesn't know Cody doesn't get a vote. Hayden points out the dishes have really gone down since DEvin has gone.
Frankie, Donny, Derrick and Hayden leave.
Christine starts bashing Amber/Brittany the rest of the girls jump in. They are royally pissed that Brittany is spending all her time in the HOH.
Christine – 'This pisses me off because she's going to be with Cody all week"
Victoria – that doesn't help anything

Christine – It just irritates the crap out of me.. She is so mean
Christine – She's not very nice.. she's so mean.. "
Christine tells Victoria all these "mean" things she's said to her earlier in the day. (Brittany has been making some snide remarks about Victoria taking so long to get ready for the POV ceremony etc etc. comparable to the things, Zach, Christine and Frankie have said)
Nicole – Hate her
Victoria – Hate her
Christine – she's mean
Victoria – She's so vicious at least my hair doesn't look like a birds nest every single morning.
Christine says she hates Jocasta but she can't remember why she thinks this.
Victoria calls theses girls so boring, brings up Jocasta telling her how much she's grown. "B1tch you don't know me"
Christine and Victoria mention how Britney is a mother of 3 but doesn't act very mature.
Nicole says she knows mothers that are more mature at 22. Nicole says Brittany is mad at her for taking the POV away. Victoria Says she's pissed at her for winning it.
They agree Brittany will go home none of them are going to flip their vote, "Nobody is going to vote out Donny" they have Derrick, Frankie, Christine, Victoria, Jocasta and Nicole's vote on lock.
They agree Sucking up to Brittany to reduce drama and prevent her from stirring up sh1t isn't something that is going to happen this week
Christine – "Once Veto over I'm done with her"
Christine calls Brittany a Catty girl, "Guys fall for her because she's so pretty… she's use to getting everything she wants and her parents gave her everything"
They wonder what is going on in the HOH bed because Brittany has been up there all day/night.
Christine – "she would do him in a heartbeat if there wasn't any cameras"
Christine keeps saying how she's so pissed at cody and Brittany cuddling.
Nicole wonders if they have kissed
Christine says she thinks Cody is smarter than that but he's a guy and she's a pretty girl
Victoria – she's a vicious person.. its so funny those catty comments are pathetic and that is how they come out on Camera"
Christine says Brittany has Amber and Caleb wrapped around her little finger.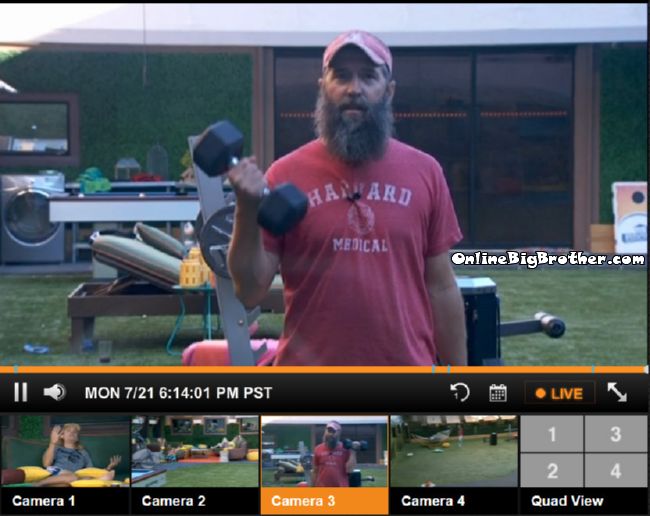 6:15pm Donny and Jocasta
Talking about the bible while Donny does his HOH power lifts.
With a live feed subscription you can go back and rewatch all the events we highlight in this blog.
Try It Free! Get 24/7 access to the house for 48hrs before you decide!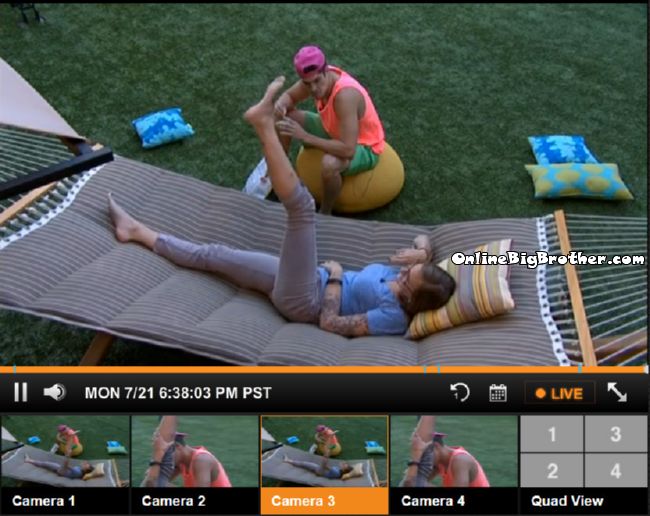 6:36pm Hammock Christine and Zach
Zach says he just came from the HOH and Cody/Britany are passed out
Christine – At least they aren't doing something else
Zach jokes "they did that already"
Christine goes on about how Brittany is up Cody's butt. CHristine adds that Brittany has no idea how to play the game she's trying what she did with Devin on Cody
Zach points out nobody will probably be voting to keep Brittany.
Christine says she has a feeling they will have 11 jury members and this week it's double eviction with the BOB twist ending.
Zach – I hate this BOB thing because most likely i'm going up
Christine- Me to
Zach – I don't' think there will be a bob this week
Christine says amber is so pissed right now
Amber joins them.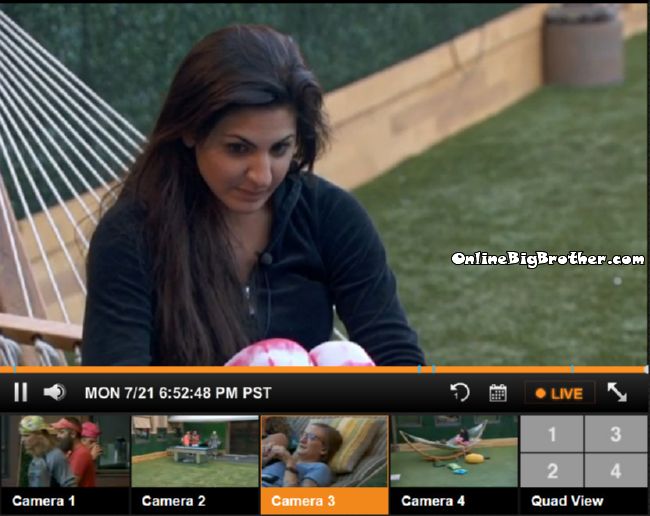 6:48pm Hammock Victoria and Christine
Christine mentions that Brittany is still up in the HOH with Cody and it's driving her nuts. "She's going to do the same thing she did with Devin but it's not going to work"
Victoria – Why doesn't he tell her
Christine – he's too nice
(Christine won't stop talking about this)
7:00pm
Victoria and Christine (moments before Amber was with them talking as soon as she leaves the bashing starts)
Victoria – Her tone frustrates me so much"
Christine – "oh my gosh"
Christine says Amber keeps saying she's board "Please stop saying that you are in the big brother house this is my dream… you're pissing me off everytime you say that"
Victoria – her tone is so not genuine
Christine – every sentence she says has to be about her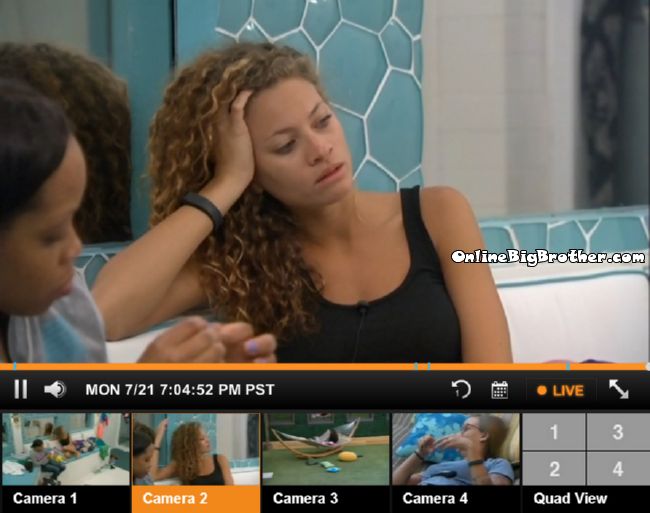 7:03pm Bathroom Amber and Jocasta
Amber doesn't know who she's voting for she's friends with Donny but doesn't know.
Amber says she was once close to Donny she thinks by tomorrow she's going to talk to Donny. She doesn't want to talk to him today because it's been such an overwhelming day for him and she's sure everyone has been wanting to talk.
Amber says she feels like Donny is targeting her.
Jocasta says Donny used the POV on her she doesn't know how the world will view her if she voted him out. Amber says Donny has proved that he will use the veto to save people.
Amber says yesterday was a rocky day for her because she doesn't' feel like she can trust anyone. She she's not trusting people to just talk to them, even non game.
Jocasta "I really miss my church"
Amber – "I really like my church out here.. Mosaic"
She talks about all the church functions they do, "It's very welcoming.. it's none denominations I love it"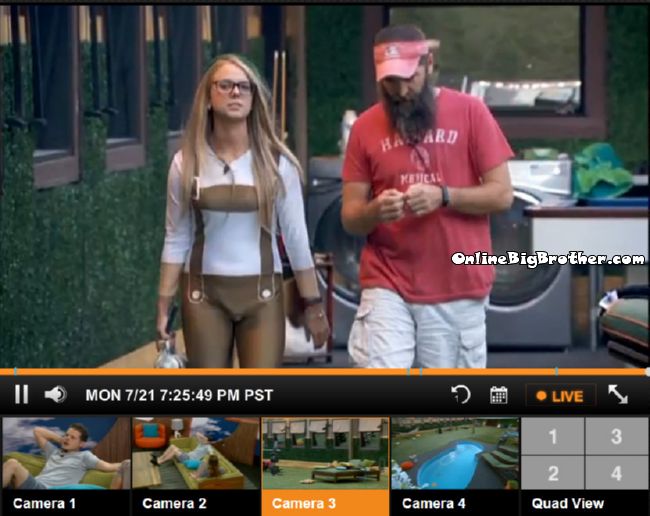 7:24pm Backyard Nicole and Donny
Donny tells her if he survives this week they name names. Nicole agrees tells him she will do everything she can to keep him safe. She will make sure of it he survives the week. Donny thanks her says he's planning on keeping his mouth shut.
Donny tells her they need to start "doing something if things keep going the way they are going they won't enough people to "Do something". Once 4 people go they don't have the numbers anymore. Donny points out flipping the house and taking the power will be very good for their Families watching back home. Donny says if he wins HOH he's telling everyone to not come up if they do I will nominate them. Donny is going to talk to Cody and find out who was behind putting him up as a pawn.
He points out that right now he's in the worst spot you can be in so he can't do a thing.
Nicole suggests Donny was nominated because they didn't think he had a chance to go now.
Nicole leaves and Victoria joins him. She tells him there is no need for him to campaign she's not voting against him. Victoria starts talking about her father dodging the draft in Israel that is why she was born in brooklyn. Feeds flip to another camera
Alliances (Some Of these are dead)
Zankie = Frankie/Zach
Bomb squad = Caleb, Amber, Frankie, Derrick, Cody, Christine, Zach, Hayden
Team America = Donny, Derrick, Frankie
Nicotine = Christine/Nicole
Not a showmance= Hayden/Nicole
Los Tres Amigos = Derrick, Cody, Zach
The bottom Feeders = Derrick/Nicole
We hate Devin = Christine and Zach
Outsiders = Brittany, Victoria, Jocasta, Donny
Old timers = Jocasta/Donny
Stalker = Caleb/Amber
Quad Kings = Derrick, Zach, Cody and Hayden (still being built)
Trilogy = Nicole, Christine & Hayden
The Detonators = Derrick, Frankie, Zach, Christine, Cody
Final 2 Deal "The HITMEN" – Cody & Derrick
More polls here https://www.onlinebigbrother.com/big-brother-compendium/big-brother-16-polls/
[polldaddy poll=8198814]
[polldaddy poll=8194643]
Share it YO!
Tweet