Head of Household Winner – Memphis
Have nots – Kaysar, NicoleF, Christmas, David
Nominations – David & NicoleA
Power of Veto Players are – Memphis, David, NicoleA, NicoleF, Ian, Tyler
POV Host: Enzo
Power of Veto holder – Memphis
Power of Veto Ceremony – Memphis did not use the veto David and NicA remain on the block.
Safety Suite – Christmas wins. Ian is her Plus One
Live feeds —-> Grab your Live feeds here. Try it free.
Rank the houseguests —-> Big Brother 22 Ranking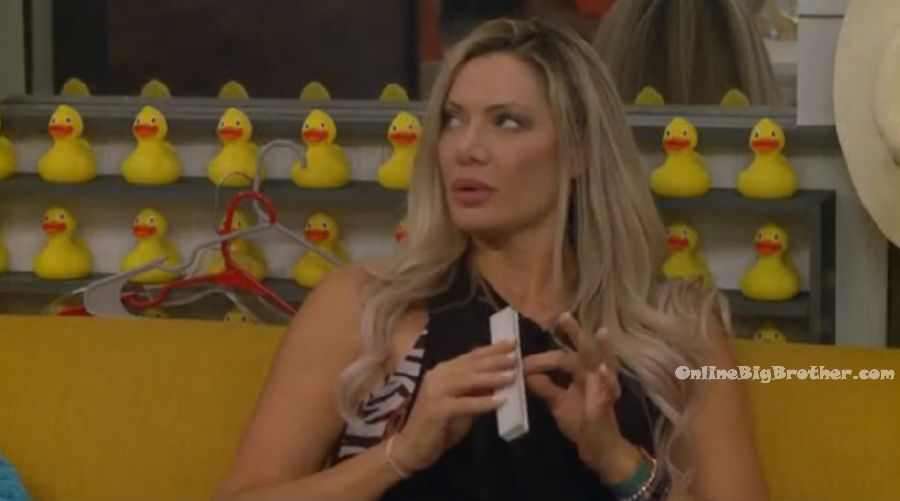 DaVonne – that makes me nervous because we save her (NicoleA) .. she is pissed at you. Janelle – she's not that pissed ..she's got paranoia. Like I didn't stand up for her when she has no idea how much I stood up for her and DaVonne. I have her back .. I have your back in this game. But Memphis doesn't want to make any moves of have any blood on his hands. Christmas said that its so obvious that there are sides because David didn't campaign to her. Davonne – he didn't? Janelle – barely. And now he is sleeping .. looking safe. Its very easy .. we need to get the physical threats out of there.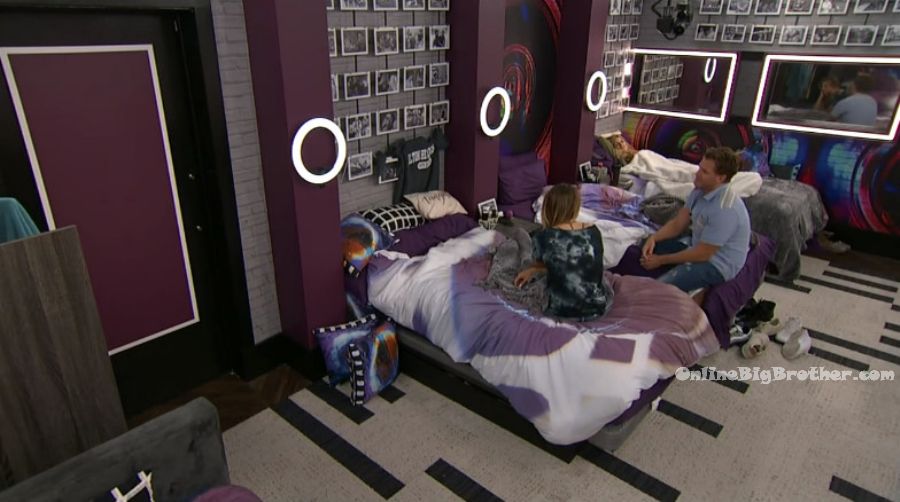 7:27pm Bedroom. Memphis, Chrsitmas and Dani.
Memphis – she's (NicoleA) in there cry.. I went in there and Janelle was like (throws her hands up) this girl. She (NicoleA) was covered up. Dani – she is covered up .. like her whole head? Memphis – yeah. And Janelle is like this f**king girl!? Because I think she was crying or whatever the f**k she was doing. Christmas – I don't know .. at some point its going to happen to all of us but one. Memphis – yeah.. no sh*t! Exactly! That's my point exactly! It is what it is. Sorry! Christmas – later a$$holes! Memphis – and whoever wins I will congratulate them. Dani – there might be some we might not congratulate. Memphis – I will. Ain't no hard feelings here. But I don't like it when people take it that.. like come on .. did you really think you (NicoleA) were going to win!?!?! Memphis laughs. Dani – you're such a d*ck. Memphis leaves. Dani – he keeps feeding .. like his edits .. he is going to look like a horrible horrible.. Feeds cut.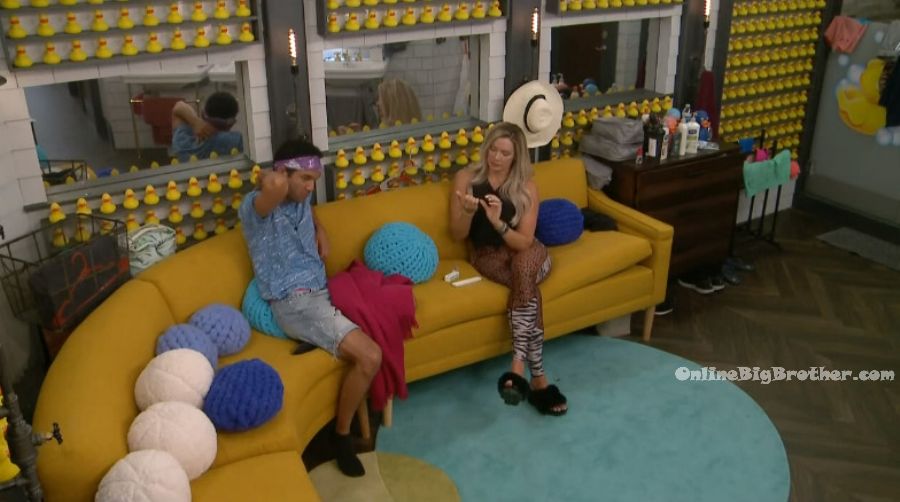 Janelle and Kevin.
Kevin – And you're 99% sure Memphis will break the tie for me? Janelle – I would bet my life on it. He would. Why would he lie to me. What's the point. He is playing a whatever game by himself. I feel like we could get this together. Kevin – David is getting progressively more calm. And NicoleA is getting progressively less calm. Janelle – and he (David) is wearing sunglasses and laying on the couch.
8:38pm Backgammon..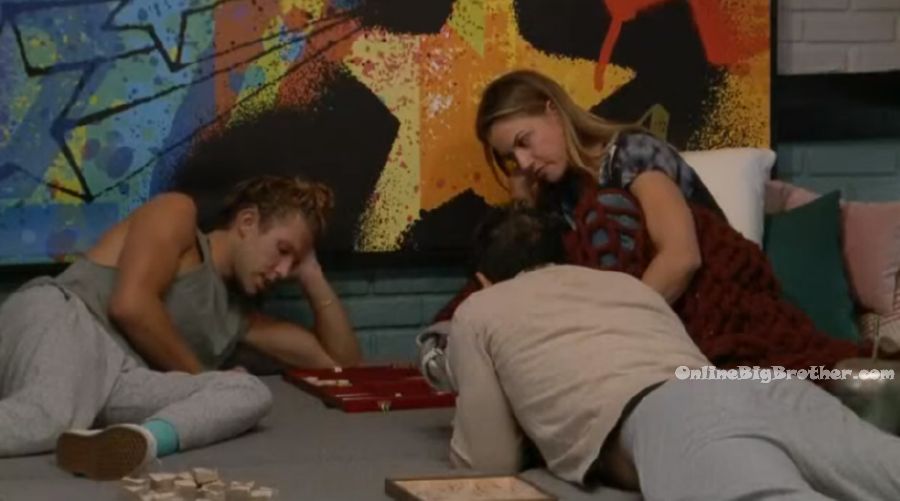 8:40pm NicoleA and David
David – If I make it back in or stay and win HOH .. I am going to put him right on slop. I'll be nice about it. Nicole – He (Kaysar) just turns it off for game. Kudos to him for being able to do that. I can't do that. David – I am disappointed in Kaysar for being a part of that. He is such a nice compassionate person. Nicole – they say that they're not associated with him.. but I don't know.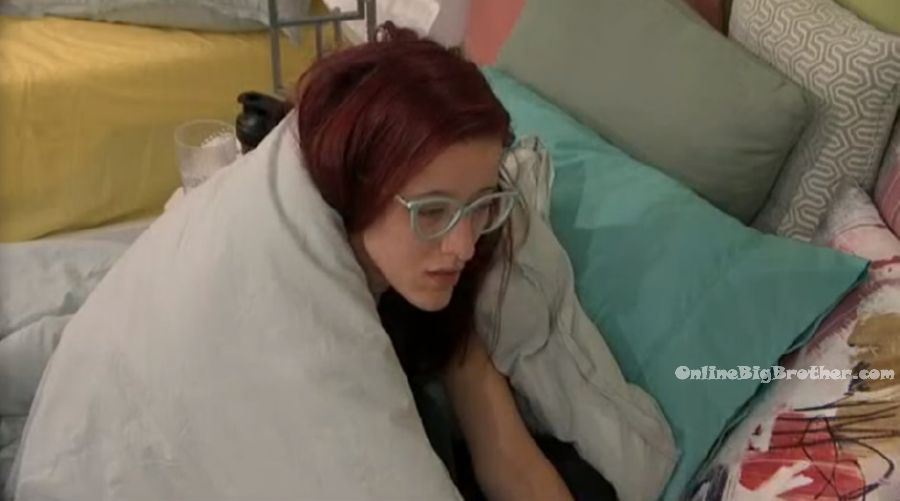 8:43pm Bedroom. Enzo and Cody.
Cody – They never say anything to us! So you're hanging out with them all the time. You're whispering with them but you never have anything to say. you're in an alliance with us .. you're always with her and you don't have any information. I can't trust you. Enzo leaves. Dani and NicoleF join Cody. Nicole – so is Enzo a havenot next week? Cody – yes. Nicole – okay because I want his bed. Cody – you're not cool enough to be in this room.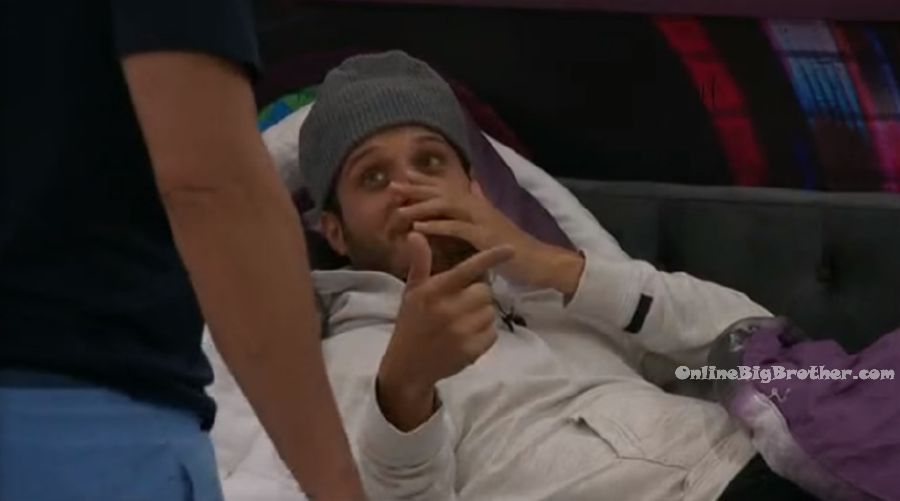 10pm HOH room. Memphis and NicoleA.
Nicole – So Janelle said that she already talked to you but I wanted to too. I just wanted to warn you that it could potentially be a tie .. unless people are just telling me what I want to hear. Memphis – okay. Nicole – in which case I think you know where I stand with you. I think you know where certain people stand about coming after you. You know where I stand, and I still stand by it. I don't think I'm a big physical threat, I don't think I'm a threat period. Memphis – yeah. Well lets see what happens tomorrow. Nicole – it could not be the case or it could be the case. Memphis – okay.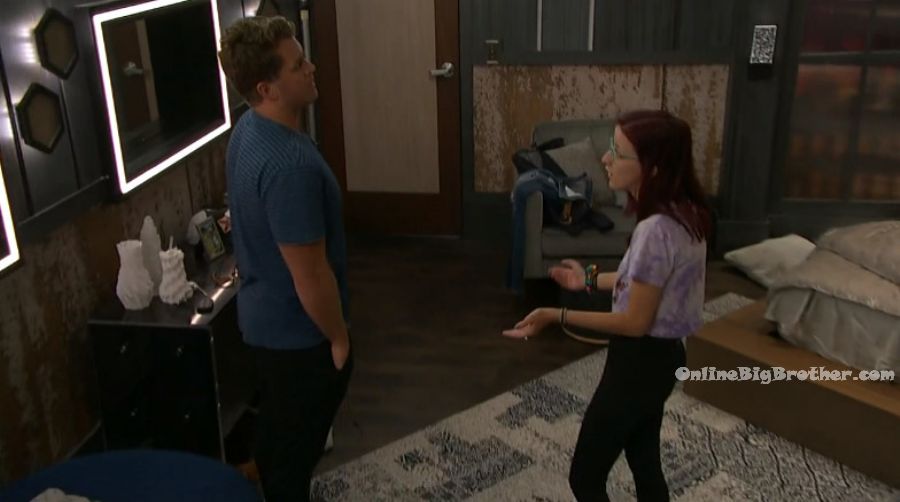 10:08pm DaVonne and NicoleA.
DaVonne – I feel like we're all looking at me and I don't understand why.. this is your game. Nicole – the thing is, I need all of you. That is where I am at. I need all of you or its a bust anyway. My game is on a thread. I need all of you with Memphis breaking the tie. DaVonne – I don't know. Nicole – Would you be more comfortable if I talked to them (Janelle / Kaysar). DaVonne – yeah and you have to talk to Ian. Nicole – if I had 6 would you be the 7th? DaVonne – MMmmmhHHmmmm. Find out what he says. Secure your votes and we'll see what happens. Nicole – I am too honest. DaVonne – you might have to start lying. Its big brother.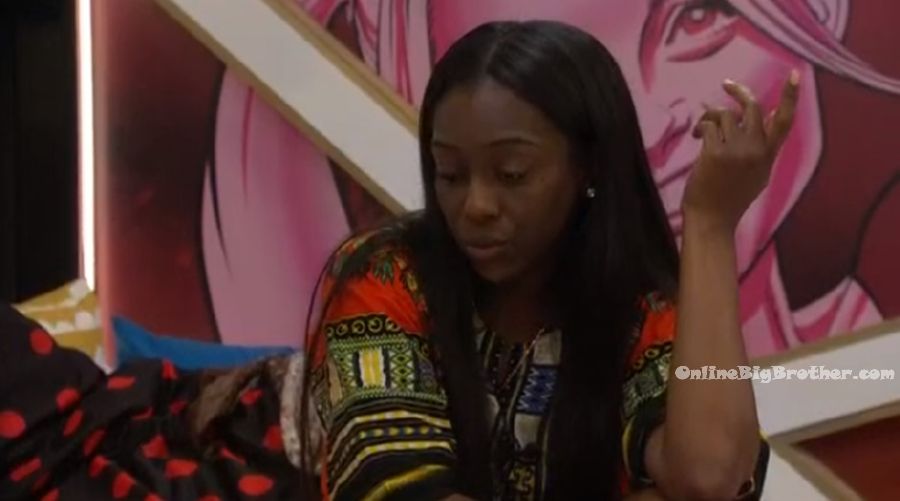 10:13pm Bedroom. Ian and NicoleA.
Ian – where is your head at do you think it is going to be close? Nicole – I think it is going to be close. I am asking for your vote. Ian – am I the swing? Nicole – you would be 7 .. 6 would be a tie so with your vote I would avoid a tie. I am not a physical threat. Ian – I am just processing this. I thought the house would be one way or another. I know that the way I was leaning was towards voting for David to stay… just leaning .. not locked in. This split vote is something I didn't know. I imagine if it is 6 – 6 then you are good anyway. I haven't promised David my vote. I haven't promised anyone my vote. My reasoning is I have played chess with David a lot. Just the way things shook out with him last year was why I was leaning that way. I don't want it to seem like your experience wasn't bad. Nicole – I would ask that you take the personal out of it and consider your game. Ian – Just being honest .. I am always going to be honest in this game. I was leaning towards David but now this lowers the chances. Not even by David but I have been pulled around a lot. I didn't know it was this close but that changes things. Can I talk to you tomorrow again? Nicole – yeah. If you were to vote for me and I stayed and won the safety suite ..you would be my plus one. Ian – wow, yeah I wasn't even thinking of that because David can't play for it.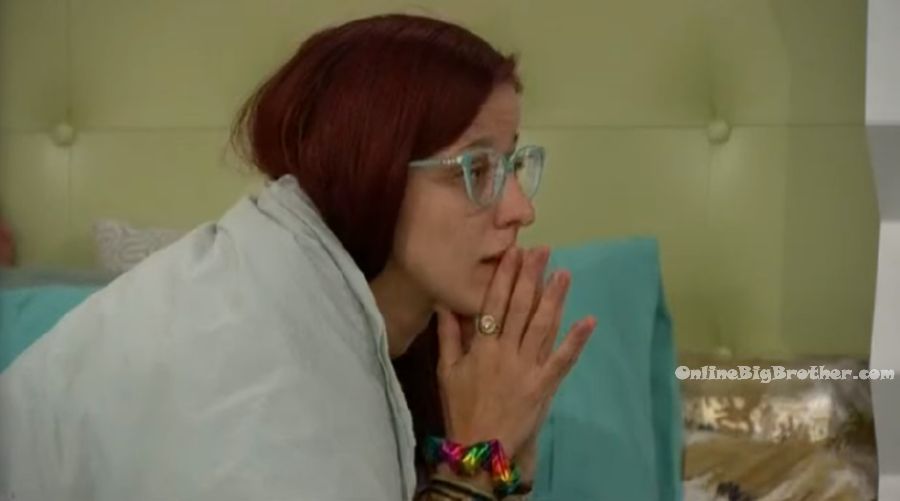 12am Bedroom. Bay and NicoleA.
Bay – you have good points about getting a boy out. Nicole – I'm just a small girl. Bay – you went really far too so people don't under estimate you. Nicole – keep in mind I was brought far.. not brought far .. I shouldn't say that. Those were physical comps that I lost in the end. You want to bring people that you can beat in the end. Do you want to be up against David or me? I need an answer from you, and Christmas. Use me and keep me here .. I can't go out like this. If I can lock you guys (Bay and Day) in then I can go to Ian and be like I have 6 votes locked will you be my 7th. Bay – I am telling you that even the people that you think are dead set on voting you out .. they're not. They end the conversation and run out to the kitchen to sing Dani happy birthday. They all sing her happy birthday and sit down to have cake. Dani gets upset and leaves the room for a minute because she misses her daughter.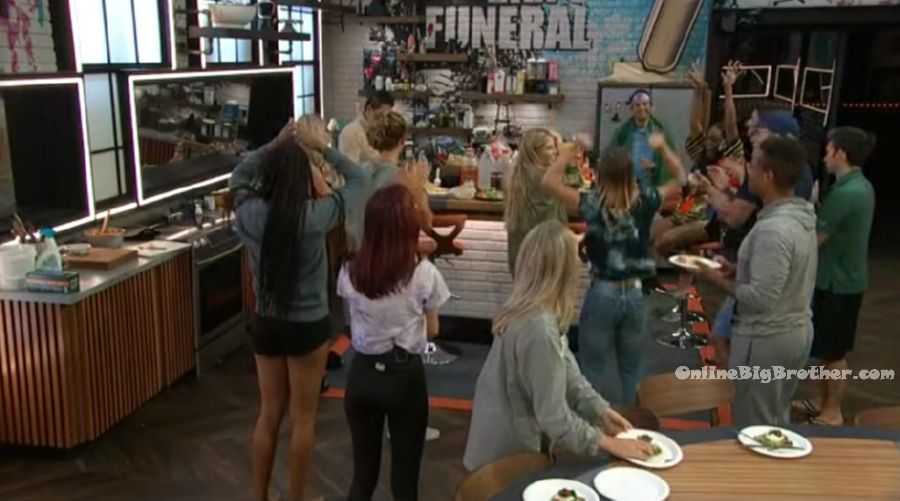 12:30am – 12:40am Ian has to act out another scene.. after he's done he's told to do it again but faster. Enzo – Bro that was awesome yo!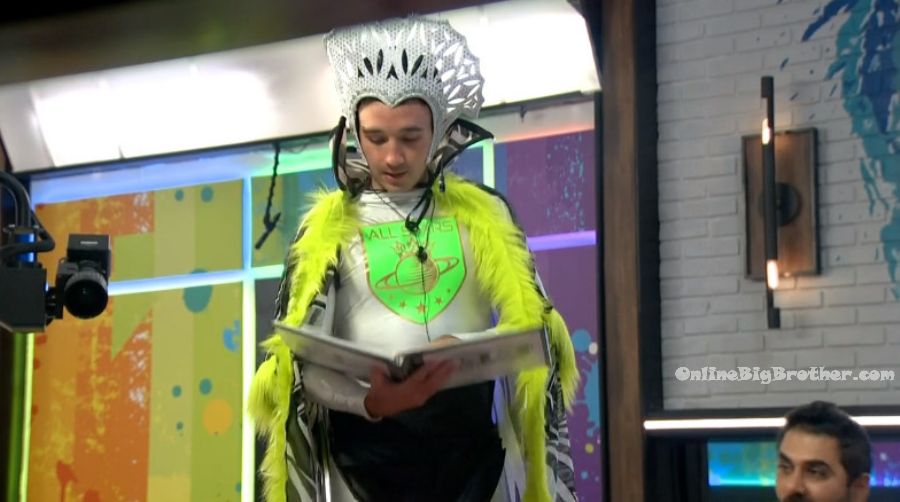 12:46am Bathroom. Janelle and DaVonne.
Day – I don't see it happening (Nicole staying) because from what I am hearing is that nobody is solid. Janelle – Christmas is solid. Day – she gave you a for sure? Janelle – yes. Day – okay. Here is my proposition. If she goes, you still have all of us and Kevin. That is six. Janelle – my thing with that is numbers if we're going into this crap shoot HOH. David is 100% working with them and Nicole is a number on our side. That alliance is solid and gunning for us. That doesn't make any sense to not take an opportunity. He is with those boys. I don't know what he is saying to you. Day – I don't talk to him. Janelle – that is why they are desperate to keep him. Day – so Christmas is 100%? Janelle – yes. Day – and Bay is locked in 100%. Bay leaves the room. Janelle – she just glared at me.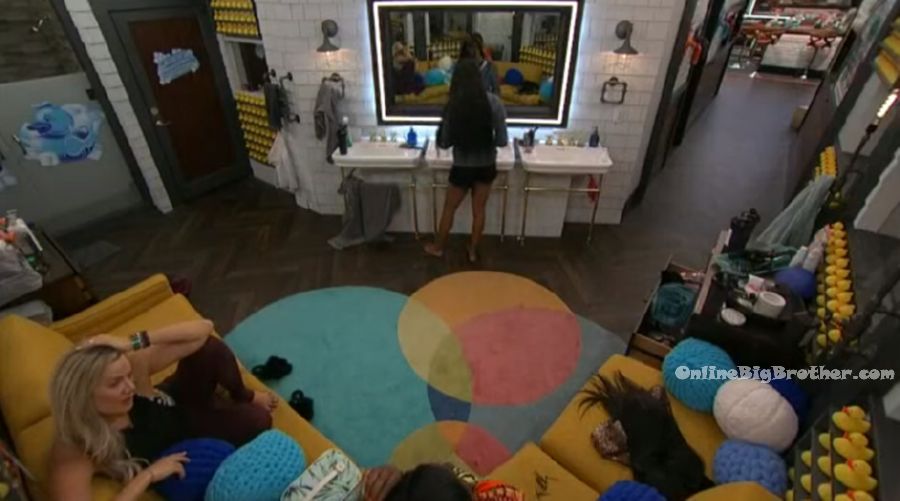 12:53am Bedroom. Bay and Day.
Bay – I just told you earlier.. unless you have the votes ..don't count me! Don't count me! Don't say my name! I already have NicoleF asking me dumb sh*t! I already told you stop doing that! Day – that's why I told her and why I made her say it in front of you. Bay – I don't like that. I was going to call her out earlier but I had to stop myself because my attitude wasn't in the right space because after Nicole did that to me… that is really f**ked up. You really love me as much as you want me to go far in the game… you want to take me down with .. no! Don't do that sh*t! Because she said the same thing to Christmas. If you get the plan together .. cool! I will roll with it. But don't be using me as.. Day – and that is why I asked her in front of you. Bay – and then you saw me turn around and be like OKAY!? I need to be calm because I don't need to be going off. You already know ..say something like that and I am going to check you! And then she (Janelle) is going to get all offended. Its like Christmas today asked me do you want to be on slop with me. I said yes ..then she turned around and said I want to be on slop with Bay ..somebody choose me. DON'T DO THAT SH*T! That is pissing me off! That makes me mad! Kevin joins them. Bay – she (Janelle) is already trying to use me against her (Day). Kevin – you don't want to reveal what you really feel. You're doing a good job. Bay – thank you. Is hard. Kevin – but also don't make yourself the focus of unnecessary attention. Bay – I just need to stay away from everybody.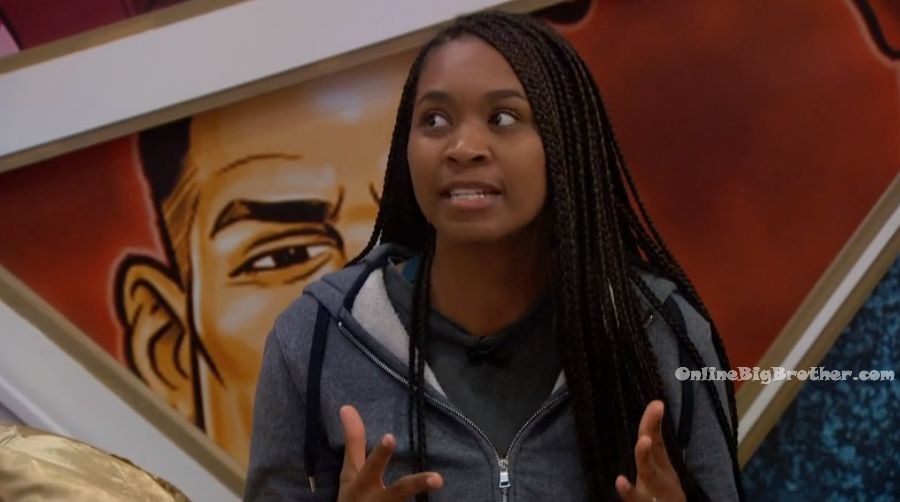 1am Bedroom. Janelle joins Bay.
Janelle – look I didn't mean to piss you off. Bay – yeah but this is the third time and I already had people come up to me and say Janelle is coming for me does that mean you hate me too? Janelle – WHAT?! What?! Bay – I don't like that sh*t! Janelle – who said that?! Bay – it doesn't matter I am not telling you about it because then you're just going to run and.. Like that is what I am saying I am trying to stay clear of drama. I don't mind being associated with you. It doesn't bother me but if ya'll are going to start taking that dumb sh*t out on me then I am going to pop off. And you know I have an attitude! Janelle – Bay I haven't brought your name up once. Bay – its not that you've brought my name up .. people just assume .. you know what I'm saying. Janelle – I am sorry that happened. Bay – and I don't want to be pissed off but if I have to look over my shoulder.. I don't have time for that! Janelle – they're trying to upset you. Bay – I am trying to be in this position .. like yeah I do like you. It just frustrates me. Christmas hasn't decided ..no one is decided .. and people are trying to base their decisions off of me and I don't like that. Janelle – I understand.