POV Holder:
Danielle
Next POV:
Aug 11 (Saturday)
POV Used
YES
POV Ceremony
Aug 6 (Monday)
HOH Winner:
Danielle
Next HOH:
Aug 9 (Thursday)
Original Nominations:
Wil and Frank
Current Nominations:
Janelle AND Frank
Have Nots
No Have-Nots for the Week
Last Evicted Houseguest
12pm Danielle comes back from the diary room and says that Janelle was asking if you were up here. Britney says that Janelle is going to want to campaign with me all day. Britney says that she wants to tell Janelle that she is voting the way Danielle does and that she isn't telling me till 5:45pm on Thursday. Britney says that if we were outside the house I would tell you that Shane is that douche bag boyfriend that I would never like. Britney tells Danielle that she should just have a causal flirty relationship with Shane. She says that casual flirty people don't cuddle and don't kiss. Danielle says that she doesn't want a relationship because he doesn't even know anything about Trey. Britney says oh poor Trey. She says that she had feelings for Trey and that she didn't even know how he felt because it was so new. Danielle says that after she won the HOH she ran to the diary room and told them not to put a photo of Trey in her HOH room.
Watch what happens, AS it happens for FREE 3 Day Trial!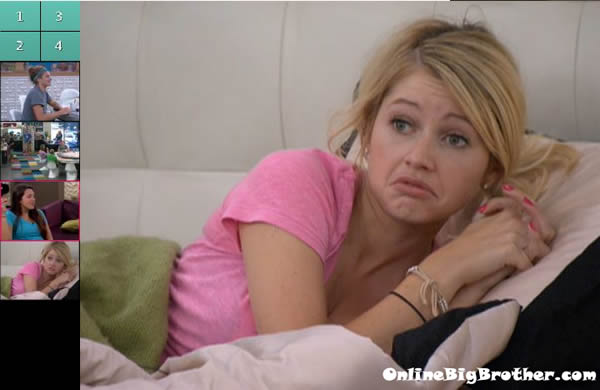 Watch it ALL on FlashBack: Big Brother 14 Live Feeds – FREE 3 Day Trial!
12:15pm – 12:45pm
Danielle says that she feels so bad that Trey has to see all this .. that he was so excited he knew if I disappeared then I got on the show.. and that he went out and bought a DVR to watch every episode. Danielle says that she doesn't even want a showmance with Shane. Danielle says that she overheard Trey's friends tell him that she was the girl he was going to marry. Danielle says that there was no red flags with him. She says that she cried up in the HOH room because of how torn she is, and that Trey didn't treat me like this. Danielle says that she doesn't think Trey will still be there. He doesn't even know how much I liked him and how attracted I was to him… if he had asked me to be his girlfriend I would have said yes and none of this would have happened. Now he just thinks I am a fat a$$ on TV, will he even want me anymore. Britney says probably not, after the kissing. But that the right relationship can survive this game. Danielle remembers a red flag about Trey saying that his friends said he wasn't ready to be in a relationship. Danielle says I hope Trey is listening to this conversation or that someone can tell Trey Gorman on facebook that she misses him and that this has been really blown way out of proportion. Danielle lists off all the things Shane does and how initiates everything and that yes I do give in because I like it and I like the attention. She says that he is a douche. Danielle says that once she makes up her mind she can stop and Shane can come hard and strong all day long and I won't give in. Danielle says she wishes she could just get a phone call with trey. Britney explains how embarrassing it must be for Trey. Big Brother cuts the feeds to the we will be right back.
1pm Danielle talks about how there aren't any cute available guys in this house. Danielle says that Dan is cute but he is taken. They talk about how they don't think Frank is considered hot by the fans. Big Brother then switches all the cameras to Wil and Janelle in the kitchen. Janelle is telling him all about her wedding and wedding dress.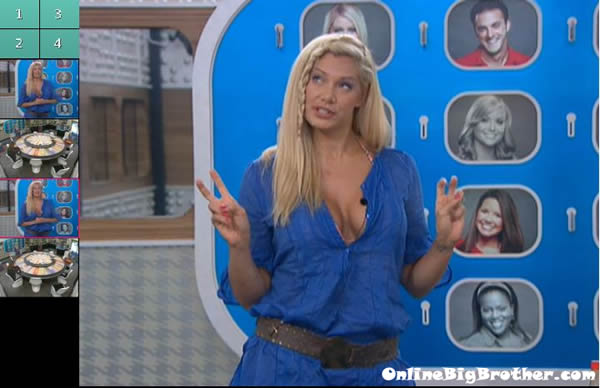 Superpass Live Feeds: 3 Day Trial!


Janelle corners Dan and gets him to go into the arcade room. Janelle says that she talked to Shane and he said that he is voting to keep me. Dan says that he needs to confirm with Shane that he is voting to keep you because he hasn't told me that yet. Janelle says that Wil swore on his dog too that he would vote to keep me. Janelle says um the curly haired guy …what's his name? Dan says Frank. Janelle says yeah Frank he is acting like he is staying; he is talking about how on Thursday he is going to win HOH. Dan says that Frank hasn't even come to him for votes. Janelle says that he hasn't gone to Ashley for votes either. Janelle says that it's weird. Dan says well if you think you have the votes them I am sure you're staying. I just need to confirm with people. Janelle asks him when he will tell her what he is doing. Dan says later tonight. Janelle says okay good because I don't want to be blindsided. And I know you would not lie to me. Dan and Janelle leave the arcade room.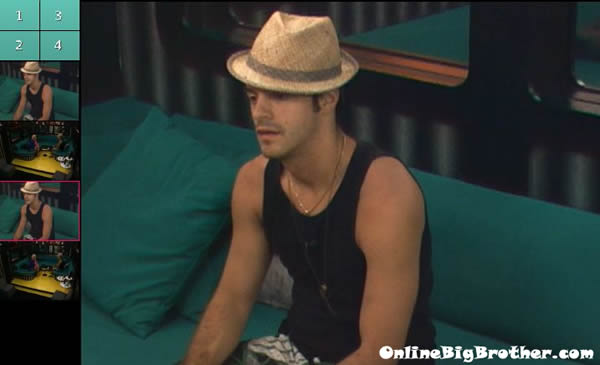 1:15pm – 1:20pm Dan heads out into the backyard and tells Mike that he figures they should tell Janelle tonight that she is going home. Mike tells him that he can't do that, you know BB would not like that. Dan says he just thought out of mutual respect for a coach. Janelle then joins them in the backyard. They are silently sitting on the couches.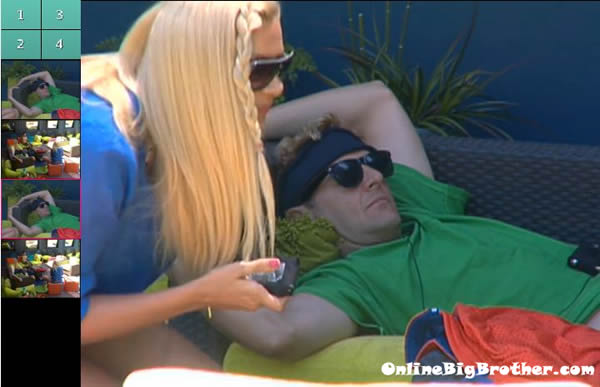 1:25pm – 1:55pm Dan and Joe are in the pool shooting hoops. Wil and Janelle are laying out. Britney and Danielle join them. Ian is rocking in the hammock. Dan starts talking about how life keeps going while they are in the house and then he says what if Chelsea was pregnant. He says if he win HOH and he is told she is pregnant in the HOH room, someone better be behind me to catch me when I faint. The conversation turns to selling things on ebay. Janelle says that she might sell her bikini and then says that she'll sell her nip slip photos.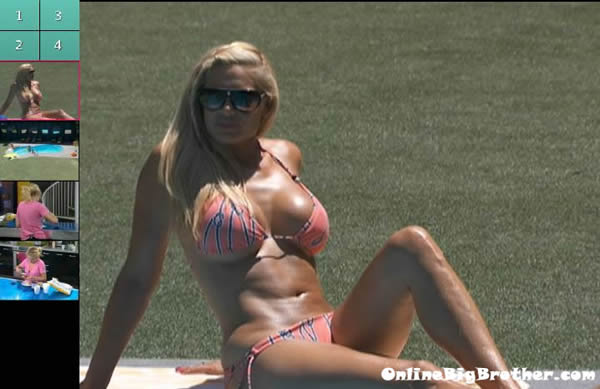 2pm – 2:40pm Dan, Danielle, Britney, Frank, Boogie and Ian are in the pool playing with the big ball. Dan tells them that whoever drops the ball when it's their turn gets an ice grill. Boogie messes up first and gets the cold water hose in the face. Then Britney messes up and get the cold water hose in the back.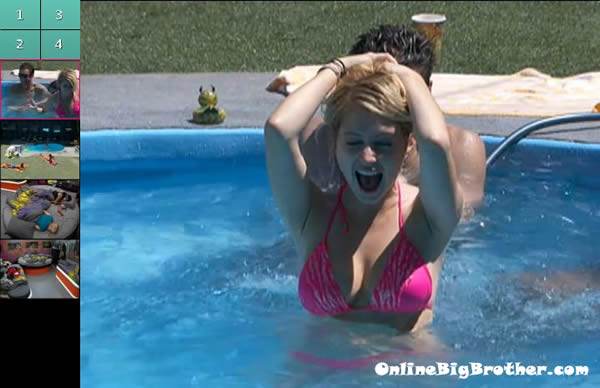 2:45pm – 3pm Joe and Shane are talking over by the backyard couch. Joe tells Shane that there is 100% lock that Ashley, Wil, Ian and Jenn are working together. Shane says that makes things tough and says that you have to pick a side. Joe tells Shane that he is never switching from working with Shane, Danielle and Brittney. Joe says that there is not one other person in this game that I'll protect. Joe says that Janelle is not buying that Wil is with her. Joe says that Janelle wants to believe Wil, but that she isn't sure. Joe says that Wil might be doing the same thing he did last week. Shane talks about wanting to get Boogie out. Joe mentions that Wil may just vote to keep Janelle just in case she stays. Joe talks about how they need to stick together and if they do it will be money! Everything he has watched shows that a tight alliance makes it to the end. Joe says that Dan is going to tell Janelle tonight about how he is voting. Joe asks Shane to tell him if he hears different. Joe says that is is way smarter to get rid of Frank. Britney comes over by them and asks what they are talking about. Joe says SHhhh…alliances..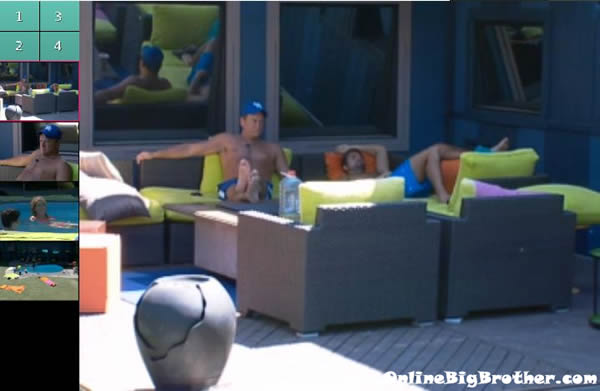 Share it YO!!
Tweet