POV Holder:
Donny
Next POV
July 19th
POV Used
?
POV Ceremony
July 14th
HOH Winner 1:
 Nicole
HOH Winner 2:
 Derrick
Battle of the Block Winner
Donny/Amber
Next HOH/ Next BOB
July 17/July 18
Original Nominations:
Derrick's Noms (Caleb & Jocasta) Nicole's Noms (Donny & Amber)
Final Nominations:
Have Nots
Caleb, Amber, Devin, Hayden
POV Players
Derrick, Jocasta, Caleb, Christine, Devin, Donny
One great way to help OBB stay running and doesn't cost you anything extra is making your Amazon purchases through this link Amazon.com OnlineBigBrother Link
For Canada use link Amazon Canada OnlineBigBrother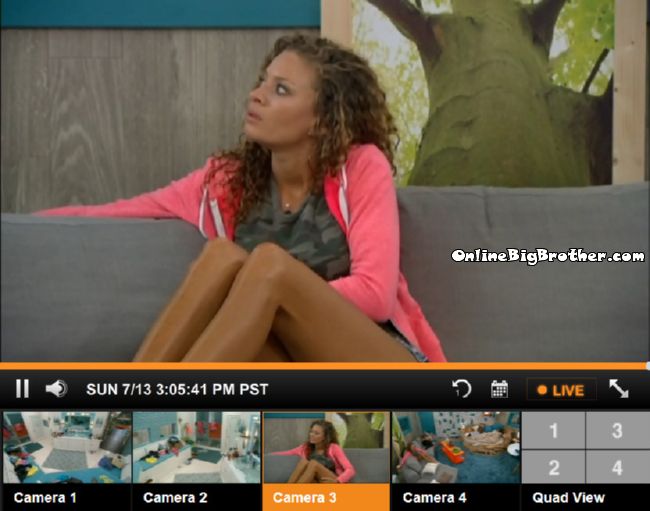 3:05p HOH Derrick, Amber, Victoria and Caleb
Derrick saygin he just couldn't sit there and listen to Devin anymore he had to come back to the HOH.
Derrick Says Donny leaned over to him yesterday when they were eating noodles and Brittany was sitting over the other side and he goes "Dang everytime I look at Brittany the Camera is looking right at me it catches me everytime"
Derrick – "I was like Damn Donny and he said.. You know she arched her back and I just looked "
Amber tells them there was a bunch of them sitting in the living room and Amber said "My legs sure are ashy"
Donny – You want me and some of the guys to lotion them up for you
Amber – I said Donny are you flirting with me
Donny – he said well Christine is in mexico (Christine is his girlfriend back home)
Caleb jokes "the Cat must have taken viagra or something he's on a roll"
Derrick – Week three he's starting to catch up .. they laugh that come week 8 they might start coming onto Frankie. Caleb tells them he's not going to lie to them but when he was deployed some of the less attractive women were starting to look attractive to him. He jokes even the heavy set guys in his unit started look good to him.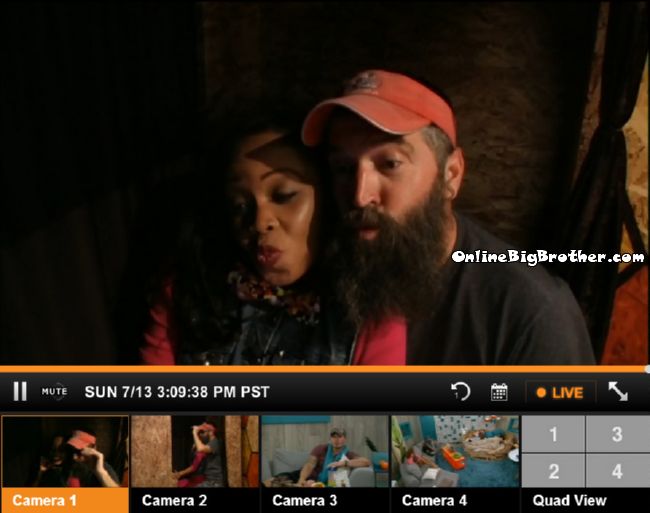 3:20pm Photo booth Pictures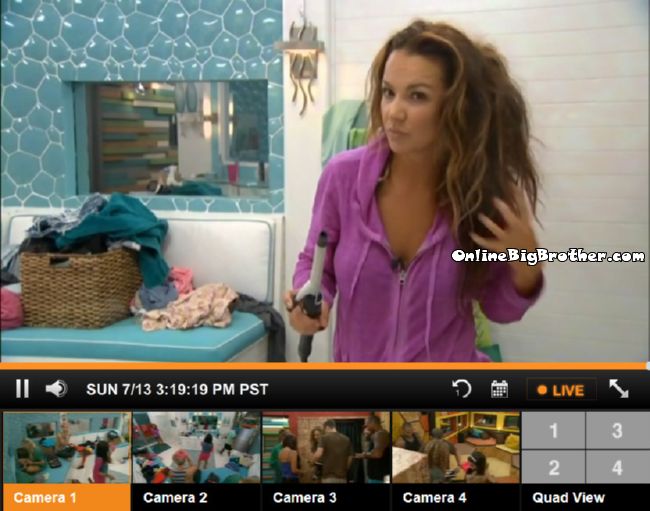 Brittany working out the rats.
Try It Free! Subscribe now to the official BB16 Live Feeds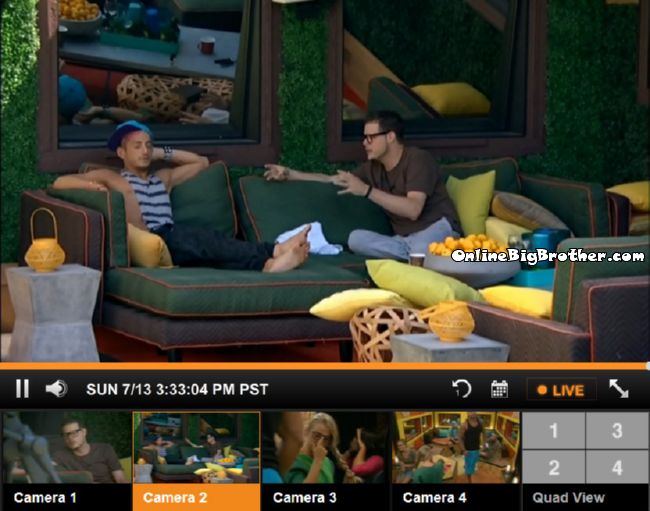 3:32pm Frankie and Derrick
Derrick says Donny is confirmed he got "one" with Nicole, Derrick went to Victoria and she's going to Brittany so that will give them "two". Derrick will go to Caleb today and he'll go to Amber that gives them "Three" after they get three they got to Zach and kill it that will give them four that's enough to complete the task.
Derrick points out Jocasta is in a great move she knows she's safe. Frankie has also noticed Amber is doing better today. Derrick says Tomorrow Jocasta is coming off the block and he's putting Devin up as the replacement.
Derrick is more worried about them completing their Team America task because the Devin eviction is a done deal.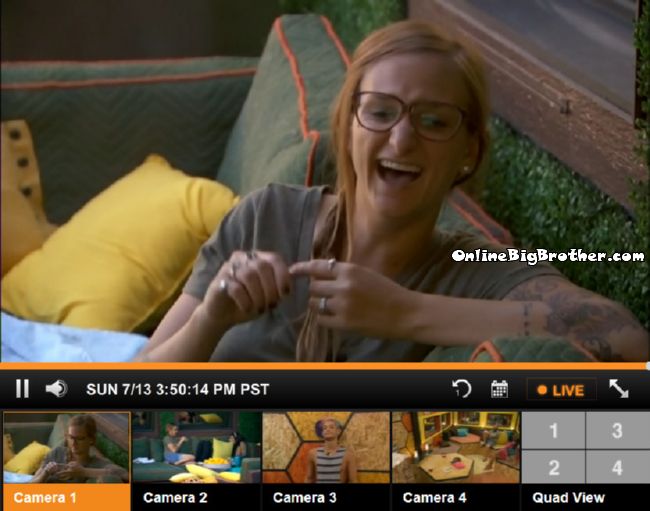 3:47pm Backyard Christine and Victoria
Christine doesn't know what to do about Amber she thinks she's her best friend. Victoria thinks it's because Amber is feeling guilty she was talking crap about people and it's finally come out.
Victoria – I don't think she's a very confident girl . all she does it talk crap about me
Christine – she also talks about how good looking she is
Victoria – maybe if she was more genuine.. people see right through her fakness
Christine – Donny is so weird.. he's been so weird recently what has happened.. weird is the only way to describe it
Christine – He's trying to be nice to me
Victoria – ya he was trying to talk Nicole in putting you up
Victoria and Christine agree the less fake you are the better people like you on the outside. They have noticed that Cody and Hayden kiss up to Amber.
Christine – She is dangerous you don't suck up to her she gets Caleb after you
Vic – Donny is making up so much stuff
Christine – he's my target next week if I win HOH
Victoria – for sure
Christine thinks Donny will put her and Amber up if he wins HOH . Victoria thought Donny and Amber were close.
Christine reminds her Donny told Nicole to put up me and Amber
Victoria – oh my gosh Donny is so friggin weird
Christine – it's crazy
Victoria Caleb doesn't shut up about amber it's all he talks about
Christine – its so weird
Frog and Derrick Join them.
4:09pm
Derrick starts talking about police always catching him for speeding tickets. Victoria says the cops in her home town can't get any tickets down in the city so they've been patrolling the gated communities because they as desperate for money.
Victoria says she is always so scared of cops. Nicole used to be until she started dating one now she's not.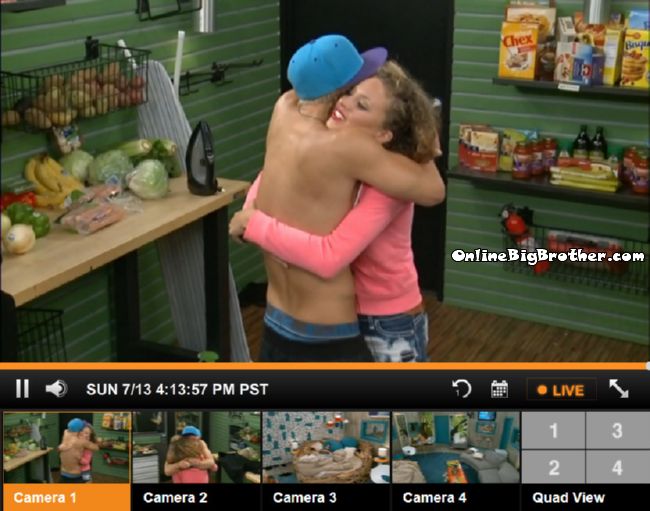 4:14pm Storage room Amber and Frankie

Amber warns that Devin is still playing so everything she's hearing may be from him stirring things up.Frankie says he trusts her with his heart. nothing bad is happening.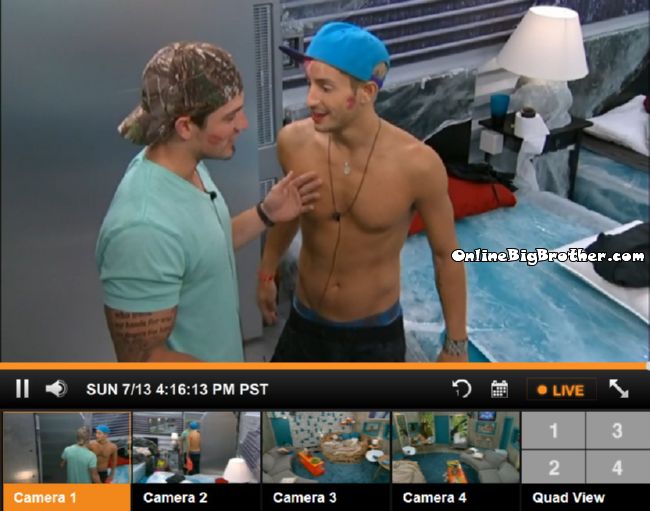 4:15pm Have nots Caleb and Frankie
Caleb he was talking to Amber and told her "What does a man have to do to get a date with you" he risked 500 thousand for her. She told him she's a tough cookie. Amber told Caleb she really was craving "chic fil la" so he told her thats a date. Frankie – "Please don't make your first date at "chic fil la"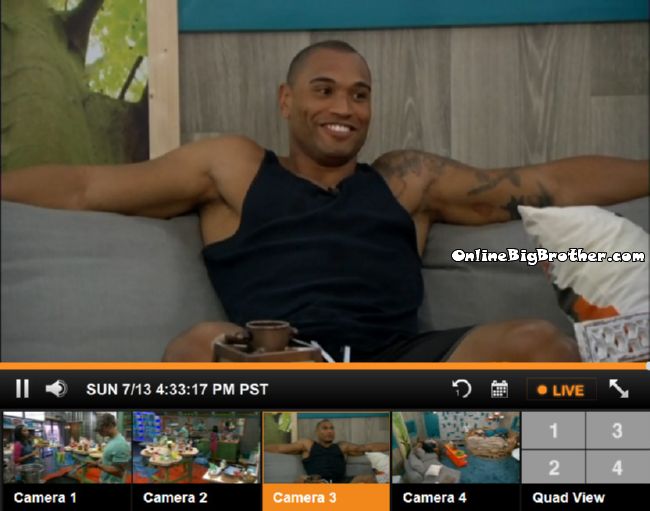 4:34pm HOH Donny, Derrick and Devin
Watching the HOH Camera. Devin says the camera has been on him a lot these last couple days. Donny notices that Amber has changed her shirt again "She changes her clothes 6 times a day" Devin brings up Dan's book wonders why anyone would buy it because it's kinda a crap shoot. Derrick says Dan's sold more books than him, "To be honest I think he sold a lot of books"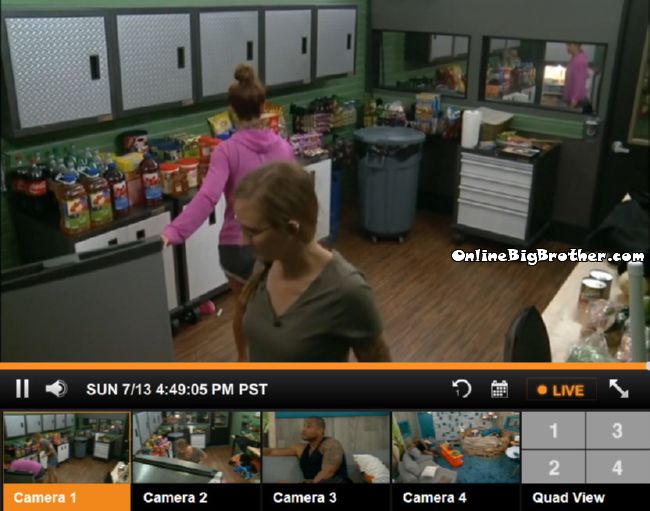 4:50pm Brittany and Christine
Brittany – oh my god why did they give us tripe
Christine did they really think we were going to eat that.

[polldaddy poll=8179403]