POV Holder:
?
Next POV
July 12th
POV Used
YES
POV Ceremony
July 14th
HOH Winner 1:
 Nicole
HOH Winner 2:
 Derrick
Battle of the Block Winner
?
Next HOH/ Next BOB
July 17/July 11
Original Nominations:
Final Nominations:
Have Nots
POV Players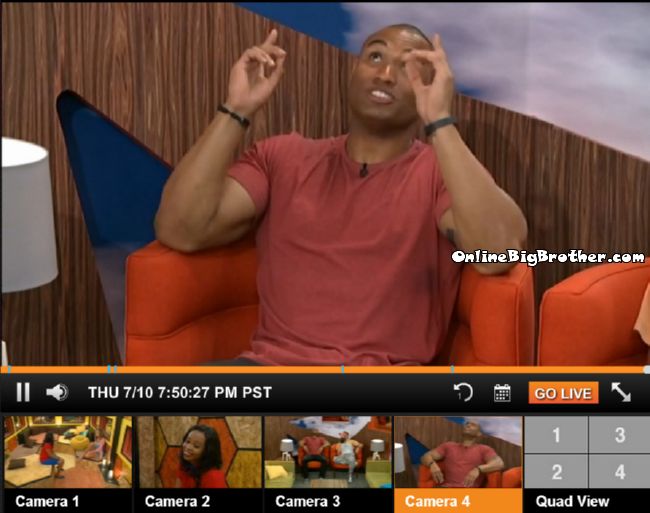 7:48pm Derrick and Donny
Derrick you know Donny I made a huge mistake with you.
Donny – You made it right
Devin tells him when you are in the HOH sitting on the "john" theres a vent right above you which leads to the main bathroom downstairs you can hear entire conversations, 'Clear as day'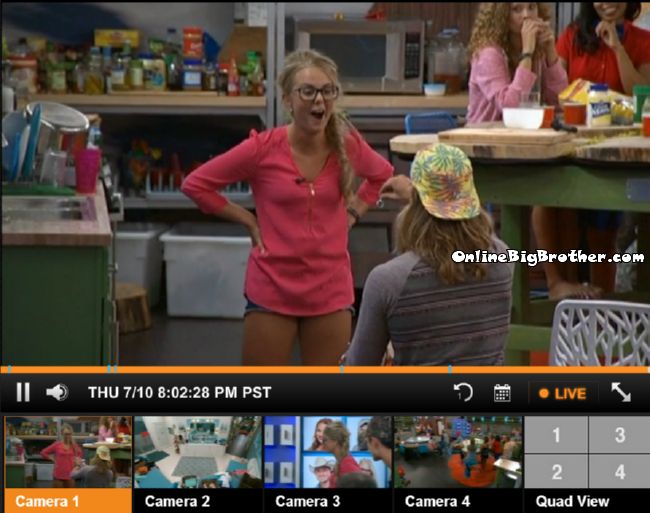 8:00pm Kitchen
Hayden proposes to Nicole he wants her to be his BB wife. He jokes and says this has nothing to do with her winning HOH. She says no and throws the ring. Frankie grabs the ring and jumps on HAyden says he'll marry him. Nicole eventually says yes.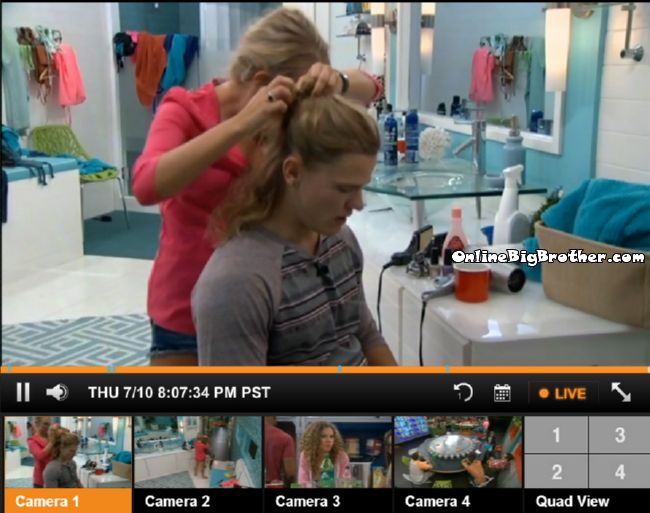 8:07pm Kitchen Newly engaged Nicole straigniting Hayden's hair.
What do you think you are going to do ?
Nicole doesn't know.
Hayden – "I think you should put up Amber.. everyone knows she was about to vote for"
Nicole says his family is probably really happy because they know he's safe./ Hayden tell her she's going to be fin. Nicole – "it could be worst"
Nicole whispers at first she thought it was going to be Frankie.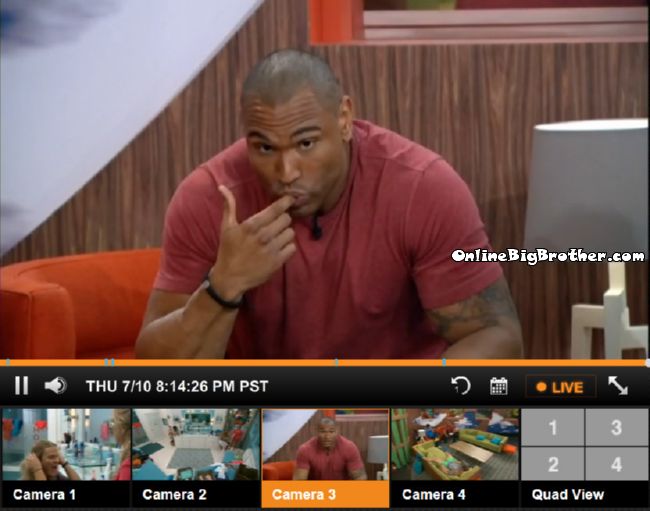 8:14pm Living room Zach, Devin and Caleb
Devein says he' fully expecting to be on the block he's never going to say anything foul he's going to try his best to win. Devin respects them trying to win "If i'm nominated I'll enjoy my last week.. I'll never say anything foul" He's still going to be at home and cheering Caleb on and he hopes Caleb gets out of this game what he wants. "I'm ready to go see my Daughter I have full confidence I'll be successful when I leave"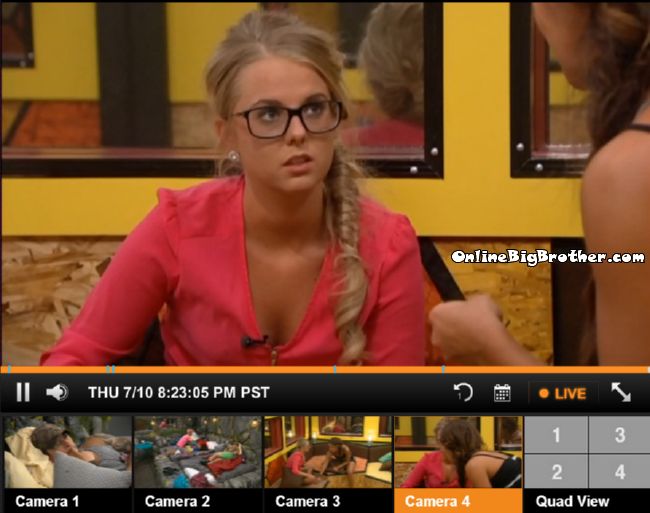 8:23pm Nicole and Brittany BEEHIVE
Brittany talking about putting up Devin and Amber. Nicole is worried about Christine "I always catch her in the room with Cody and Amber.. Frankie I don't trust at all .. I can't put Caleb on the block"
Brittany warns her that the other side of the house is trying to stir sh1t up so they are fighting each other. Brittany – "I don't think Derrick is working with Caleb"
Nicole – "I think he is.. secretly "
Brittany is worried she's going to get bullied.
Nicole was talking to Christine and she said she would put up Brittany and POW. Nicole explains this was pre bombsquad blow up. She didn't throw out Amber's name at the time because CHristine was in an alliance with her.
Nicole loves Christine but she always catches Christine always talking to people Nicole pleads with Brittany to not tell people this. Brittany sahs Victoria drives her crazy
Nicole was super paranoid by Victoria tomorrow
Brittany swears she will never ever ever tell "Those" people anything important"
Nicole – Everyone wants Devin out but I don''t
Brittnay – "I hated Devin honestly hated him but now I can't stand Caleb"
Nicole – I don't want Amber here"
Nicole says Caleb has to be her target this week.
Nicole again says she cannot trust Christine. Brittany thinks she is working with "Them"
Nicole and Brittany agree that Christine will never put her up. Nicole points out that Christine came to her and told her about the bombsquad right after it was exposed so she was covering her butt. Nicole and Brittany agree they cannot trust Zach but can trust Hayden. Nicole says Caleb came up to her and told her she better vote out POW or she will be the target next week.
Frankie rolls in for a hot minute. Brittany and Nicole complains that Frankie is always walking in on their conversations.
Brittany says Calb, Devin, frankie and Devin all volunteered to be in the have nots room.
Brittany – "There s line that has been drawn in the sand"
Nicole – "I'm drawing it deeper'
Brittany – every week we're drawing it deeper.. if everyone plays safe they will be here until the end.
Nicole knows but she doesn't want to be the one that has to do it. because Caleb will win HOH next week
Brittany thinks nicole would go home
Nicole "I just don't want to be backdoored next week.
Nicole- At the end of the day I will never vote for someone that never made big moves.



8:46pm Devin and Derrick
Derrick says they took him off as Have nots because he's HOH but he's waiting till midnight to eat food to be nice to the other Have Nots.
Devin says the logical thing is to backdoor him the only thing he asks is he lets him compete in the POV in case it's a money competition. "I'm totally cool with the situation bro"
Derrick – "I talked to Nicole briefly that last thing I want to do tonight noms…I don't think there will be noms tonight"
Derrick even though I won HOH i'm a realist if Nicole and Brittany had won the HOH I don't know what they would do they'd probably put all four of us up.. I'm going to be straight up to you I promise you that I'll let you know what I'm doing
Derrick – "Right now I'm enjoying the HOH I want to see my kids and tomorrow i'm in game mode"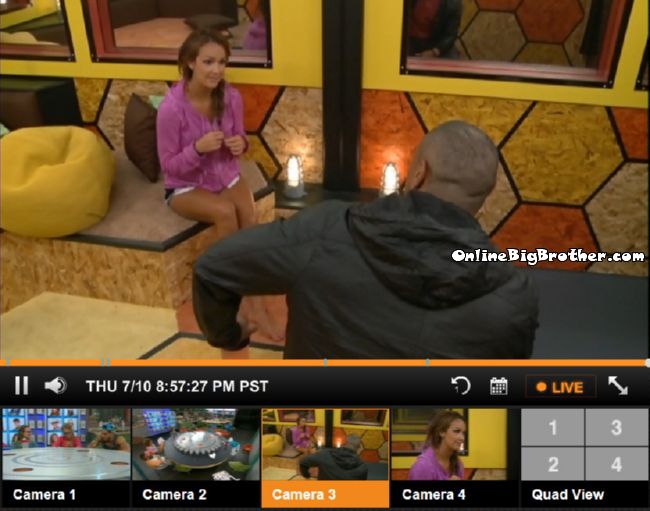 9:00pm BEEHIVE Devin and Brittany
DEvin saying Big Brother Is not for him he's going to play hard for the competition but he can care less with all the sneaking around that takes place.
They start talking about their kids Devin says he's got the biggest fans and he sees them every day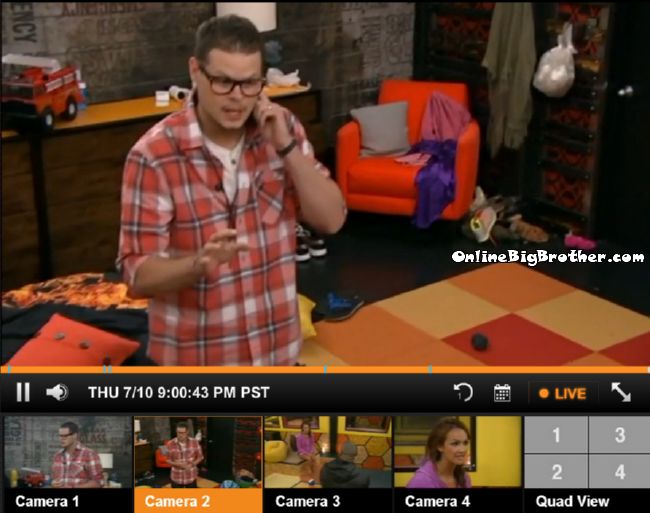 9:00pm Frankie and Derrick
Frankie thinks the two vote against the house were Jocasta and Donny. Derrick is going to ask Jocasta she said she would never tell a lie if it wasn't Jocasta it would be Amber. Frankie thinks Nicole is going to put up Caleb and AMber. Adds it will be great if she does because they will win the Battle on the block and Derrick will be the HOH. He points out Brittany has been stuck to Nicole like f*** glue gun.
Frankie now thinks Nicole is going to target him, Caleb and Amber. Derrick tells him to lay low this week because people are seeing him talking to everyone, "Dude take a week off you are not going anywhere.. relax off game mode meditate.. i'm telling you again i'm not going against the people"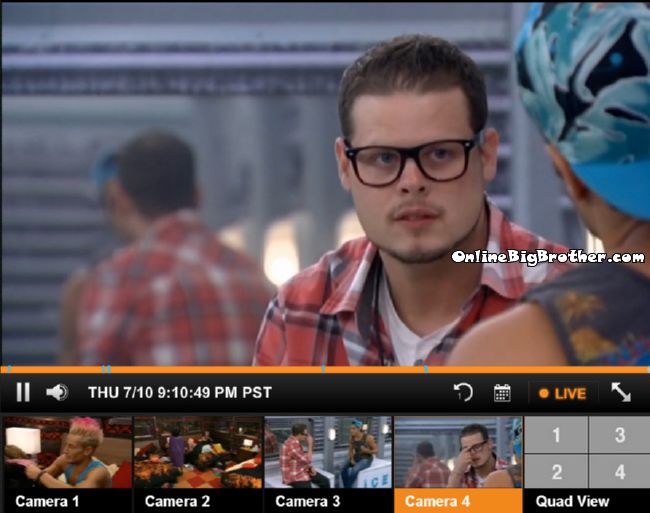 9:10 pm Havenots Cody and Derrick *
Telling him the plan is to Backdoor Devin but obviously he has to put two people up. Derrick tells him he's is not going up don't sweat it. Derrick says Jocasta told him last night that she respects him but says he's manipulating people Derrick adds that she wants to play Big Brother but she also wants to be honest so how can he make a play with her.
Derrick – 'you think this is an opportunity to reel Brittany back in"
Cody – "Absolutely"
Caleb rolls in
Cody is saying that Christine is Nicole's best friend so they can use that to their advantage.
Derrick mentions how he was telling Frankie to start chilling out this week.
Cody – "Dude he shot us all in the foot with Jocata.. this week he got crazy paranoid"
Derrick – "Lets go back into the shadow because right now we're teh main f***g course"
Derrick says the only person he's thinking about putting up right now is jocasta. Caleb suggests they get one of their guys up to throw the BOB competition.
Derrick – 'I think we can convince the entire house except for Devin to use the POV to get rid of Devin"
Cody leaves.
Derrick tells him there are things in his past that he can't say but they are going to have a different relationship after the show. Derrick says he's said Caleb isn't going up.
Caleb is going to go to Nicole and tell her if Amber and him go up they are going to take her out next week.
Try the feeds for free.. help out OBB and get them using one of the links on this site. You can go back and watch everything we showed on this site. A live feed subscription comes with access to the Big Brother Archive letting you rewatch from day one. It's a pretty sweet setup!
FREE 2 Day TRIAL! watch the ENTIRE Season of Big Brother 16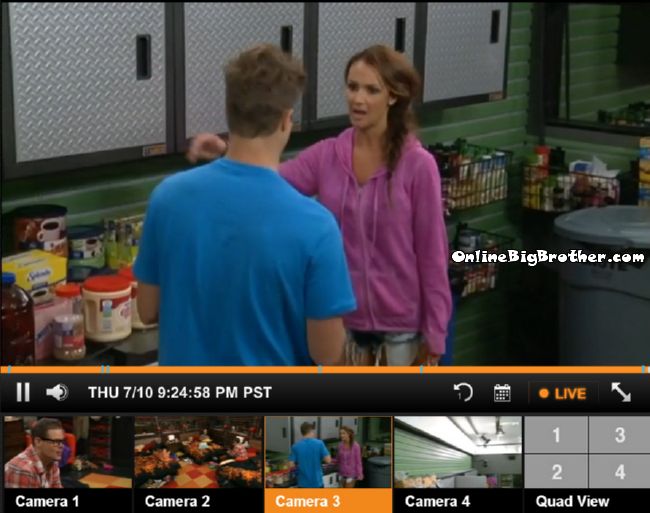 9:25pm
Brittany saying after theres a new HOH everyone is so fake and phoney
Zach – Dude you're straight up"
Brittany – "I'm f***ing straight up"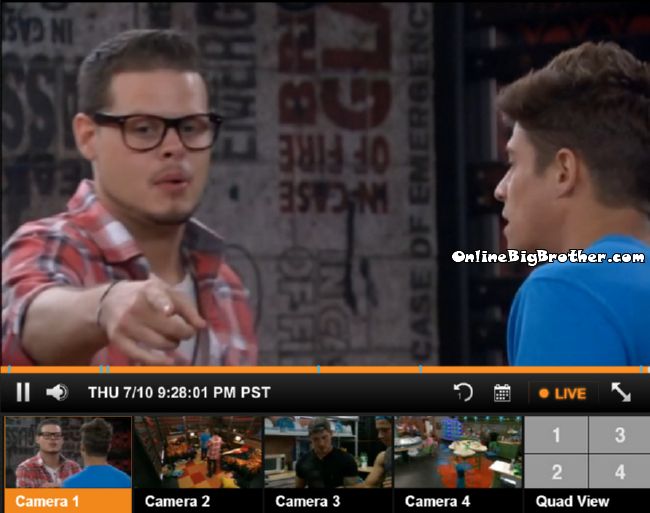 9:28pm Derrick telling zach to relax this week dance and sleep. Zach has nothing to worry about this week. Just make sure they are there for Derrick next week.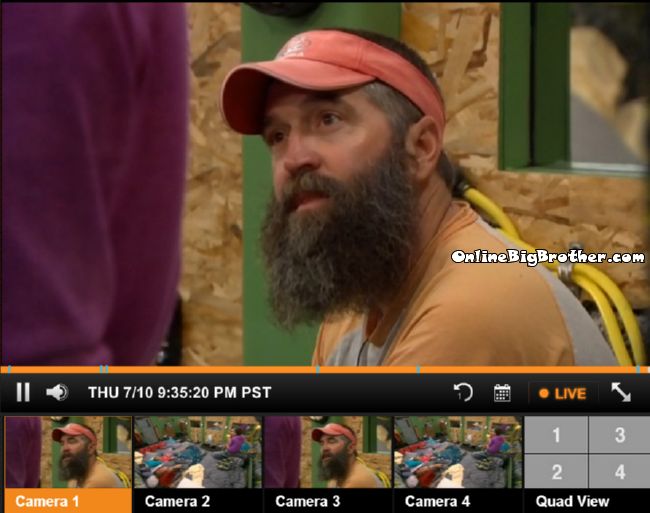 Donny "Me and Jocasta talked game for the first time yesterday"