POV Holder:
Kevin
Next POV
April 3rd
POV Used
Yes
POV Ceremony
?
HOH Winner
Bobby
Next HOH
April 1st
Nominations:
Kevin Cindy and Brittnee
Have Nots
Jordan, Brittnee, Naeha, Godfrey
POV Players
Godfrey, Willow, Johnny, Britt, Kevin, Bobby.
Jordan is the VETO HOST!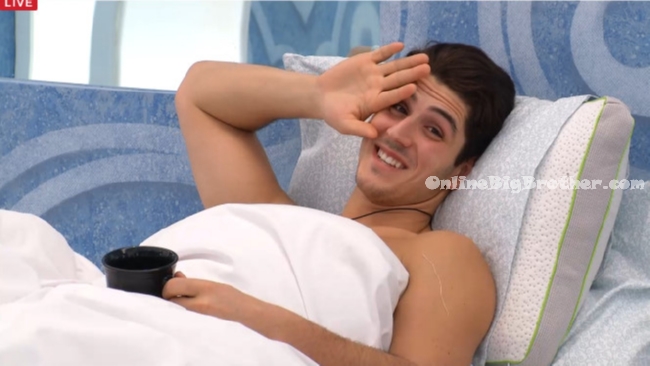 9:30am Big Brother wakes up the house guests. Willow says I would like to be pregnant in this house and be passionately in love. Willow comments that they still need to get the 5 hour announcement. I wasn't even supposed to sleep over. Britt says that last night was the coldest night ever in the havenot room. Willow asks where did Pilar go. She jokingly says she hates Pilar and Kevin. Willow says she hopes they play it one more time. I forget it. Zach and Pilar join them. Zach comments on how the live eviction message isn't up on the tv screens yet. Graig says he didn't even hear them building anything in the backyard.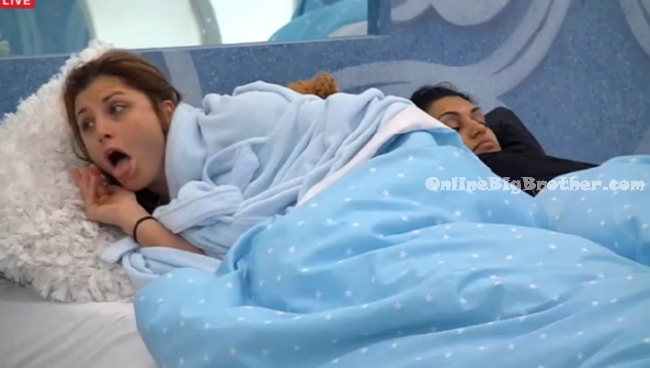 Ash says that Bobby was trying to cuddle her last night. She says it was so hot and all she wanted was her space. Johnny says he doesn't understand why he didn't sleep in the HOH room. He didn't want to miss anything. Johnny says I feel like I have zero energy because of the slop and being woken up. Johnny comments on how today is April fools. Jordan says what if they came over and announced remember all those videos you watch, its not for the HOH!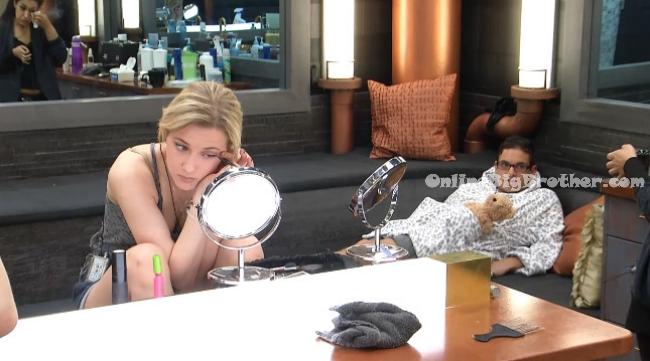 10:35am The Live Eviction Today sign appears on the living room screen. Up in the HOH room. Bruno says the chop shop going down today G. Graig says oh yeah, The chop shop is officially open! Graig says who would you like to evict Graig ..Oh my god I am so stoked to evict that Cindy with an S! Bobby says S is for SEE YA!!! Graig says oh sh*t!! That is so sick!! I call her baby too because she hates it!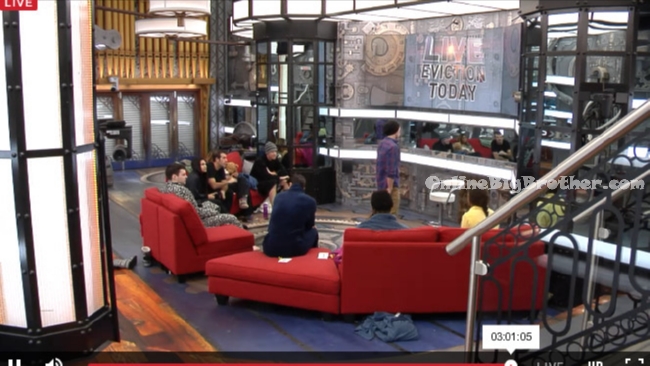 10:50am – 11am In the bedroom – Sarah and Naeha are talking about tonight's eviction. Naeha is trying to flip the votes to evict Brittnee and keep Cindy. Naeha says that Britt will not help our game. She can not help us in competitions. We are going to carry her. She is not going to help us at all. Sarah says I would rather have someone here that can't win competitions. Naeha says Brittnee isn't going to help our game. You've talked to her, she knows nothing about the game. Sarah says Cindy's emotional and will flip flop back and forth. Naeha says if you're on the block with Brittnee you will go home. If she's on the block against any of us we will go home. Naeha and Johnny talk about the video. Graig joins them and tells Naeha and Johnny that he just wanted to clear the air. I have never said Willow's name, your name or Johnny's name. I swear to god. I am with you. I am not going after you for weeks, months! Months! Naeha says ok.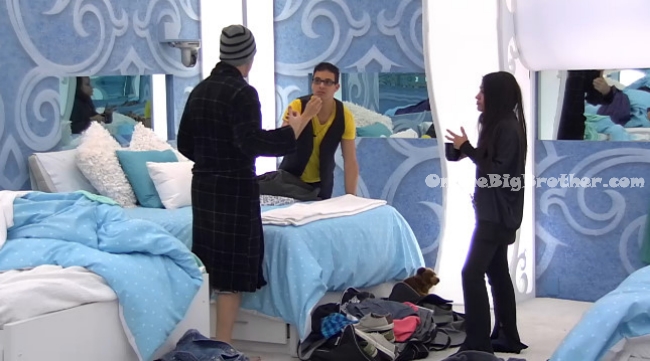 11:30am – 11:40am In the bedroom – Bruno talks to Cindy and tells her that he wish they could have worked together. Bruno asks Cindy who he needs to watch out for? Cindy says Graig. Bruno says oh yeah I know that, who else? Cindy says Graig and Godfrey. Bruno says he's been trying to keep his distance. Cindy says she knows he has. Bruno says he's sorry for the way things went down yesterday. Cindy says at least Godfrey apologized. Bruno tells Cindy to keep in touch when they get out of here.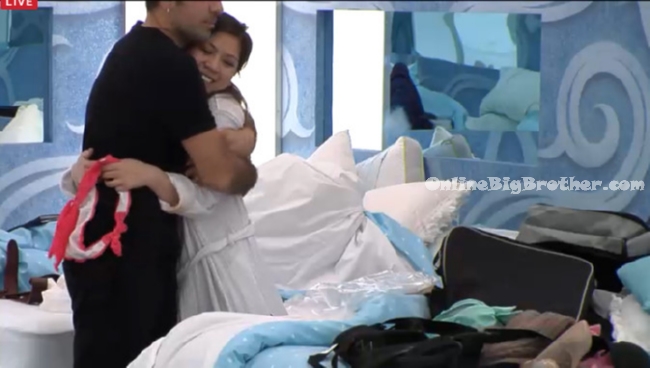 In the bedroom – Sarah and Ash are studying the Zoo video. Meanwhile Bruno and Zach are going around the house getting everyone to say goodbye to Rocky the stuffed dog.
We also get a live feed leak of the backyard for tonight's HOH competition.
LIVE FEED LEAK of the backyard for tonight's HOH COMPETITION @bigbspoilers #BBCAN3 pic.twitter.com/0iM8z1wi0j

— Dawg (@DawgsBigBrother) April 1, 2015
12:25pm Big Brother blocks the live feeds.
1:30pm Still blocked..
3:15pm Still blocked without any more feed leaks..
Support the site and purchase your Amazon goods through our link below. It doesn't cost you anything and we get a percentage of what you buy.
Amazon Canada
Amazon USA
[polldaddy poll=8772236]