POV Holder:
Kevin
Next POV
April 3rd
POV Used
Yes
POV Ceremony
?
HOH Winner
Bobby
Next HOH
April 1st
Nominations:
Kevin Cindy and Brittnee
Have Nots
Jordan, Brittnee, Naeha, Godfrey
POV Players
Godfrey, Willow, Johnny, Britt, Kevin, Bobby.
Jordan is the VETO HOST!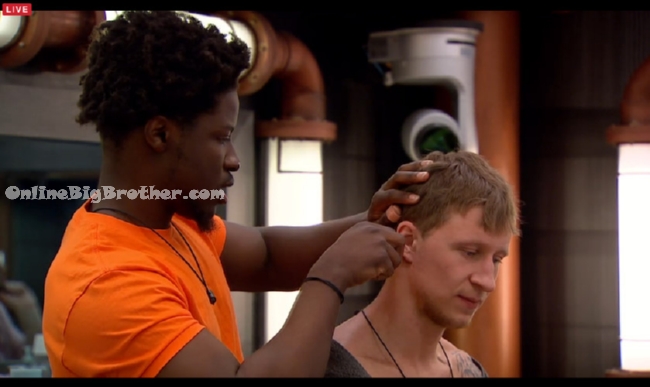 10:30pm Godfrey Trimming Bobby's hair. After using the trimmers he grabs the scissors and starts clipping
Bobbys says he wants his ear pierced. Godfrey jokers just wait it might happen
Ashleigh "I'd be shitting bricks right now"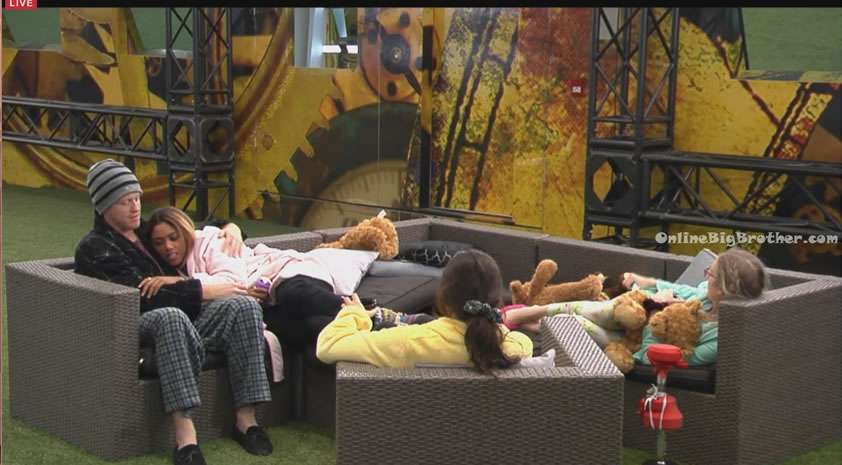 10:35pm Backyard Sarah and Brittnee (The image shows Graig with them once he leaves they start talking about the day)
Brittnee felt it was really hard today everything that happened.
Sarah saying that Sindy could have stuck up for herself a little bit more, "All the things that needed to be said got said"
Brittnee- I wanted to avoid confrontation but I also want to stick up for my morales and protect someone that is being attacked.
Sarah points out that Bobby spoke up told Godfrey he was making himself look like an idiot.
Sarah adds she told Godfrey "You don't know for a fact" after the was telling Sindy he knew for a fact she broke the camera.
Neaha joins them. Brittnee explaining it was a tough situation for her because she is on the block. Naeha says Graig is going around saying he was a pro baseball player more reason to get him out of the door.
They agree to start having conversations queued up so when people walk in on them while their strategy talking they are ready .
They agree their number one targets are Graig and Godfrey.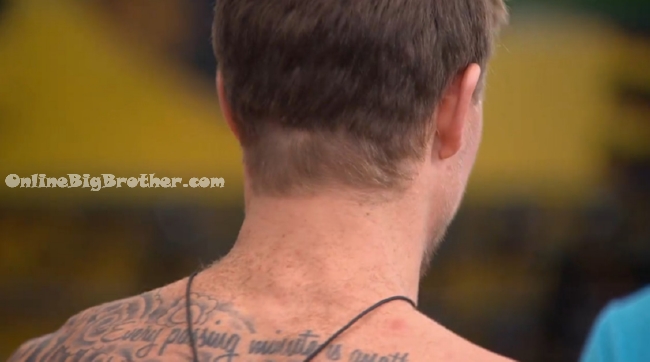 11:02pm Godfrey and bobby come out of the bathroom and show everyone his hair.
Jordan yells out to the live feeders to never let Godfrey Mangwiza touch your hair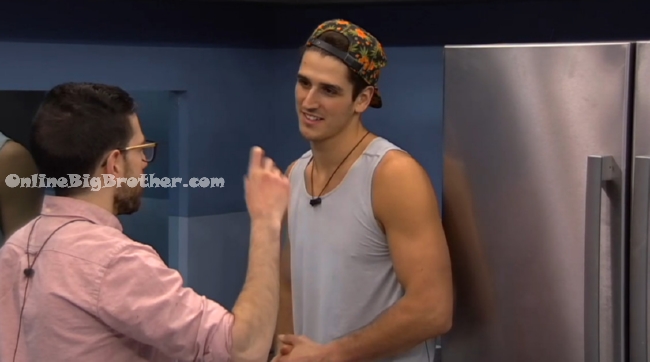 11:05pm Storage Jordan says he would rather Graig win the HOH because he'll get rid of Naeha then the next week someone will go after Graig. Jordan – "And he'll go nuts"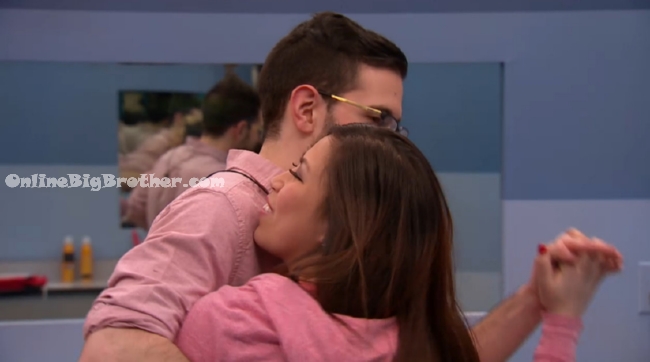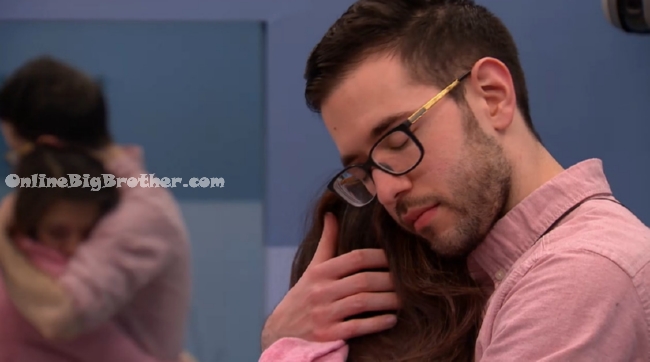 11:08pm Jordan and Sindy dancing in the storage room
Sindy says they are breaking up tomorrow. Jordan asks her how long have they been dating so he can say "I dated a beauty queen" Sindy – 2 days. They start kissing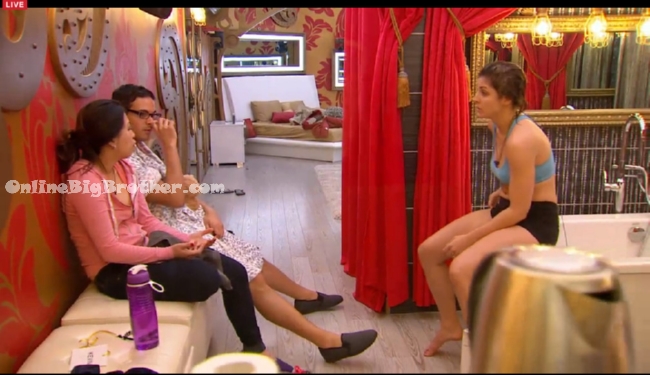 11:26pm HOH Bathroom Willow and Sindy

Sindy asks – is the consensus voting me out tomorrow.. cause you know who i'm targeting
Willow – I'm a player that tries to be as low key as I can
Sindy doesn't want to go home, "JP pretty much told me the consensus is I'm out.. I know Naeha wants me to stay"
Sindy – I need 7 votes
Sindy counts all the girls votes says that's only 5
Willow – you need two more
Johnny comes in Sindy asks him what is happening is she getting voted out today
Johnny doesn't know they haven't talked about votes today
Willow – it's been camera camera camera
Sindy warns if she leaves Graig and Godfrey are going to go after another girl and if she stays everyone will target her.
Sindy – right now 12 people voting..
Sindy lists off Bobby, Kevin, Graig and Godfrey are all targeting her. She points out if Brittnee stays there is no clear target with the girls.
Willow and Jonny tell her they haven't made a decision on who they will vote out
Zach joins them briefly to grab something from the bathroom.
Sindy tells them that Godfrey has made a genuine apology, "He wasn't making sense"
Zach – that's an understatement
Zach leaves
Sindy tells them she wants to know if everyone has made up their mind because if they have she won't bother campaigning she doesn't want to be that person.
Sindy says Godfrey told her Naeha and Jonny are working together and they are with Willow and going after Graig.
Sindy tells them she likes Jordan and has a legit crush on him.
Sindy wants them to tell her once they come to a conclusion on their votes to come to her and tell her.
Jonny and Willow say they will. Willow is worried that Canada may be voting again so if they say something now it could hurt their game.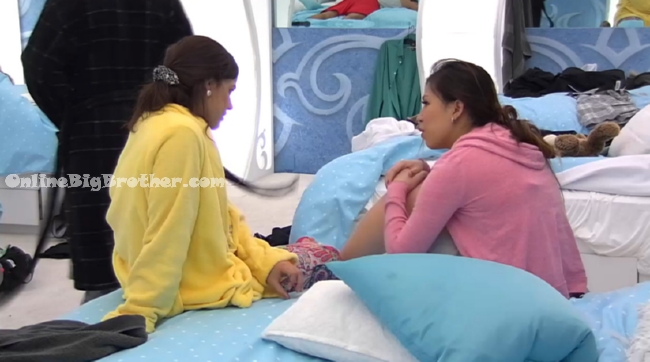 11:46pm Bedroom Sindy and Pilar
Sindy is saying she has 6 votes all she needs is pilar vote to stay. Points out that all the guys are coming after her and if she stays they will be completely shocked.
Pilar says she doesn't know what to do
Sindy says Graig, Kevin, Godfrey, possibly Zach and Bruno are voting against her.
Pilar – I'm not going to lie to you..
Zach rolls in ..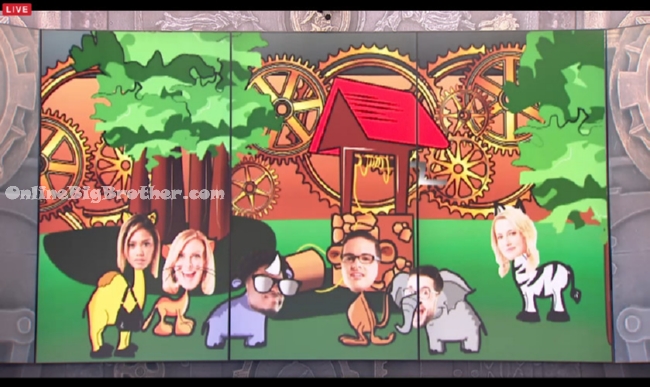 11:51pm Big Brother ZOO comes on.
Graig – "Was that the same one" (It was lol)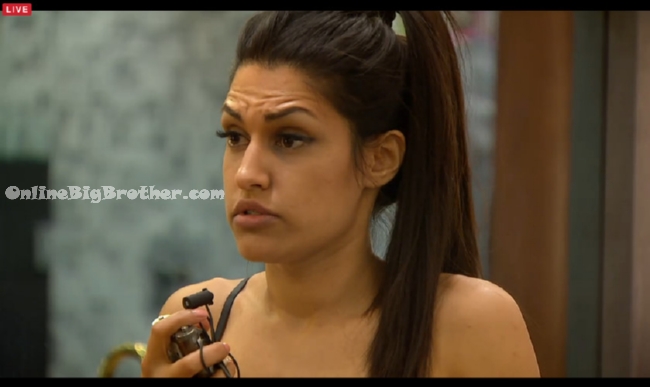 11:56pm Naeha and Willow
Willow asks if she's switching her vote to keep Sindy.
Naeha – Are people doing that..
Willow – I don't know
Neaha – That would be BIG.. I love Britt.. but
Talking about keeping Sindy they know her staying is better for their game because Brittnee will never be a target. Neaha would rather Sindy wins the HOH and takes Graig out over one of them having to do it.
Naeha – "if you look at the pool of girls it's me and you"
12:20am Graig and Godfrey BAckyard
Godfrey is bringing up the things Sindy said about Graig wanting Godfrey out of the house day 2. Graig shrugs it off says she's just trying to put a wedge between us.
Graig – "She broke that f****g camera bro"
Godfrey – Of course she did
Graig – Buddy.. she broke that camera
Graig explains why he never told anyone he was a pro baseball player the first day. Godfrey understands knows it would have made him a HUGE target becuase people will think he's got cash. Graig goes on to explain how little money he actually made playing baseball.
1:06am All the houseguests are clustered in the living room waiting for the Big Brother Zoo cartoon to come back. They are talking about Survivor for the past hour..
The Survivor fantasy draft continues. Jordan shows everyone his Encyclopedic knowledge of the game. (note people are already starting to talk in the house how smart Jordan is when it comes to remember TV trivia. His target is getting bigger and bigger and this 2 hour session won't help)
1:25am Backyard Bobby, Willow and Graig
Willow tells them Neaha is freaking out sayign they have to keep Sindy because Brittnee is a floater.
Willow – "I'm like OHHH should we"
Willow smirks.
Graig and Bobby smirk Bobby – "She's gotta go 100%"
1:53am Naeha and Johnny
Naeha asks him If he won HOH who would you put up.
Jonny says Godfrey as a pawn but he doesn't know who to put up with him. Graig is the ultimate target to b@ckdoor.
They agree to never use each other as pawns.
Naeha says it's her, Sarah and Britt
Feeds cut..
2:12am
Zach, Johnny and Naeha studying. Main bedroom lights are going out.
2:31am houseguests are woken up for Big Brother Zoo
The house guests are woken up 2 more times throughout the night at 4am and 6am. Big Brother left the audio muted. The following video has the two events joined together.
Support the site and purchase your Amazon goods through our link below. It doesn't cost you anything and we get a percentage of what you buy.
Amazon Canada
Amazon USA
[polldaddy poll=8772236]