POV Holder:
?
Next POV
April 3rd
POV Used
?
POV Ceremony
?
HOH Winner
Kevin
Next HOH
April 8th
Nominations:
? and ?
Have Nots
?
POV Players
?
Feeds will be down from the afternoon of April 2nd to the evening of April 5th
Alliances in the house
Week One there's a lot of Alliance but we've tried to make sense of it all.. Read our alliance help guide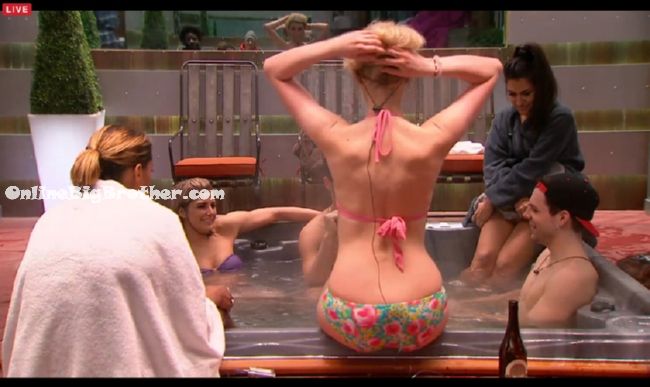 10:11pm Hottub
Chit chat about Sindy not sticking up for herself when people were accusing her of breaking the camera.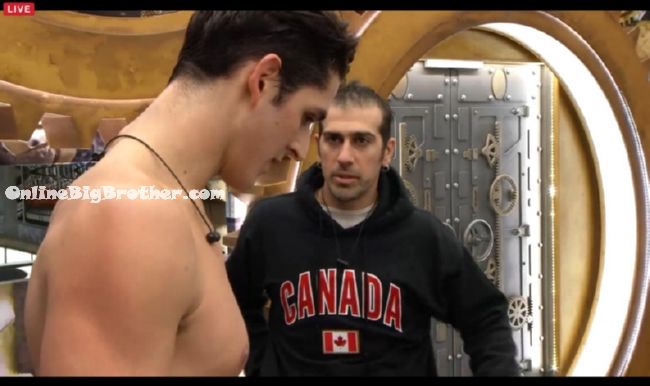 10:13pm Bruno and Zach
Bruno – we need Naeha to go or Johnny after that we have the numbers.. they can't do f** all we have the numbers
Bruno says they are all in the next HOH (The chop shop)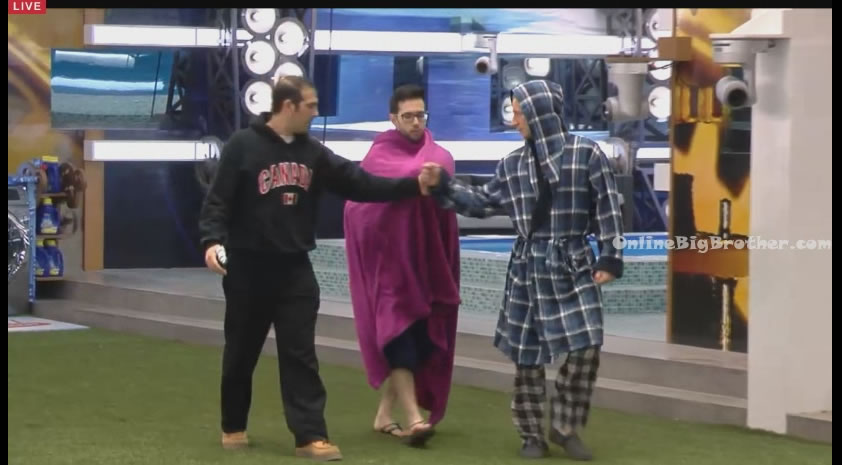 10:18pm Backyard Bruno, Bobbyand Jordan walking around fist bumping
Bruno asks him if all the other guys are on board. They agree and fist bump. bruno says it would have been nice to win but this is so much better because they all get to compete in the next HOH. Jordan agrees tells him he has his back.
Bruno says he really respects Jordan and from day one he knew he was a good guy.
Jordan – 10 year from now I want to be like you
Bruno says he hopes his kids turn out like Jordan.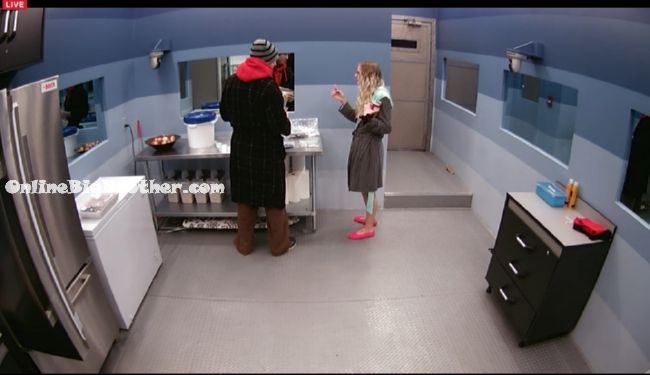 10:25pm Storage Room Sarah and Graig
Graig is scared by Naeha adds that she put Godfrey and him up on the true/false competition right away.
Sarah – She's very intense she thins she can bully me around
Graig tells her she's gold this week he knows she is, "I know he's going after Naeha.. don't repeat that please"
Sarah – I swear to god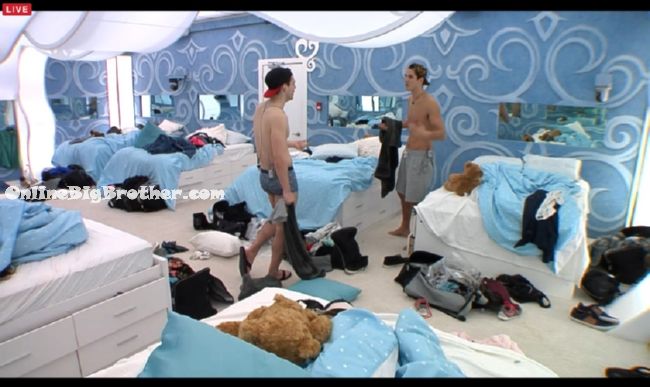 10:28pm Kevin and Zach bedroom
Kevin saying he couldn't throw it he's so pissed. Zach says he was throwing the HOH.
Zach – If you put Naeha up I'll do whatever it takes to play in that competition and if she (Naeha) gets houseguest choice she's going to pick me"
Zach adds if he wins the veto he won't use it "She'll be mad"
Kevin thinks about putting Sarah up as a pawn.
Zach says it's good that Kevin won it because Zach is really close to Neaha and the house will preasure him to put her up. Now if Zach wins the HOH next week he can take out someone for kevin. Zach needs to talk to jordan he thinks he's down with taking Naeha out this week.
Zach – If you don't put Neaha up you'll feel a lot of heat in the house.
Kevin – that's OK
Kevin leaves tells him they are on the same page.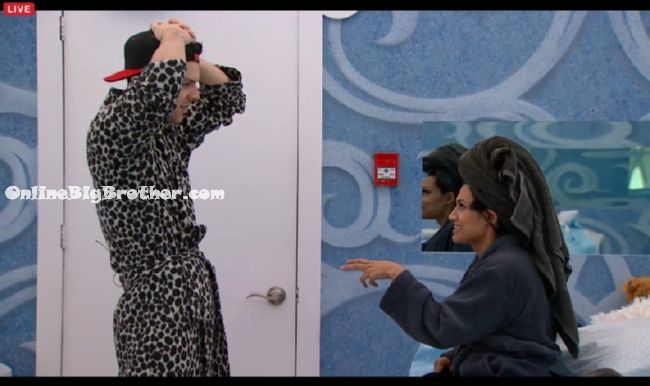 10:36pm bedroom Naeha and Brittnee
Naeha freaking out.. because people were laughing about what happened with Sindy and Godfrey.
Neaha – I'm staying this week.. I don't give a f***… It's game on .. he was blasting me..
Naeha – "I can't believe Sarah"
Kevin joins them and Brittnee leaves
Kevin and Naeha in the bedroom. Naeha telling him if he hadn't won the veto he was going home.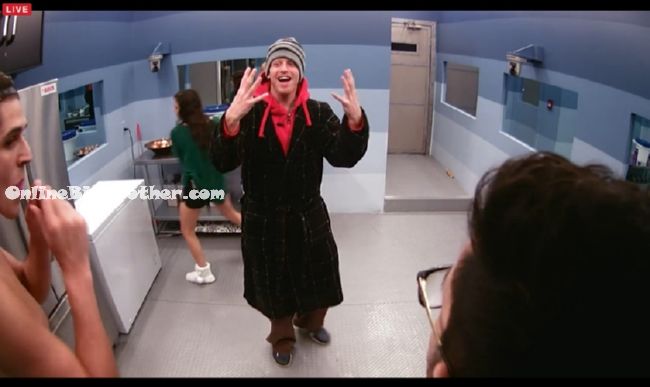 10:44pm storage room
Zach telling Graig after Naeha goes they have to start chopping the floaters like Godfrey, Brittnee, Sarah. Graig agrees
Graig says he's talked to Kevin he might put up Johnny. Points out that Kevin is distancing himself from Naeha.
Zach brings up that he told kevin if he puts up Naeha this week than next week he'll put up Jonny.
Jordan and kevin join them.. chit chat..
Zach saying he's so glad he doesn't have to flirt with sindy anymore it was exhausting.
Jordan mentions for these these last couple days "you're welcome"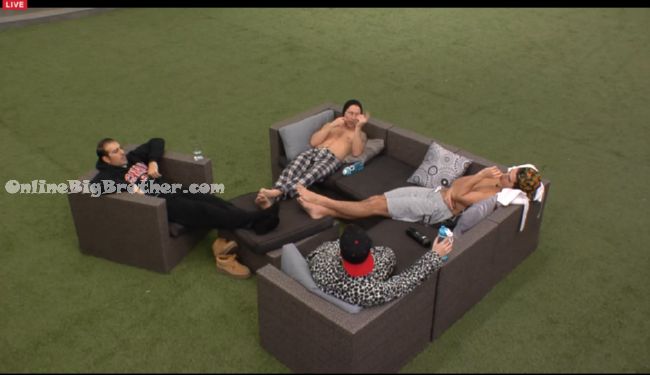 11:05pm backyard bobby, Kevin, Zach, bruno
Talking about the cheers for Neaha. Jordan joins them agrees they were hearing some major cheers for Naeha, 'They sighed when she lost"
Jordan thinks it's because they just aired Godfrey freaking out on Sindy and Naeha was going after Godfrey so it was underdog cheering.
Support the site and purchase your Amazon goods through our link below. It doesn't cost you anything and we get a percentage of what you buy.
Amazon Canada
Amazon USA
[polldaddy poll=8772236]