POV Holder:
Danielle
Next POV:
Aug 11 (Saturday)
POV Used
YES
POV Ceremony
Aug 6 (Monday)
HOH Winner:
Danielle
Next HOH:
Aug 9 (Thursday)
Original Nominations:
Wil and Frank
Current Nominations:
Janelle AND Frank
Have Nots
No Have-Nots for the Week
Last Evicted Houseguest
9am – 10am Frank and Boogie are the only house guests awake. They head into the bathroom to shower and get ready. Mike tells Frank that he will tell him a secret once they get outside as it applies to people in here. Mike says his favourite one of all …ya lied, a lot, we get it, you leaving! Mike comments to the camera, normally wacky Wednesday the nominees scramble all day, this is Franks third time on the block and he ain't scrambling. He'll be sitting back today watching her scramble. Ya know what's pathetic, she asked Wil to swear on his dog! Mike tells the viewers to strap on their seat belts because tonight's episode it going to be off the hook. Frank says it just might be an 8 – 1 vote ya'll! They talk about if they win HOH they could put up Dan and Shane. If you are so concerned about disguising stuff, that's why we need to disguise us working together by putting you up. Frank and Mike laugh. Mike talks to the fans saying that he and Frank have never lied, unlike Janelle. Frank says C, G, R! Mike says Clean, Game, Running… sort of. Mike says imagine if we could pop out Joe and Wil in the next few weeks. Mike talks about how they need to shore up their relationship with Jenn. She likes being a free agent. Mike says that it would not be the worst thing in the world for Wil to win HOH.
FREE 3 Day Big Brother Live Feed TRIAL: Join Now!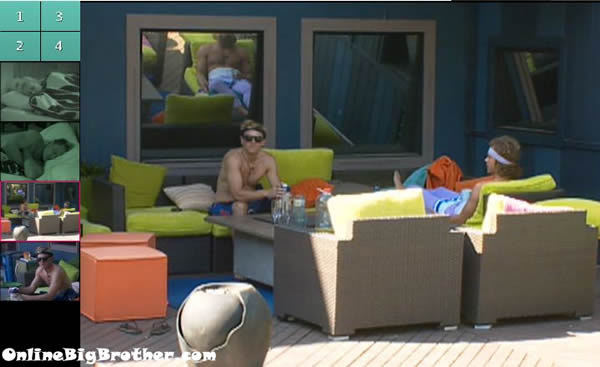 Frank talks about how Shane is so worried about a showmance. Frank says that Shane was worried how it looked when Danielle fell asleep on his chest. Frank says that Shane felt like he had to tell him that nothing happened between them when she fell asleep on his chest. Frank says he doesn't care. Mike laughs, and says we don't give a fuck, just hold down the votes.
10am – 10:40am Big Brother wakes up the house guests. Mike and Frank talk about Ian and how awkward he is some times. They talk about how they feel bad for him, how he said he used to have a good relationship with his dad and then now his dad just sits on the porch and drinks. Jenn, Britney and Wil join them in the backyard. They talk about how much Joe snores and farts all night long. Wil wonders what his wife is like to put up with that. Mike says let's just say I am sure she has some flaws. They all star bashing Joe and his cooking. Wil comments on how Joe is always putting his hands on their food. Wil says he called him out for it and he said he just washed his hands. Wil thinks no you didn't, you just had your hand on the garbage.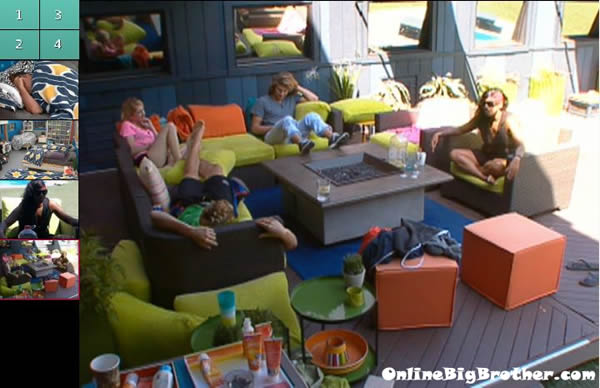 10:50am Wil and Jenn talk about how Joe names their alliance Team Diversity, we are all from different walks of life. They laugh about how that was the end of the alliance. Mike asks if Ian was a part of that. They say yes. Mike says he probably liked just being a part of something. Mike brings up how Joe always comments on how he will see his wife in September, like he automatically thinks he is making it past jury. Frank comments on how he has been on the block for 19 days so far. Mike asks him if he has his speech ready yet? Frank says that is part of it. Mike gets called to the diary room. Frank comments on he is going to tinker with his speech more today and tomorrow. Frank says he thought about using the line there are two types of people in this house… guys & girls ..or Ladies and Gentlemen. Jenn heads inside. Britney complains about how Janelle is going to be campaigning all day and talking to me about it. Frank tells Britney about how Janelle made Wil promise on his dog that he would vote for her. What kind of weak sauce is that?! Frank comments on how he and Mike are calling Jenn, Ashley and Wil that Cast-Aways. Britney says that she knows Joe will be nominated this week but that she worries the target will shift. Britney, Frank and Mike guess what this HOH competition will be like. Frank stands up and say I hope Ya'll at home are listening to me, Janelle is playing a sh*tty a$$ game, every chance she gets she is throwing me under the bus.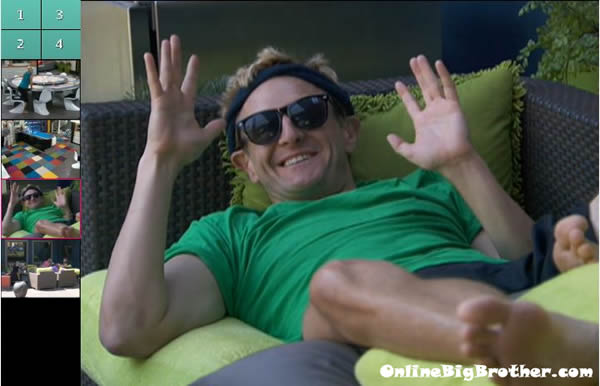 11:20am – 11:35am Mike tells Britney his theory about how he doesn't think Danielle is a teacher, he says he thinks she is either a medical student or a nurse. Britney says yeah not many people call Advil …Neproxen. Mike says yeah right! Mike says that he doesn't think Danielle is smart enough to be a medical student. Britney asks but why would you lie about being a nurse. Britney starts talking about her medical rep job.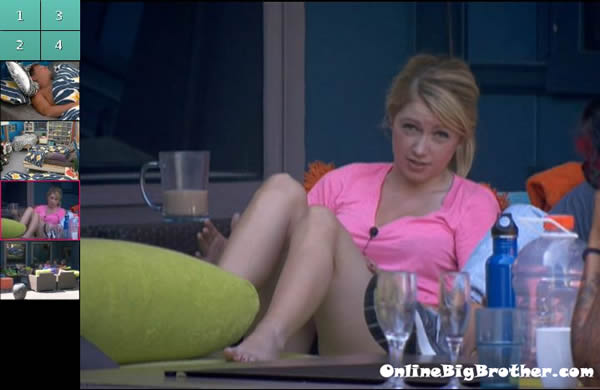 11:40am – 12pm Britney heads up to the HOH room and tells her about how Mike believes she is a nurse or a medical student. Britney tells Danielle all the reasons why he thinks she is a nurse. Calling advil Danielle says oh crap. Britney tells her that if Mike has figured it out, you have to assume he has told Frank, Ian and who knows who else. Danielle tells Britney that Boogie can guess all he wants, I will never tell him, ever. Britney asks Danielle about what happened with her and Shane last night. Danielle tells Britney that Shane is so paranoid about people thinking we are together and his feelings for her and that his way of dealing it with it is he is really mean. She says that he put up this wall and started being mean to me and not even sarcastic, just plain mean. Danielle tells Britney that she told Shane if he can't be sweet to her to not be mean. Danielle says she is mad because he keeps giving her mixed signals asking her to cuddle, hold hands, kiss… She says that he is the one initiating it. Danielle is starting to get upset. Britney tells her to just be friends and laugh it off and say no when he asks for more than friends. Danielle gets called to the diary room. Britney listens to her cd.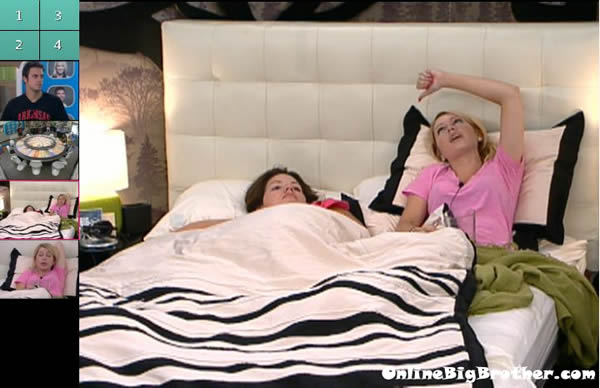 Big Brother 14 FlashBack: August 8th, 2012, 11:44am camera 3 TRY the Feeds for FREE!
Share it YO!!
Tweet