Head of Household Winner – Cody
Have nots – Ian, Kevin, Memphis, NicoleA
Nominations -Keesha and Kevin
Power of Veto Players are – Cody, Kevin, Keesha, Enzo, Kaysar, Ian
Power of Veto holder -Enzo
Power of Veto Ceremony – ENZO YO!
Safety Suite – Kaysar & Janelle
Live feeds —-> Grab your Live feeds here. Try it free.
Rank the houseguests —-> Big Brother 22 Ranking
Spoilers – Enzo is not using the veto as of Sunday morning. The plan is to evict Keesha.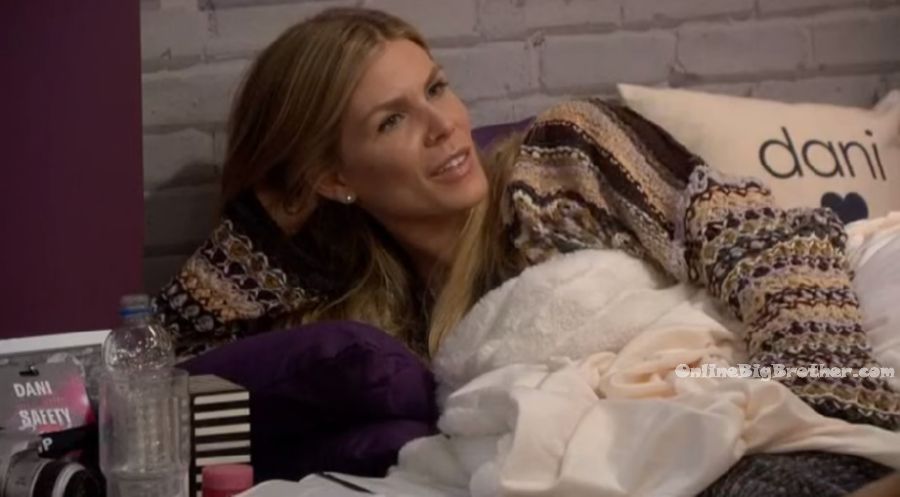 3:40pm bedroom. Memphis and Daniele.
Memphis – I have this thought I wanted to run by you.. I want to create this partnership with some people.. a group of people and I have an idea who .. the idea of what I have is I want to take 5 or 6 people that everyone else is not going to suspect. The unusual suspects. The problem with watching Janelle, Kaysar and DaV and it becomes like this old vs new. And I don't think that's smart. Daniele – I don't think its smart for anybody. Memphis – and my thought was grab a couple of these young people .. 5 or 6 people to the end like bullsh*t because its not going to be people that you're going to sit down and have a full conversation with necessarily but someone that can look out for your best interest. But I don't necessarily know who those 6 people are. Tyler would be a good person to have because he is good on his own. I hate the idea of having 5 or 6 people and having to always meet in a group. Daniele – this game is hard because some many people have so many weird connections that we don't know about. Memphis – I can tell you right now that Keesha and I have zero connection to each other because I burned her too hard. And I don't trust her. Daniele – its just really dangerous to have 5 different people telling every little thing. Who do you think? Memphis – keep people that do not have to have this group thing and need to have group therapy. Daniele – so what you're saying you don't want Ian. Memphis – Oh Ian scares the sh*t out of me. Daniele – I think that Ian is one of the best players of all time. Literally of all time! Memphis – Ian, if I get the opportunity to get that motherf**ker out, he is out! I will have zero love lost for that guy! You are going to blink and he is going to be at final four. I think Tyler is good socially. Bay the same .. she scares me sort of. Daniele – I think Bay and Day are close outside the house and they're trying to downplay it. So then that's two. Memphis – then that's the kind of stuff I wouldn't want to touch. The other person that I was thinking was Cody. He can socially fit in anywhere. I was kind of thinking David. And I was going back and forth with Christmas and or NicoleF.. Daniele – I would definitely say no to Bay unless you wanted to bring in Day.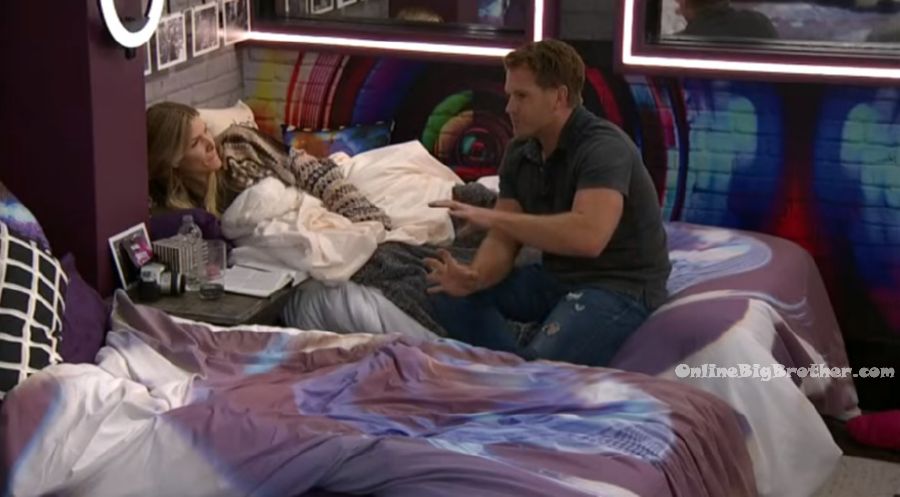 4:20pm Enzo and NicoleF.
Enzo – lets play, its all stars. Once the backyard opens up we can talk more. Nicole – and hopefully its open today. Enzo – It is killing me because I want people to be on the same page as me. Nicole – its killing me to not be able to play the damn game. Enzo – and people are creeping and doing their sh*t too.. f**k .. but lets not panic.. we're four strong already. I think Bay and Day love me .. you know what I mean. Nicole – I do too! That would be seven of us. But I don't think we can get Bay without Day. Enzo – definitely, their a pair. Tyler is by himself. Unless Tyler and Bay are close because they were on the same season. Nicole – the only reason I trust Cody is because his brother was the best ally I ever had. Nicole – its not a bad idea to get something on the side we can influence the decision. But what I think is important is that us four are always first. We tell each other everything. Enzo – put some side cushion.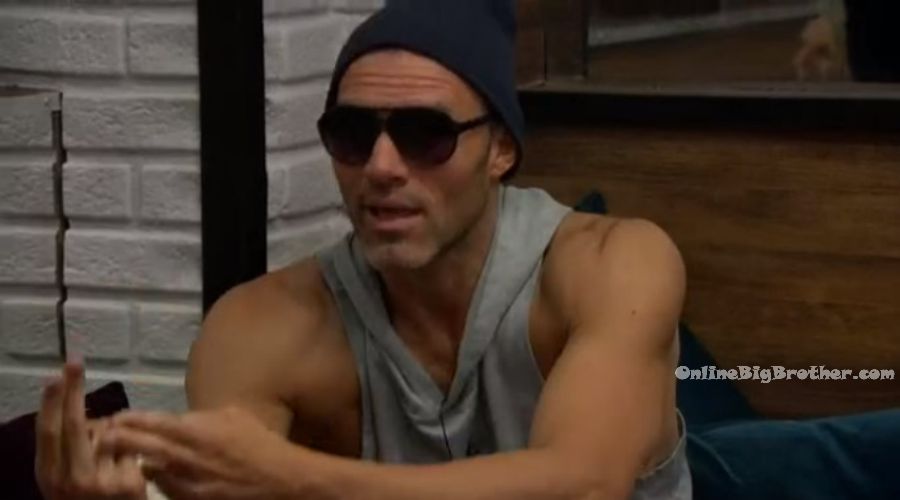 5pm Kevin and DaVonne.
Kevin – don't spread this. DaVonne – you need to trust me. Kevin – I do. I only trust you and Nicole at this point. I am trying to figure out if him taking me off the block is even an option. He (Cody) was saying I am not going to take you off the block .. like it wasn't even an option when it was like Enzo wasn't the one that won the veto. DaVonne – maybe he wants Keesha to go home and you're the security. Kevin – I have the same vibe with Dani and Nicole that I have with you. NicoleA told me that .. I love Nicole. NicoleA told me that Keesha came up to her and said if I could get 6 votes would you be my 7th? DaVonne – what six votes does she have? Kevin – she is going to try and find out who the six are.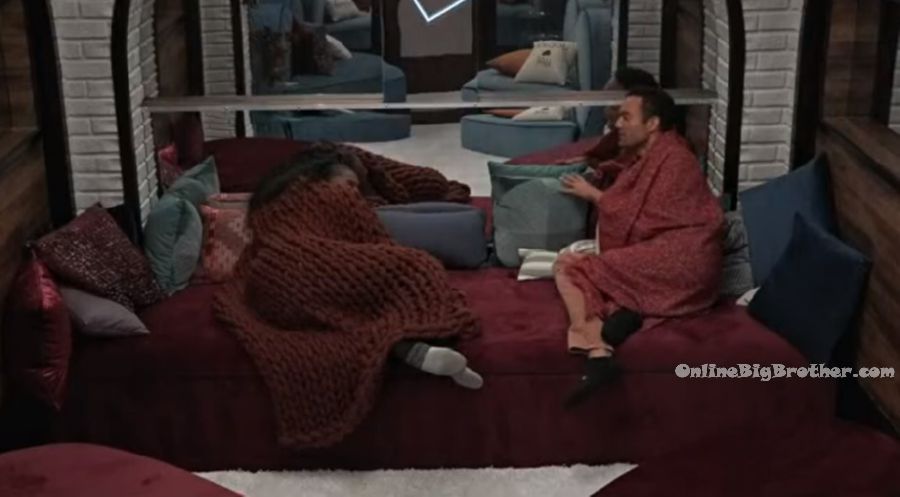 Storage room. Tyler and David.
David – I don't know what the f**k I am doing. I feel like I am walking around the house and I get along with everyone. Tyler – everyone is saying good sh*t about you. David – you know the anxiety of walking into rooms.. you know because of last year. Tyler – oh no you're good. Everyone f**king loves you. And if they do, I make sure I say good things about you. You're good, you got this sh*t man.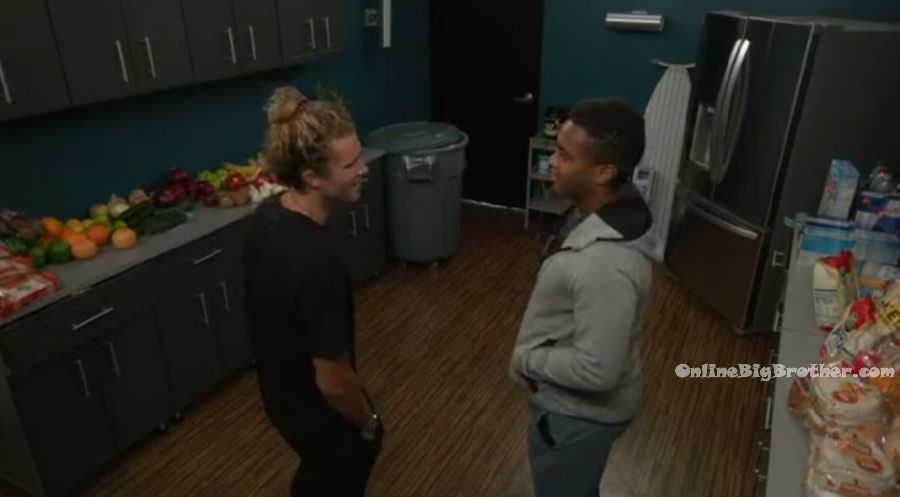 5:50pm Nicole, Dani and Tyler.
They're all just chatting. Tyler – twitter does not like me at all. Dani – the Jeff and Jordan fans were totally me to me. And I'm like its a show! And we're like totally cool now. I don't get any of that anymore now though. It is just so strange to me. Tyler – I didn't have it that bad but Swaggy / Bay fans would come after me. Dani – just scroll on by and don't pay any attention to me. I will never get that.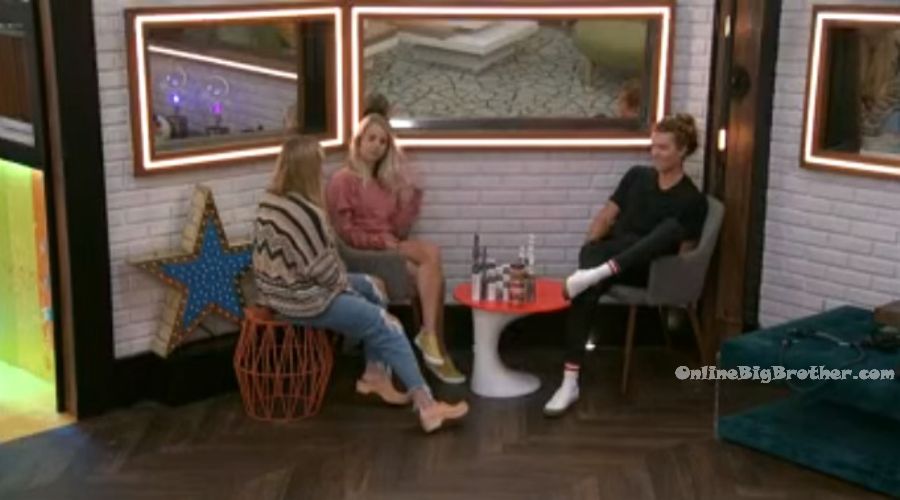 5:55pm Bedroom. Bay and Christmas.
Bay – are there any boys you like? Christmas – Like for different reasons.. I really like hanging out with Memphis and Kaysar. Like just rad and goofy. I dig that. Tyler is super cool. I like his energy. I need a little chill. Those are my top. Bay – you think they would mesh well together. Christmas – I think Memphis and Kaysar are already really good together .. I think they were on the same season together. Cody, I like him too. Funny and super sweet.
6:08pm Bedroom. Christmas talking to herself – Tyler, Bay .. final 3 .. that would be nice!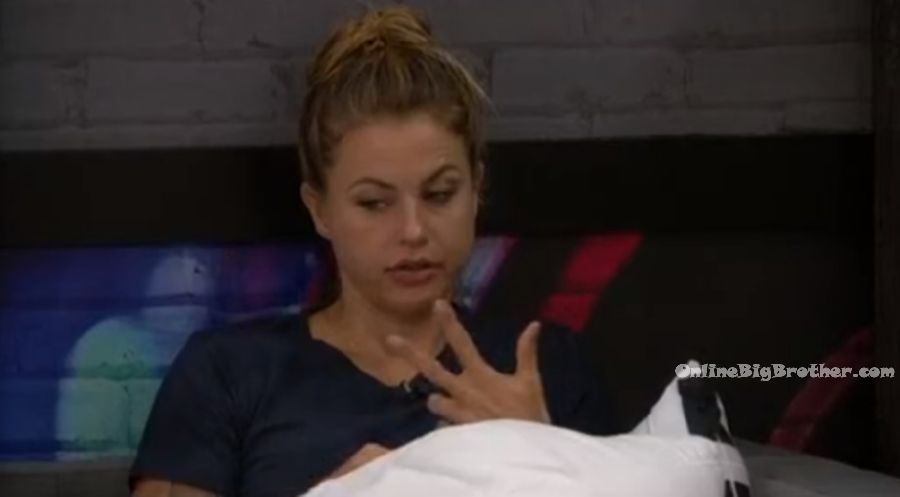 6:20pm – 7pm Bathroom. Christmas and NicoleF.
Nicole – have you heard anything? Christmas – no, everyone is just waiting. Nicole – what the heck! Christmas – we're the most chill. Christmas – I am just kind of asking around and everyone is just saying the same thing. So either I am just completely out of the loop or its really not happening. Nicole – okay, yeah same. Good, so me too. Christmas – who do you feel really comfortable with? Nicole – really comfortable .. not that many people. I feel like I would be really scared of a lot of people in that HOH because I don't know where there head is at. Christmas – there are some really good game players here. Nicole – its a hard question because I feel like I need to get it. Christmas – same. Nicole – I would feel good if you got it obviously. Christmas – if I get it, you're safe. Nicole – and I can't promise other people that because I don't know what they're doing. Nicole – everyone will offer you safety right now.. like why wouldn't they. If I go up to people I don't connect with and ask that .. they would say yes but then they would go tell other people. That's what I'm worried about. Christmas – do you have any favorite people so far? Nicole – yeah, I like Bay a lot .. and Day… and I really like Ian a lot. He is so special. I think Enzo is hilarious. Christimas agrees. Nicole – And I really like Dani. And Tyler but I haven't really talked to him. Who do you really like. Christmas – Bay and Day. And Kaysar. Memphis is pretty cool. I haven't really spoke a lot with Tyler. Cody is chill. Nicole – yeah, he handled this HOH really well. He is a good dude. Nicole – they(Production) are being very lenient this year. Christmas – yeah because she (Janelle) doesn't have to wear her hat. Big Brother switches the feeds.
7pm Bedroom. Dani and Cody.
Cody – I think Memphis is .. but the only thing that makes me nervous is he would bite your head off. Dani – But he isn't going to go against us. Tell me to F off every morning and I'll go away .. just don't nominate me. Cody – I think we're in a pretty good spot .. the only person I want to get closer too is Janelle because she is someone that if she starts steam rolling competitions I don't want to be on her bad side. Dani – I feel like no one is going to let them go super far. It would be stupid. Cody – Janelle – I can have a conversation with but Kaysar I can't without thinking this is calculated. He is too analytical and he is calculated. I can't have a conversation and think that its genuine. Like yesterday they were trying to have a conversation and his question was what was the one job that got away. He was judging Janelle for Dennys and Nicole for Dollar Tree. Something about him and I know that he doesn't trust me. He is going to be one that plays himself out of the game. Christmas too.
Nicole and Dani.
Dani tells Nicole about her conversation with Cody. He goes I really like Nicole and I go A or F and he goes F. I totally thought he was going to say A. And I go I don't really know her that well.. she seems really nice. I was like I could talk to her and feel her out and then he said Christmas. Nicole – lets pull her in. I just talked to her. She says that she trusts me more than anyone else. Dani – perfect. Nicole – and she was mad about Janelle's costume because she got in trouble again. She came up and said that she doesn't like trust her. Dani – wait, why? Nicole – she goes its so annoying because they were.. Dani – yeah because they had to wear a bunch eh!? She doesn't like Janelle? Nicole – she doesn't trust her. She likes Kaysar. I think Christmas is a good choice. I felt her up. She likes Bay, Day and Memphis. Dani – then perfect. Nicole – she talks to Memphis a lot. Dani – perfect, the OG alliance .. you, me, Enzo, Cody.. and we were already thinking of bringing in Memphis, Tyler and Christmas.. then thats perfect we have the majority of the house. Nicole – the only thing I am scared of is that the other side is Kaysar, Janelle, Bay, DaV, .. NicoleA wants to work with them. Dani – oh and I came up with a code. I told Cody that any time I need to talk to him I will come up and tap him three times. So if you need to talk to me .. you can just tap me. Its just so hard to talk to people in here because there is no space. Nicole – okay that's a really good group so I am happy about it.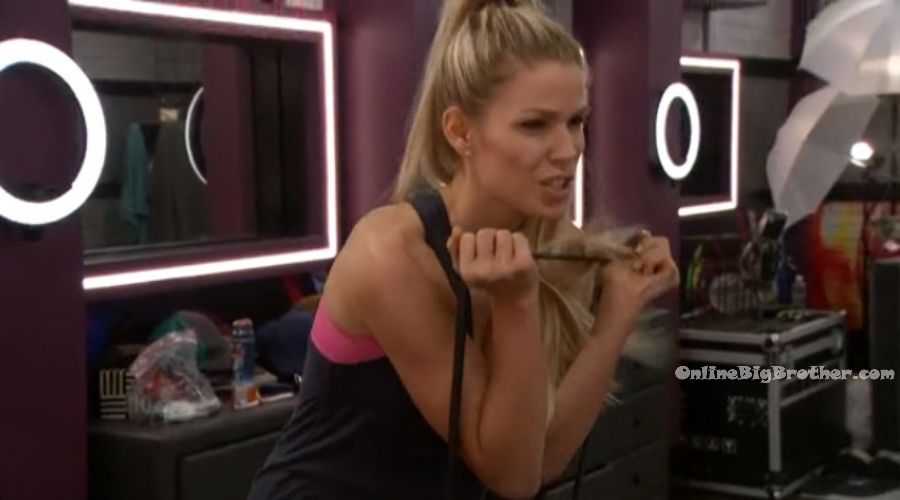 8pm Big Brother FINALLY opens up the back yard and all the house guests go nuts and run outside.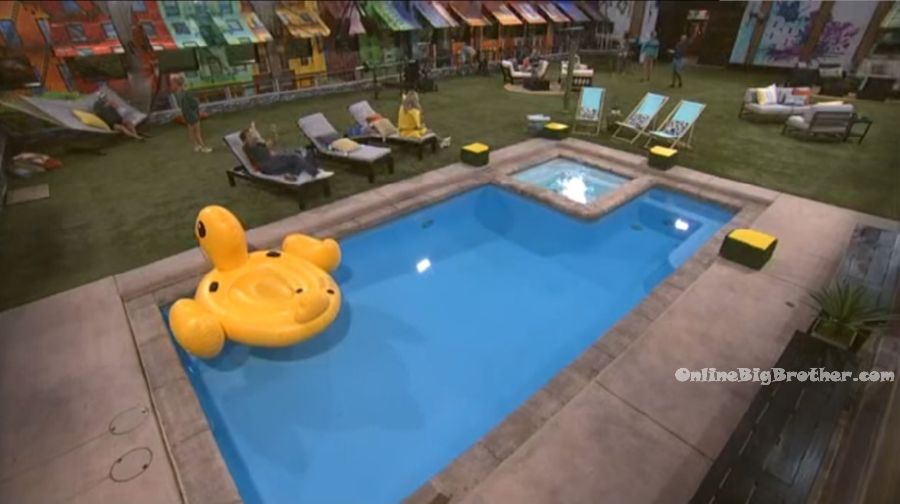 8:15pm – 8:25pm Backyard. NicoleA talks to Kevin and Ian about how she isn't feeling well (because of the slop like how Ian wasn't feeling well yesterday). Keesha and Christmas join them. Christmas, Kevin and Keesha talk about how their significant other didn't want them to come back into the BB house.
By the pool. Memphis and NicoleF are talking. Memphis is asking about Nicole's wedding that she's planning. She tells him that its going to be at the Turks and Caicos Beaches Resort.

8:45pm Kitchen – Kevin and Bay.
Kevin – what are your thoughts on Keesha because I have a feeling its going to come down to votes not veto. Bay agrees – 100% because no one is going to rock the boat. Kevin – so I was hoping that maybe I could get your vote to keep me to stay because I really want to work with you. I love NicoleA.. I actually love NicoleF too. Bay – David really likes you too. He thinks you're really sweet. Kevin – ohhh! I love when I hear those little feed backs. You're really good with that.. you're so social. Bay – I was feeling really insecure today.