Head of Household Winner – Memphis
Have nots – Kaysar, NicoleF, Christmas, David
Nominations – David & NicoleA
Power of Veto Players are – Memphis, David, NicoleA, NicoleF, Ian, Tyler
POV Host: Enzo
Power of Veto holder – Memphis
Power of Veto Ceremony –
Safety Suite – Christmas wins. Ian is her Plus One
Live feeds —-> Grab your Live feeds here. Try it free.
Rank the houseguests —-> Big Brother 22 Ranking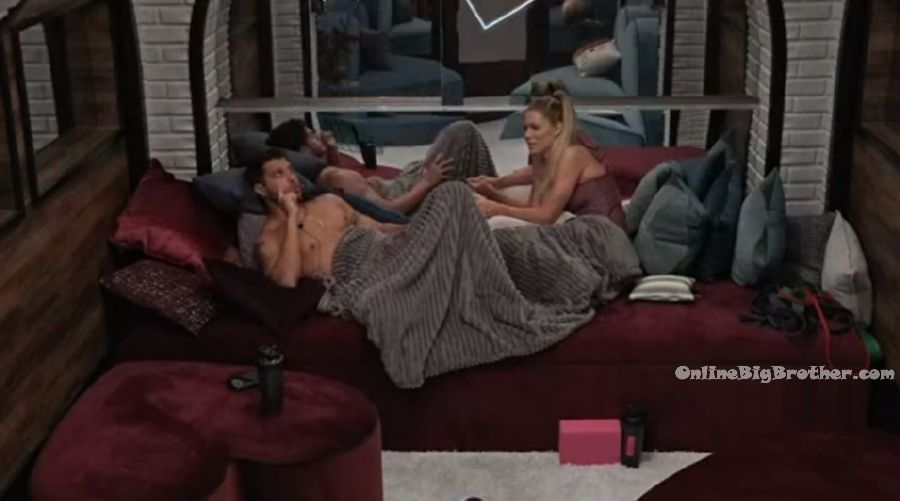 5:47pm Lounge room. Cody and Dani.
Cody – I know I could have conversations with you and you could be like yo settle down and I would be like okay, you're right. Dani – I am very gentle with things that are serious. We're talking about stuff that is bigger than this game. Everyone always forgets that our lives are bigger than this game. Cody – but even in the game .. you do what Derrick .. and I feel how I felt with Derrick. Like when Derrick said something to me I didn't have to feel like why is he saying that. Like is there a reason .. with everyone else I would be like there has got to be a motive. But like having one person that you can be like you need to calm down. I would be like okay. That is the most important thing I needed in this game because I knew he wasn't coming. Dani – I think Nicole was really upset that he wasn't here. Cody – NicoleF? Dani – yeah. Cody – he might not talk to her after this. Dani – why did she get you out? Cody – no, for like personal.. like she called him about 18 (BB18) to see if he was coming back. And he was like why are you going back? He was like she called me out of no where. And she was like no I'm not going back .. she was lying to him. Next thing you know she was on the show. This go around, they were talking.. Big Brother switches the feeds.

6:30pm Backyard. NicoleA and David.
Nicole – yes it is a game but it is also a journey of discovery and self growth and I hope certain people learn from this process and get a piece of humble pie.. I really do. If I stay and get HOH .. I am giving the same speech. If I stay, I am going to save that speech for nominees. Two of you need humble pie and I'm serving up two right now! That's what's happening. I really will. If I go out on Thursday I'm saying it then and if I stay and win HOH, I'm saying it during noms. Because this journey is about learning about life and yourself. You can say what you mean but you don't have to say it mean. There are just certain people in this house that need humble pie. David – sometimes humble pie doesn't taste good. A little shame pie right in there face. Nicole – that's nice too. Just take it. Some people just keep getting served the same pie. Here's the sh*t pie. Here's the sh*t pie! Last season I didn't express myself. I'm like a long island iced tea .. I'm sweet but I'll f**k you up! This is the mindset that I'm in ..If I stay I am going to f**king go savage and take out all of them.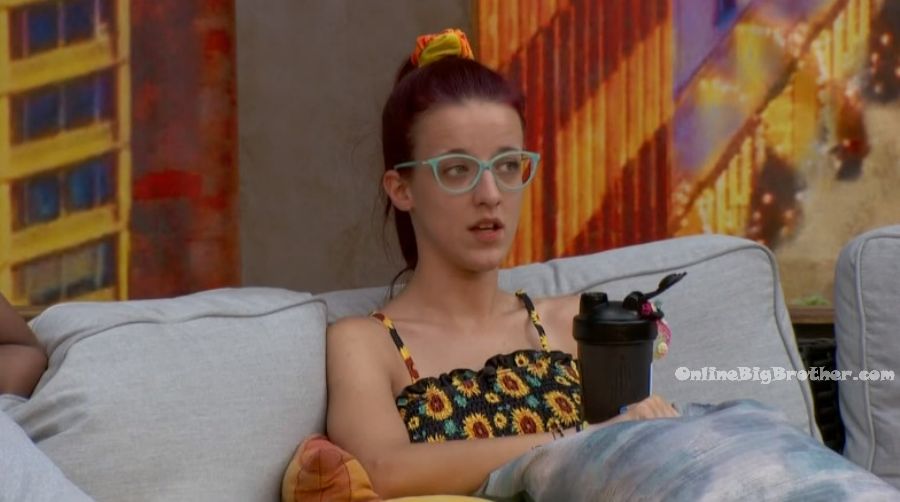 7:18pm – 7:35pm Lounge room. Janelle and DaVonne.
Janelle – how are you feeling about everything. DaVonne – good, but Memphis makes me really nervous. I don't know what he is going to do. Janelle – he literally said I don't want to be in an alliance with you .. to me. He doesn't want to be a part of an alliance. So thats why.. I didn't even know the nominations. He gave me a free pass this week .. same with Kaysar. He is a free agent. DaVonne – the other ones on the list I feel good about. NicoleA .. I don't think she is going to stay this week. And if I can be completely transparent with you.. like not even trying to play the race card. I can't vote David out. I can't do that. So I don't foresee Nicole staying.. unless you guys keep me in a lock. This house is all over the damn place. Janelle – On my kids someone came to me and wanted me and Kaysar to be in an alliance. There were four people in the alliance. I said I would think about it which is basically a hard no because that left you and Bay in jeopardy. And I want to protect Bay. DaVonne – who are the four? Janelle – Cody, NicoleF, Dani and Tyler. DaVonne – okay. Who asked you to be in the alliance. Janelle – as long as you don't go around .. It was Dani. But we aren't talking right now because she is pissed… probably because I told Bay that Dani did ask me. Look I am not going to be after Dani anyway. I am not here to take out Daniele Donato. DaVonne – Like I told Kaysar .. I am down for the cause. People are also telling me that you and Cody are working together. Janelle – WHAT?! Wait stop! Who said this!?! DaVonne – I dont feel comfortable saying that. I don't care about that ..do your thing. What I care about is if we are doing our own thing and then you are working together.. Janelle – we're not .. whoever gave you that bit of information .. they're covering their alliance. I promise you I have not talked game with Cody. Or Tyler. I don't want to be the bottom of their alliance. Janelle – what do you think about NicoleF. DaVonne – she is trying to right her wrongs. Janelle – she did the same thing to Rachel Reilly on the Amazing Race. I think its NicoleF / Dani and Cody / Tyler. DaVonne – if we can get things together .. I am down for the cause. I need some security. After this ceremony we should talk. What about Christmas? Janelle – Kaysar said she is down to ride. DaVonne – alright .. I'm in! Janelle leaves. DaVonne looks at the camera and says WHAT THE F**K!?!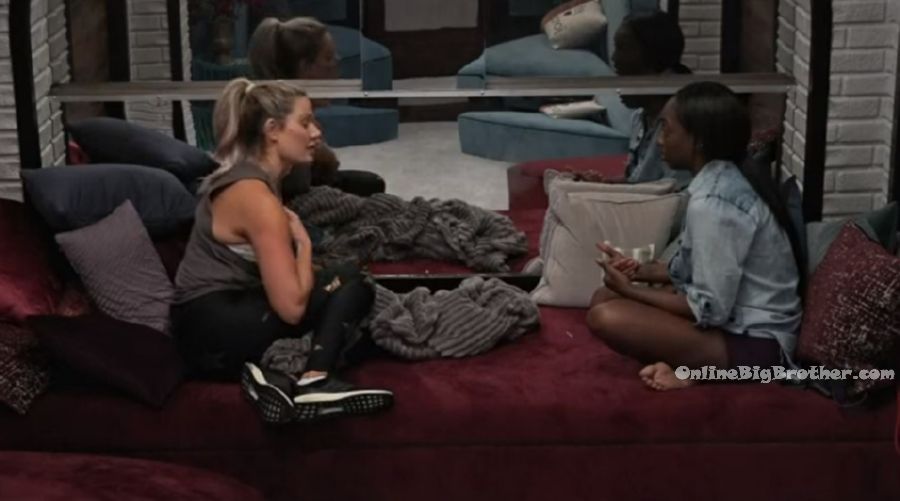 Dani to Cody – DaVonne is lying its not Tyler .. its DaVonne. I am like whoa right now. She came to me and said that she pulled me into the bathroom. The second she did that I knew that Tyler wasn't lying. Nicole – I knew Tyler wasn't lying.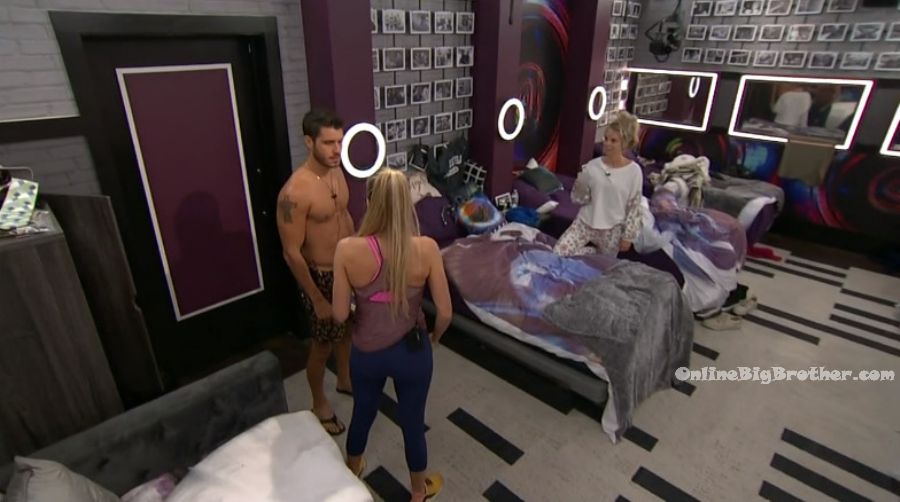 Backyard. Kevin and Dani
Dani to Kevin – are you going to try and get NicoleA to throw Janelle under the bus to save herself? Kevin – no. Dani – I don't think he is going to use it.. Kevin – I don't think he is either. Dani – Yeah, so what is the plan? Kevin – I think she is going to get the votes. Dani – you do? Kevin – she said that they're (Janelle & Kaysar) going to vote for her. Dani – so that's two votes. I think a lot of people are uncertain because she is connected to Janelle and kaysar. Kevin – oh I didn't even think about that.
8:50pm Hammock. Cody and NicoleF.
Nicole – I just really want to win HOH. Cody – same because I have no f**king problem putting them on the block. I have no problem.. being like .. because Bay and Day and I were like super tight when I was HOH. And now that he is HOH .. guess who thinks they're tight with Janelle and Kaysar .. so guess who they're hanging around with Janelle and Kaysar. Nicole – but that was the double deal. Cody – I am cool with the double deal .. he is HOH so what do you think people are going to try and do with him? Nicole – make deals. Cody – Make deals and what is he going to do? Nicole – say yes. Now .. you think about Bay and Day .. we're supposed to be solid. Now when they're going up there trying to strike deals were are you most of the time? Nicole – who me? Cody – No Bay and Day. Nicole – that's what happened last time with Day. Cody – if you want to be a floater.. just float away. Nicole – what do you want me to do about her coming up to me about the alliance? Cody – the thing that I don't like is she went to Dani about the thing with Tyler. That is information to know. She has no f**king loyalty. You can't say no .. so we'll yes it. I don't think Ian will ever f**king cross me. Nicole – no.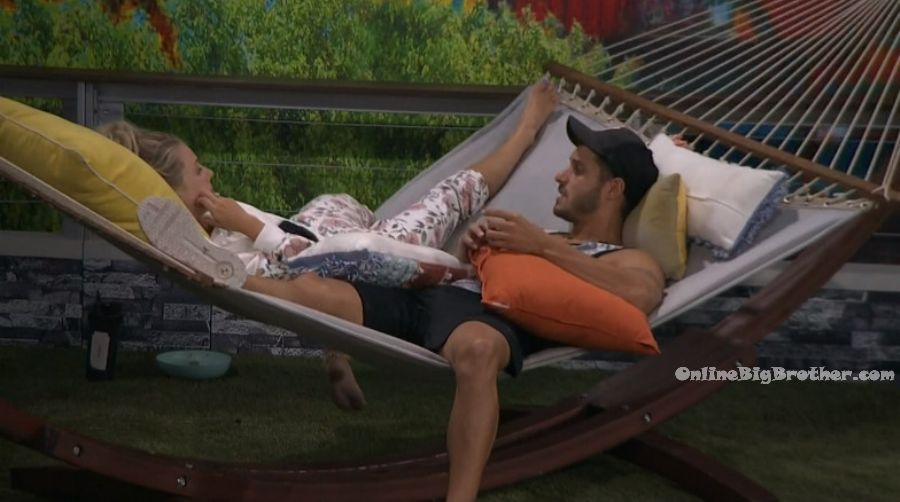 9:36pm Dinner is ready.

9:45pm – 10pm Hammock. Christmas and Tyler.
Christmas – that sh*t is crazy. Tyler – everyone is just trying to do everything. Christmas – well the sources are the top of the list. Tyler – they're just spreading paranoia. Christmas – their girl is getting ready to go home. And Memphis's reign is coming to an end soon.. and then we can actually work as a team. Tyler – we'll show them how its done! Bust out an HOH. Christmas – I am just trying to build relationships and trust with people so that at least if we don't win I can influence for someone else to go up. Everyone in the alliance is trying to work good relationships ..except for those two. They asked me to be in an alliance with them.. Janelle and Kaysar. Tyler – are you going along with it? Christmas – try and do something for me first. Tyler – they're going to want you to vote with them. Christmas – no. Tyler – that's a thin line. Christmas – they didn't even come to be until I started winning sh*t. Tyler – Memphis was pissed when you picked Ian (as her safety suite plus one). Christmas – he didn't tell me that. Tyler – he wasn't happy because he wanted Ian out.
Tyler – I've caught Dani in multiple lies already at this point. Christmas – like what? Tyler – like DaVonne was up here trying to pull some sh*t with Dani and now I've caught them in a couple of lies right now.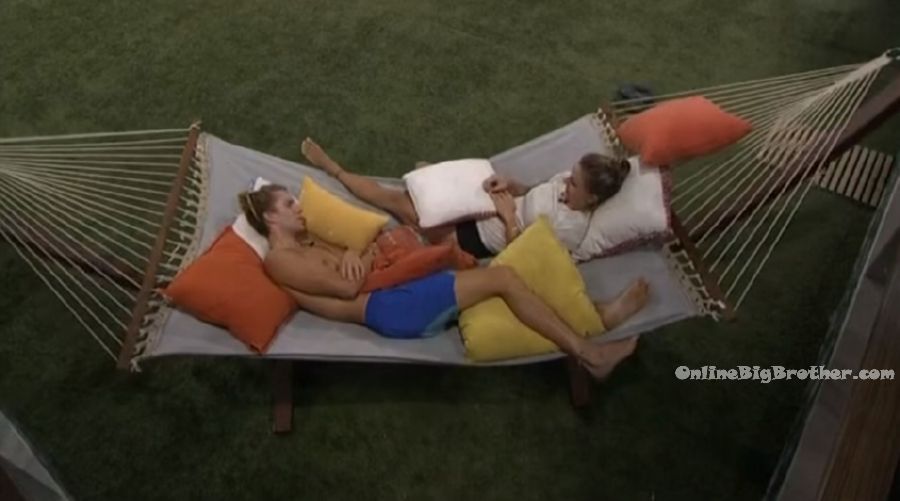 10:07pm Backyard. Enzo, Cody and Dani.
Enzo – this week is going to be fun yo! Cody – no, not this week. Next week. Enzo – whoever wins HOH next week is going to be crazy. Cody – like literally at the end of this week I might just walk up to someone and be like you better win HOH! Dani – I told that to Ian. I was like are you going to win HOH? He said I want to. And I was like you better! He was like .. I better?! I was like I didn't mean it like that! He was really freaked out .. you should have seen his face. Enzo – yo we have to go to Memphis and be like who the f**k is going home!? Cody – I don't know. Enzo – lets wait till he locks it in again tomorrow. Yo I am f**king playing in the safety suite next week man. Cody – if you win you have to pick me because if you don't I am going home.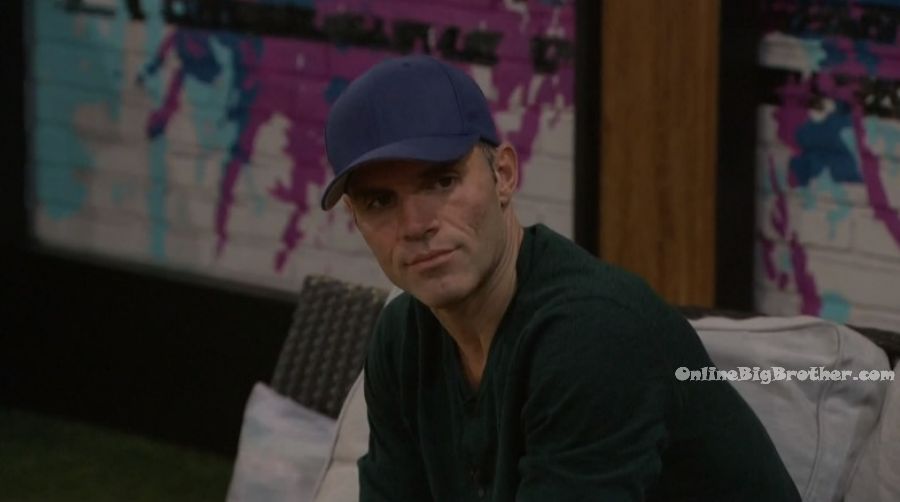 10:16pm Bedroom. NicoleA and DaVonne.
Nicole is crying again. Nicole – I shouldn't have come back. DaVonne – what is bothering you? You have to talk through it. Nicole – if I stay over David .. I don't think I can do it. DaVonne – why!? Nicole – I'm just not strong enough. DaVonne – yes you are! You were the first time! This is a game. It cannot and will not break you. You have to fight through it. Find that strength. Nicole – I just can't handle it. I don't know what it is. Its my anxiety. I just don't have it in me .. I really don't. DaVonne – I just met you this year .. the woman I met wouldn't go down swinging. Nicole – I'm so defeated and David is not so why should I stay over him. DaVonne – what is your WHY!? WHY are you here? WHY did you come back Nicole?! Nicole – I should have just let it end me. DaVonne – but you story wasn't over. Nicole – it should have been. DaVonne – you mental stability comes first and if you're not okay ..then you need to do what you need to do because this isn't worth it. Do you want to stay? Nicole – I don't know. DaVonne – I tell you what its 10pm .. go to sleep and sleep on it. This is not your real life. This is a game.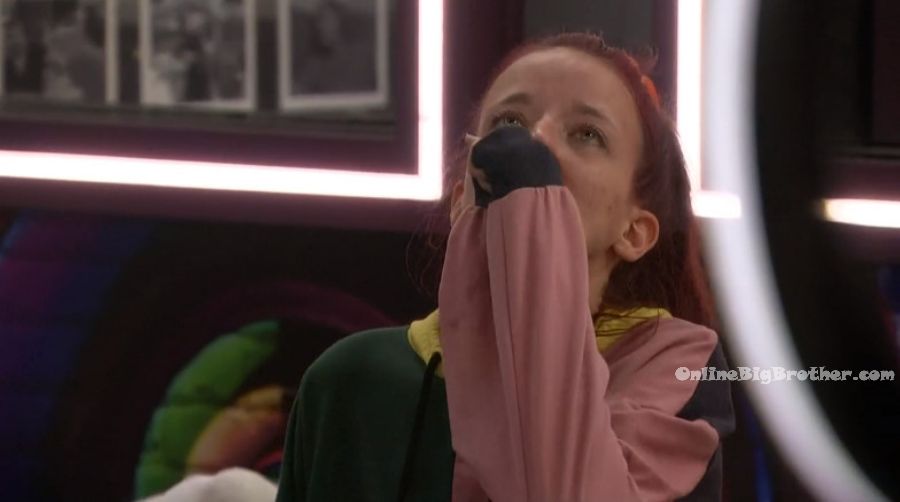 10:30pm Backyard. Enzo and Tyler.
Tyler – I f**king caught Dani and DaVonne in a little scheme. That group they were trying to form. Some people were saying no to Dani and some people weren't. And then trying to pin it on me. Enzo – oh that she had your wrapped around her finger. Tyler – Dani said I heard you're trying to start a group with DaVonne. So I went to DaVonne and said Yo Dani said I am trying to start a group. I am not trying to start anything. Enzo – we need them for the numbers but the girls are going to go after each other. Enzo – I say we just play fake with them. Tyler – I just have one final thing to talk to DaVonne about to smooth it out.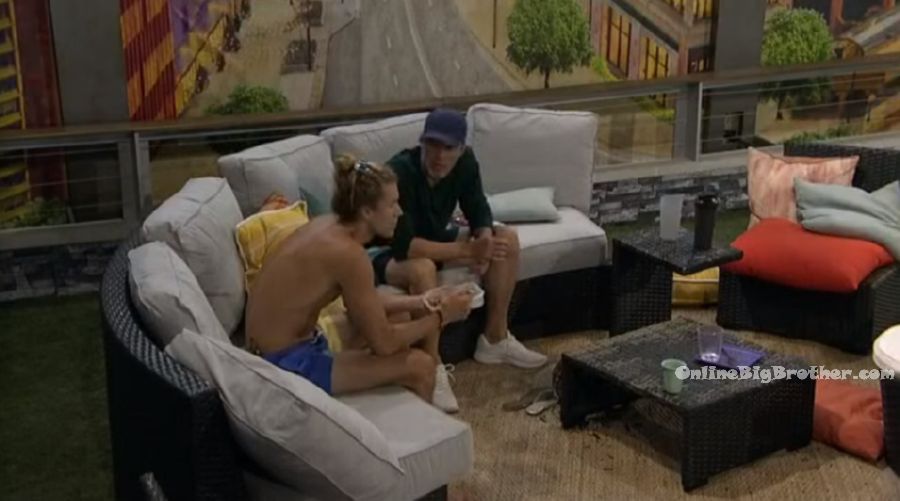 10:50pm Hammock. Christmas and Janelle.
Christmas – what are your thoughts on Dani? Janelle – Ummm.. we're not speaking right now. Like I kind of called her out on it and shes like no I'm not. And I'm like you're with them. And she was like ok. She basically admitted it. Chirstmas – I thought that was a different situation. I thought that she was good with you. Janelle – She is good with me .. like I am not going to go after Dani. Like I don't want to. Christmas – I just thought you guys were talking. Janelle – we were then something happened .. she basically told me who is in the other alliance and offered me something .. I was like I don't trust those people, I am not working with them. Christmas – good for you. Janelle – it was kind of awkward. The next day we talked and said you stay away from me and I'll stay away from you.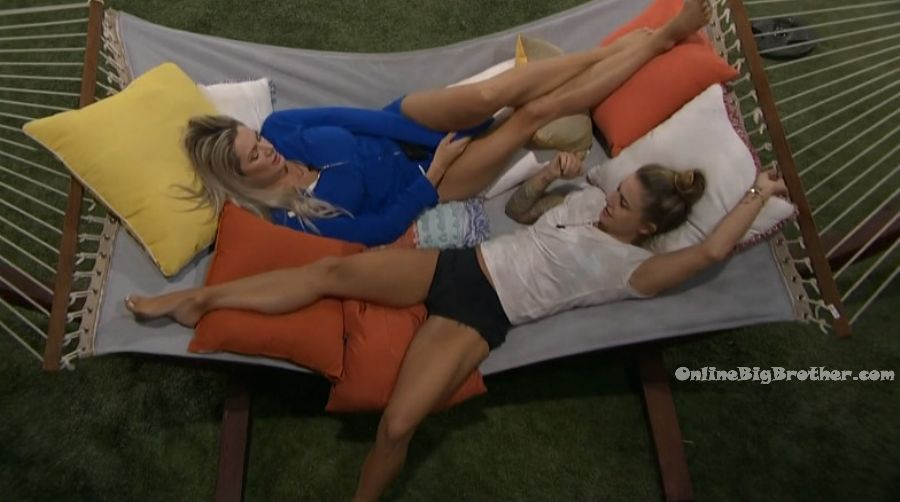 11:27pm Ian acts out another scene with Tyler & David playing two of the other roles.

11:35pm – 12pm Outside HOH room. Kaysar and Janelle.
Janelle – this girl (NicoleA) needs to pull it together .. we're risking our lives for her and she can't even get out of bed. Kaysar – I think she is having a hard time right now but she will get there. Janelle – its so frustrating. Kevin is a f**king floater .. I hate that motherf**Ker! Kaysar – be nice, be nice, be nice. Janelle – what about having .. our alliance is three pairs ..me and you, Day and Bay, Christmas and Ian? Kaysar – what about NicoleA? Janelle – I don't think we even have the votes to save her. We can try! Kaysar – what about Ian, can we trust him. Janelle – I can trust him. Janelle – DaVonne told me that she will not vote David out because of what happened last year. Kaysar – you have to be f**king kidding me. Janelle – I get her cause but its not game related. Kaysar – f**k! This is a disaster. Janelle – I thought she was a smart player. They're so bad at the game. Kaysar – everyone is. Janelle – I think Ian would be a better option to work with than Kevin.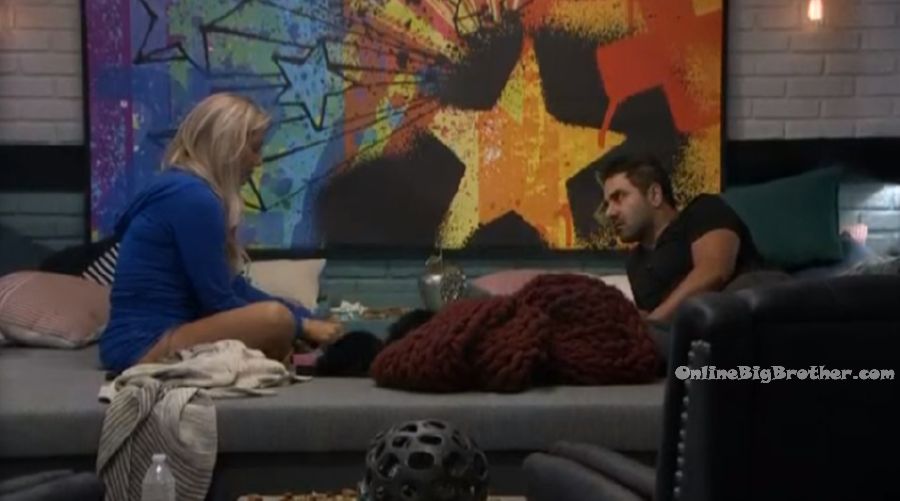 Show your support by making a donation.
If you're enjoying our live feed updates this season, please consider donating.
Any amount is greatly appreciated!
Your donations go directly to paying the fees required to run this site.