POV Holder:
?
Next POV
July 27th
POV Used
?
POV Ceremony
July 29
HOH Winner:
Aaryn
Next HOH:
Aug 1
MVP:
?
Original Nominations:
Current Nominations:
Last Evicted Houseguest
David, Nick, Jeremy, Kaitlin
Have Nots
?
8:54pm Kitchen Lots of random conversations going on.
Aaryn is joking that she wants to wear JUDD's bear shirt during the nomination ceremony.
"JUDD you're a Tennessee bear and I'm sick of you crawling all over my game"
(FYI Apparently the outside will not be open tonight )
9:05pm Amanda, McCrae and Elissa bedroom
Amanda tells Elissa that word out on the street is Elissa tried to flip the house right before the vote today.
Elissa: "I never said that" Elissa says all she heard was that Candice went to Helen about and confronted her about the HOH deal between Helen and Aaryn.
Amanda: "people are saying you tried to flip the house"
Amanda says it must have been Candice, Spencer or Howard.
Elissa: "Helen is the only person I talked to.. unless Helen told Candice that"
Amanda: 'No it's the other way around.. Candice is saying that to Helen"
Elissa is confused she never tried to flip the vote with Spencer, Howard, and candice. Elissa doesn't give it anymore thought and continues to do her yoga.
Amanda goes into overtime telling McCrae why Howard and Spencer need to be put up on the block.
Amanda: "We have to guarantee one of those two go home this week. .. Andy has Candice trust me" McCrae thinks it might be best to put Howard and Candice up and keep Spencer on their side. Amanda says no way, she can think of a million reasons to put Howard and Spencer up.
JUDD and Andy join them. Amanda is smiling she says "Aaryn is going to put Spencer and Howard up"
Amanda tells them all that Candice is going around the house saying Elissa tried to flip the house right before the vote. Elissa: 'Who heard that" Amanda: "Helen"
9:20pm Cockpit S/H/C and Jessie
Jessie is saying she would model for maxim over playboy
Candice says she would need to get 'B**b implants" to model in playboy. Jessie: "I would never get implants.. I have good sizes b**bs butr IN understand how some girls would get them"
Spencer: 'I don't give a sh!t about big T!tt!es.. I like B**bs and Butt"
Spencer: "Honestly what a guy wants is a girl that loves her body.. takes care of it"
9:40pm JUDD and GM join them in the cockpit. He says he's happy with his body shows them his 6 pack
9:55pm Spencer, Jessie, Candice, Andy and HelenThey are wanting Andy to lure people into the cockpit to play would you rather. Jessie is hidden under the pillows to scare them after they answer.
Spencer makes up the question "Would you rather give a homeless person a tongue bath or let them poop in your mouth"
Andy is the first victim so they use him as bait. Helen is the second victim.
9:55pm McCrae and Amanda
Talking about they are in the strongest position in the house. Amanda: "we are going to get Helen or Spencer out" She says when everyone turned their backs on Aaryn she got close to her and now it's paying off.
S: "This feels better then when JUDD got HOH"
Amanda says next week they'll put up Spencer and Candice and if POV is played Aaryn can go. Amanda adds that next week there is only "2 of them" against the entire house. Andy joins them. Amanda: "This is the best thing ever for all of us" McCrae says even if Howard has the Coup D'etat and puts McCrae and Amanda up they have four votes which make it a tie breaker. McCrae says Aaryn will have to take out the MVP so him and Amanda are safe. Andy: 'Oh my god ha"
McCrae: 'no matter what"
Elissa joins them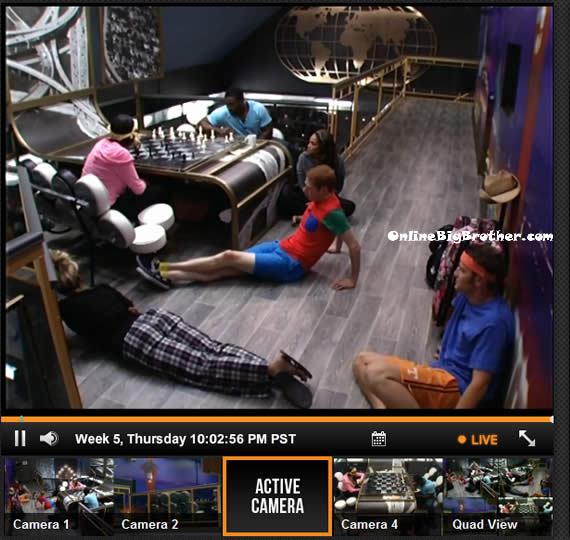 10:25pm waiting around the HOH door to scare Aaryn when she comes up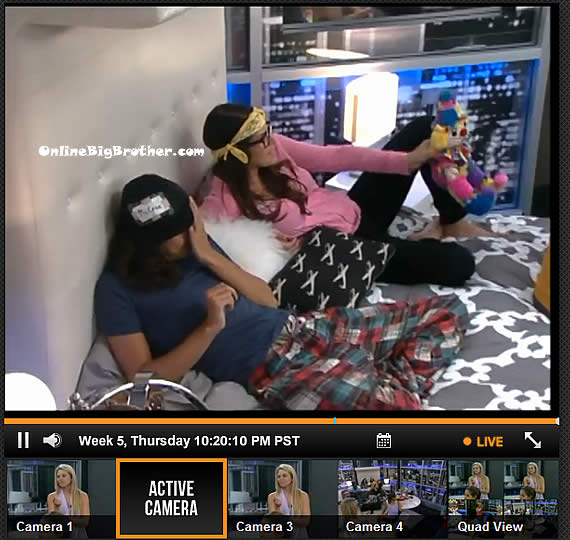 10:40pm Aaryn gets her HOH room
It goes without saying Amanda and McCrae move right in taking over the HOH bed.
Hey baby girl (Aaryn's letter Thanks DAWG)
This is something else! Wow, everyone at home misses you. We all love you so much. I know that things can get crazy, but I have full faith in you. Even when "stuff" hits the fan. I KNOW YOU CAN DO THIS!! Hold onto your values. Stay true to the morals you were raised with. Stay strong, face your challenges, and keep trucking along. Don't forget who you are!
I love you and I'll be seeing you when you come home!
Xoxo
Tanya
10:49pm Elissa and McCrae Bedroom
Elissa says Aaryn's first instinct was to be nasty to her she gave her a dirty look and walked by.
McCrae tells her not to worry she's safe this week. Elissa is amazed at how people's attitudes have changed.
10:50pm Chessboard Howard and Candice
He's telling her the "powers to be" are going to want one of them put up.
Howard: "I got a feeling Aaryn's not going to be told what to do"
10:52pm Elissa and Helen Bedroom
Elissa telling her about Aaryn rolling her eyes and giving her dirty looks. Helen: "howard is the target"
Elissa: 'I'm so glad she won it over Spencer.. "
Helen: "He was going to put us up.. "
Helen thinks Howard is MVP and he'll put either her, Elissa or Ginamarie up.
Elissa: "I doubt he'll get it again.. he put me and Ginamarie up.. don't you think they will give it to someone to make a bold move"
11:01pm HOH Amanda, McCrae, JUDD, Jessie and Aaryn
Random chit chat. Aaryn says there are less fish in the tank. A: "They took out all the black ones because i'm racist" Amanda howls laughing..
11:11pm HOH Amanda, Aaryn, Ginamarie, and Jessie
Amanda says that Helen has turned on Elissa 100%. Aaryn mentions she asked Helen she could put up Elissa and they would have the votes and from the sounds of it Helen was OK with it.
Aaryn: "But I'm not going to do that"
Jessie: "what are you doing"
Aaryn: "Spencer and Howard,., is that what you would do Jess"
Jessie: "Yup"
Amanda says H/S are so manipulative they are coming after them and they lie.
Amanda: "McCrae is so happy.. I am going to get some tonight"
Andy and McCrae join them..
10:51pm Storage room McCrae and JUDD
MC is saying he's safe even if Howard has the Coup d'etat it's going to a tiebreaker. MC: "Aaryn is going to choose that third person.. No matter what" JUDD: "I guarantee that Howard has the Coup d'etat" MC says even if Howard can put up three people him and Amanda are still safe because the third person will be Elssa.
JUDD: "Why are they giving him the Coup d'etat.. have you seen him he sucks"
MC goes over the number sagain.. (He's really dwelling on this)
JUDD is confident he can get GM's vote this week. They think it might be best to get GM into a fake 4 person alliance. JUDD: "She's so loyally she'll never blow our cover"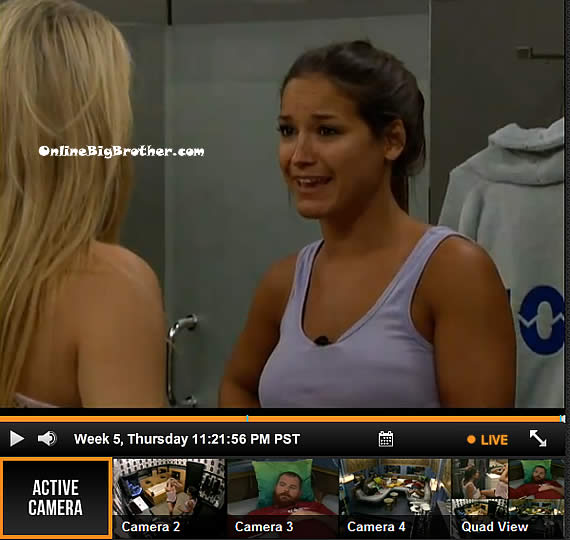 11:35pm HOH Bathroom Jessie and Aaryn
Jessie is saying that Ginamarie is annoying as f*** . Aaryn points out that all week GM thought she was going home and was "Shitting on me". Aaryn mentions how GM stuck up for Elissa during the town hall meeting .
Aaryn tells her they have to be nice to GM just incase she wins the HOH next week.
Jessie: "She is the hardest one to bite my tongue out"
Aaryn: "I feel like you are my best friends in the house now.. I'm so glad we are friends again"
Jessie: 'And I feel like Amanda has our both of our backs"
Aaryn: "I do to.. as long as we keep doing what she wants"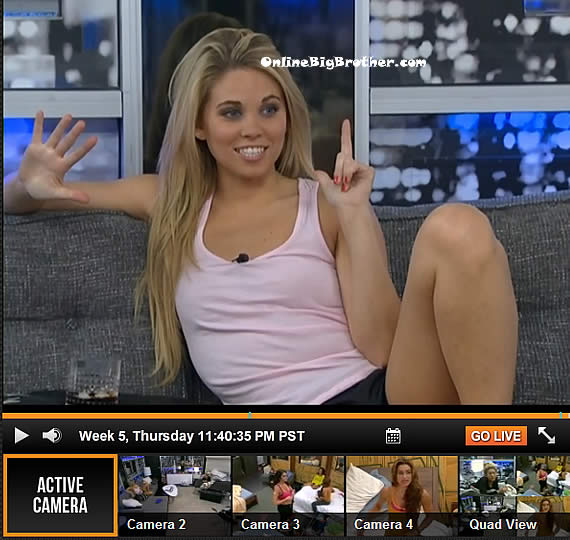 11:46pm HOH Aaryn and GM
GM: 'are you putting up candice"
Aaryn: 'No Spencer and Howard"
Aaryn apologizes for not telling her about Kaitlin going home says she couldn't.
Gm says she didn't take side and couldn't.
Aaryn understands says its probably best
Aaryn explains the deal she made to stay in the house. "I would either throw HOH or let them pick my noms"
Aaryn says GM will sh!t once she finds out about their numbers.
Aaryn: 'Guess what we're in the numbers now because of the deal I made.."
GM: 'you know I like Helen a lot.. I can work with Helen not Elissa"
Aaryn: 'These are solid people Amanda, McCrea, Andy, Judd and Jessie
GM: "Just be careful because Helen told Kaitlin she was going to keep her safe last week"
Aaryn: "the real reason they turned against Kaitlin was someone started a rumor that Kaitlin was after Helen"
Aaryn says that Helen came up to her in the storage room and was pissed at Elissa.
Aaryn: "Do you understands we went from the lowest on the totem pole to the HOH room"
GM: 'Ths boys would be proud of us"
Aaryn: "I think we're going to make it to Jury.. that's 13 thousand dollars..
Howard, Candice and Spencer we have the numbers all we need to do is all we need is to win the HOH's "
Aaryn: "We made a deal with the devil" Aaryn says they are good McCrae now trusts her.
GM: "We're the last two left"
12:09AM McCrae and Amanda
McCrae says they may need to stage their divorce. He explains how Dan did a funeral and break up with Danielle They are worried JUDD and Andy won't take them to final 4 because they're so close.
| | |
| --- | --- |
| [polldaddy poll=7277508] | [polldaddy poll=7277150] |