POV Holder:
?
Next POV
July 27th
POV Used
?
POV Ceremony
July 29
HOH Winner:
Aaryn
Next HOH:
Aug 1
MVP:
AMERICA
Original Nominations:
Spencer, Howard, AMANDA (MVP = America)
Current Nominations:
Last Evicted Houseguest
David, Nick, Jeremy, Kaitlin
Have Nots
Judd, Amanda, Candice, GinaMarie
3:00pm Have nots Spencer and Amanda
Amanda says that Candice is spreading her name around as a target and making her look bad by making things up. When she hears about this the red flags go up and she has to defend herself. Candice is close to Howard so it's natural for her to be worried about him.
Howard tells her whoever the major players are they don't talk to him So he's had to play the game on the outside. He is not the MVP otherwise he would have used it to his advantage right now it's to his disadvantage because everyone thinks he has it and he doesn't.
Amanda: "Who the f*** is MVP then.. Do you have anything to say"
Howard: "Good luck"
They hug and Amanda starts to cry.
Big Brother 15 Nip Slip Flash back time stamps HERE
3:03pm HOH McCrae, Amanda, GM
Amanda going over her talk with Howard. She told him he talks in circles and in metaphors it makes people think he's not a straight shooter. Amanda told Howard it looks like he's the MVP blames it on Candice says she's making him look like a target by going around spreading her name. Amanda said that Candice needs to leave her name out of her mouth it's wrecking Howard's game.
Amanda also brought up with him that he always said he had two girls at home then he gets close to Candice and Candice starts spreading out her name, it looked fishy to the house.
She confronted Howard about the "Bigger Fish to Fry" Comment. he told her he has no power so it doesn't matter what fish he wants to fry. McCrea asked about the tone of the conversation Amanda Says it was very civil but he dodged the fish question.
GM: "He don't never say names.. he just speaks metaphorically do I need a book to hear what you are f**** saying"
Amanda says there is no way that Howard got the MVP and a special power. GM doesn't think it's fair someone just gets a power. McCrae doubts he has a power if the fans voted it would go to Elissa.
Amanda says she thinks they're over thinking it. McCrea: "Don't worry I already planned it out"
Aaryn joins them says Spencer's been in the DR for the last 30 minutes.
Amanda: "REALLY"
You can re-watch ever second on the feeds using their flashback feature.. It's just like a DVR and is super easy to use. click this link for a Free Trial —> Subscribe to the Big Brother Live Feeds
3:14pm McCrae and Andy Storage room
MC saying this is Howard last chance to stay by putting up a bigger target than he is. "But she's not.. they are all freaking out about Coup d'etat"
Andy says that Amanda is threatening Jessie to use the veto Jessie is good with everyone on and off the block so it's tough for her. Andy thinks this approach is not good for Amanda McCrea needs to tell her to dial it back.
MC: 'Ya ya of course of course"
Andy: "Amanda was like if you don't use it you'll have a lot of people coming after you"
MC: "Just win it.. all we need is for her to win it"
MC: "i know JUDD is like.. throw it just throw the competition"
A: "To Jessie"
MC: "Of course he's such a pu$$bag to.. all they have to do is win it they don't have to use it just win it"
Andy mentions how wild it would be if it wasn't Howard with the MVP. MC says the only other person that would put Amanda up is Spencer. Andy: "I don't know JUDD weirded me out this morning"
MC: "He's a f***** .. He's so worried about having someone even close to after him"
Andy brings up how JUDD was so mad at Helen he couldn't be in the same room as her. The reason was Helen said she felt bad for Howard.
Andy: "He was saying I Hate that b!tch"
MC: "Dude what the f*** is wrong with you chill the f*** out"
Andy brings up how JUDD was ranting about Helen being good on both side. MC mentions how Jessie is good with both sides why doesn't he get mad at her.
Andy: "If only seen this JUDD a couple times.. but when he loses his cool it's so weird.. saya a lot of hateful sh!t"
MC: "He forgets he's even in here"
MC plans on going to Jessie and talking to her about the Power of Veto competition. He wants her to try her best to win it. Doesn't mean she has to use it.
Andy: 'I want Amanda to stay over all of them.. but a part of me doesn't want Aaryn or Jessie to use it" His reason is they are working with people that might get pissed if the POV is played and they go up as a pawn, he mentions ELissa. Andy points out a couple times how Amanda needs to stop threatening Aaryn and Jessie to use it. Andy: "Amanda just needs to win it"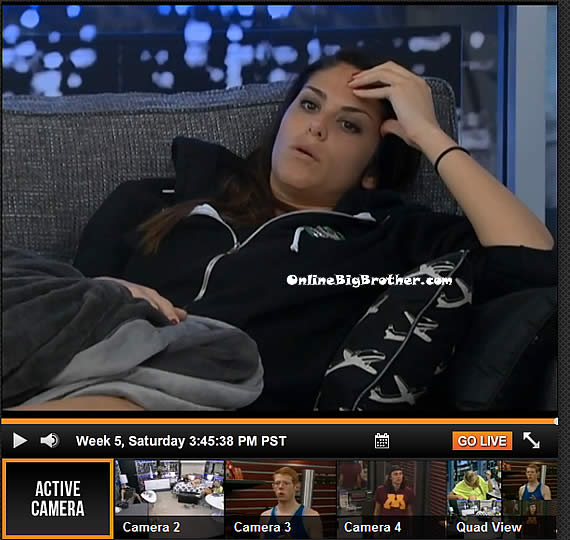 3:20pm HOH GM JUDD, Aaryn, Amanda
Amanda saying she knew something was up with Howard that is why she's wanted him out for so long. "I can't f*** eat until after this competition" Aaryn: "I get really nauseous before"
Aaryn says it so funny how Spencer treats you like a douche bag one day then the next day he's your boy.
Amanda: "Look I set this Up… We set this up so that one of them will go home.. unless there's powers beyond fairness then one of them are going home"
Aaryn: "The fact that Helen and Elissa are making it seem like they don't want Howard to go home.. "
Amanda: 'they would both have me over them"
Aaryn: 'no they might push for Spencer "
Amanda: 'Doesn't matter we have the votes"
Aaryn wants Howard to go home. Amanda mentions once Howard goes home MVP will go to someone else.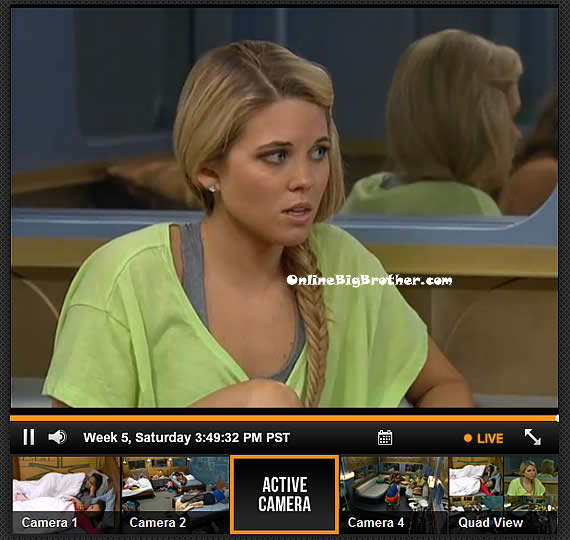 3:50pm Cockpit Andy, Elissa and Aaryn
Aaryn saying if Candice wins POV and saves Howard then She'll put up Ginamarie. If Hwoard or Spencer are taken off Ginamarie goes up.
Elissa: "You can tell her she can give Nick a shoutout.. maybe she'll be excited"
Aaryn says everyone thinks she's going to put up Elissa but she doesn't want to. She tells Elissa, "If I keep you safe can you at least keep be safe a little bit"
Elissa: "Next week I definitely will not put you up and if I have to renominated I wouldn't either"
Elissa leaves
Aaryn tells him that Helen is trying to keep Howard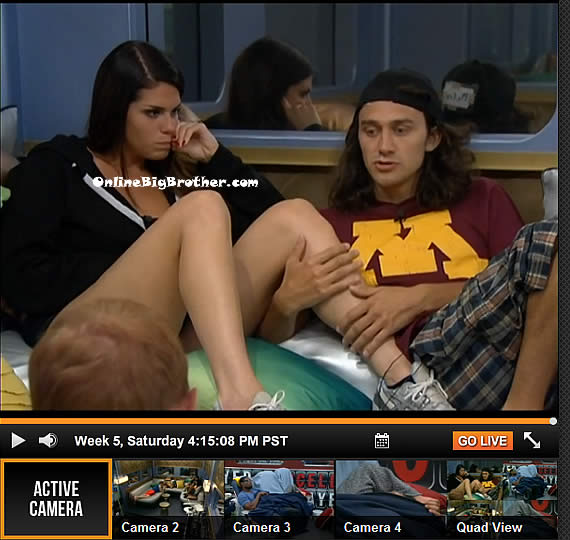 4:05pm Cockpit Amanda and Andy Amanda says she's not trusting JUDD or Jessie as much anymore. Amanda says that Helen has precedence over Jessie because Jessie was suggesting if the POV was luxury she would go for the prizes. Amanda says she knew this was going to happen she put her neck out on the line for Elissa and Aaryn and was very vocal about it.
McCrae joins them.
AManda: 'What teh f*** is taking so long this is insane"
MC brings up his conversation with Jessie and was telling her to not take luxuries but she pointed out that McCrae took the money last week. He told Jessie that she has a place with them now and if she wins the veto she'll be even more important to them.
Amanda: "If she takes the luxury she'll be low man on the totem pole"
Amanda: "I have control of Aaryn and if She(Jessie) takes the luxury and someone comes off the block then she's f**** goes up"
MC adds that he told Jessie if she throws the comp it gives Howard a better opportunity to win it. MC: 'If you win it and don't use it you'll have no blood on his hands all that matter his Howard stays on the block"
MC also told her if she doesn't use it Amanda and McCrae will not be mad at her. McCrae adds that "Once she(Jessie) gets it we can work her"
Amanda pissed at JUDD and Jessie, "One person is a pu$$y and the other is playing for Howard.. Really "
Andy jokes they should be mad at Aryan because she pulled the chips, "Maybe she's working with Howard"
Andy: "I think you are freaking out about nothing come Thursday Howard or Spencer will be gone"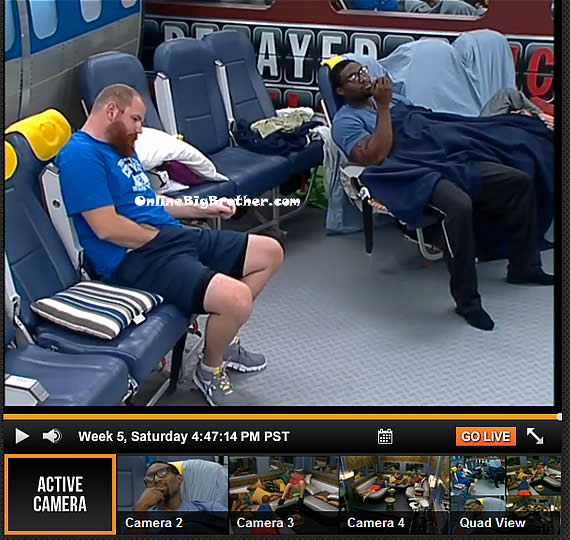 4:25pm Havenots Howard and Spencer
Spencer: 'McCrae pissed me off.. He's worried "
Howard doesn't believe anybody until after the fact.
Random chit chat about what the competition will be, Spencer says he would eat "bug and some Sh!t" howard: 'You know me I would eat anything"
Howard brings up Amanda asking him if he's MVP and if he had a relative that played in Big Brother before. Howard smirks thinks it's funny that people use these gimmicks.
Spencer mentions how Andy hasn't talked to him once since he's been on the block.
Spencer says he's tired with everyone voting with the house they need to shake things up and this is the week to do it.
Howard: "That's all I got brother thats all I got.. thats all I need"
Spencer: 'I don't think Aaryn will use the veto"
Howard thinks now that they have Amanda on the block even if Veto isn't used not all is lost.
Spencer agrees says even if the nominees stay the same there is a glimmer of hope.
Spencer says because of the noms there is a great opportunity for someone to gain 2 allies and lose 1 HUGE enemy.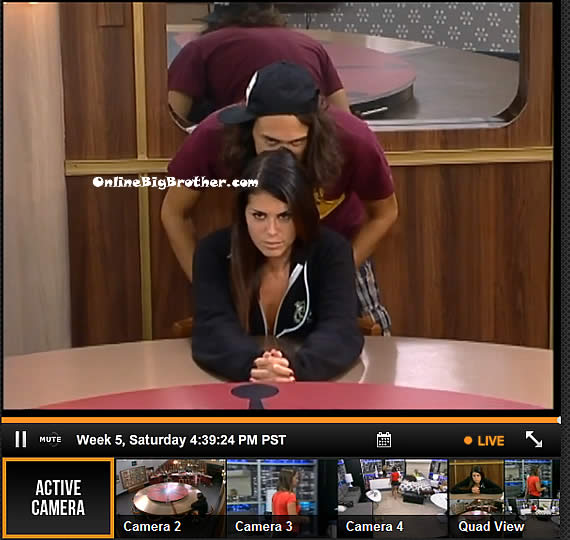 4:40pm Studying the memory wall
5:12pm Milling around waiting for the Power of Veto Competition
5:23pm Helen is in the DR POV should be starting soon
5:38pm Trivia on the feeds POV Starting. Next post will have the POV winner