POV Holder:
?
Next POV
July 27th
POV Used
?
POV Ceremony
July 29
HOH Winner:
Aaryn
Next HOH:
Aug 1
MVP:
AMERICA
Original Nominations:
Spencer, Howard, AMANDA (MVP = America)
Current Nominations:
Last Evicted Houseguest
David, Nick, Jeremy, Kaitlin
Have Nots
Judd, Amanda, Candice, GinaMarie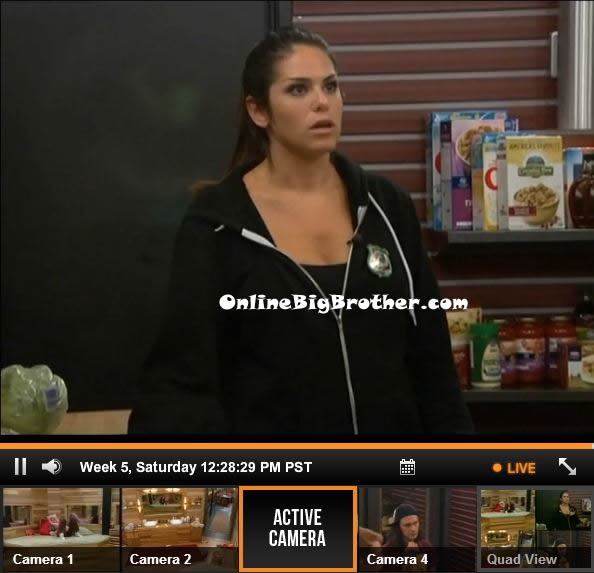 11:55am – 12:35pm The Big Brother 15 live feeds switch to TRIVIA for Big Brother to reveal who America chose as the 3rd NOMINEE and for the house guests to pick VETO PLAYERS! When the live feeds return, we learn that America chose AMANDA as the 3rd MVP Nomination.
THE POWER OF VETO PLAYERS ARE: Candice, Spencer, Howard, Aaryn, Amanda, Jessie!
HOST of the POV: HELEN
FASTEN your seatbelts BB FANS this week is going to be a bumpy ride!
SUBSCRIBE to the Big Brother 15 Live Feeds for your: FREE 2 DAY TRIAL!
In the storage room – Andy and McCrae are talking about how they don't understand how Amanda was chosen. McCrae tells her that she needs to win this. They discuss how Candice being chosen was the worst possible pick but that she won't win anything any ways. McCrae says it doesn't really matter we have the numbers. Judd comes in and says that he is so pissed off at Helen right now. Helen comes in right after and asks if Judd is mad at her. He says no I just have to go to the bathroom. Helen, Andy and McCrae are pumping Amanda up to win the veto. Amanda is worried about if Howard has the Coup d'etat. McCrae says that doesn't matter just worry about winning this. Helen tells Amanda that in any situation, she's going to stay.
McCrae and Helen are coaching Amanda on different strategies to win different competitions. Helen says you're okay, the person that should be worried is Howard. Amanda says of course I would go up, I have been gunning for them for weeks! Helen says just don't over think it! McCrae says just be calm. McCrae says that he knew it this morning from the line of questioning. Spencer joins them. McCrae tells him that he needs to win it. Spencer ask why would I need to win it or go home. McCrae says because if Candice wins it Howard and her are safe.
While we wait for the Veto Competition results today. Fire up your Big Brother live feeds and use the FLASHBACK feature to check out the BB15 N!p Sl!ps / N*des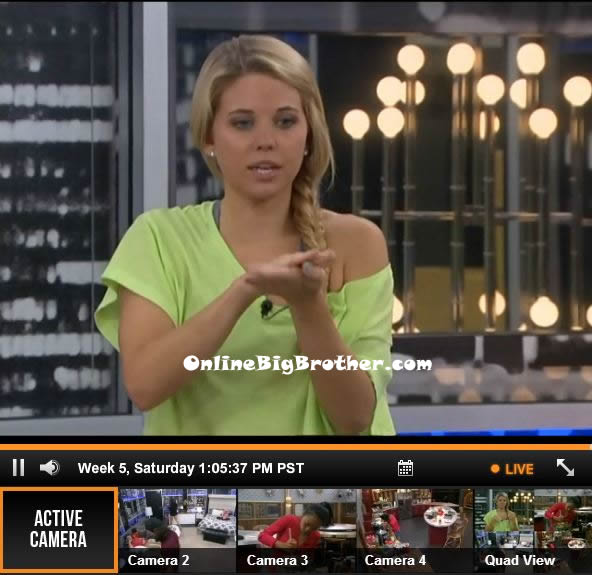 12:50pm – 12:55pm Up in the HOH room – Judd is pissed at Helen because he thinks she wants to flip and keep Howard. Andy tells him that there is no way Helen is flipping. Andy tells Judd to cool it. Jessie and Andy ask why Judd got all mad in the veto ceremony. Judd says Howard is creeping up on me trying to listen to conversations. Judd says I am not a pu$$y like him. I will confront him. Amanda comes up to join them. They ask Judd why he was in such a bad mood in the meeting. Judd says that he is just tired of Helen's cheery a$$ comments like "Let's go guys!" Shut the F*CK UP! Amanda asks Jessie if she wins the veto will you use it on me. Jessie says yeah. Amanda asks what if its a reward competition like how bad do you want it will you take any prizes? Jessie says well I don't know maybe. Amanda says well that's not a good answer! Jessie asks how much do you think the veto is worth? $10,000? She says if there was $10,000 I would take it because even if you make it to jury you only make $13,000. Aaryn tells Amanda that if she comes off McCrae might go up. Judd keeps going off about wanting to confront Howard. Andy and Gina both tell Judd to cool it! Aaryn comments that Helen said she was feeling bad for Howard. Amanda says Helen would vote to keep me for sure. Amanda counts out the votes and says I have 7 votes for sure I only need 5. She says unless Howard has the Coup d'etat! Judd starts impersonating Howard how he never looks anyone in the eyes and just listens. Fu*k you, you little b*tch!
1pm In the havenot room – Howard and Candice patiently wait for the veto competition to start! Meanwhile up in the HOH room – Aayrn, Amanda, Judd, Jessie, Andy and McCrae are talking. They speculate on who will go up if the worst case of Candice winning the veto. They wonder if it might be Elissa. Aaryn says she agrees. McCrae says that he will go up I don't fu*king care! Judd thinks Helen should go up as a pawn if Candice saves Howard. Andy tells Judd that he needs to stop it with Helen! She is on our side!! Candice coms up to join them. Amanda asks to talk to Aaryn and Jessie outside the HOH room. Amanda thinks it will be a drop out competition where the person closest to a time wins. Amanda says that Aaryn is going to drop out first after 25 – 30 minutes and as soon as one of them (Howard, Candice) drop out I will drop out right after and then you drop our right after that. Jessie asks what about Spencer. Amanda says don't worry about him just leave him in the mix. They agree. Amanda then pulls McCrae out and tells him the plan. Amanda says that she doesn't care if Spencer wins it. Andy comes out and tells them to talk to Judd he needs to stop freaking out about Helen. Judd comes out and McCrae tells him to cool it and calm down about Helen. Judd says she isn't on our side!! McCrae says yes she is.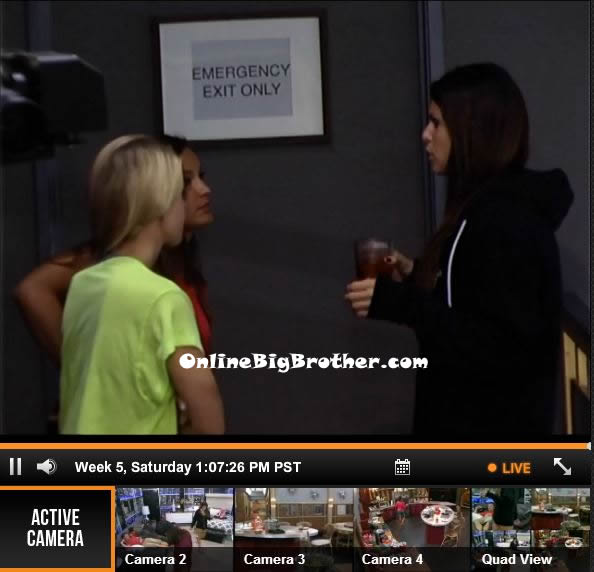 1:15pm In the storage room – Andy, Jessie, McCare talk to Helen about keeping her distance from Judd. He is on slop and in a bad mood. We are all still together just give him a couple days. Helen says okay. Amanda joins them. Helen tells her that it doesn't matter you are staying no matter what. We are going to be repaying you for keeping us all safe. Judd leaves. Andy jokes watch we get out there and its a weight lifting competition. Helen brings up the theory of Howard being the brother of Danielle from bb3 & bb7. She says they have the exact same face. Helen says that would explain why he got MVP because she has a huge fan base next to Elissa. Meanwhile in the bathroom – McCrae tells Judd that he told Helen to stay away from him to let him cool down. McCrae reassures Judd that Helen is with us. Elissa joins them and asks if Howard is really related to Danielle? Elissa says that Howard has told her 3 different names for his sisters and he said he has 2 sisters. She thinks he is related to her. McCrae says he wants to wait until after the veto and them bring up how Danielle is the worst Big Brother player ever just to see how he reacts.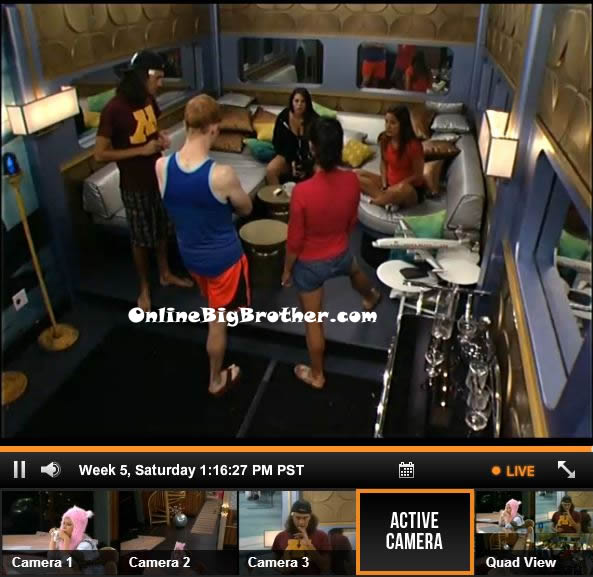 1:25pm In the storage room – Jessie has a talk with Judd to try and get him to relax! She tells him he needs to stop being aggressive with Helen. Judd asks who says I am being aggressive! I AM NOT BEING AGGRESSIVE WITH HER! Jessie tells him to calm down this isn't like him.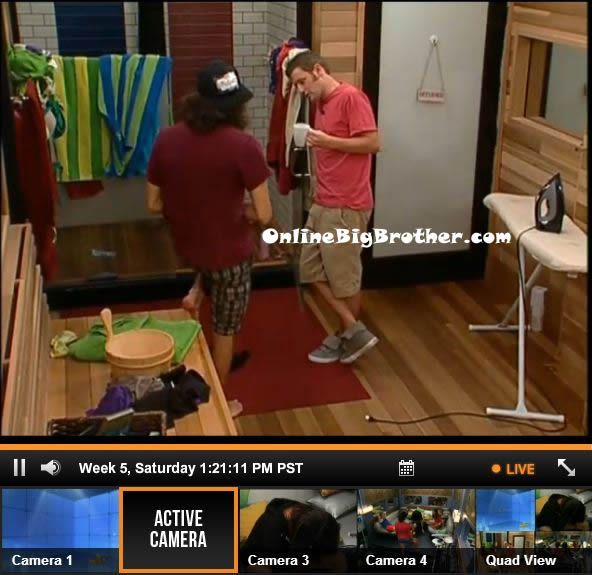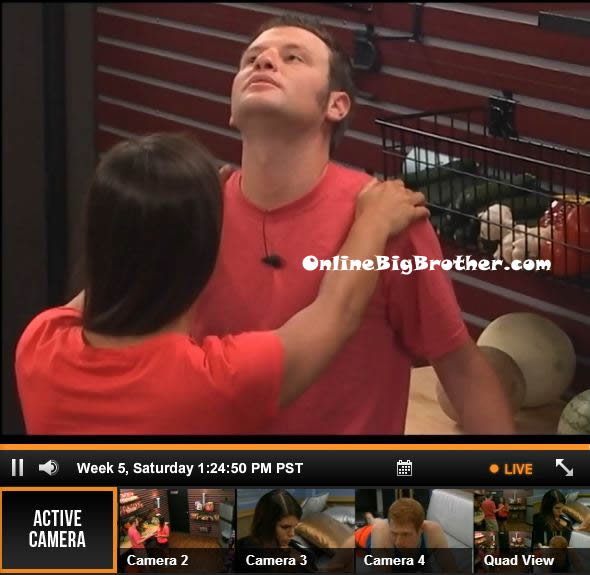 1:30pm Judd and Jessie head into the lounge where Andy and Amanda are talking. The continue to talk about if Howard has the Coup d'etat or not. Amanda says that she is going to act super close with Elissa in the hopes the if Howard does have the Coup d'etat he will put her up. Judd says that he doesn't think Howard has it, I looked under his mattress. Judd thinks its obvious Howard has the MVP. Andy suggest that Judd go ask Howard if he has it.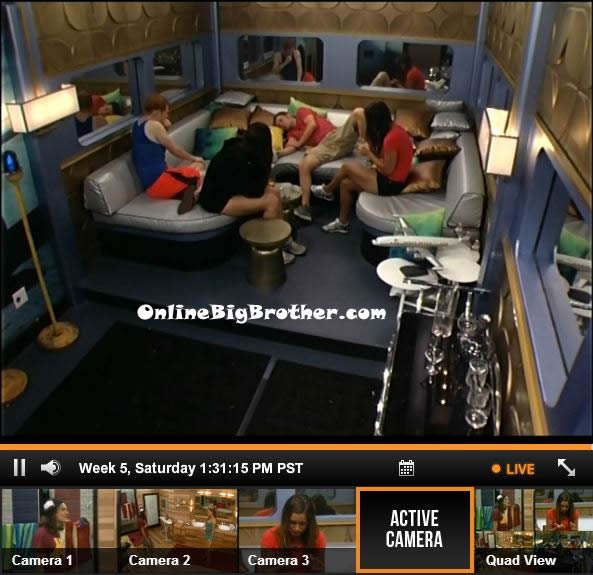 1:35pm – 1:45pm In the back bedroom. Judd tells Howard I am pissed at you, you didn't tell me you were the MVP. Howard says I am not the MVP. If it was America they don't understand why Amanda would be nominated. Judd says I don't think its a bad thing if you got it. Judd says I wouldn't tell anyone, just 2 or 3 people if you did have it. Judd says maybe America did get it. Candice joins them. Judd comments that he felt out of the loop because he though Howard got it but didn't tell him. Candice says she doesn't understand why everyone thinks it just has to be the arch enemy that has to get it. Judd says that he is ready to knock people out of the bus and shred them. If I get HOH I am going to have to rethink who I put up.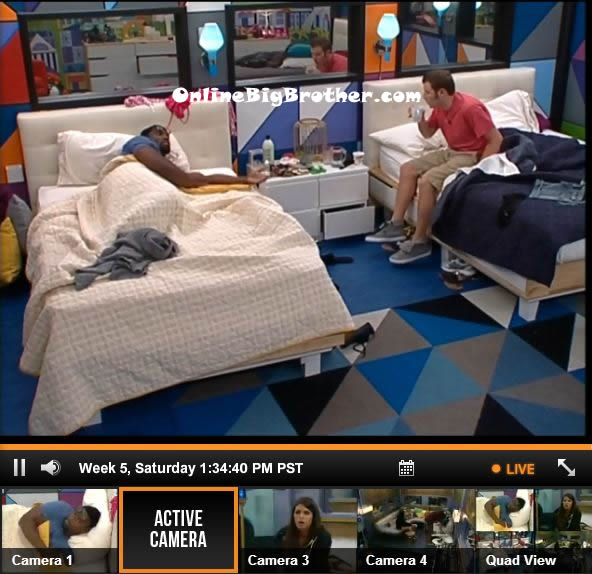 1:45pm – 1:55pm Judd talks to Spencer about how he talked to Howard trying to see if he got the MVP. Judd tells Spencer that he wished he had gotten drawn to play. I wanted to play so bad. Judd tells Spencer that if he did get to play and he won it he would have used it on Spencer. Judd tells Spencer that he would want Candice to go up in Spencer's place and for Candice to go home over either of them. Spencer says ya dude. Judd says that he fears Candice is getting in the way of Howards game. Spencer agrees. Judd heads to the kitchen where Aaryn asks Helen if she is excited to host the veto comp. Helen says she is so excited.
2pm In the back bedroom – Candice tells Howard we have to win this. Candice mentions that Amanda cornered Jessie and pressured her to use the veto on her if she won it. Spencer joins them. Spencer thinks they are pressuring Jessie not use it because they think Judd could go up in Amanda's place. Spencer says Amanda doubled up on her Adderall medication so that her brain will be.. Candice asks really?! Andy joins them and tries on Candice's jean vest. Candice says that she is kind of mad that it fits him. Candice says that she would do anything to win except shave her head. Spencer is stretching and trying to limber up. Spencer tells Howard that McCrae told him that if Howard wins the veto he (Spencer) is going home. Howard is shocked and says wow!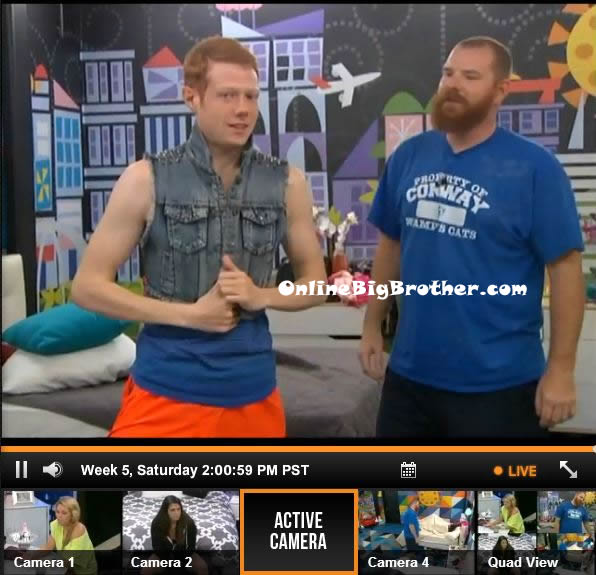 2:10pm – 2:35pm UP in the HOH room – Aaryn and Amanda are talking. Amanda tells Aaryn that Jessie is an idiot because she might choose luxuries if it's that type of competition. Aaryn talks to Amanda about why Judd was mad at Helen. Aaryn says that Helen told me I needed to win it to take you off though. Jessie joins them. Jessie says what if I use the veto and Judd goes up in your place. Amanda says Judd isn't a target. Jessie says but won't I have bigger targets on me if I use it because someone else has to go up. Amanda says if you don't use it than people will think you are aligned with Judd and come after you for it later. Amanda says no matter what I am a bigger target. I would hope that your loyalty is to me. Aaryn thinks if Amanda comes down she doesn't know who would go up because Gina went up last time. McCrae joins them and says I would put $5000 down on Howard being the MVP. Judd joins them. Aaryn brings up how Candice has been making comments about me being racist that could ruin my career when its not true. I have never called her fat or said anything mean about her. Amanda gets called to the diary room. The conversation turns to talking about the MVP / Coup d'etat. Elissa yells Brenchel Army get it together! They hate me! Elissa says I think America love you too Gina. Gina says Awe thank you.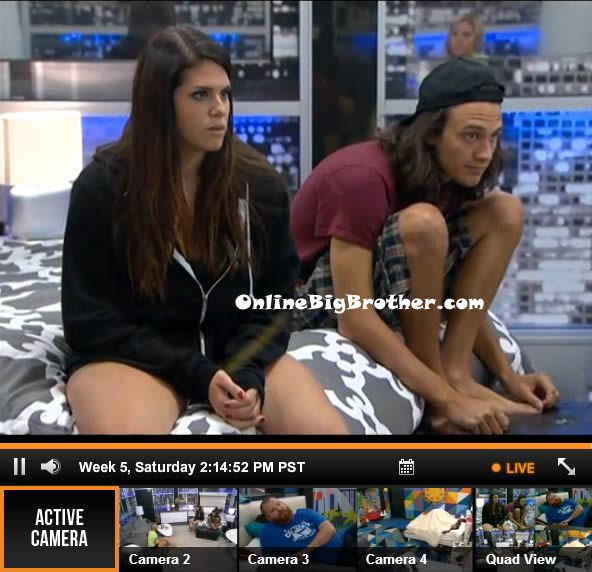 2:35pm – 2:50pm McCrae tells them that he told Spencer that if Howard wins the veto he will be going home. I hope he goes and tells Howard that too. Judd brings up how Spencer is using religion. Elissa says that Spencer asked if she would pray with him. She thought EWW no you're gross!!! Elissa says that she made up stuff about the bible and asked Spencer about it and he said oh yeah I love that part. Aaryn brings up how Spencer said he likes watching Jessie bounce around that how and how he said he thinks Jessie's pu$$y smells like butterscotch.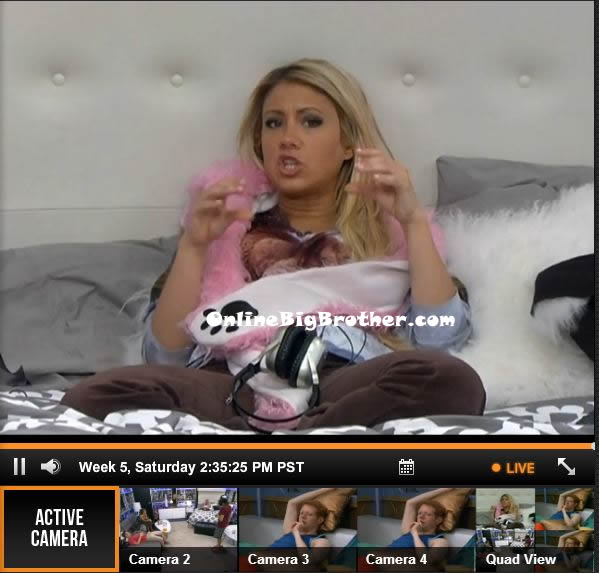 2:50pm – 2:55pm In the havenot room – Amanda is talking to Howard. Howard says that he think he is just a big athletic guy and that's why he is up on the block. Amanda asks him if he is the MVP? Howard says no I am not. Amanda asks well why then would you be called into the diary room an abnormal amount of times. Howard says that he isn't and has never been MVP. Amanda brings up the other rumor that the others think he is related to someone else who's played Big Brother. Howard says that no one else he knows watches BB, and there haven't been that many black players. Amanda tells Howard how she heard he said he had bigger fish to fry which makes me think you were coming after me. Amanda tells Howard that the others think he isn't a straight shooter because you talk in circles. Howard says maybe just because we are in a game, people think I am not shooting straight when really I am.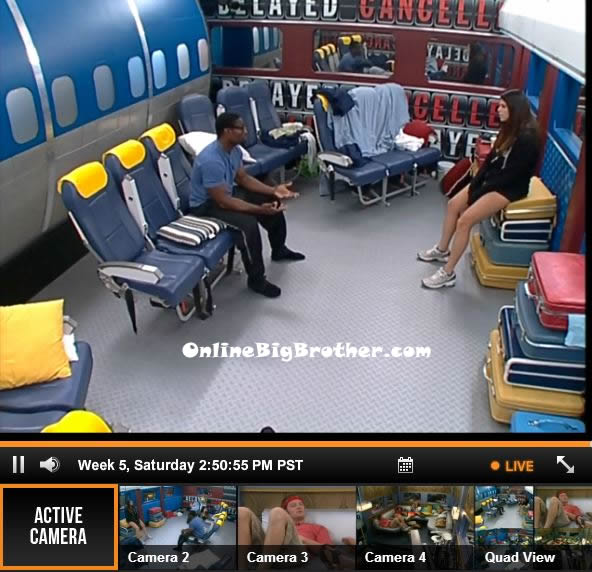 | | |
| --- | --- |
| [polldaddy poll=7277508] | [polldaddy poll=7277150] |