POV Holder:
Spencer
Next POV
Aug 3rd
POV Used
YES
POV Ceremony
July 29
HOH Winner:
Aaryn
Next HOH:
Aug 1
MVP:
AMERICA
Original Nominations:
Spencer, Howard, AMANDA (MVP nom)
Current Nominations:
Howard, Candice, Amanda (MVP nom)
Last Evicted Houseguest
David, Nick, Jeremy, Kaitlin
Have Nots
Judd, Amanda, Candice, GinaMarie
12:30am In the bedroom – Andy, Elissa, Judd are laughing about Nick. Andy says he can just imagine Nick's cocky a$$ diary room sessions. Judd laughs and says fifteenth place! They say that he didn't see it coming. Jessie joins them. Jessie comment that Howard and Candice are going to stay up talking. Elissa says Jessie tell them you will help them pack. Jessie says yeah I am sure that will go over well. Helen joins them and gets into bed. Judd heads up to the HOH room. He finds Aaryn up in the HOH packing. He jokingly says aww.. I can't watch you do this, I don't want you to go. Aaryn says I am not going anywhere. Ginamarie and Andy join them. Aaryn says that she has a scary feeling. Gina asks what? Aaryn says that Elissa doesn't want Candice to go and if Candice wins HOH she is going to want me out because I want Candice out because Elissa wants Candice to make it to jury because she knows Candice would be a jury vote for her. Andy says I still don't think so, I really don't. I think that Elissa realizes that if she did that it would piss off everybody. Aaryn says Elissa never realizes what she does pisses off people. Andy says yes she does. Helen can rope her in. Aaryn says I am just scared that Candice, Elissa is going to want to get me out. Andy says no. I promise you she won't when she says she won't put you up. Aaryn says but she would get someone else to put me up. Andy says the only possible person that would put you up would be Candice and whoever she put you up against, they would go home. Aaryn says no she would put me up against someone that will definitely not go home. Andy says no, she would put you up against Spencer. Aaryn says yeah I hope so. Andy says if its endurance, do you think Candice would outlast Gina. Hell no. Gina says thank you. Judd tells Aaryn she doesn't have anything to worry about. Judd's new theory is that the same person can't get MVP back to back. Aaryn continues to be worried about going home next week. They all keep reassuring her she is fine. Gina starts going off about how she got back doored by the MVP and no one will stand up and say they did it. Amanda comes up and asks them to come down because we are getting married in the cockpit. Amanda heads back downstairs and yells for Elissa to come because we are getting eloped just in case.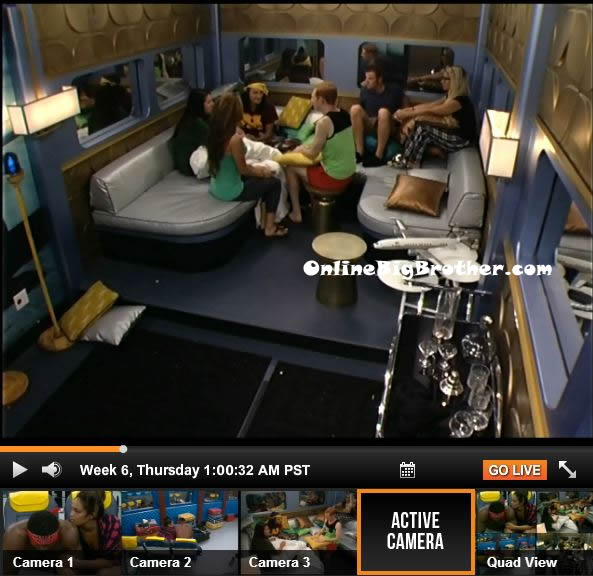 1am In the lounge – Gina Judd, Elissa join them as witnesses to the Amanda / McCrae marriage. Andy is the minister. Andy says dearly beloved we are gathered here today to join Amanda and McCrae in wedded matrimony. Andy says to begin I would like to start with vows. McCrae do you have any? McCrae says umm, yeah I love you in good times and bad and on the block or not and have and have not. Um I am always going to be here for you. Andy says Amanda. Amanda says McCrae I love you and I will be with you for have and havenot on the chopping block and HOH, through slop and through yummy steak dinners. I will be there as your big brother wife. Andy says alright, repeat after me. I Amanda take you McCrae to be my lawfully wedded husband, to have and to hold, to love and to cherish, until death do us part. Amanda says until eviction do us part. Andy says McCrae repeat after me. I McCrae take you Amanda to be my lawfully wedded wife, to have and to hold, to love and to cherish, until eviction do us part. Andy says okay do we have the rings. By the power of veto invested in me, I now pronounce you man and wife. Elissa says they didn't say I do! Andy says oh yeah. Amanda do you take McCrae to be your husband. Amanda says I do. McCrae do you take Amanda to be your wife? McCrae says I do. Andy says and now, by the power of veto invested in me, I now pronounce you husband and wife. You may kiss the bride. They all scream. Elissa says I would like to throw a pillow at you. Elissa then gives them a speech. Elissa says McCrae and Amanda from the first time I saw you together I knew you were the real deal. McCrae I hope Amanda has your babies and not in the big brother house where we would have to hear you. Amanda best of luck with McCrae and I wish you guys big brother happiness. McCrae says thanks guys. Judd says I want to give a toast. McCrea I have been 3 years older than you or two years, I have known you since you were born, I always thought it would be me before you but you know but you found a good one! I knew ya'll would be together from that first time you said I want to tap that a$$! Until you said I like her sass. And she's a good one, hang on to her until eviction.. Tomorrow! Judd says just kidding. Elissa asks should we stomp on a light bulb or glass? Amanda says the real one will be next week. Elissa says congratulations you are now the old married couple in the house. With being old and married comes big responsibilities, you now owe it to me to crown me the winner of Big Brother. McCrae says okay. Judd says hell no!!! Everyone leaves and McCrae and Amanda start kissing.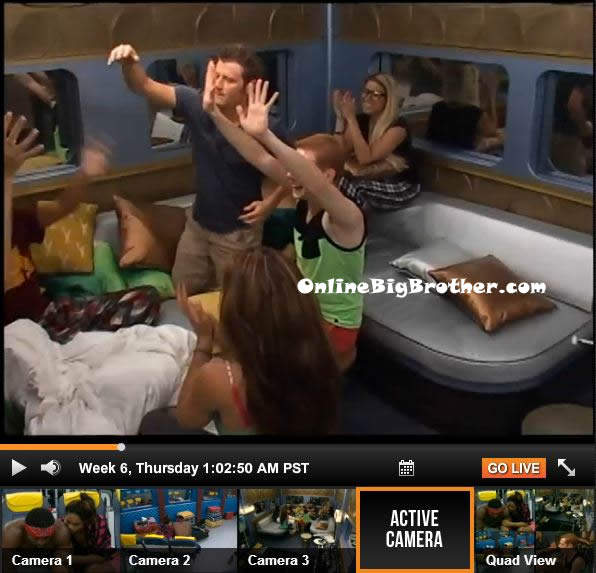 Andy then comes back and tells them that Aaryn is freaking out wondering if she is making the right decision. Amanda asks are you serious?! Andy says Aaryn said that Howard will go but that she wonders if she is being manipulated. Amanda asks by who? Andy says I think she means by all of us because she was saying if Candice or Elissa get HOH she thinks she is going up. Andy says he told her Elissa won't put her up but that she thinks Candice might. Andy says she is just freaking out. Amanda asks should I come up there? Andy says yeah. Amanda asks what is wrong with her? What is there going to be a tie? Andy says I don't think so. Andy says that even Judd was saying no we've got your back. Amanda asks why would she even say that?! So you don't think there will be any way in hell that I will be going home tomorrow? Andy says no. Amanda says I just hope people aren't lying. Amanda says just tell her if she flips it she will be going against all of us. Andy leaves. McCrae and Amanda don't understand what Aaryn is thinking. McCrae says it doesn't make sense she will have more people against her if she does that.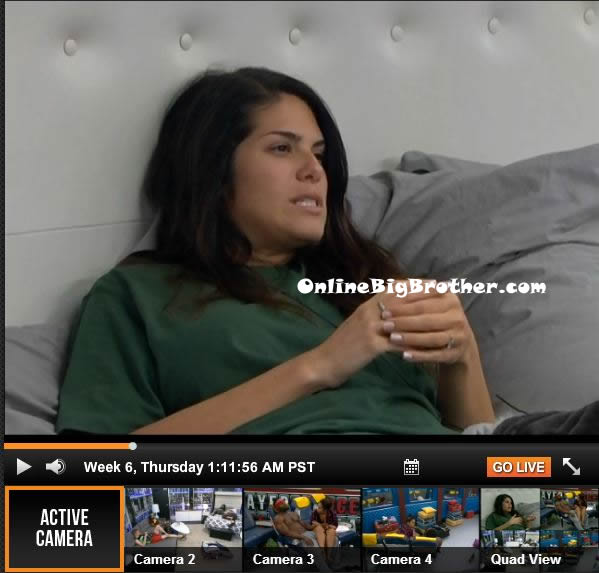 1:10pm Up in the HOH room – Andy and Judd continue to reassure Aaryn that she is doing the right thing and that everyone will thank you for getting out Howard who people have wanted him out for weeks. Andy says everyone will be very thankful, and you will be in everyone's good graces. Amanda joins them. Amanda sarcastically says thank you for coming to our wedding. Aaryn says your welcome. I just know you're staying so your wedding will be next week. Andy brings up how Aaryn is worried about Candice coming after her but that she will be in a much better place in the house if Howard goes. Amanda asks is that still being questioned. Aaryn says no it's not. Andy says it's a legitimate worry. Aaryn says it is fine it is just going from safety to not being safe. Amanda says we all have targets in the house. Aaryn says that she is worried about Spencer putting her up. Amanda says he won't he is up here confiding in you all the time. Aaryn says yes he will because he is a little vag!n@. Amanda says he will put up Candice next you and she will go home. Aaryn says that she is worried about MVP too. Andy says if you go up the other person that goes up will be the other person gunning after you and she will go. Amanda says look at the odds, the odds of Candice winning are so slim. Either way you are fine! Andy says master dictator Helen will sit people down and say if you get rid of Aaryn…! McCrae tells her that we all have your back! McCrae says he is going to monster the sh*t out of this one! Amanda says yeah because we need to consummate our marriage. McCrae says he is going to Jeremy the sh*t out of this one. Amanda says I am going to Renny the sh*t out of this one! McCrae says she didn't even win that one! They all laugh. McCrae says if Kalia could win that one. Amanda asks are you talking about that black girl? Aaryn says Daniele won the wall HOH endurance competition. Judd jokes that Amanda is Daniele's sister. Amanda says Daniele only had a brother. McCrae says that's the twist you're a boy! Amanda says you know I am not a boy. Judd says yeah you poked the oyster. Aaryn says Judd that is disgusting. Gina doesn't get it, is that a vag!n@? Andy jokes that the cat is out of the bag now that everyone knows that Helen and I are from Chicago. We're twins! Amanda and McCrae head back down stairs.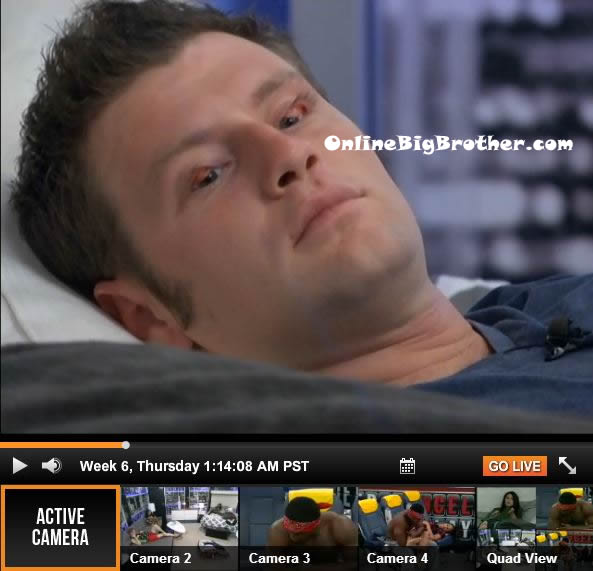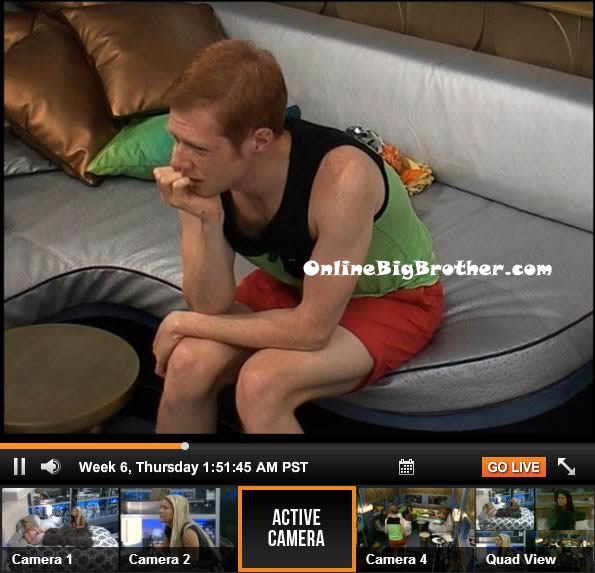 1:45am In the lounge room – Andy, Amanda and McCrae are talking. They talk about how sketchy Judd is being. Amanda says that she thinks Judd made a spectacle of you and him so that if someone puts up Jessie he can blame it on you. McCrae brings up how Judd talked about the fake alliances and said the Grasshoppers super loud so that everyone could hear just in case Elissa who he had told about it brought it up he could pin it on the fact that he said it out there really loudly. McCrae says Judd is really shaddy. He says something so he can later reference it to cover his tracks. Andy heads to bed. Judd comes in to say goodnight. Judd congratulates them on their wedding. Judd goes to leave and says I feel like I am forgetting something – My wallet, my keys, my cell phone.
2:10am Judd waits outside the Storage room for Howard to come out and tries to scar him. Howard just shakes his head and walks away. Meanwhile back in the lounge room – McCrae says I don't know if I want to even win HOH because I don't want to make an enemy in Judd yet. McCrae thinks that Judd will not want to work with Spencer/Candice anyways after Howard goes home. Up in the HOH room – Aaryn comments on how Amanda takes too much Adderall medication. Aaryn and Ginamarie are going over scenarios of who each person would put up if they won HOH. McCrae would put up Spencer and Candice, Andy would put up Jessie and Judd or Spencer and Candice, Judd would put up Spencer and Candice, Ginamarie would put up Spencer and Candice, Elissa would put up Spencer and Ginamarie, Amanda would put up Spencer and Candice, or Jessie and Judd, Jessie would put up Spencer and Candice, Helen would put up Spencer and Candice, or Jessie and Judd. They think Candice would put up Jessie and Judd or Aaryn and Gina, or some combination of those people. Spencer would put up Aaryn and Gina or Candice with Aaryn or Gina. Aaryn says that she would want Amanda, Gina, Helen, McCrae, Andy, Judd, or Elissa to win HOH but only Elissa if she wasn't going to put up Gina. Aaryn says that she doesn't want Spencer, Candice or Jessie to win HOH.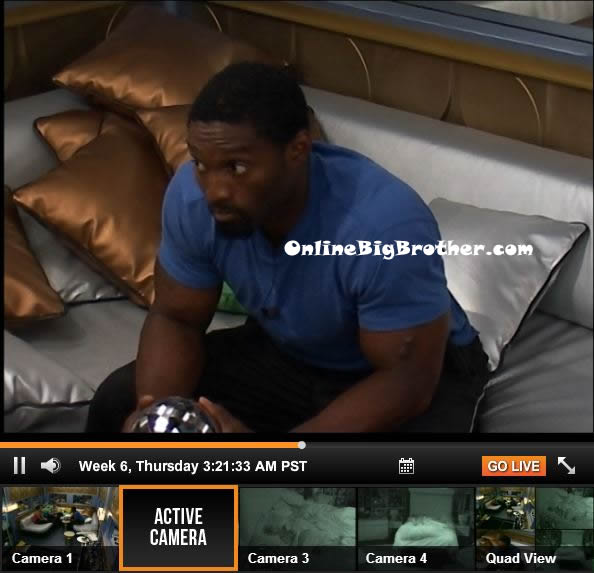 3am Howard, Candice and Jessie are talking in the bathroom. Howard tells Jessie to stop trying to be safe and increase you percentages of getting to 500K, if you are not one of those four. Howard brings up how Aaryn made the deal to stay in the game. Candice tells Jessie that she heard she came up with that deal? Jessie says yes, I didn't know it would work though. Howard talks about how Aaryn and Candice don't like each other but that they will have to eventually work together for the greater good. He says that Andy really wants to do something, but that he is caught in the middle. Jessie says no, she sees Andy as the ears. Howard says when it comes time, they tell him when he needs to know something. Howard says that he heard from Helen that Andy and Jesse hate him. Candice tells Jessie about the conversation with Helen. She says that she said she was angry about it and knows Andy doesn't hate anyone. Jessie talks about Amanda not needing the money and says that she is pretty sure Amanda has money, she's Jewish. Candice is trying to convince Jessie to vote out Amanda. Candice says that the votes would be Jessie, Spencer, Ginamarie and one other person. Howard says it could be Andy. Candice says Aaryn just needs to know that I won't come after her. Jessie says that she is really scared about this. Candice says that they will either get to jury and keep following what they are told to do or get to the end of the game by making a big move. Jessie says that she is worried someone could walk through the door and says I would be fried. Jessie says that she will talk to Aaryn about breaking the tie. Howard tells her she should do it tomorrow morning. Candice tells Jessie that if Howard goes, we need to stay close. Howard tells them that they can trust Andy. Candice says that they won't know who did it. Howard says it will work. Jessie is worried about not getting Andy on their side and having McCrae coming after her. Jessie then heads to bed. Howard and Candice stay up talking in the lounge room.
In the back bedroom – Jessie tells Andy about how they could save Howard. Andy says that he would be the low man on the totem pole with Spencer and Howard. Andy says that he doesn't trust them. Jessie says she will go back and tell Howard and Candice the she can't do it she is too scared. Jessie tell Andy this conversation never happened. Jessie then goes back into the lounge room and tells Howard and Candice that she can't do it, I am just too scared. Candice asks if we can get Andy will you do it. Jessie says that she is too scared if someone finds out. Candice asks what about if we get Andy. Candice says then you asks Aaryn if she will make the call and evict Amanda if the vote comes down to a 4-4 tie. Jessie says we can pick this conversation back up tomorrow if you can get Andy. Jessie heads to bed again. Howard and Candice continue to talk about how and when they will talk to Aaryn and Andy tomorrow.

5am – 5:35am McCrae and Spencer are in the bathroom talking. McCrae asks Spencer who he would put up. Spencer says he would put up Candice and Aaryn. Spencer says I always wanted to work with y'all, but I never trusted Amanda. Spencer says that Amanda says the proof is in the pudding and then puts me up. Spencer talks about saying he is going to lay low. Spencer says that he want to maintain his relationship with McCrae and says that he will apologize to Amanda. McCrae laughs if he wins HOH she will come crawling back to him. Spencer says that he wouldn't be an a$$hole. McCrae says she has a lot of stuff to worry about right now. McCrae tells Spencer to get in good with Helen. Spencer agrees. They talk about the jury and when it will start. McCrae says that he and Amanda won't always agree on game moves. Spencer says I am not a bit*h. I am not going to just lay down. McCrae tells Spencer to talk to Amanda tomorrow. Spencer asks McCrae if he can try and keep him off the block. Spencer and McCrae then head to bed.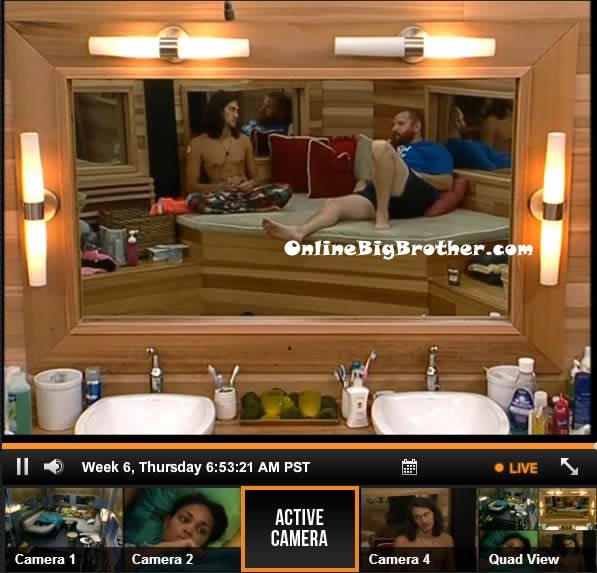 7:30am All the house guests are still sleeping..
Use the Big Brother Live Feeds to FLASHBACK to SEE what they can't show you on TV: BB15 N!p Sl!ps / N*des