POV Holder:
Spencer
Next POV
Aug 3rd
POV Used
YES
POV Ceremony
Aug 5th
HOH Winner:
Aaryn
Next HOH:
Aug 1
MVP:
AMERICA
Original Nominations:
Spencer, Howard, AMANDA (MVP nom)
Current Nominations:
Candice, Howard, AMANDA (MVP nom)
Last Evicted Houseguest
David, Nick, Jeremy, Kaitlin
Have Nots
Judd, Amanda, Candice, GinaMarie
N*de flashback times here
8:28pm Chessboard JUDD and Andy
JUDD: "I'm not mad or anything.. "
Andy: "What the F****.. you don't trust me I didn't say anything"
JUDD says the reason he's irritated right now is he didn't tell anybody that he heard Andy and Jessie say Howard and Andy decided to talk to him about it in front of everyone which made him look shady.
Andy: 'you called me liar in the kitchen.. it wasn't a lie.." Andy swears jessie and him never mentioned Howard's name
JUDD: 'you keep bringing up things in front of other people.. you can trust me…" Andy keep interrupting him.
JUDD: "will you please let me talk for a couple minutes"
JUDD doesn't like how Andy always waits until there is a crowd of people around when he brings stuff up to JUDD. JUDD noticed Andy doing this before and it's really starting to piss him off.
JUDD says he'll talk to Andy one on one but doesn't want to have Andy attack him in front of people making it a spectacle. Andy says it was JUDD making is a spectacle in front of everyone in the bathroom. Andy just wanted everyone to hear that it wasn't true about him and Jessie mentioning Howard's name. JUDD says he didn't tell anyone about that and no one would have heard their conversation in the kitchen.
Andy: 'You've been acting really short with me yesterday and today"
JUDD is surprised by this.
Andy: 'Until I give you reason not to trust me trust me"
JUDD: 'Please just stop making everything a group thing come talk to me in private"
Andy claims he's played a very honest game and doesn't like people calling him a liar in front of everyone.
They make up and leave
8:30pm bedroom Elissa and Jessie
Jessie saying it's a combination of things that are overwhelming her.
Elissa: "Did someone do something"
Jessie: "If I tell you you cannot tell anybody"
Elissa: "I swear I won't"
Jessie says Amanda was interrogating her for a hour and a half in the hammock last night, "That's what Jeremy would do to people"
Jessie adds it didn't affect her last night but when she woke up this morning she felt it.
E: "Too aggressive"
J: "Ya.. she broke me down and made me look like a idiot on TV"
Jessie says she asked her a million questions over and over again and Jessie felt like she was at Amanda's mercy, "It made me look stupid"
Elissa says Amanda has been too aggressive to her to. Jessie adds that her biggest worry now is what happened last night is going to be blown out of proportion by Amanda and she will get the house to turn on her next week and vote her out.
Jessie: "I've been trying to hold it in but it's turning into Anger"
Elissa: "I don't know if she is making this up and if it's true"
Jessie: 'She should be a military integrator..She's relentless"
Jessie says in the real world she could just walk away but in this house she has to be present for it because if she leaves you have no idea what people will start saying about you.
Jessie says people go and tell Amanda everything she feels like there is no one to talk to.
Jessie says she talked to the people in the Diary room and they said to her if she doesn't like something in the game then change it. Feeds switch to JUDD and Andy chessboard,
Feeds come back to Elissa and Jessie
E: "You, me, Helen, Spencer would vote her out"
J: "Andy.."
E: "Andy might vote her out.. and JUDD.. ohhhh"
E: 'We would need six right.. or just 5"
J: "We would have to include the whole house otherwise people would be pissed"
E: "She would flip her lid"
J: "Andy would have to be included.. cause he's Andy.. he's on her side it would make him look bad I don't think it would work this week.. she's a HUGE target and eventually it will come down to you and Helen, Amanda and McCrae"
E: "what do you mean"
Jessie explains that the two strongest pairs in the house are Elissa and Helen, Amanda and McCrae, "you are all the biggest people.. ones going to take out the ther"
Jessie: 'She scares me.. "
Elissa says the only reason Amanda wants Howard gone is he's after her. Elissa is unsure that all the things Amanda says about Howard is true she gets the feeling it's made up.
Jessie: 'This wasn't a house decision it's basically a few people decision.. they want him out.. "
Jessie says the insurance is Spencer goes next week then the following week it's Aaryn or Candice, "We would all make it to Jury" .
E: "Do you want Aaryn out"
jessie says she's let go all of her sh!t she's got nothing personal against Aaryn. Elissa says all the guys like Aaryn the most, she thinks JUDD likes Aaryn a lot, "He likes you but he flirts with her to" .
Jessie: 'I think we should go with the flow.. but next week we should see who wins HOH.. I'm just telling you Amanda upset me"
E: "if you won HOH what would you do"
J: "Either go with the house or do something.. probably go with the house"
9:21pm HOH Aaryn and Gm
Using candy to strategize. Aaryn makes a comment that Candice cannot be the black M&M because or people will call her racist.
JUDD joins them interrupts their game talk .. says he's Hugh Hefner and hops into bed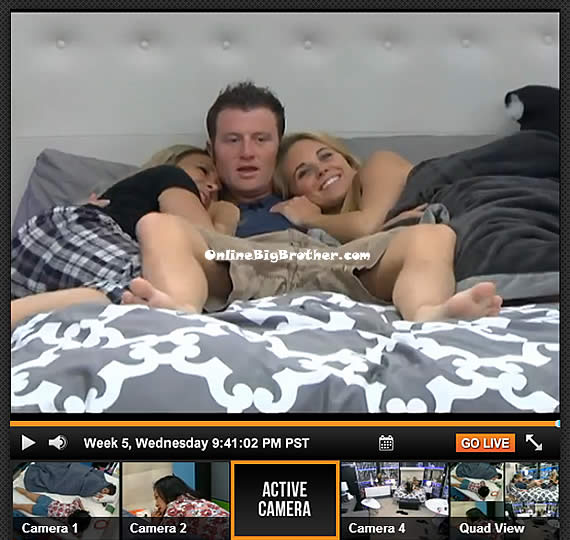 JUDD tells them Jessie is acting normal again he say her talking to Helen. JUDD jokes that this is the Triangle of thrust.
JUDD: "So what are you girls doing today"
GM: "Same thing we do every night pinky.. try to take over the world"
J: "Hows it coming for you"
GM: "Not good lately"
J: "We'll get it tomorrow ladies"
GM jokes asks him if he wants a foot massage. Aaryn says "He wants a butth@ole massage from Howard"
J: 'Oh my god.. them are killing words"
J to GM "Candice is in your bed asleep" (LOL)
GM: 'NO SHE"S NOT"
J: "Howard is giving her a massage"
A: 'the way she gets massages is so appalling.. I can't even be in there"
J: 'The massage of thrust"
9:49pm HOH GM and Aaryn
They finish up they're planning Aaryn wants the following people out
1)Candice 2)Spencer 3)Jessie 4)Elissa
She wants the final 6 to be Amanda, McCrea, Andy, GM, Aaryn and JUDD
She knows Amanda's side wants JUDD out they are going to have to tell him to win HOH. They both agree if they don't get Helen out soon she will win the game.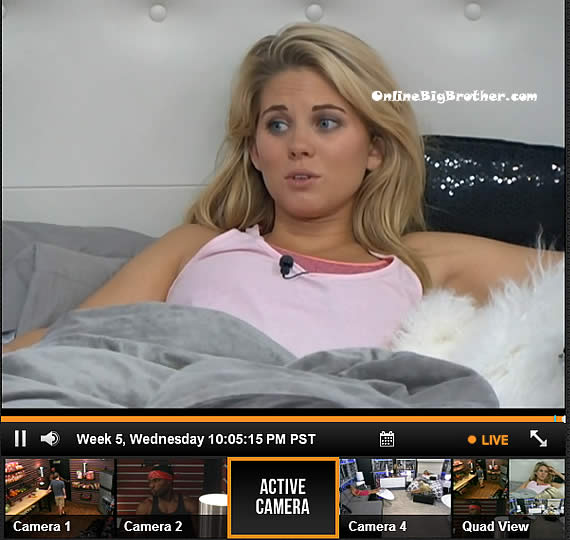 10:05pm HOH Aaryn, Jessie and GM
Aaryn: "I'm just so sick of talking in circles.. "
They are talking about Amanda and how threatening she is. Jessie mentions she was in the Cockpit today with Howard and Candice and it felt like episode for of the bachelor, "Do you like SUV's or trucks.. whats you favorite colour.. " Aaryn says it doesn't matter he's going home
GM tells them about breast lift. Her chest is real but she had them lifted up otherwise they are really saggy . They chat about Twitter. Jessie is really excited to to talk to all her fans even if there is just one she'll be so excited.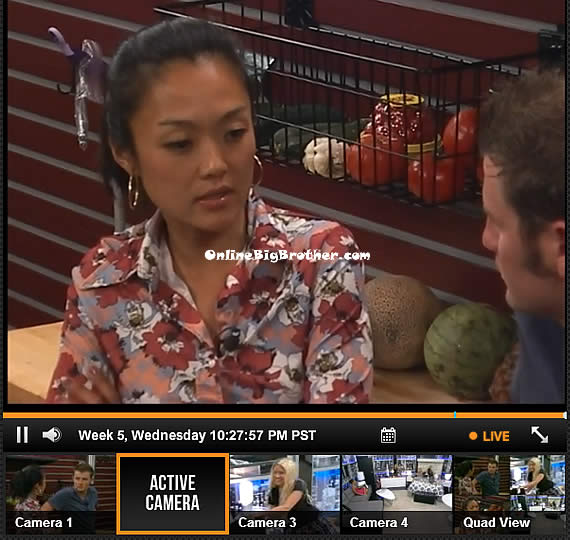 10:29pm Helen and JUDD
Helen going over her conversation with Jessie.
JUDD says he would vote Jessie out if it's her and Helen on the block. He stresses Jessie is ruining his game and he wants to distance himself from her. Helen says he needs to stop hanging off Jessie if he wants people to not think they are a couple.
Helen: "I would have thought you voted me out before her"
JUDD: "We're close but I care about you to.. I have loyalty to you Elissa, McCrae, Amanda and Andy"
Helen says she will be loyal to JUDD until the end as long as he stays loyal to her. JUDD brings up that he heard Helen was wanting to flip the vote he didn't believe it and thought it was just another little thing.
Helen wants to know who said it, "I'm the one that told Aaryn to put up Spencer and Howard". JUDD doesn't think it's important it was in the past and doesn't matter.
Helen says she doesn't care "I don't go after every little thing I hear.. " (OH MY GOD this is the funniest thing I have heard all week)
JUDD keeps stressing that he is not playing this game with Jessie they are playing separate games.
JUDD tells her he thinks the MVP cannot go to the same person every week, "Elissa may be able to get the MVP next week"
11:00pm Helen and Candice Cockpit Helen says Candice is safe tomorrow. Helen says with Howard going she can work with them and it's going to be great . Helen: 'One day you me and Elissa will be going after Amanda"
Helen says everyone wants Candice to make if far in the game. (Everyone is the superfriends)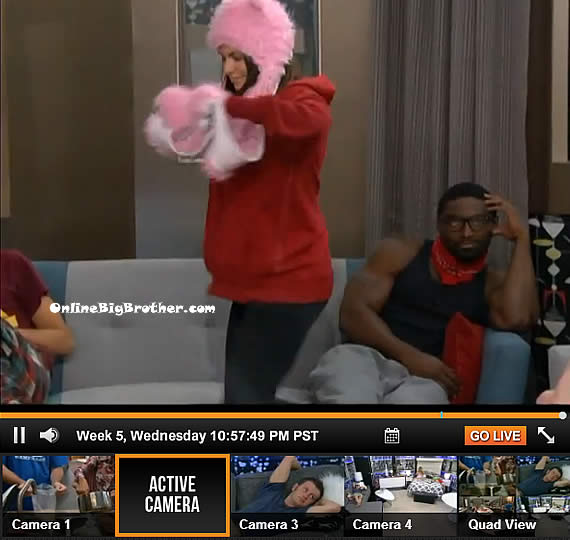 11:30pm harlem shake
You can re-watch ever second on the feeds using their flashback feature.. It's just like a DVR and is super easy to use. click this link for a Free Trial —> Subscribe to the Big Brother Live Feeds
11:56pm Bedroom McCrea and Amanda She asks him what would happen on with the live feeds if the final two had sex on the living room couch, will the camera look away or not. MC thinks they camera's would be one it.
In the cockpit the majority of the house is talking about whether or not they will read about themselves on the internet or watch the life feeds. Doesn't sound like any of them are interested in what we have to say about them on the internet. Jessie points out it would take 3 months to watch all the feeds. Aaryn thinks the feeds are not available to watch after the show is over.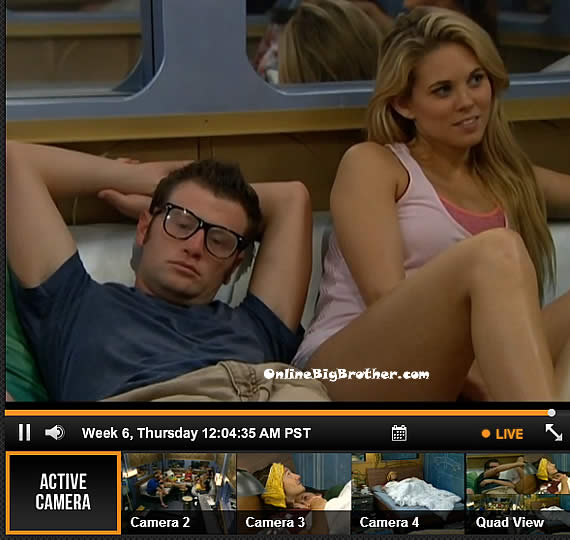 12:03am Jessie and GM come up with a movie idea Alien Zombie monkeys
Spencer says he called a girlfriends he once had "Monkey t!ts" he stopped because she didn't like it. couple of the houseguests howl with laughter. Helen says that's the same as calling Spencer "Beer belly boy"
12:22AM Random chit chat throughout the house. in the bedroom is MC, Amanda, Elissa, Andy and JUDD. JUDD is joking that that he would do anything to see Ginamarie and Candice chained together for 24 hours.