POV Holder:
Spencer
Next POV
Aug 3rd
POV Used
YES
POV Ceremony
July 29
HOH Winner:
Aaryn
Next HOH:
Aug 1
MVP:
AMERICA
Original Nominations:
Spencer, Howard, AMANDA (MVP nom)
Current Nominations:
Howard, Candice, Amanda (MVP nom)
Last Evicted Houseguest
David, Nick, Jeremy, Kaitlin
Have Nots
Judd, Amanda, Candice, GinaMarie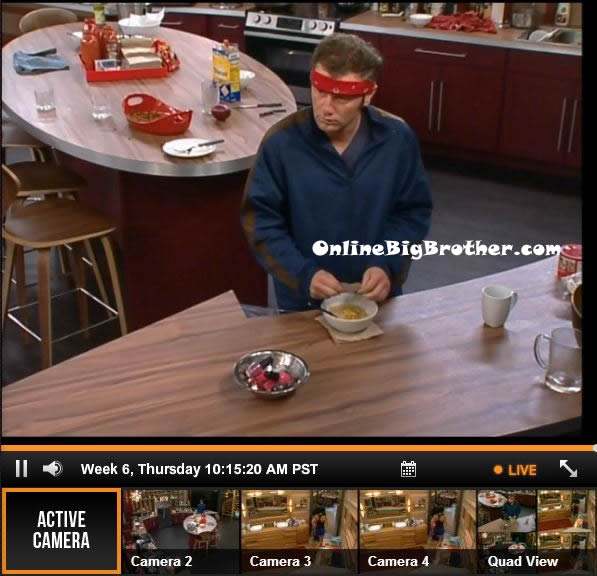 9:40am – 11am Helen wakes up and starts her morning run through the house from the bathroom to the living room. At 10am Big Brother wakes up the house guests. When the live feeds return, Judd is in the kitchen making Ramen noodles for breakfast. Judd takes his noodles into the lounge room to eat. Howard comes in to the lounge after he wakes up to pray in the photo booth. Judd leaves. Howard prays to god that he and Candice will remain in the house. Meanwhile in the bathroom – Judd and Helen talk about how you can't tell someone they are going home. Helen says that she really likes Aaryn. I didn't hear first hand the things she said. I will need to go home and watch it for myself. Judd says that the whole mattress thing was blown out of proportion. Judd says that Howard cornered him in the storage room and told him he doesn't not have to talk to him. Judd says I was just trying to stay out of his way. Helen says Howard doesn't talk to me at all any more. Helen says that she likes Spencer and thinks he's gotten a bad rep. Judd agrees. Helen talks to Judd about all the reasons why Spencer made her mad for a long time. Helen says but after the Candice tirade I felt bad for him. Candice joins them. Helen says that she held a long grudge against Spencer for lying to her. She says that she is turning a new leaf and is going to be the Helen that first walked in the door. Judd asks Candice if she and Jessie had a heart to heart last night. Candice says yeah she was having a bad day and I comforted her. Big Brother cuts the feeds and when the feeds come back. Helen is in the bathroom with Candice. helen tells Candice the she needs to talk to her later. She says that she wants to get Jessie out. Candice says this is crazy they never start it this early. Candice says there is too much to do in 15 minutes. She says that she is shaking she is so nervous. Judd joins them and they discuss what BB just told them. Andy comes in to clarify what was said – we have live show stuff to do in 15 minutes. Judd jokes that he has been gunning for Elissa for 6 days and Andy since day 1 because I hate cats!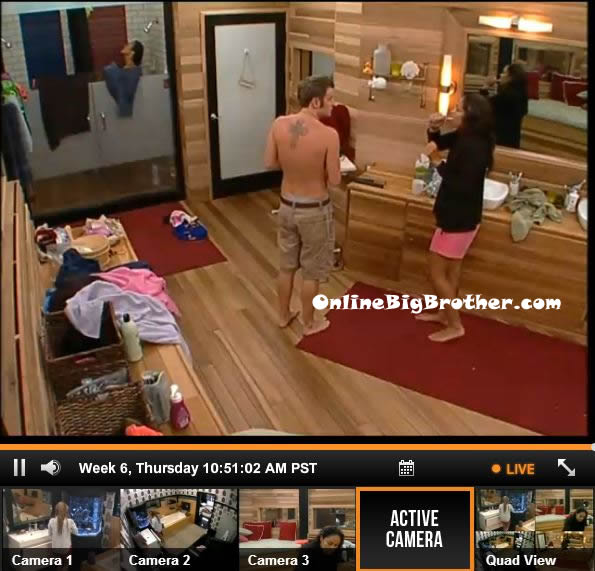 10:55am – 11:10am Andy heads up to the HOH room. Andy tells Aaryn that Jessie came to him last night trying to get me to flip with her to vote out Amanda. Andy says I wouldn't do it and that after he said that she was okay with it. He says she came in at like 4am to wake me up to ask me that. Andy says that Howard also asked me and I told him I don't know, I had to think about it. Aaryn asks did you tell Amanda yet? Andy says no because I didn't want her to freak out. Aaryn says that she will never vote out Amanda if it was a tie vote. Andy says that he will tell Amanda. Aaryn says at some point we need to discuss how easily Jessie is willing to flip. That is not okay that she can flip like that. Andy says that once he told her no, she was okay about it. Andy agrees but says that he doesn't want his name brought up because he swore to Jessie he wouldn't tell anyone. Aaryn says yeah okay. Aaryn asks Andy if they can really trust Amanda and McCrae and Andy says yes. Andy comments that when Howard came to him to ask him, Andy was thinking why the fu*k would Aaryn form an alliance with Candice. Aaryn says yeah. Andy says that he just wanted to alert Aaryn to what happened and then heads down stairs. Downstairs all the house guests are getting ready and talking about random things.
11:10am – 11:20am In the back bedroom – Howard tells Candice that he talked to Andy and he said he would talk to me later because Helen was running all around. Howard tells Candice to have a conversation with Andy, Jessie and Aaryn to see if we can make this happen. Candice asks Howard if he has something else cooking with Spencer because if you do then I will just go home. Candice thinks after she blew up on Spencer she thinks he could have formed an alliance with them to get me out. Candice asks just tell me if something is cooking because then I wont go do this. Candice says that Helen came to her and told her that she wants Jessie gone. Howard says yeah she is working on next week. I am gone. That ain't have anything to do with this vote, they're already working on next week.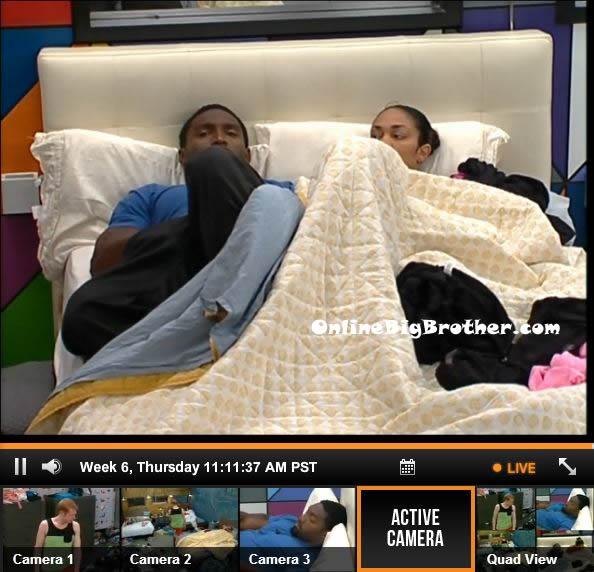 11:20am Big Brother switches the live feeds to TRIVIA for the HOH lock down..
12:35pm Still TRIVIA.
1:20pm TRIVIA..
2:40pm TRIVIA Continues..
3:55pm MORE TRIVIA..
Use the Big Brother Live Feeds to FLASHBACK to SEE what they can't show you on TV: BB15 N!p Sl!ps / N*des