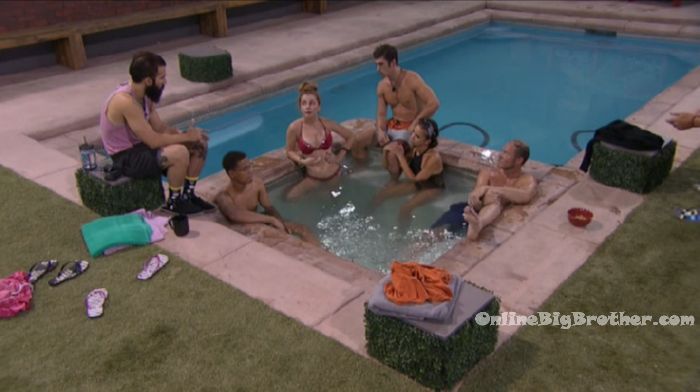 Check out our BB19 Ranking Grid. . rank your houseguests here
9:10pm Backyard. Paul, Ramses, Cody, Jessica, Raven and Jason.
They're all sitting around or in the hot tub. Raven is talking about her chronic condition called gastricparesis.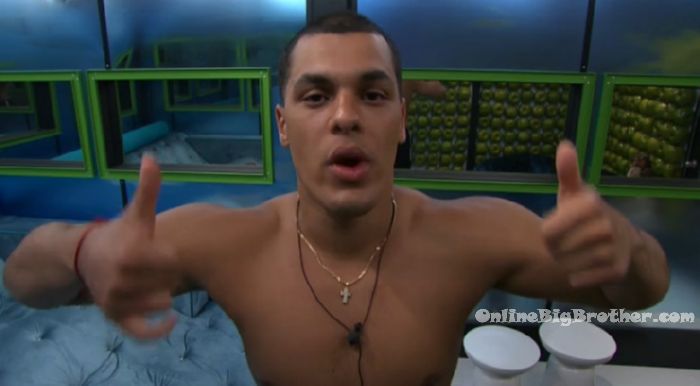 9:20pm Lounge room. Josh talking to the cameras.
Josh – I just wanted to take a minute to send a quick message to my family. I can't stop thinking about them. I love you. Just know that your boy is strong. Nothing can phase me, nothing can break me. Your boys the man. Your boy is strong minded. Your boy can get through anything. Danny, my brother I miss you like crazy. I think about you all the time and your crazy one liners and other sh*t that you say to me all the time. Family, I miss you like crazy. Just know that no matter what you see in this house, I am doing great. I'm doing really good. Just know that I am doing really good and everything is going good no matter what you see. This is a game and I'm playing it up. But I am perfectly fine inside and I'm living it up.

See what they can't show you on TV Try the live feeds for FREE!
9:35pm Bedroom. Paul and Christmas.
Paul – have you gathered anything? Is everything okay? Christmas – Mark and Elena are f**King hawking. Paul – they're trying to get information for her (Jessica), from everybody. They're done. Christmas – they're watching everyone .. like hawk eyeing. Paul – the way this is going to work is if we blindside on Thursday, keep Josh as a number and then if one of us wins does… Christmas – but that's a long shot now. Paul – no its not. Christmas – it depends on what the comp is. Paul leaves to go talk to Alex. Paul – we just need to keep playing telephone. Have you talked to Jason? Alex – Pretty much everyone is solid. The only person I haven't questioned is Kevin. Ramses asked me about my vote and if it had changed. And I said no. Because I never said I was voting for him anyways. Paul – who gives a f**k. He's going to be gone and he's not coming back because its pre-jury. We pin him down and its not a wasted week and we can continue to steam roll. I'm going to send Jason to you. Alex – yup.

Christmas tells Jason and Alex – I talked to Jessica and told her that I want to vote for Josh to stay because he has backed me up and he voted for me to stay two times and that he's supported me. I also told her I am pretty sure you're going to have a clean sweep. Alex – I told her that I didn't know who I was going to vote for because I didn't like both of them. We can't be left alone with Mark and Elena, they're trying to flip us. Christmas – they're aggressive. Paul comes back with Matt. Paul – Mark and Elena are asking about who people are voting for, for them (Cody & Jessica). Its f**king sketchy! What the F**k! Matt – it doesn't make any sense for them (Mark and Elena) to go back to Cody and Jess. Christmas – because Mark and Cody had an alliance day 1. They're each others ride or dies. Christmas – he (Ramses) was f**King hovering that little f**K face. Josh joins them and asks Alex you're voting me out right?! Alex – yes. Christmas – you (Josh) better dig in to win this HOH. Josh – says he will and then he will crack Mark.
FLASHBACK and watch everything you missed: Live Feed 7 day FREE Trial!
9:42pm Lounge room. Jason, Josh and Kevin.
Jason – Alex is telling me one thing and they're telling me something different. Alex is telling them who they're voting for and I'm not telling them nothing. Josh – tell them you're voting me out! Jason – right, that's what I'm telling them. I don't know what she is telling them. That's what I'm telling them. Josh – tell Alex to tell them that she is voting me out. Jason – you go tell her. She's sitting in there. Josh – what is she saying? Jason – that's what she's saying she's just saying it in a different way. Jason – that she is going to vote you out but not like in those direct words. Kevin – go tell her. Jason – tell her to stop d**king around. Josh leaves to go talk to Alex. Jason tells Kevin – Lie to Mark and Elena saying I'm going to vote Josh out. But she (Alex) is saying she doesn't know who she's voting for. Kevin – What's our plan man, we have to have a plan. If we don't have a plan, we're going to get trampled. You guys are so stupid. Those guys are so stupid. Jessica and Cody are playing it too cool man. Something is going on, they had to have gotten the temp (temptation). Jason – you think Paul is flipping. Kevin – nope. I think they've got even more power than we do. Jason – how? Kevin – temptation. What if they had the temptation. Jason – but what if they did have the temptation? They couldn't stop a vote. Kevin – they could stop them from being voted. Paul got it for 3 times. What if they come to you and say they can't be put up. They're too cool, they're playing too cool. We'll see who's right and wrong. I don't know anything. Jason – I don't care. Kevin – I think everyone should get 50K for just going through this sh*t. They're playing way too cool. How could you play it so cool when no one likes you. Jason – they don't know that no one likes them. Josh comes back and says I just told her (Alex) you better tell them you're voting me out.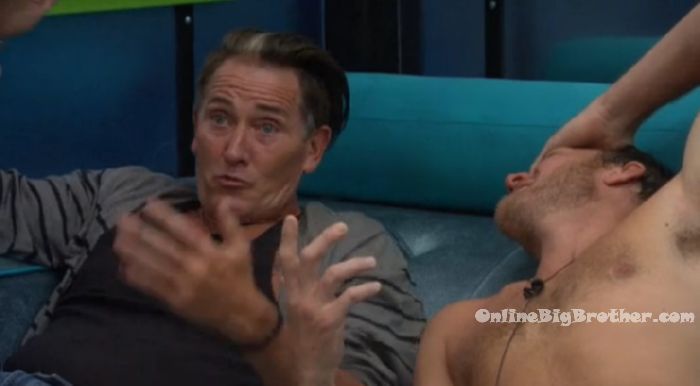 9:50pm Havenot room. Josh and Alex.
Alex – you don't need to know anything just keep doing what you're doing. Josh – who is f**king us? Alex – no one is f**king us. Just stay away from Mark and Elena. Josh – they're scrambling. Alex – I know but you need to not be. You're going home. Don't blow up and don't blow up on Thursday either. Just let it go. Be surprised. Josh – I'm not going no where right? Alex – just be surprised. Ignore everyone and act sad. Act totally sad like you're going home. I'm going to miss you bla bla bla. Josh – I have your back 100%. I hate them. I can't stand them. Alex – stay away from us because they're up our a$$es.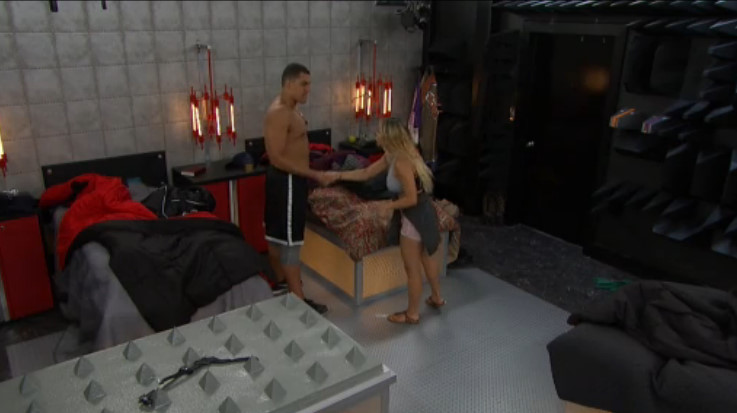 10pm HOH room. Cody and Jessica.
Cody – so how can we get the votes against Paul? Who would be a less juicy target than Paul? Jessica – I say put up Paul next to Christmas because she can play that sympathy card and she's not a competitor. You could spin it as Paul's already been here, he's had his chance. Christmas, half the competitions she can't even play in. Cody – do you just want to backdoor Paul then? Jessica – Paul would need to be backdoored so Christmas would need to go up next to someone else. Cody – Ramses. Jessica – Oh god, I wouldn't want to do that to that kid again. Cody – once its done, its done. If anything he becomes more comfortable in that position. Jessica – so if Jason, Ramses or Alex get HOH we should push for Paul backdoor. Cody – I would love to strong arm them. Jessica – and if our original alliance wins we should push for Jason and Alex to go up next to each other. Cody – I still want Paul out. Jessica – yeah get over it, I want Alex out more. Cody – solidify Paul with some more trust so that when I do get HOH, I nail him with the backdoor. Cody – you don't want Alex in the jury house. Jessica – I don't care if she is in jury. I just can't stand her.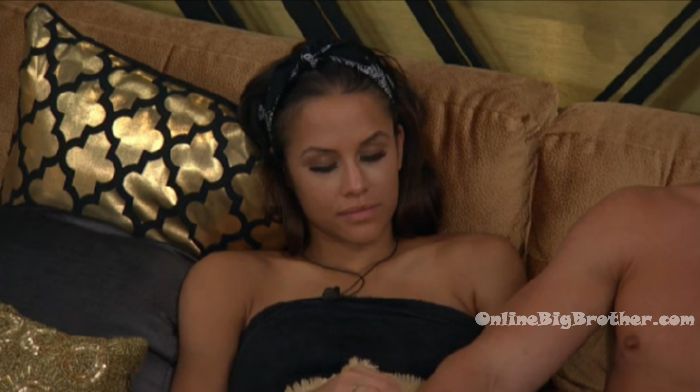 10:35pm Lounge room. Paul and Kevin.
Paul – when we win next week, they (Cody & Jessica) go up. Kevin – what if they have a temptation like what you got? Paul – they don't. They wouldn't give it twice. Who gives a f**k, we're going after Cody, not Jessica. Kevin – could she protect him? Paul – nope. Kevin – what if there is a thing that she can protect him. Seems to me they (production) want him in the show real bad. And they gave him 4 opportunities to keep coming back. Easy games. Paul – they do that because it makes good tv. Kevin – what's the vote going to be on Josh? Paul – 7 – 3. Kevin – then they're going to know who voted. Paul – it doesn't matter because we are just going to go the them and say Ramses has the 25K and we didn't want him in jury. Sorry! You made your move by putting them up but. If the majority of the house wants it, then they would be stupid to go against it. Especially now that Josh is back they're going to be three to f**king eight. They can't be that stupid to go against that many numbers, they would submit. Kevin – say Cody wins HOH, who is he going to put up. Paul – I don't know but the odds are in our favor. He ain't going to beat me twice. That was a bullsh*t competition. This next competition is going to be a mental. Kevin – do you want it? I'll throw it to you. Paul – we won't know. Kevin – I just don't want to be the bottom three .. I can't take this sh*t. I'm sh*tting all over the place. My stomach can't take this sh*t.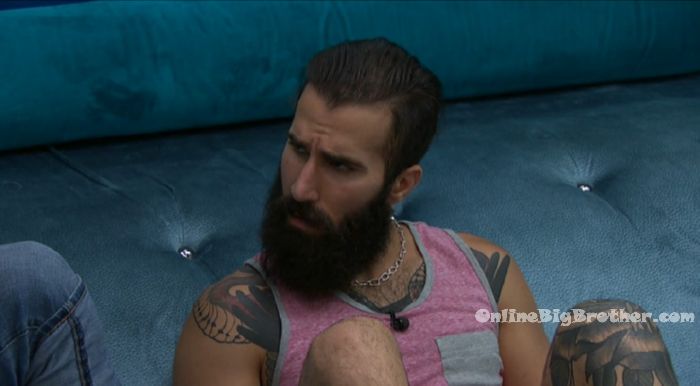 11:15pm Backyard. Paul and Kevin playing pool.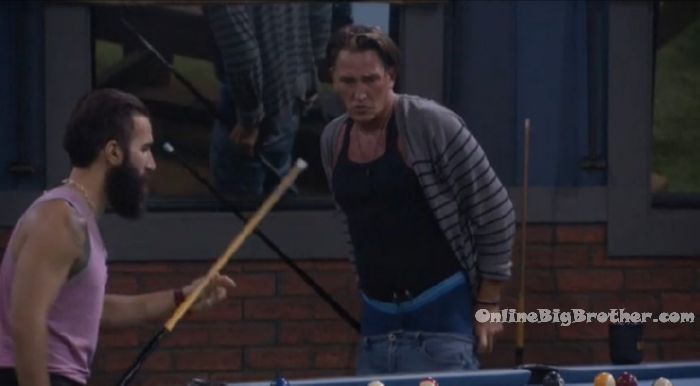 See what they can't show you on TV Try the live feeds for FREE!
11:15pm – 11:45pm Lounge room – Christmas and Josh.
Josh – how do you feel about Jason. Jason is solid. But I can't work with Alex. I don't trust her. Christmas – yeah she will get rid of you sooner than later. Jason – I can work with her but she is a liar. I've seen it. I've just seen the way that she talks to people. Christmas – I like Jason. Josh – and he is loyal as f**k! He stays away from me because I can tell there is a physical attraction there. Josh – with you? Christmas – no with him. Josh – thats how I feel about Elena. She is gorgeous but then I see how she can be a b***h.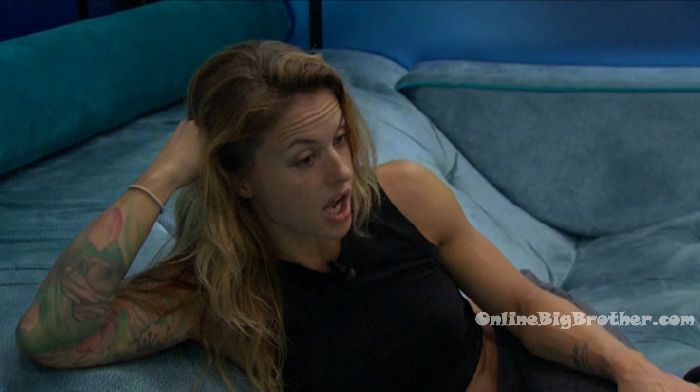 12am Paul and Mark playing pool. Meanwhile – Elena, Jason, Ramses and Christmas hanging out by the hot tub. They talk about not having s*x. Christmas says she "self satisfied" in the hotel (sequester before entering the house). Elena says she tried using the shower head in the HOH room.
12:10pm Lounge room.
Josh – I just had a really good conversation with Christmas and I've never felt better with her. She is my number 1. She tells me that she's huge crossfit. That's f**King awesome!! I need to f**king win an HOH! I need to win a F**KING HOH! I need to win this HOH like a f**king fire is burning in my a$$. I think some sh*t is going to go down on Thursday. I think Christmas wants to pick up Jessica. Jessica is a great competitor but I don't trust her at all. I've got my ride or die baby and its f**king Christmas Tree! I think me, Christmas, Paul, Kevin and Jason could be a lethal team. I'm the loose cannon but I can be lethal, trust me you'll see. I didn't do that bad it the last HOH.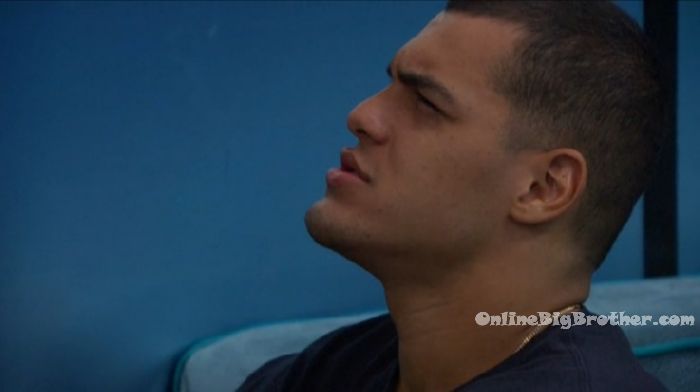 12:45am Backyard – Elena and Mark.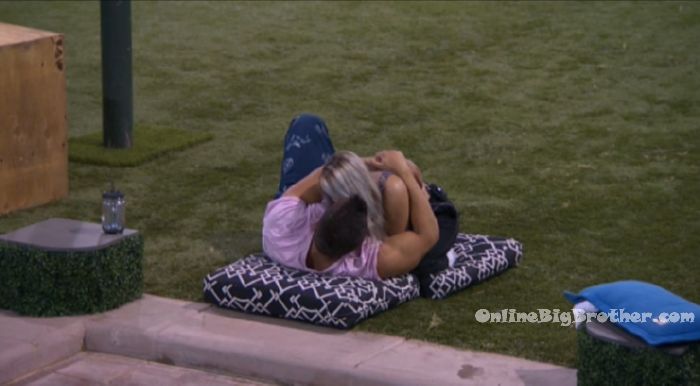 Havenot room – Kevin, Christmas, Paul, Josh, Ramses and Jason.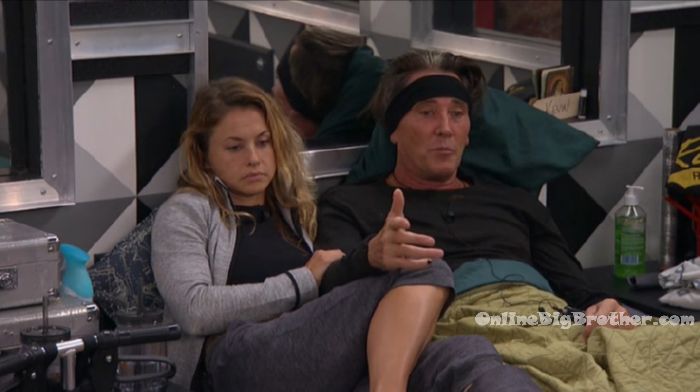 1:37am Bedroom – Matt and Raven.
Matt – I bet so many guys think you're cute until you open your mouth. Raven – Paul likes my accent! Matt – nobody likes your accent.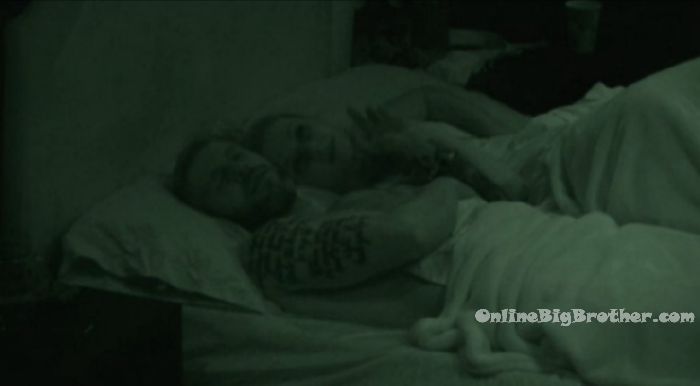 2:10am Mark and Elena laying out in the backyard talking about random things like relationships. They head to bed.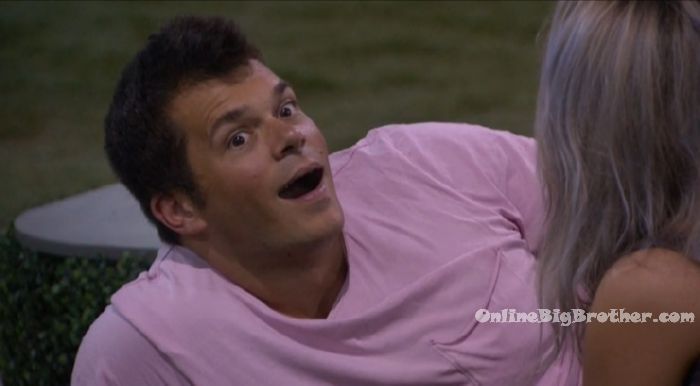 Links to the ranking system
Rank your house guests here
For those of you that like Statistics here are some expanded reports.