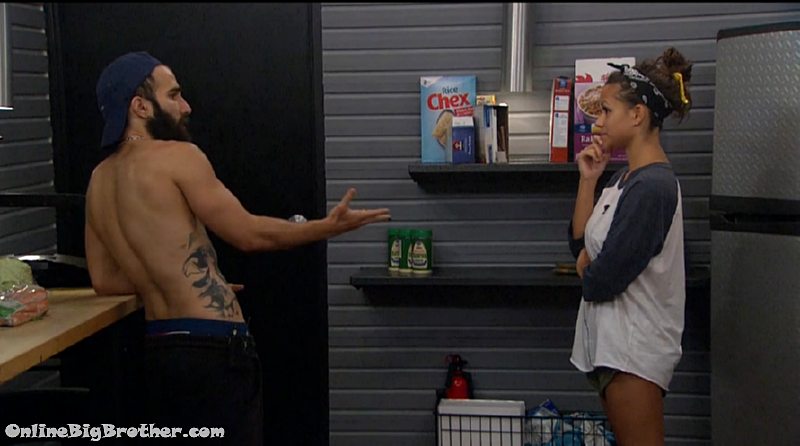 Feed subscription lets you go back and re-watch everything we post here CBS All Access Live Feeds with a FREE 7 DAY trial.

12:32pm Paul and Jessica storage room
Paul isn't so worried about the temptation because he took the temptation so he expects someone else to. He's worried about the curse.
Paul – I'm thinking it's some f*ed up Wednesday live eviction..
Jessica- Wednesday like today.. f* you
Jessica – It's going to be big..
Paul – not necessarily the last care package was a dud… the bribe… (last season)
Jessica asks him who he's voting for tomorrow.
Paul – yes .. Josh..
Jessica- you promise
Paul – yes
Paul says that Ramses is starting to do weird stuff.. Isn't sure about him
Feeds cut..
Paul – just saying… in any scenario if multiple people gang up on me..
(I think Paul is telling her in the scenario where a lot of people come to him he's going with the house)
Jessica – if Ramses goes home this week I'll feel so f*ing guilty
Paul – if it goes either way it's not necessarily
Jessica – explosion
Paul reminds her he's played this game before. Tells her that her nominations haven't pissed anyone off so regardless of who goes nobody is going to be pissed off at Jessica. Jessica says people should be scared of pissing her off and if Ramses goes home she'll be pissed off.
Jessica – I don't want to be blindsided tomorrow, I really want to be the person that takes Josh out of this game.
Jessica asks him if he hears something is up to tell
Paul asks her if Josh knew that thing about her father before he said it.
Jessica – yes
Paul is shocked says that's f*ed up
Jessica – he was calling me a thing..
Jessica says that Josh told them that Paul instructed him to blow up during the veto meeting.
Paul denies it, "If anything I told him do not f*ing explode.. That's not what.. I was telling him to stop"
Paul – that was f*ing bullsh1t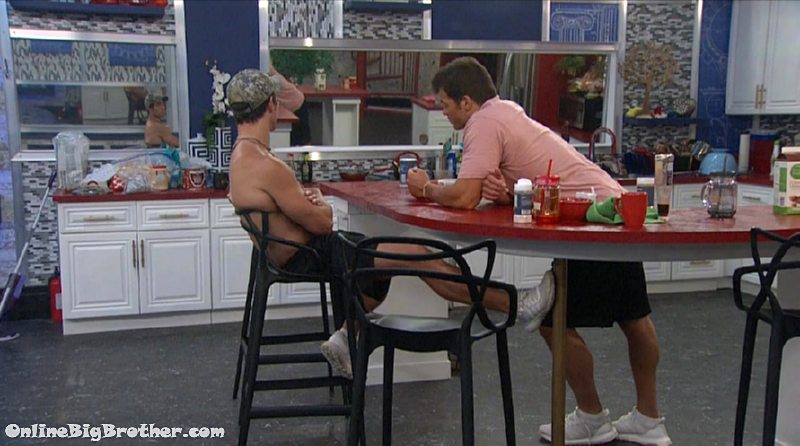 12:45pm cam 3-4 Josh and Mark
Cody talking about Alex putting Jessica up and then now claiming that it was her plan all along to get Dom out, "like she knew Dom was going to go nuts"
Mark – it was weird how it happened..
Talking about using Jason and Alex as assets because they are such good competitors.
Mark – just need power next week then it'll be easy to form a group
Mark – I haven't talked Matt and Raven since you've been back… I haven't talked to Jason and Alex… I haven't talked to Christmas about any game..
Mark – how are you and Paul
Cody – he hasn't talked to me once.. ever since I put him up there's been no game talk.. how about you this week
Mark – We're good.. they were worried about you backdooring him this week..
Mark – if you want to do any crazy sh1t next week, as long as it doesn't involve Elena or Paul you got my back
Cody says he doesn't want to break up Matt and Raven before Jury he still wants to honor their original alliance.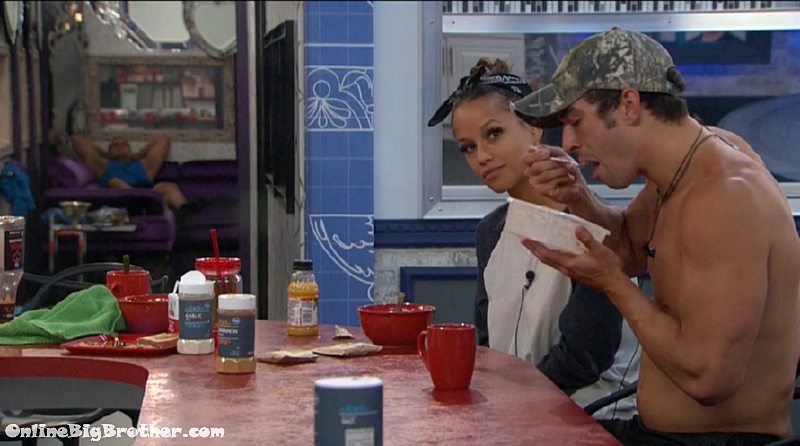 1:00pm Jessica and Cody
Jessica tells him that Josh sprayed flour on Jason while he was in the shower and Jason was pissed.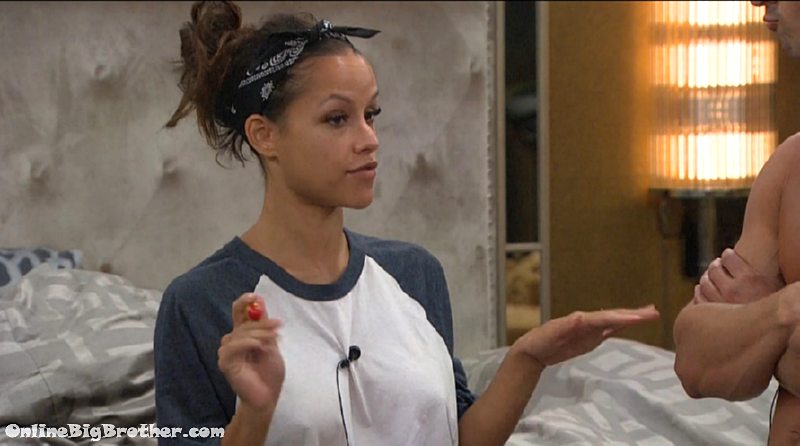 They head up to the HOH.
Cody says that Mark, Elena and Paul are in a "Huge" alliance. Explain his conversation with Mark in the kitchen.
"Just as long as it's not me, Elena and Paul we got your Back"
Cody – I don't like any of them.. you take one out there's still 2 left.. they are the biggest threats in the house they'll come after me
Cody wants to make the first move.
Jessica – you still want to take out Paul
Cody – yeah because than maybe Elena and Mark will come
Jessica – there's a lot of benefits to take out Paul the house will reshuffle.
Jessica says Christmas has been reaching out a lot lately
Cody says Mark was throwing Matt and Raven under the bus a little bit
Jessica- are they even here to play a game
Cody – i'm not going to go for someone weak like them.
Jessica says she doesn't feel guilty lying to Paul about the temptations because he lied to her.
Jessica adds that Paul told her "It doesn't matter who goes home tomorrow you're not going to make any waves so it doesn't really matter who goes home"
Jessica – and I looked at him .. he was like 'You're not going to piss anybody off'
Jessica – I looked at him and I was like, You're under the assumption that I care about pissing people off people should be concerned about pissing me off and that's exactly how I'm going to feel if Ramses goes home tomorrow
Jessica – Don't f*ing piss me off this is my HOH and I'm telling you to vote out Josh.. (you're in for a surprise)



Jessica mentions one downside that taking Paul is they become the biggest targets.
Cody says they are already the biggest targets.
Paul – that's the dumbest thing Mark could have told me
Jessica says they can only count on each other says she can't stand seeing Matt and Raven floating through on the other side.
Cody wants to put up Matt and Raven use the Veto on Raven and Backdoor paul.
Jessica – we have to stay active downstairs tonight.. I don't want to but we have to make sure there's no nonsense going on
Cody – should I start talking to Jason and Alex to hedge our bets in case they win HOH
Jessica – yes
Jessica says it tears at her soul talking to Jason and Alex.
Jessica – Mark does like you Elena and Paul and in his ideal scenario would be you all teaming up Avengers style
Cody – Yeah but we're the sh1t sandwich in that group
Jessica – ya 100%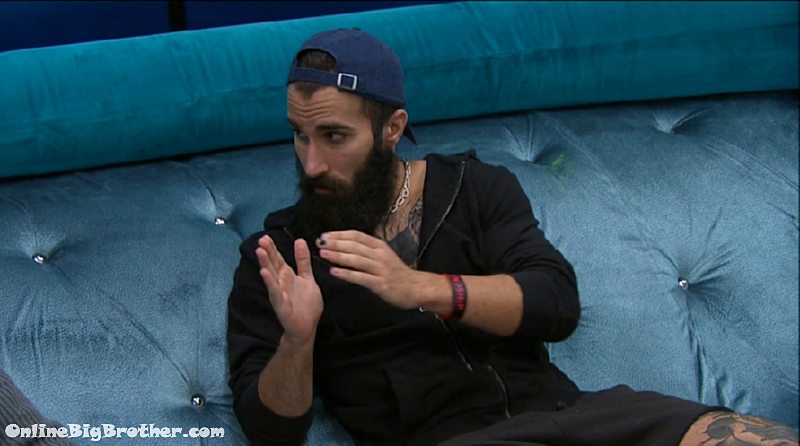 1:38pm Paul and Kevin
Paul freaking out.. Confirming with Kevin that he's voting out Ramses. Paul thinks it's a double eviction coming up.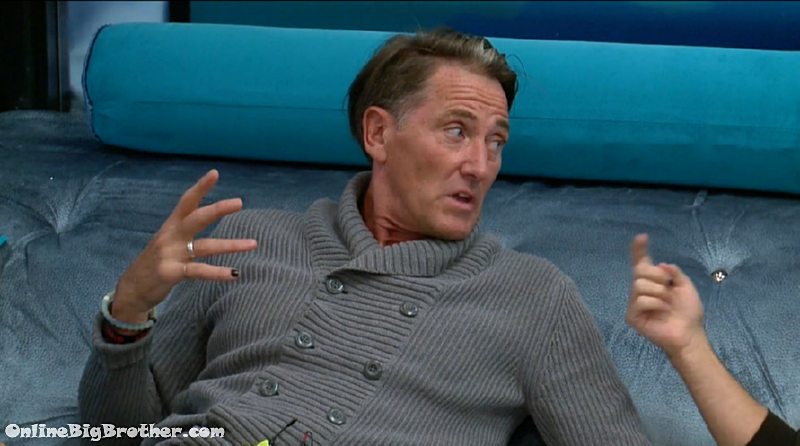 Kevin – I gave you my word man.. my word..
Paul – I trust yo more than any motherf*er in this house..
Paul – if it's a double eviction Mark and Elena go up and if Elena wins the Power of Veto Cody goes up and he goes home..
Kevin – OK I gotcha..
Paul – you need to start winning sh1t like NOW…
Paul – as someone that has played before I'm telling you..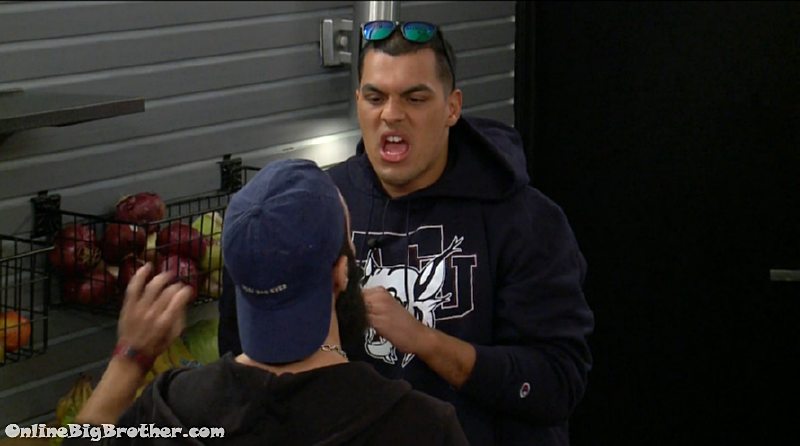 1:46pm Josh and Paul Storage room
Josh – I'm f*ing heated, I want to call that b1tch out (Jessica)
Paul – I swear Josh if you do it I'll vote you out on Thursday
Paul – do not ever say that again ever
Paul – You better f*ing win next week bro.. get the f*k outta here..
Josh leaves.. Raven comes in
Paul – Cody is first, Elena is second..
Paul – these next few weeks are important as f* we make a mistake we're gone.. we're gone..
Paul says once the other side takes a shot they will hit him first and once he's gone, "You get it" (The season becomes much better)
Raven – yeah
1:55pm Josh and Christmas Bathroom
Planning out who they will take out if it's a double.. Looks like it's a carbon copy of what Paul is preaching. Cody, Elena, Mark, Jessica.
Links to the ranking system
Rank your house guests here
For those of you that like Statistics here are some expanded reports.