| | | | |
| --- | --- | --- | --- |
| POV: | ? | Next POV: | July 21st |
| POV Used | ? | POV Ceremony | July 23rd |
| HOH: | Sam | Next HOH: | July 26th |
| Noms: | Kaitlyn and Haleigh | Have Nots | |
Big Brother Spoilers Power of Veto Players are Kaitlyn, Sam, Haleigh, JC, Fes, ROCKSTAR
POV HOST: Rachel is the host
** Fes is torn about this veto as both the girls nominated are his "friends"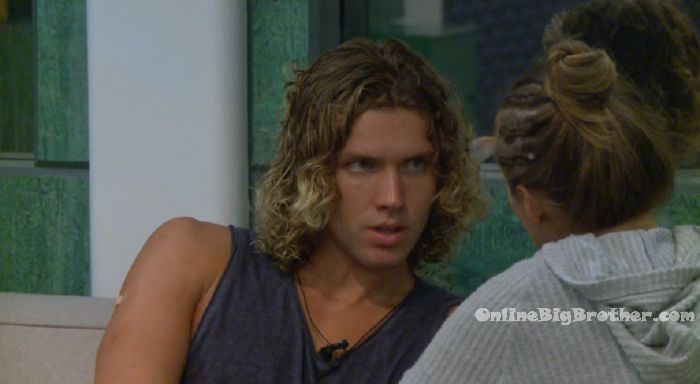 2pm Bathroom. Tyler and Kaitlyn. Tyler tells Kaitlyn that he would never swear on his dad's grave like how Swaggy did it. I just wanted to double check that we were clear on that. So don't ask me that. Everyone is different and has the right to do it. I just wanted that to be clear. It was just a misunderstanding. Kaitlyn says she won't. Tyler – are you still 100% that Sam used the power. Kaitlyn – I'm a 100% sure. Tyler – remember what I said, don't be 100% about anything. Kaitlyn – I am going home if I sit next to her (Haleigh). Bay and Rockstar will vote to evict me. Tyler – do you have an okay relationship with them right now? Kaitlyn – they will pick Haleigh over me. I did something to them. I sent Swaggy home. I heard them saying it. Tyler – then don't sit next to her.. don't sit there at all. Get Fes to win the veto for you. Kaitlyn – he's being weird. Tyler – he just don't want to go up at the replacement nominee. Win the veto, that's all you can do.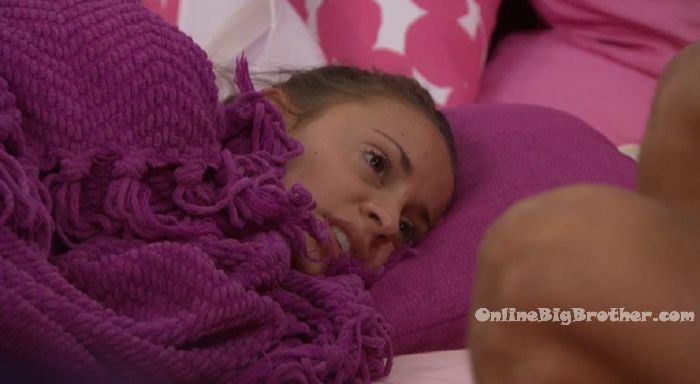 2:35pm Bathroom. Kaitlyn and Fes. Kaitlyn – Why oh why can you not look at me and tell me I'm safe? Fes – I am not saying I'm not going to save you. Fes – I've been real ever since I walked into this house. I'm not going to be fake now. There are so many thoughts going through my mind and I'm not going to lie to someone's face. I am not saying I'm not going to. Kaitlyn leaves. Fes – Scottie this week f**king sucks. If I win it I look like an idiot to one of them (Haleigh or Kaitlyn). Scottie – but here is the thing, you have to win it because we don't know if there is a backdoor plan. You need to secure your own safety. Fes – I'm not throwing it but that's the thing who the hell would she put up. Scottie – if you're not an option and you take off one of them.. then it has to be Me, Bay or Rockstar.. right? But we don't know. Its a tough spot but your priority is to win, win, win.

See what they can't show you on TV 7 Day Free Trial!
2:50pm Living room. Brett and Haleigh. Haleigh – worst case scenario is if Kaitlyn wins the veto and I'm up there next to someone else. Like Rockstar. Brett – because.. Haleigh – she's got more blood on her hands. She sent home Swaggy, she flipped out on you. But then again she is a hell of a talker and she is already campaigning. I don't know, it f**king sucks!
Lounge room. Kaitlyn and Fes. Kaitlyn – I want to know why you looked at me the other day and said you would save me? Fes – I didn't say I wasn't going to save you. Kaitlyn – Who did you have a conversation with that made you change your mind? Like you were undoubtedly saving me yesterday? What made you go from saving your number 1? Fes – I didn't say that. kaitlyn – but that's the action. Someone else it taking precedent over me and I want to know why? Help me make sense of this. Fes – I feel like you're keeping stuff from me. Kaitlyn – it actually makes me physically ill that you keep thinking that. If you feel like you can't trust me. Trust is everything in a relationship. I'm not keeping jack f**king sh*t from you. Not one ounce, not one fact, not one thing, nothing. Fes – you did it to me before. Kaitlyn – I would save you. Fes – What if it was me and Tyler? Kaitlyn – I would save you. Kaitlyn starts crying fake tears. Kaitlyn – all I want to know is why you would look me in the eye and lie to me? I didn't realize that we were at the point where you would choose her over me. Like I actually feel like I am going to throw up.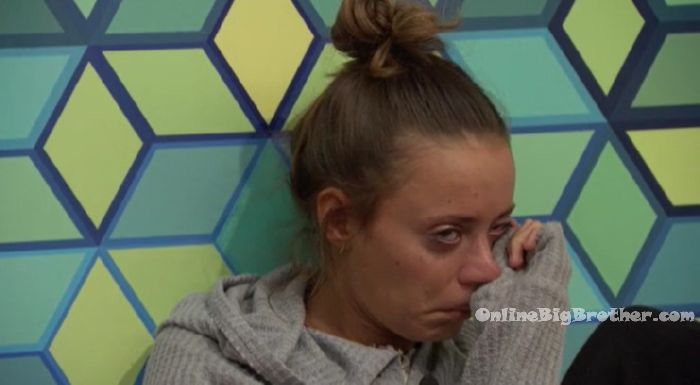 Fes – every little thing you hold a grudge with and you f**k me up too in this game. Kaitlyn – shut up with that. Kaitlyn – if I win this competition and you are telling me right now that you can't save me? ..That destroys our friendship. I am just trying to be a strong girl. I thought that I had you. And I am f**king stupid to keep thinking I have people when I don't. What's made you start questioning me? Kaitlyn – You're the only person that I pledged strong allegiance to. I would save you. Fes – its one thing to say that but another to actually do it. So if it was Tyler and I, you would save me? What would you tell him? kaitlyn – I would! I can't keeping doing this. I have a veto to win that is the only way I am safe. Fes – I don't even want to play this stupid game anymore. Kaitlyn – all right Fes, cool! You shouldn't have looked me in my face and said you'll save me. I kept you in the dark about something and I own it. Kaitlyn leaves the room.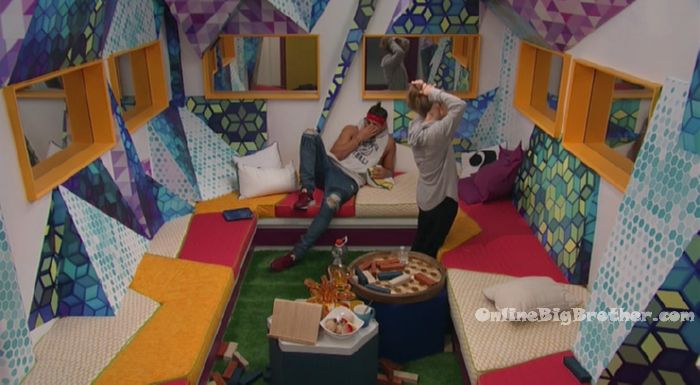 3:20pm Brett – did you want to hear the funny new news? Sam – enlighten me. Brett – that essentially you and I worked together and you used your power and that's how the vote ended up that way. Sam – that explains a lot. Brett – and that's why everyone is acting all .. oh and this was created by Kaitlyn and Rockstar. Sam – so now everyone hates us? Brett – mainly me. Sam – is everyone giving you the stink eye and hating you? Brett – Mainly just Rockstar.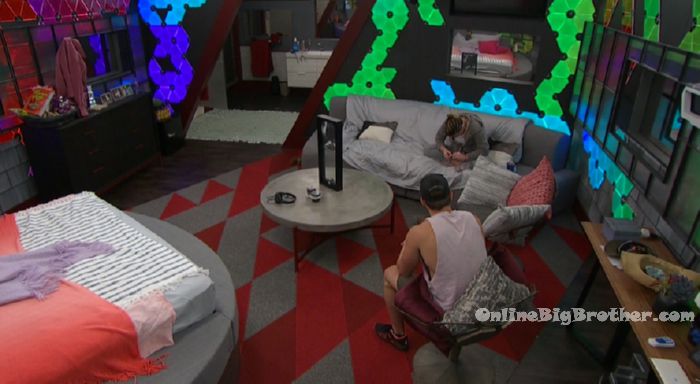 3:30pm Big Brother blocks the feeds for the Power of Veto Competition to take place.
5:15pm Still blocked…
HELP keep the spoilers coming! Show your support by making a donation. ANY amount is greatly appreciated! Your donations go directly to paying the fees required to run this site.
For all you folks that need a VPN I use this one
Rank the houseguests!
Easiest way to Rank the house guests use link below