| | | | |
| --- | --- | --- | --- |
| POV: | Tyler | Next POV: | July 7th |
| POV Used | ? | POV Ceremony | July 9th |
| HOH: | Kaitlyn | Next HOH: | July 12th |
| Noms: | Winston, Scottie | Have Nots | ? |
APP Store Power: Tyler got the Cloud app & can keep himself off the block at one nomination or veto ceremony in the next 8 weeks.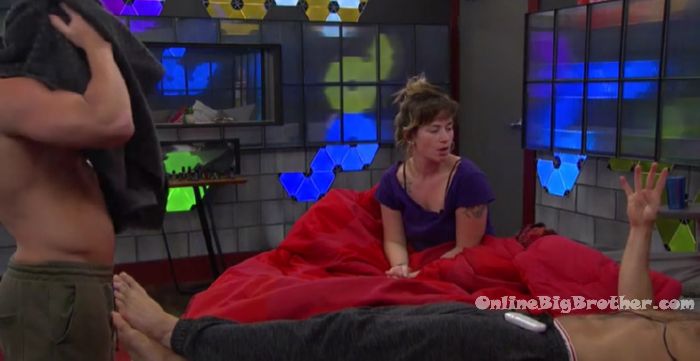 10:03pm HOH room – Brett, Sam and Winston. Sam – so realistically as far as the game part of stuff what do I need to do so that you guys don't make me a suspect all the time. Winston – Why would you think that? Winston – first of all you're the sweetest girl in the house. You cook, you clean, you've done our sheets… and beyond that why would you worry. Sam – those are things I would do no matter what. I am saying the stuff that people talk about and I don't know how to talk about. I don't don't know how to have that conversation.. like hey lets talk game. Winston – you came to the right two people. That's exactly how you say it. Sam – obviously you two and the girls decided for me to stay. That makes me feel really good. Likewise I would have done the same for any of you. I've now decided that this is my team and I love to have a team. Winston – that's great. He fist bumps her. Winston – we've got your back. Sam – I love to be apart of a team but don't mistake my kindness for weakness. Winston – you're a snake in the grass, I love it. Sam – you're going to have to take me side and tell me da da da… and the less I know the better because then I don't have to have things in my mind or have to lie. Winston – Scottie is great but I can't figure him out. When he went up to the power app and then came out he acted totally different. Sam – I really don't think there is an act going on with him. I think he was there was some strategic things that he tried to put in place and then people started to see through it. Winston – I want you to know that we've got you back and when you win HOH we will help with how to attack. Brett – I think we just need to keep our ears to the ground on who has what.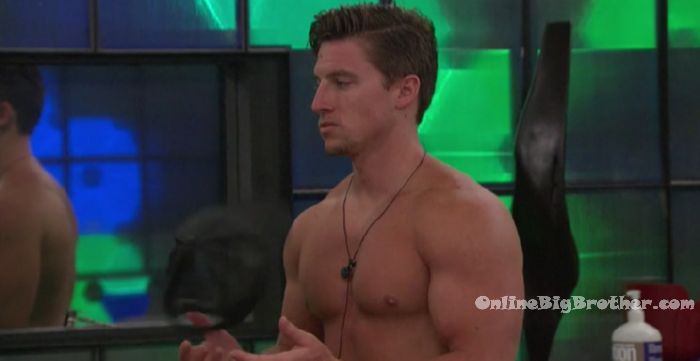 10:15pm Havenot room. Rockstar and Haleigh. Rockstar – do you think she is still going to do it. Haliegh – yeah. She is hanging out with them so I don't know. Rockstar – I just feel horrible. Its awful. Haleigh – Like for us to know about it before it happens is even worse. But even if we don't it would not help anything. Rockstar – nope. Haleigh – except hurt our game. Rockstar – yeah. It would just be explosive before. god.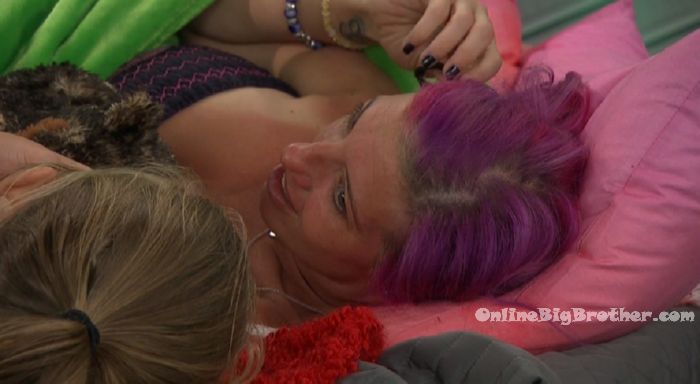 Try the Live Feeds FREE for 7 DAYS! Click here for your: FREE Trial
Rockstar – She said I am not used to being around so many white people. I was just thinking about what Kaitlyn had said that she was from New York city .. but then she said she lived in a place with only white people. And now she was just like Swaggy is so aggressive. And I'm like but he's not. And then Bayleigh started telling me that a lot of people don't realize that they're racist. The word racist gets thrown around a lot but they never interact with black people so they don't know they're prejudiced. Its just little things I pick up on. Its just upsetting. Brett, Winston, Angela and Rachel are normal people, you know what I mean. Haleigh – Kaitlyn is normal too. Rockstar She does these friend-mance things. If I win HOH I'm putting Tyler and Fezzie up. Fezzie and Swaggy are good dudes but their belittling of women. But Swaggy doesn't do that. Sam says that one of the App Store apps where slightly bigger than the reas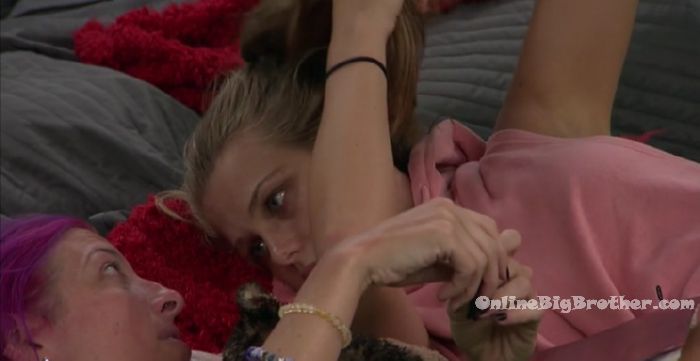 10:27pm Sam and Tyler. Sam – I am starting to feel more comfortable and starting to learn more. Tyler – that's good, you're doing your thing. Sam – its still me, you, Kaycee and Kaitlyn. I hopee that's the right thing to do because Winston is trying really hard to see if I have it. And I just won't. Tyler – that know? Sam – Yeah. I don't know what the plans are. I just know that I'm listening to you and only you. Tyler – what was yours called (power). Sam – bonus life. Tyler – I would have picked that one too. Sam – and the icon was significantly bigger than the rest. Another one was identity theft. I think that is take some on else of the block and put someone else up. And then the other one was an iCloud so I thought that meant you get HOH for the week. Tyler – I don't even think you will need to use your power. Sam – well here's the catch and I don't know if I told you about it. There is an expiration date. I can use it for three weeks. And this is something I haven't told anyone .. on the fourth week it gets used no matter what. If I don't use it, it is offered to who is evicted that week no matter what. Do we use it and get rid of it or do we use it creatively to backdoor someone. BUT its a chance.. its worded as a chance. Something in my heart tells me it is the robot. I am so cautious of who I use it on .. the only other person I would trust to be the robot is Scottie. I wouldn't want you to do it. Tyler – for the whole game? Sam – I don't know. Is it the battle back, the robot, or something else.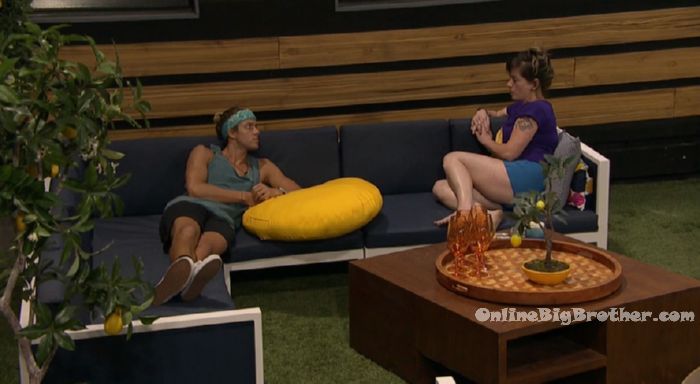 FLASHBACK and watch everything you missed: Live Feed 7 day FREE Trial!
10:35pm HOH room. Kaitlyn and Haleigh. Kaitlyn – this week we can drop whatever alliances we have. No we are able to make fair alliances because we know each other. Why would I keep someone in my alliance that says I am a liability. Haleigh – is there a plan after all this is over? kaitlyn – what I would like to do is this six… you, me, Rockstar, Fez, Tyler and Brett. Haleigh – I like that. Kaitlyn – I am going to be honest with you Bayleigh is going to blow up when this happens. Kaitlyn – I have to do this for me. Lets say he has this power and takes himself off, then Bay goes up. Brett and Winston are better people to have than Swaggy any day. Who would you put up? Haleigh – I don't know it was going to be Winston and Angela. Kaitlyn – it still can be. Brett joins them. Brett – my gut tells me that Scottie has it (the power) which takes it out of play because he's being taken off the block.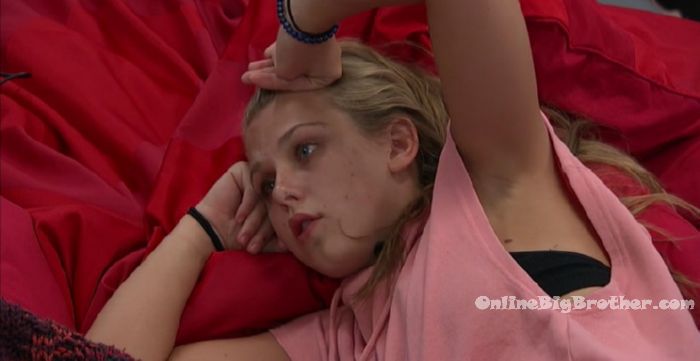 11:15pm Backyard. Scottie, Sam, Swaggy, JC and Tyler. They talk about whether or not Steve is waiting in sequester for a battle back.
11:55pm – 12:15am Backyard. Scottie and Bay. Scottie – Usually by now there is a blow up. Bay – there is normally and that's why I am confused. Not that I want there to be a blow up but people are keeping it together. What do you think it is? Scottie – I think that America thinks most of us are cowards. Bay – why? Scottie – because nothings really happened. The boiling point is that they would say we're passive. It might change after this veto ceremony. Bay – it takes one thing and it can change. But nobody wants to be that one person. If she (Kaitlyn) is (putting up Angela) I commend her. Scottie – I said to her if I were you, I would put up the bros. Bay – but she's not going to do that. Scottie – no, she has this backdoor which I think is a dumb plan. My guess is that she is going to put up Angela. No one told me anything. Bay – who do you think is going home? Scottie – I think she would want Angela. Who would you like to see go? Bay – I don't care with either. For my game its better for Winston to go. Scottie – him and Brett are one vote. Angela will disagree with them. However I think she is threatened more by Angela. Scottie – if I put Brett and Winston up .. Kaitlyn will always vote to keep Brett. I think Haleigh would too. But if she puts Angela up and wants her out I will do that because she kept her word.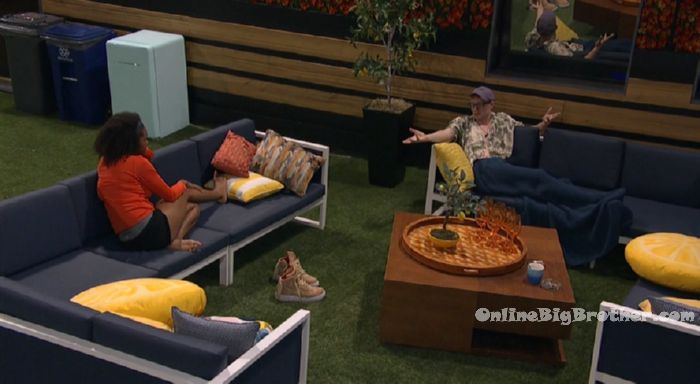 12:20am Backyard. Swaggy, Fez and Scottie. Swaggy – I can't wait for this veto ceremony man. Scottie – I am very confident I am coming off. Fez – now she shows her card that she is with us. Swaggy – if Kaitlyn really does this (puts up Angela) then I've got no problem with her. She did what she said she was going to do. Scottie – trust. Swaggy – she thinks I have the power. Fez – that's what she told me. Swaggy – what did she tell you? You need to start telling me this stuff because I'm hearing other things that you're not telling me. Fez – She said she thought you had the power because you hadn't talked to her. I said no he hasn't talked to you because I told him to leave that situation alone. Swaggy – yeah I ain't got no power. I would have told you if I did. Scottie – if Winston and Angela are on the block who would you vote out? Fez – I would vote out Winston. He's been more shaddy. Scottie – I want Winston to go because he and Brett are one vote.
For all you folks that need a VPN I use this one
Rank the houseguests!
Easiest way to Rank the house guests use link below