| | | | |
| --- | --- | --- | --- |
| POV: | FES | Next POV: | July 21st |
| POV Used | ? | POV Ceremony | July 23rd |
| HOH: | Sam | Next HOH: | July 26th |
| Noms: | Kaitlyn and Haleigh | Have Nots | Scottie, Rachel, Bayeligh, Kaycee |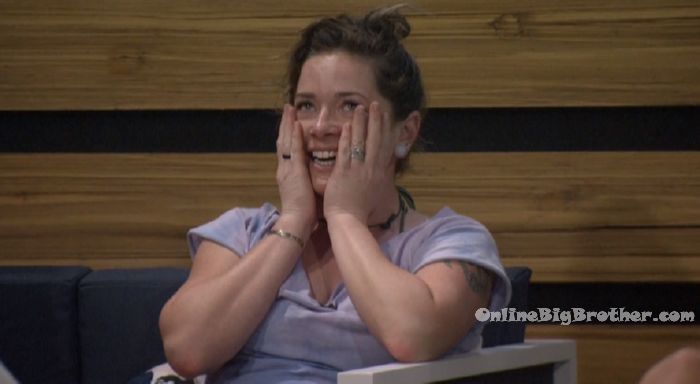 10pm Backyard couch. Fes, Sam, Kaitlyn and Rockstar. They're going around giving each other compliments. Kaitlyn compliments Fes – When you came to me that first day in the kitchen and said .. because you knew I had a boyfriend .. you said I've never had a girl that's a friend before. And I was like I'm ready for the challenge! Thank you for having me! From the moment that happened.. I have obviously had guy friends in the past but I can genuinely say that you are my BEST friend. Like you're my best friend forever! Like no matter what happens. I love you so deeply that like you could literally f**k up my entire life ..like you could do something that ruins my life and I would be like no you're still my best friend. We f**k with you all the time and say that you're egotistical and full of yourself .. but you are.. like EVERYTHING! You're the best! The best, the best! I admire you in so many ways.
/>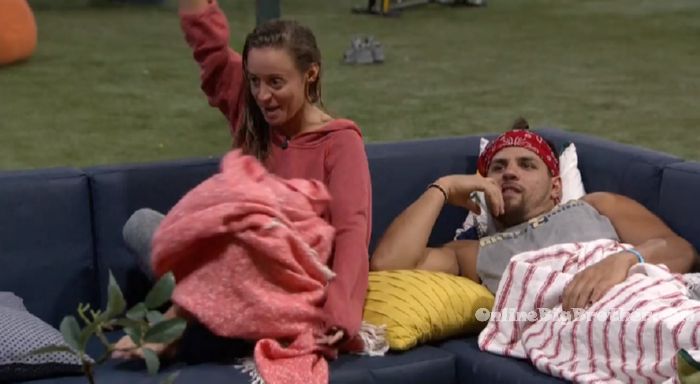 Angela and Bayleigh in the hammock. Chatting about their lives outside of the house. Meanwhile on the backyard couches Rockstar is talking about her kids. The backyard compliments begin again. JC tells Kaitlyn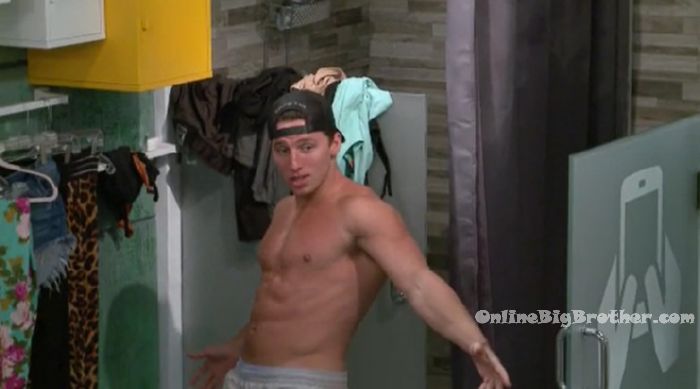 10:50pm Bathroom. Kaitlyn and Brett. Kaitlyn – Imagine if I get past this week and I win HOH! Brett – that would be sick! We would have so much fun if that happened. Kaitlyn – I know I would be a F**KING TYRANT!! Just kidding! Brett – I would give so many massages.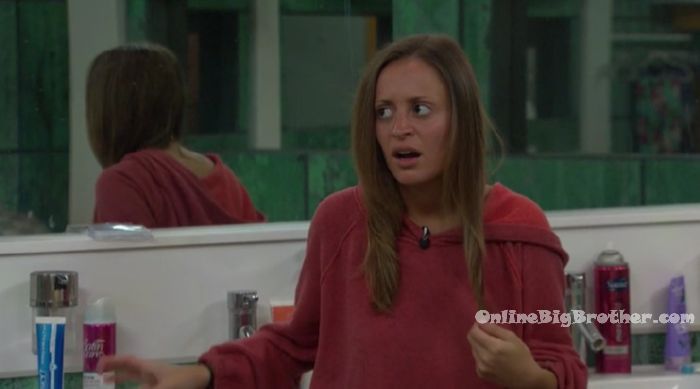 10:50pm Angela and Haleigh talk about their periods syncing up. Haleigh – I haven't had one in 3 years and now I come in here and get one.
Haleigh – everything that she (Kaitlyn) says she stands for .. its like the opposite.. all the time. Angela – she is the biggest hypocrite. Haleigh – I know. Angela – is she over there? Haleigh – no idea. Angela – I don't give a sh*t. She can probably sense that we're talking about her. Haleigh – there is probably a big bubble around use where she can sense what we're saying. She is just so full of sh*t all the time. It came to me in a dream. If I took my dreams seriously..
11:05pm Backyard. Sam and Rachel. Sam is giving Rachel a pep-talk. Sam – you are a phenom-fem-force! And you're a f**king human! You're a person with feelings. F**K yeah!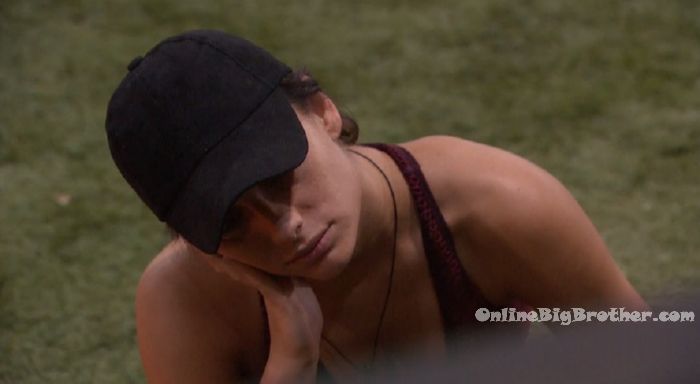 11:25pm Backyard Couches. Rockstar and Bay. Rockstar – its going to suck if I go up there but I'm just going to.. Bay – it would totally change the trajectory of the game. Rockstar – you know if I win HOH.. if anyone wins HOH .. I just want to clear the air with what happened at the last elimination. Bay – at the end of the day you might not get a chance to do that and people have already made up their minds.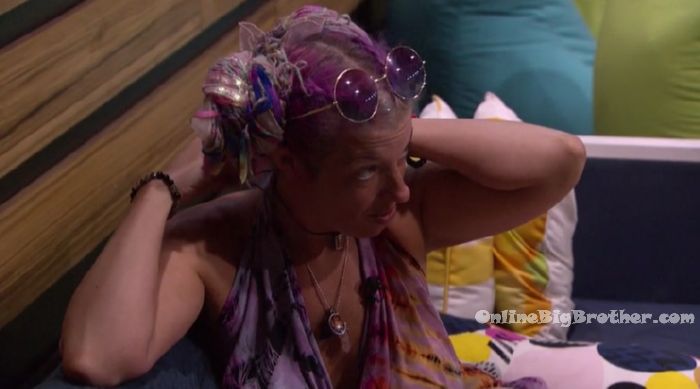 11:32pm Angela and Haleigh look at the colour of each others eyes. Brett – this is where you start making out..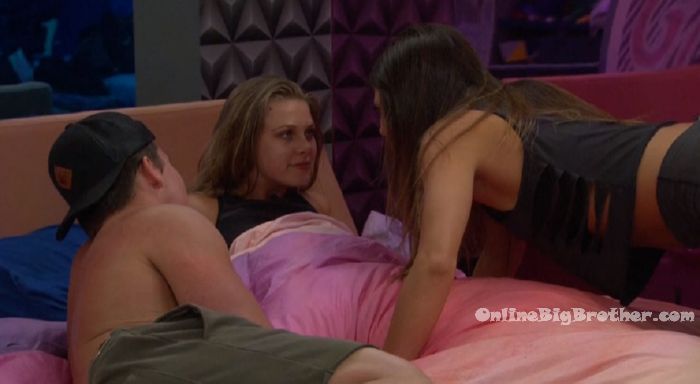 12am Tyler and JC are playing pool.
12:09pm Big Brother switches the feeds to Rockstar and Brett in the kitchen. Brett – I appreciate the apology. I respect that and appreciate that. Rockstar – I am very sorry that I reacted that way. Brett – K. Rockstar – so that's what I was trying to say earlier. Brett – I gotcha. Thank you. Rockstar – after we will figure out why you said what you said but that's not what this is about.. Brett – I getcha. Rockstar – just to clear the air. Rockstar leaves and then comes back and says there was another part that she forgot but got nervous because I was intimidated to say any of that to you. Which was that .. I see that you are a bright light in this house and you lighten up for a lot of people and it makes them very happy.. And I appreciate that. And I like that you're a musician. Rockstar heads back outside.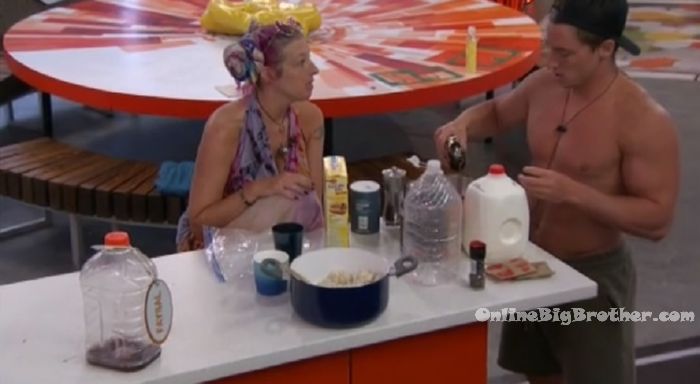 12:13am – 12:30am Hammock. Fes and Bay. Bay – If Katilyn is left on the block she would go to work but if Haleigh was left on the block she would be defeated. I haven't told you not to use it but that's another option. That would keep things safe. But I don't want to loose either of them. I wouldn't want to loose another ally either. To me right now if I read Sam correctly.. she is leaning towards putting Rockstar or Rachel up. Fes – Rachel? Bay – just because she is close to us. Fes – Rockstar hasn't come up to me once. Bay – she was giving you space. Bay – tomorrow no matter what I will have to do damage control. Sam joins them. Sam – you don't need to tell me what you're going to do. Fes – I don't know yet. Sam – if you can just let me know if you're going to use it so I am not put on the spot. Fes – I will tell you tomorrow morning. I can tell you if I am using it or not using it. Honestly I don't know who I will use it on until going into it. Sam – Using it you're protecting one person. If you don't use it you're protecting lots of people. Moving forward do you want one person in your corner or lots of people in your corner. I just need you to let me know if you're using it.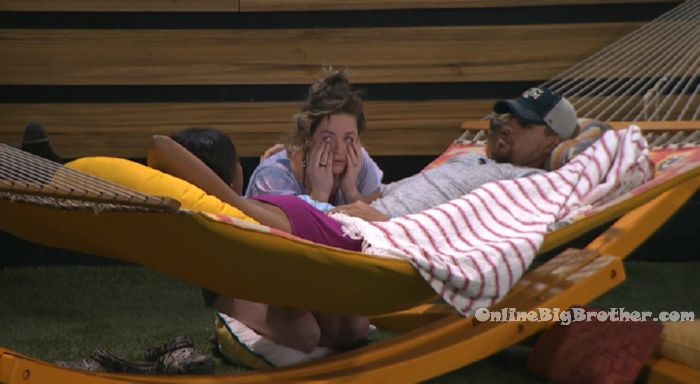 12:35am Bathroom. JC and Tyler. JC – if you're hiding something.. when I get out of this house I am going to crush you both so hard. Hopefully that B***H (Fes) won't use it (veto).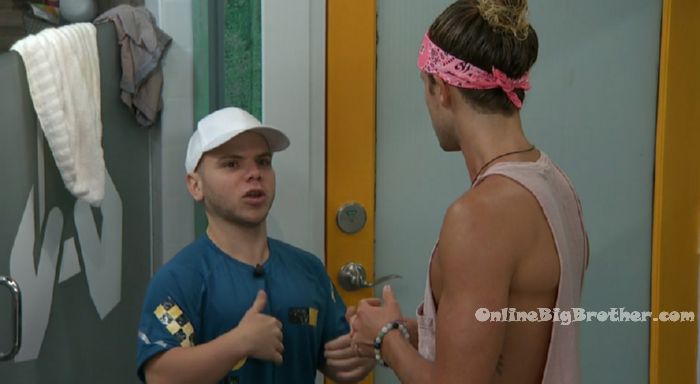 12:45am – 1:10am Hammock. Rockstar tells Fes and Bay about her apology to Brett. Rockstar – I feel better. I also know that if he was to win HOH, I would be up on the block. Bay heads to bed. Rockstar and Fes chat. Fes – how did your talk with Sam go? Rockstar – Sam and I don't talk game. I think she talks game with Rachel and Brett. I really don't believe a power was used. Bay and Rockstar talk about whether or not a power was used to flip the votes at the last eviction.
Meanwhile inside.. Kaitlyn – where's Fes? JC – he is probably s**king some guys d**k because he's gay! Big Brother blocks the feeds..
1:50am Bedroom. JC, Tyler and Brett. Brett – Rockstar apologized to me. She said I am really sorry it wasn't appropriate to say the things I said or act the way I acted. And I was like okay thanks. I was like all this apology does is make you feel better not me. JC – don't say that! Brett – I didn't. And then she came back in 5 minutes later and said something else .. it was so irrelevant. Like she wanted to thank me for the energy I bring and how I lift people up. JC – I think she is worried about going up. Brett – I think she also did something that she is embarrassed about. She needed that to be able to go home to them. I want her to leave, I don't want to ruin her life.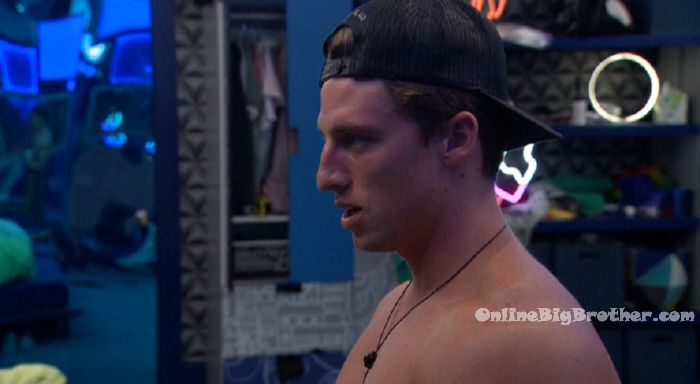 2am Hammock. Rockstar and Fes. They talk about the veto. Rockstar – Haleigh shouldn't be up there. Kaitlyn set herself up to be in this position. I didn't want to have the veto. Part of me doesn't feel like I will be going up there. Part of me thinks I might. Who the f**k knows. All I know is you asked for it, you got it. You said you were going to do something with it so I think you should use it because isn't that why you wanted. Probably totally contradictory advice but its what you said you wanted to do with it. Those were your words. Fes – yes, my game to this day. Mean what I say, stick with the people that have been loyal to me and ride it out. Just like you. When my day comes, my day comes I will go out swinging. Part of me when she got put up on the block if you get house guest choice pick me and she said I don't know. That kind of hurt me. Its like she has other options but I understand it would put me in a difficult spot to pick somebody. It kind of made me mad. I wanted her to tell me she would pick me and then she actually did. And then I actually won. Like destiny. Yeah I save her .. and then you or Bay go up on the block. Its lose, lose situation. Like I said from the beginning I am not going to play with the house. That only gets you so far.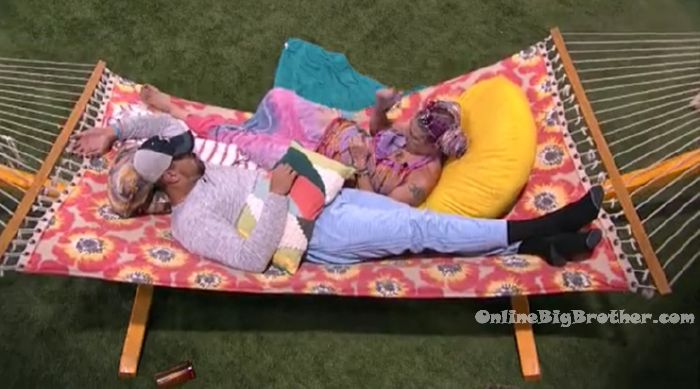 2:10am Sam joins Fes and Rockstar. Fes to Sam – if I don't know who the replacement nom is then I am leaning towards using it. Sam – who would you use it on. You just need to say yes I am going to use it or no I am not going to use it. Fes – it would help me if I knew the replacement nom to know if I am not going to use it. If I don't know then I am leaning towards using it. The reason why I am leaning more towards using it if I don't know the replacement nom is I don't know how I am going to sit on in the diary room on Thursday night and have to vote one of them out. I am close to both of them. I would rather have to choose tomorrow. Sam – alright. Then pick tomorrow and I will pick. Sam – we're both f**ked.. people are going to be mad at you and me. The same thing I said to Bay. You can save one person or save a bunch of people. How much does the person mean to you? You're staying no matter what. I know its hard you could be HOH next week. You have to be a man and think for yourself. All you have to do is tell me if you're using it. Then maybe I do home next week. Fes – how would you go home next week? If I win you're not going up. Rockstar – if I'm not the replacement, then you're not going up. Sam – we could do this all day. I need to know Fes. Yes or no. Fes – I can tell you 100% in the morning .. right now its 70% using it. Sam – I will go to bed thinking you're going to use it. Sam goes to bed.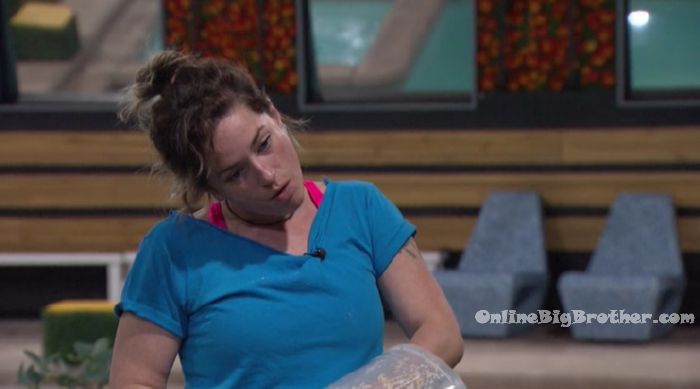 2:32am The live feeds return from being blocked. Rockstar – Its going to be alright. Sam – alright. I love you. Rockstar – I love you my primal little goddess. Fairy mountain momma. Sam – thank you. Sam heads back inside. Rockstar and Fes talk. Fes – she is emotional because she knows she has to put someone else up.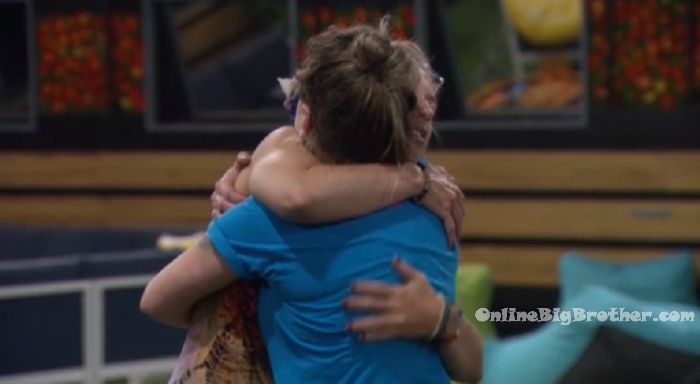 3am – 3:10am Fes and Haleigh. Haleigh – I don't want Rockstar to be the replacement. I don't want to loose Rockstar. Fes – don't want to have to choose between you two on Thursday. Haleigh – would it be a hard choice if you had to pick between us? Fes – yes. Haleigh – HHHHmm. Fes – Sam is maybe inclined to put up Rockstar because she and her will still be friends after this. Haleigh – don't want to lose Rockstar. Fes – then you tell me what I should do. That is nice of you to say. Fes tells Haliegh that he wants her to be his ride or die moving forward. Haleigh wants him to explain taht part better.
fes – you playing with dudes hair.
Haleigh – WOW!.
Fes – you can't do that.. what do you mean wow.
Haleigh – WOW.
Fes – are you serious!.
Haleigh – ARE YOU SERIOUS
Haleigh – you are using the veto as a tool for me to stop associating with all the males in the house.
Fes – no i'm just saying.. it's kinda annoying..
Haleigh – I told you I would do that but I'm not the only person you've asked that of. You literally referred to Kaitlyn as your ride or die! So how are are you going to ask me to do that? Fes – because I am picking you over her. Haleigh – and I already told you I would do that. Fes – that's all I wanted you to say.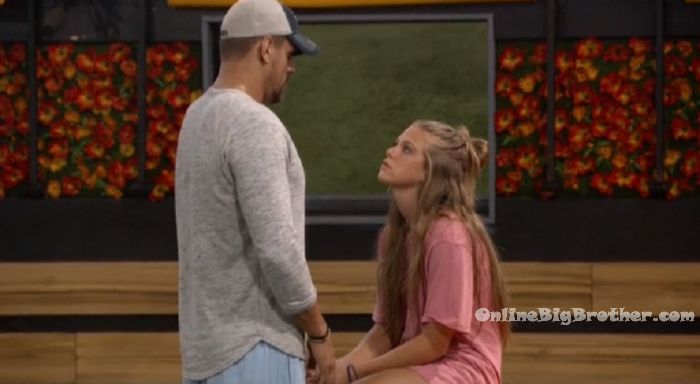 4am – 4:45am Rockstar and Haliegh. Rockstar – IF you come down and worst case scenario I go up. Then you, Fes, Scottie, Bay, JC (for votes to keep her). I really don't think Bayleigh and JC will flip on us. Haleigh – we know Scottie and Fes won't. Do you think Fes would? Rockstar – no he wouldn't, he definitely wouldn't. Haleigh – how would you feel about me if he used it? Rockstar – can anybody beat her? Would Bayleigh? Haleihgh – Bayleigh would. Rockstar – I really don't see her putting up Kaycee, Angela, Rachel, JC, Brett or Tyler.
5am – 5:20am Fes and Haleigh in the backyard talking about the decision still. They then head to bed.