| | | | |
| --- | --- | --- | --- |
| POV: | Faysal | Next POV: | July 7th |
| POV Used | NO | POV Ceremony | July 1st |
| HOH: | Tyler | Next HOH: | July 5th |
| Noms: | Sam, Steve | Have Nots | Brett, Kaitlyn, Scottie, Winston |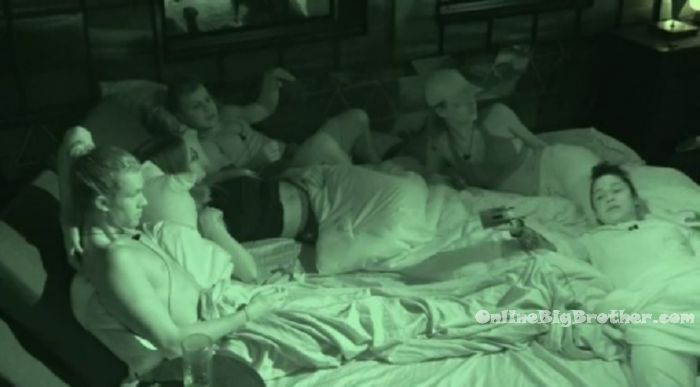 11:55pm HOH room. Tyler, JC, Rachel, Kaycee, Angela. JC – Fezzie gets information from Rockstar, Kaitlyn and then from there he just gives it to Swaggy. That's how it works. That's literally the game play. That's the best part of that team. He is like oh I'm running this house. Rachel – so Kaitlyn reports to Fez and Fez reports to Swaggy? JC – Swaggy doesn't talk directly with Kaitlyn. Angela – so Swaggy thinks he is the CEO? Rachel – does Kaitlyn actually like Swaggy? JC – oh yeah, they are like boot lickers! Literally every time they talk about the alliance they are like Swaggy this and Swaggy that. JC – now that I know that Rockstar is going to give all the information I give her to them… I will just keep feeding that. Angela – and then we will make sure to tall Winston to suck Steve's d**k tomorrow so Rockstar sees that. JC – wait that what? Sucks his D**k? Angela – not literally. Just like he is up Steve's a$$ tomorrow. Tell Rockstar that and then we'll solidify it by having Winston around Steve all day.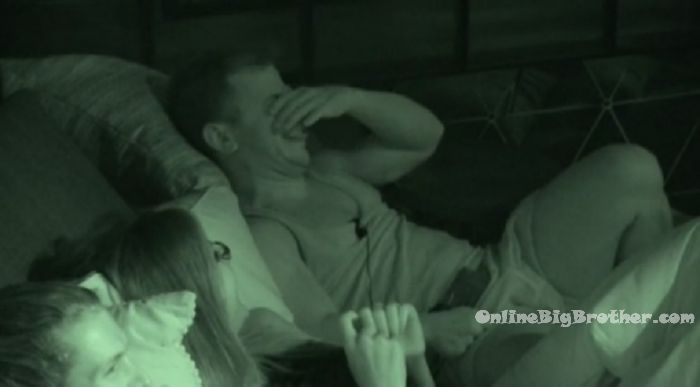 #BB20 Save of the Night @bigbspoilers pic.twitter.com/nRqvhz8xne

— Dawg (@DawgsBigBrother) July 3, 2018
12:27am Backyard – Haleigh, Fez and Swaggy are talking about Kaitlyn being annoyed with Haliegh and Fez. Haliegh comments on how before the live feeds started Kaitlyn slept with Fez for five days and now all of a sudden since the cameras are on she won't.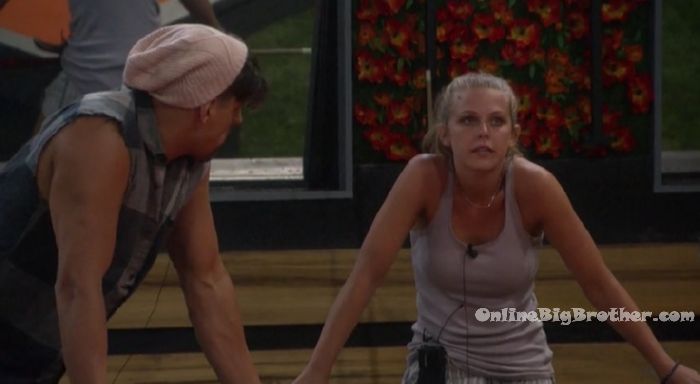 12:27pm HOH room. JC, Kaitlyn and Tyler. Kaitlyn is upset and crying. JC leaves for Tyler and Kaitlyn to talk. Kaitlyn tells Tyler = Fez, Bay, Swaggy and Haliegh are continuously talking about me. I went over to Bay before and was like dude .. I just saw you guys saying my name. And she was like brings me over and shakes me and says you have to stop! I was like Stop what?! Haleigh and Fez are like .. are like .. I guess they are like scared to move forward or apparently and like Fez to Haleigh that he is sick of her flirting with other guys. And doesn't know what to do because he respects my friendship .. and like they're turning this into a thing. And like they're all talking about me saying they don't know how to tell me because she is a f**king fire ball and she is going to blow up on us and like .. first of all why are you talking about this and making it into a thing. Why are you talking about me when I'm in the next room. Tyler – they shouldn't be talking about you behind you're back. Kaitlyn – the only time I feel safest is when I am hanging out with you. Tyler – you should! I can't see you crying like this. Kaitlyn – it sucks because Haleigh is supposed to be my best girlfriend in the house and I'm like well you f**king tell me if there's a problem. The part that really upset me was when Bay told me that no one wanted to tell me because I'm like a cannon ball and no one wants to upset me. I am a f**king meditation instructor .. like what are you f**king talking about. First of all if you come to me and approach me with something rational of course I am receptive to it but when you want to talk about me behind my back and have me find out then of course I am going to blow up. I have never been spoken to like that by a guy before. I am not used to people being so caddy. Tyler – maybe because Fez hasn't had close girlfriends and having you as his number 1, that maybe made him feel weird you know. He had that with you and now maybe he feels like he needs that with Haleigh.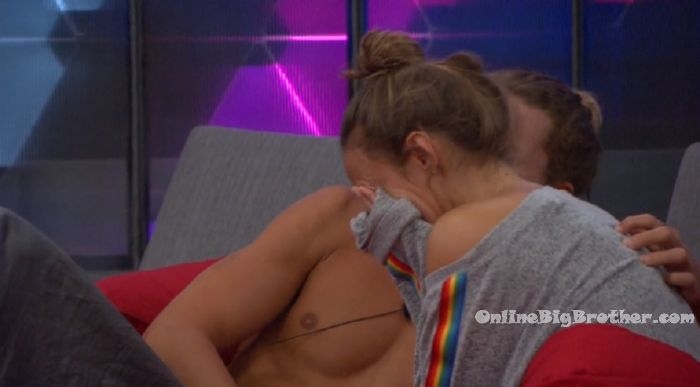 Backyard – Bayleigh tells Swaggy, Haleigh and Fez about the confrontation she had with Kaitlyn. Bay – she (Kaitlyn) was like I was expecting you guys to celebrate with me when I was able to eat but I see you guys mouthing my name in the bathroom and at this point I am really upset. If you guys had something to say, why wouldn't you just come to me directly. I was like Kaitlyn, at the end of the day people don't want to talk to you because you're going to react like this. And she was like that's not true if you guy and just come to me first then I wouldn't have had an opportunity to act like this. No one has ever talked like that with me like Shaggy. Haliegh – tell me about the fight. Bay – it wasn't even like that Swaggy just told her to shill. And then she was like what the f**k do I do?! She said it was so obvious that you guys are talking about me. Haleigh – I told you I needed to talk to her.
Try the Live Feeds FREE for 7 DAYS! Click here for your: FREE Trial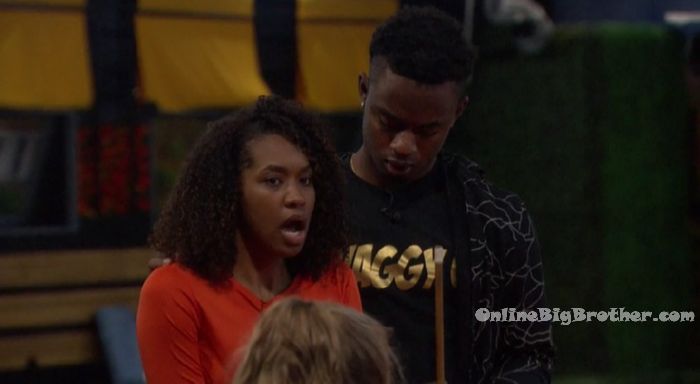 12:50pm Hammock – Haliegh and Fez. Haleigh – I didn't sign up for this! Fez – I didn't either. Haliegh – its kind of mostly your fault. Fez – how?! Haliegh – because you act the same way with every other girl with her. You get under the covers with her, you play with her hair. Fez – you play with every other guys hair. Haleigh – I'm not doing anything wrong. When you have someone that you don't want to lead on .. you don't do those things. You haven't shut that sh*t down. Fez – me and her have had conversations about my family and where I want to be in life. Haliegh – she isn't going to make that comment if she doesn't think there isn't something with you and her. You should have shut it down. Fez – first of all I didn't know I needed to shut it down. Haleigh – she said that you said you told her you've never felt this way about a girl and she didn't know what to do.

1:40pm Haleigh and Kaitlyn talk in the backyard. Haleigh tells Kaitlyn – So I didn't know that this was a comment that was even made. But apparently Bayleigh said that when you walked in and me and Fezzie were under the tent, you said what are you guys doing? It looks like you're having $ex. And then rolled you eyes and walked out. Kaitlyn – I don't even recall those word coming out of my mouth. Haliegh – I didn't hear them. You said something but I didn't hear and I raised my hand. Kaitlyn – I didn't see that. I was in and out. I truthfully don't know what I said. If I did, it was unintentional and not something needed. Haliegh – I don't want that being something portrayed on tv. Kaitlyn – if I did say that I am sorry it was a joke. What I got I got upset with was I heard other people say that my name was coming out of by best friend mouth. I've pulled Fez aside many times today.. I pick up on aura and ever we thought we cleared the air we apparently didn't. Haleigh – Swaggy said that you were upset with me and Fezzie. Kaitlyn – that is absolutely not true. Bay told me that I'm a cannonball. I am sorry if I have been coming off cold. Haliegh – I don't know how we went from point a to point b so quickly. Kaitlyn – you and I are final 2. No one come to you and I before we talk to each other first.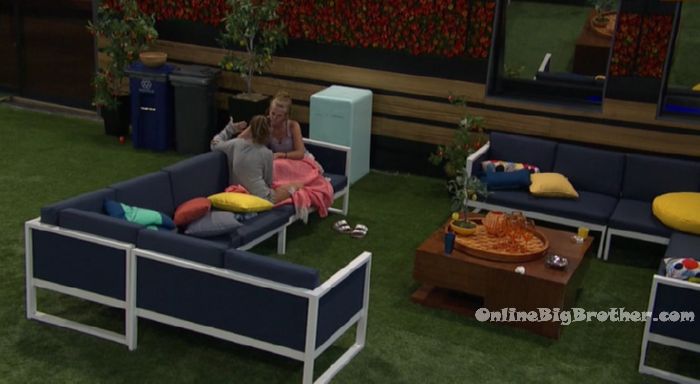 2am HOH room – Brett and Winston tell Angela and Rachel about their plan to get Swaggy and Fez to volunteer to be havenots. Brett – they have to both be havenots. That's when we target them and backdoor one of them. Brett – if we are HOH, the easiest people to put up would be Sam and Rockstar. Angela – wouldn't it be easier to just put them up? Winston – no, we don't want to give them a chance to fight for the veto. Angela – I feel that it would be better to have at lease one of them up. What if one of them gets picked for veto and ends up winning? Angela – what if we did Bay and Fez? That way if he competes he has to pick his best friend or his girlfriend. Brett – that's actually a really good idea. Angela – either way one of them goes home. Rachel – Fez or Swaggy go home. Angela – or his girlfriend goes home. Winston – draw the line. I love it. Especially if its a double.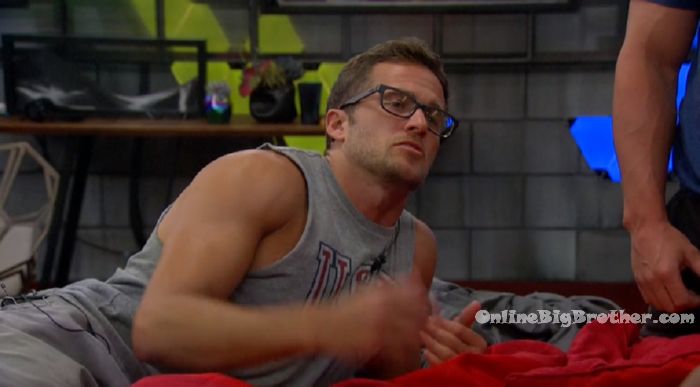 3:30am All the house guests are sleeping..
Rank the houseguests!
Easiest way to Rank the house guests use link below