| | | | |
| --- | --- | --- | --- |
| POV: | Tyler | Next POV: | July 14th |
| POV Used | yes | POV Ceremony | July 16th |
| HOH: | Kaitlyn | Next HOH: | July 12th |
| Noms: | Winston, Scottie Swagz | Have Nots | JC, Fessy, Haleigh, Rockstar |
Big Brother Spoilers – Swaggy's going home.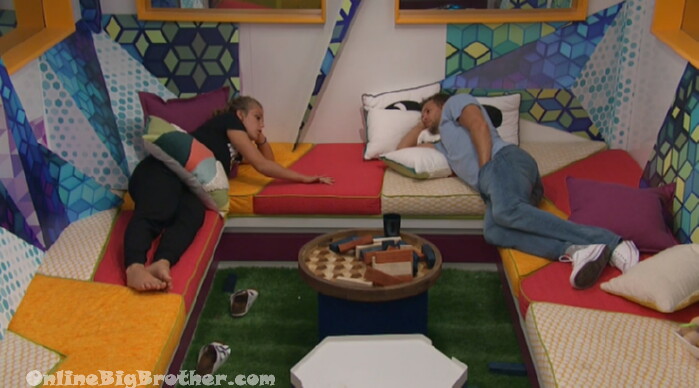 5:10pm Winston and Haleigh
W – I know it's hard and it's hard to say to you because I know you and Swaggy are close
H – at this point he doesn't have the votes
W – we can't be sure that is why today I am going around
H – I have to weigh the different options.. I'm good with them but i'm also good with y'all.. again we've never talked game
H – at the end of the day I don't know where I stand with you or Brett or Rachel
W – I won't target you
Winston teases "brett's in love with you"
Haleigh smiles "shut up"
Winston says there not in anything official, at the beginning everyone is running around at 100 miles a minute.
Winsotn – you're like my daughter
H – shut up Winston
Haleigh wants them to start over
Haleigh – you are staying.. you have be Brett, Angela, Rachel, JC, Kaycee, and Sam that's 7
Winston – got my fingers crossed..
H – you need 6 to tie..
H – 100% they'll know I flipped.. If I flipped I need to know I'm ok here
Winston says he likes her in the game he's not going to target her. he jokes that he likes seeing her and Brett fall in love (LOL)
They agree the entire house got off on the wrong foot.
H – Swaggy came in hot and I got involved
W – I can't fault you for that
Winston – I think the world of ya miss texas
Haleigh giggles
W – and I'm serious when I say I apologies for getting off the wrong foot..
Winston says he was jealous that the other side got to her before he could on a personal level but on a game level.
Haleigh well they didn't thought.. that's another thing that happened this week
Haleigh – Kailtyn's move threw everything into perspective nothings set.. and moving forward you can work with whoever you want to in this game.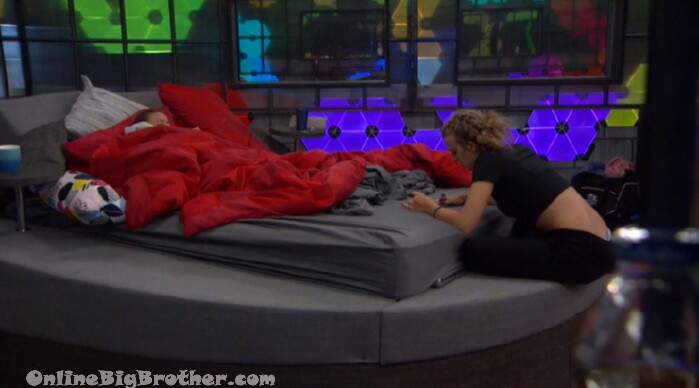 5:26pm HOH Kaitlyn and Haleigh
Haleigh is clearing up that she said not you alliance she meant not her.
Haleigh – I just wantted to be clear I never said that.. I was trying to..
K – I was just so over the conversation
H – I know it was a lot and RS was coming at you hot
Kaitlyn – everytime we talk and have a one on one it's about how nobody likes her
H – I know i'm trying to distance myself from her
K – it's too much
H – She doesn't really have the best social skills with the other people and she's not trying to
H – She's not trying.. She rude to them and she doesn't like them and that's fine but you can't play this game like that
K – you know what she said to me that really pissed me off
K – she said to me .. she was like.. I can't play the game you're playing because otherwise I won't have someone to go home to
K – She was like I can't rub people's heads I can't scratch people's backs
K – I'm in a f***ing relationship too.. I'm just literally being myself and he knows that
K – if that's not you that's fine don't imply what I am doing is a problem
H – I don't know what to do tomorrow
K – what is your gut telling you
H – it's not speaking to me.. I see pros with this side and pros with this side
H- Brett won't put me up for 3 weeks, Winston sat me down and told me he's not putting me up for 3 weeks
Haleigh says the other side thinks they have 5 votes and if it's 4 they'll know she flipped
K – it's important to just say to Fess… we didn't have the numbers..
H – I said that to Rocksars and she was like what if someone flips and your the reason
K – it's not going to happen we already going to have the numbers. You have to decide what you want to do again I don't think it's going to make a difference
K – Brett's still going to keep you safe, Winston's still going to keep you safe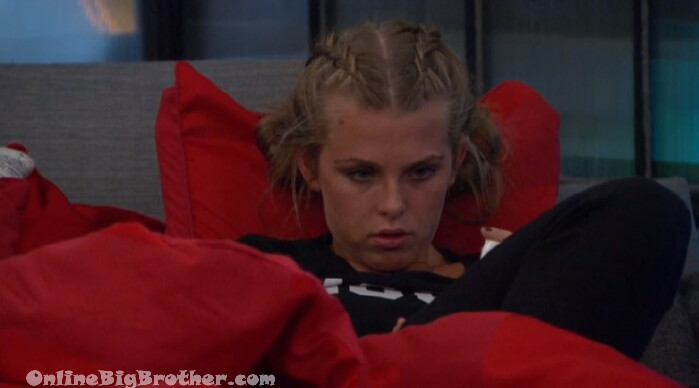 Kaitlyn tells her the only people that will care if she votes out Swaggy are Rockstar and Bayleigh, "and who cares"
H – has Tyler said anything
K – oh no but when he was in here I thought I heard somethign between you guys is everythign ok
H – yeah
They decide to meditate over it..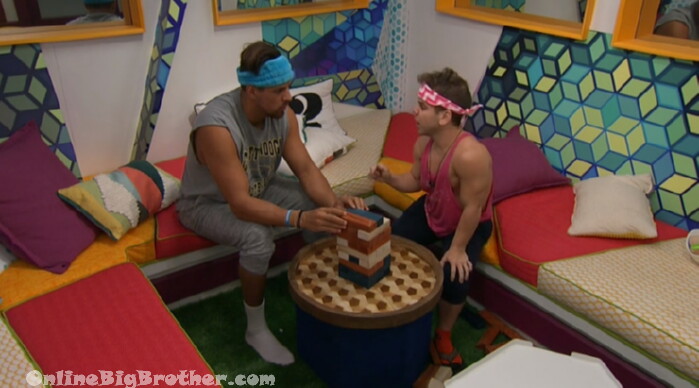 5:31pm FES and JC
JC says it's assumed that Fes and Rockstar are super close, "i'm not close to Rockstar"
Fes – of course I'm close to Rockstar she's close to Haleigh
JC says day one Rockstar spilled stuff he told her.
JC says he talks to Tyler personally but "He literally does whatever Kailtyn Does. like seriously man are you f**ing kidding me"
JC – If Swaggy goes home than you are stuck in a group with f**ing Rockstar.. she's not going to win shit.. Haleigh she's not going to win shit.. ummm… whose the other one…
Fes – that's good with swaggy gone the other side might want tot talk to me
JC – yeah.. that is what I am trying to do
JC says Fes needs to win the HOH and take out someone on the other side. If Fes gets HOH he'll then be able to get someone like Tyler on his side. JC goes on about Tyler being a competitor.
JC – if you can get Tyler on your side.. yo make a list of people to evict.. You have me for sure..
JC – plus you'll have Rockstar and Haleigh.. all of a sudden you become really powerful.. you have to start thinking about what if Swaggy goes.
JC – if they (Bros etc) win the HOH the only thing I can do is get them off you.. I think I can really do it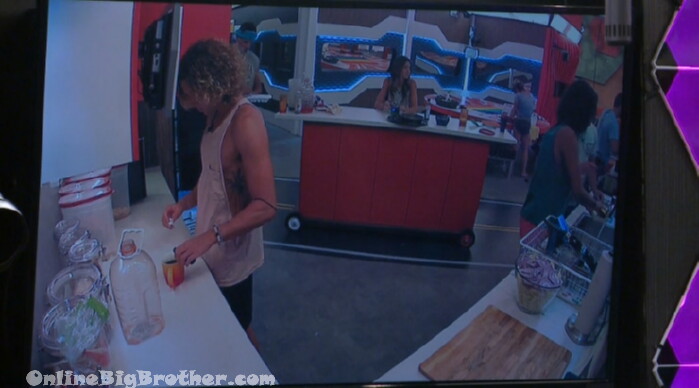 5:42pm Haleigh, JC and Kaitlyn
Looking at the spy screen commenting on bayleigh being out of the room for the first time. They talk about Tyler's hair being "So funny"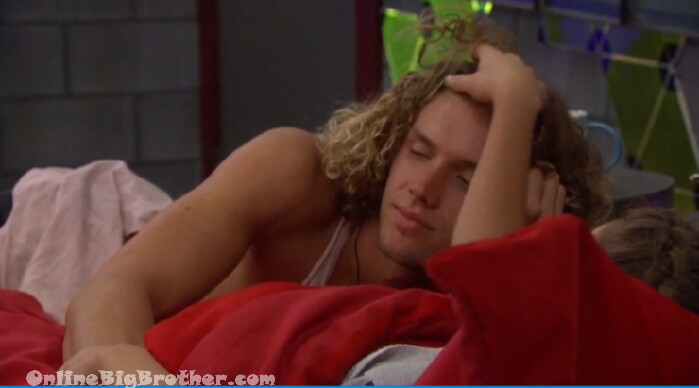 6:27pm Kaitlyn and Tyler baby talk snuggles
K – what do you think the smartest move for Haleigh to move
T – she's with you
T – you just got me all fluffed up
T – you talk to Rockstar, did she apologize
K – she did she annoys me.. she just complains about the people a lot
K – what she's not grasping is we're not supposed to all like each other..
Kaitlyn says rockstar didn't spend time with the other people in the house the people not going home.
H – She's not even going out trying to help Swaggy get votes
Brett comes in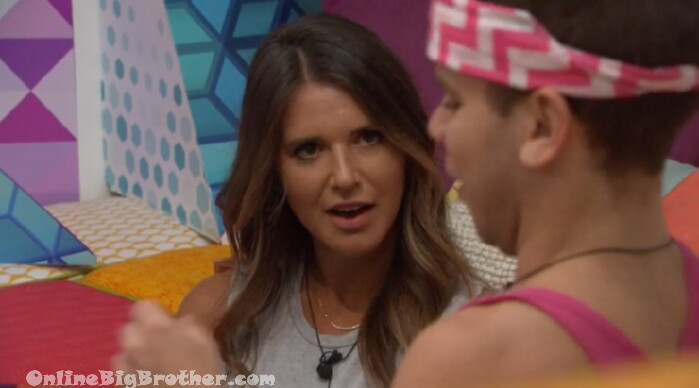 6:30pm JC and Angela
They agree they don't trust Scottie and he's got to go.
JC – I've been working with you day one
JC – if they (swagz side) win HOH the only thing I can do to keep my game safe is take them off your back but I can't do it for anybody else..
JC says he can move the target off her in Fess head
JC says Swags is going to have a meeting and call all you guys out
Angela – what is he going to say.. there's no secret
JC – he'll make stuff up… have you seen the show before they do it all the time..
Winston joins them.
JC – so Rockstar says Brett's jokes are so funny (sarcastic) she can't stand it anymore..
JC – I don't know why she hates him so much
Angela – I don't know
JC – supposedly she said she tries to talk to you two
Angela – she has a hard time relating to bros which is understandably
JC – BRAHS! .. these aren't real BRAHS lets be real here hashtag fake braws
Winston – I've tried talking to her but she just doesn't talk to me much
Angela – were you out there when she said
Winston – that was awesome
Angela – she comes outside starts talking about how she use to try to get people to have sex with her and they would say no
JC can't hear
Angela – she use to ask people to have sex with her and they would say no
Winsotn – JC.. i'm going to be honest yo missed out last night it was a good talk
feeds cut
(damn)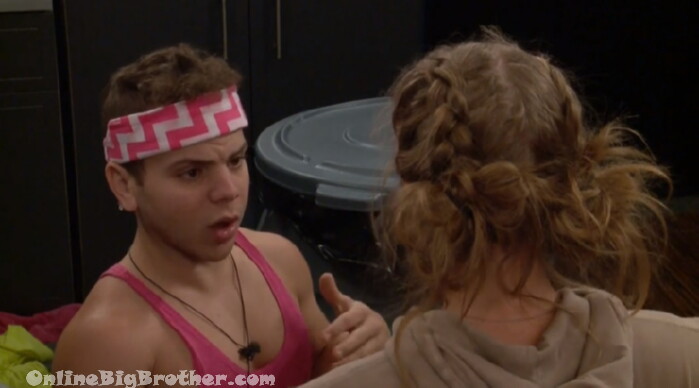 7:08pm Storage room JC and Haleigh
JC says he's going to try and convince Fes to vote out Swaggy
Haleigh says she's been trying
JC – don't even try I'll take care of it.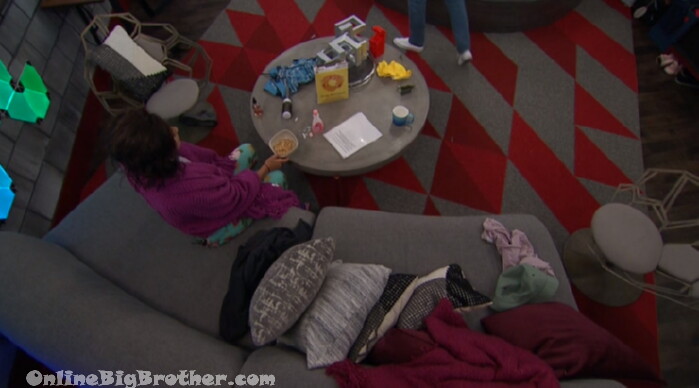 7:20pm Rachel and Winston
Rachel – level 6 is on another level..
Winston – me and him are kinda cool.. we talk alot but not a lot of game.. I knew he was with Chris .. we're trying to manipulate him
W – he told Kaitlyn he heard from Brett and I it was Rockstar and Haleigh that flipped the votes last week to evict Steve.. which is a outright lie.. we never told names
Winston – it got back to KAitlyun.. we caught him in one that's just a day that's just the last 24 hours who knows how many more
Rachel says she's going to try win the HOH she seems very confident of her chances if it's an endurance.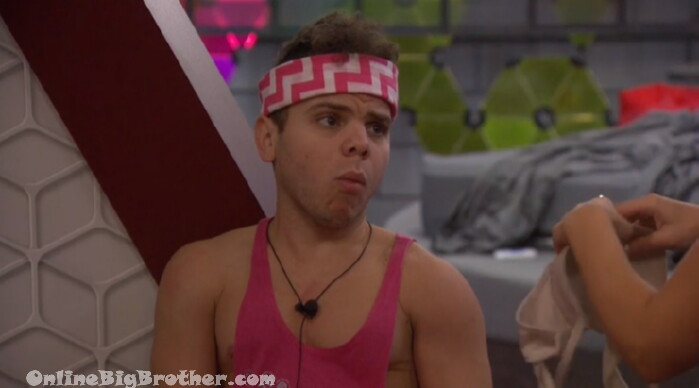 7:31pm JC and Kailtyn
Kaitlyn – Tyler's going to do what Tyler wants to do
Kailtyn says swaggy doesn't think he has your vote
JC says Swaggy told him that Sam doesn't know he was trying to get her out last week.
K – he's so stupid
JC – I'm loyal to you day one and I'm loyal to Tyler, I respect him a lot I won't do anything to him or you to f* you over
JC – I like Fes a lot
JC says it would be nice to work with Fes as long as Fes doesn't want to start a war.
JC – question what happened when you went out like fire out of the living room
k – they were pissing me off they are trying to make me feel bad for the decisions I made .
K – it was so strange.. I had enough.. I got up and was like I need a minute.. this week is just a lot
JC says even if Katlyn does get on the block she has the votes to stay because so many people are thankful for what she did.
JC says that Winston gets paranoid about stuff.. He was telling him he's OK.
Angela comes in to have her one on one with Kaitlyn
K – I don't think we need one
Haleigh joins them.. they decide to just hang.
For all you folks that need a VPN I use this one
Rank the houseguests!
Easiest way to Rank the house guests use link below