POV Holder:
?
Next POV
July 27th
POV Used
?
POV Ceremony
July 29
HOH Winner:
Aaryn
Next HOH:
Aug 1
MVP:
?
Original Nominations:
Spencer and Howard
Current Nominations:
Last Evicted Houseguest
David, Nick, Jeremy, Kaitlin
Have Nots
Judd, Amanda, Candice, GinaMarie
9:20am – 9:45am Big Brother wakes up the house guests. When the feeds return – Judd and Helen are in the kitchen talking. Judd is annoyed that Spencer is copying everything that Howard does like using religion and playing on peoples heart strings because he sees that it works. Judd says it sucks. Helen says I know I feel bad, but it's just a game. Helen says he is going to play hard for it. Judd says its weird Spencer copies him because he sees that it works. Helen says one of them is going home. She says I wouldn't worry about it, he hasn't won a competition yet. It will probably be a numbers one, Spencer will probably be good at it. Judd says he told her (Aaryn) to pick him (Judd) as house guest choice if she gets it, to fight for it. Helen walks away. Judd says stupid bit*h, I wouldn't have gotten rid of Jeremy.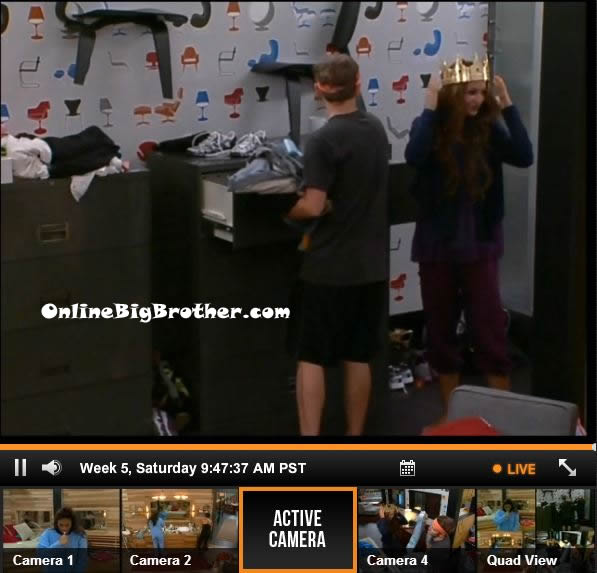 9:45am Judd heads to the bed room and talks to Elissa about how he thinks BB will be tempting them with prizes. Judd starts pulling his stuff out of his drawers. They talk about keeping all of the stuff from the competitions. Judd says we don't get to keep the HOH robe though. Elissa says no, that's like a $70 robe that would be too big of a prize. Judd says he never wears robes. Elissa says I wear them all the time. Judd says oh yeah because you're a house wife right. Elissa says and yoga instructor, and a nutrition specialist and a mom. Judd asks her if she will get a BB15 tattoo with them. Elissa jokingly says oh yeah. Judd says he hopes that Big Brother tempts them with a free BB15 tattoo in the veto competition.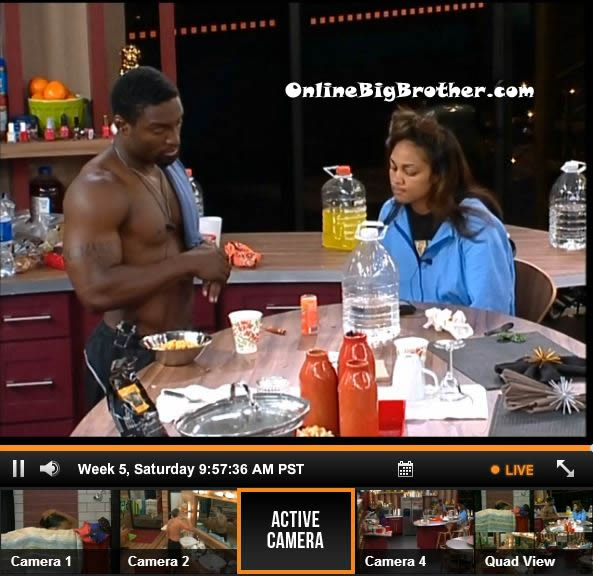 9:55am – 10:30am Candice is in the kitchen trying to decide what to eat for breakfast. She asks Howard – raisins? Ramen? Pickles? Olives? Slop? Howard tells her to have Ramen noodles since she hates slop by its self. He suggests she have a handful of raisins, a big glass of water and a protein shake. Meanwhile in the bathroom – Judd takes a cold shower. Jessie asks him if he just brushed his teeth. Judd says no. Gina says I did. Jessie says I think you used my tooth brush. What colour is yours? Gina says purple. Jessie says your's is dry you used mine. Gina says oh sorry, you can grab a new one from storage. Jessie says it doesn't bother me. Judd tells Jessie you better clean it with peroxide! Judd laughs. Spencer joins them. Gina and Amanda come into the bathroom to get ready for the day.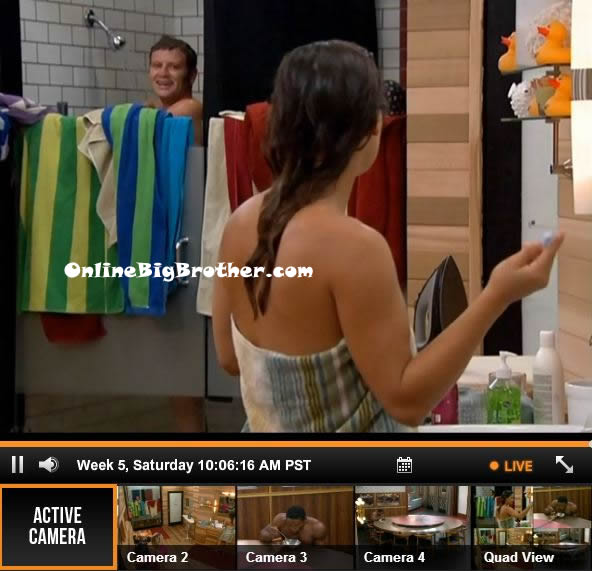 10:35am – 10:55am In the kitchen Judd asks Elissa if she got the MVP yet. Elissa jokingly says yes! Judd tells Elissa that he will do whatever it takes to win the Veto today – I will shave my head or whatever it takes to make sure Howard doesn't win it. I want him to go home. If I win it I am not using it. Judd says he would be tempted with a $10 Walmart gift card in the veto comp. Elissa comments that Judd and Spencer have a lot in common – you both want to do sexual things to Jessie. Judd says I don't talk like he does about Jessie. Elissa comment that Judd should hit on Candice. Judd says he doesn't have a private jet and isn't Eddie Murphy. Candice is a gold digger. Elissa says you're mean, there's a difference between wanting someone with a little money and being a gold digger. Elissa says that she would be offended if she was nominated. Amanda walks through the kitchen and says she would be offended too if she was put up as the third nominee. Judd asks Gina if she is wearing the bear shirt today. Gina says yes! Judd and Elissa head to the bathroom and joke around with Andy, Amanda and Jessie. Amanda talks about taking a shower with McCrae and how she was trying to get a sneak peak of McCrae's goods. Amanda says McCrae was large and packing heat! Judd says we don't care! Amanda says America wants to know if McCrae's packing heat! Amanda laughs about how every time she is a havenot they make it harder. Judd says that Spencer has had a pillow in the havenot room for a week and they when he tried they told him he couldn't.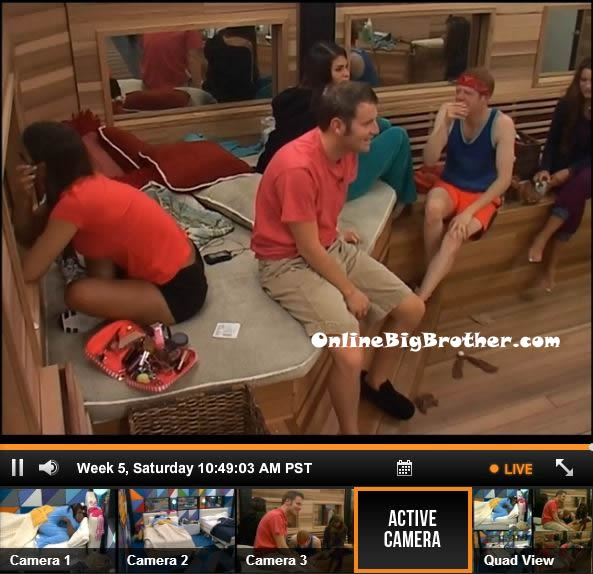 11am – 11:20am In the bathroom – Judd tells Andy don't tell anyone this but.. Judd says that he heard that Helen and Elissa feel really bad for Howard. He says that Jessie felt bad for him too because he (Howard) was crying like a little pu$$y a$$ bit*ch! Judd talks about how Howard is trying to pull on peoples heart strings. Judd is tired of Spencer copying Howard and using religion because he sees it works. Judd is worried that Helen or Elissa will use the veto to take Howard off the block. Andy says he doesn't think so because he always hears that Helen wants him gone. Judd asks Andy if he will stand on the couches and say that the pity party is over. Andy says no, because one of them will be staying. Judd says we will bully them until they leave. Judd says we'll take their mattresses and put it in the diary room. Judd says that he wants Howard out so bad. Andy says he will be going. Judd tells Andy that it's a secret that I told you Helen and Elissa feel bad for Howard so don't tell. Andy says he won't, he will talk to Helen after the veto about getting Howard out. Judd says at least with Spencer we know what we are getting into with him. Andy says that he wants Howard out no question. Judd says that this isn't a charity case, there a hell of a lot more people that need this money more than any of us. Jessie joins them. Andy asks her who she put up as MVP? Jessie says Candice and Helen. Andy laughs and says you only get one, you don't even know how it works. Judd says he's going to go lay back down.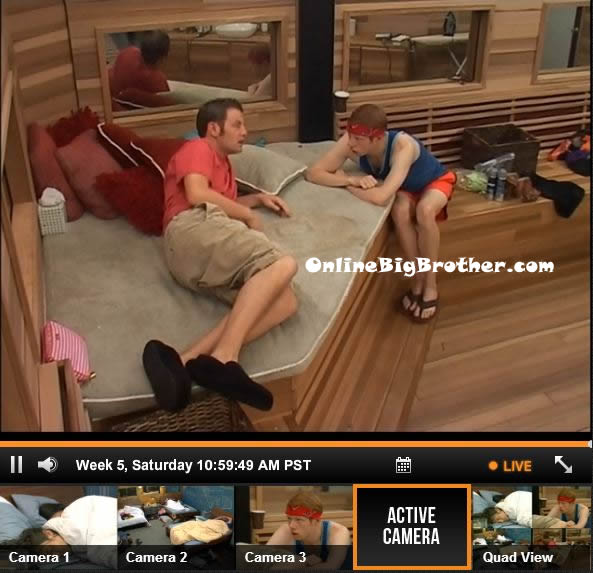 11:20am – 11:30am Judd asks Candice if her and Howard will date after its all over. Candice says she doesn't know, she is a traditional girl. If he asks me out on a date, I will say yes. Judd says yeah, Howards a good guy. Candice says he is a very good guy. Judd says don't get me wrong but I don't want Howard to win veto. But if I won veto.. Candice asks why? Judd says because my key was last pulled out during the nomination ceremony. Candice says she doesn't think that means anything. Judd says he thinks he would go up if the veto was used. Judd says I want to win veto. He tells her that he told Aaryn to pick him if she gets house guest choice. Judd says if I win it I will use it, and if I do you would be safe because of the person I would use it on. Judd says I am getting ahead of myself though, I haven't won anything yet.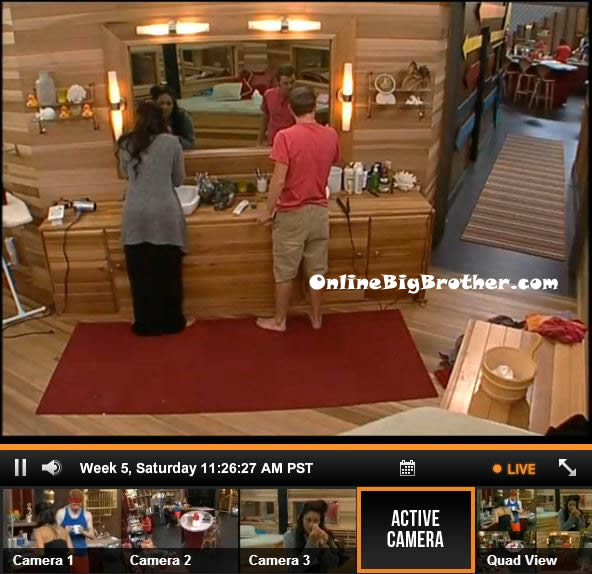 11:50am In the kitchen – Helen, Aaryn, Andy and Jessie are looking that the house guests photos on the memory wall saying what breed of dog each house guest would be. Andy says that Judd would be a blood hound. Judd says no they're stupid. Then he say ah maybe not they hunt out things like rats, snakes and cockroaches. They all laugh. Andy says that Nick is a rat that people think is a dog before they get up close to it. Andy asks who based on our photos do you want to punch in the face. Everyone says Nick! Andy asks based on their photos who needs a good fu*k. Spencer says Jessie! Spencer then says me! Andy asks who looks the dumbest? Judd says McCrae then says no – David! Andy asks based on the photos who would you want to form an alliance with just walking into the house. Judd says I first thought I wanted to be in an alliance with Nick but then after I started to get to know him – I though hell no, get the fu*k away from me. I wanted to punch every one of his teeth out of his mouth.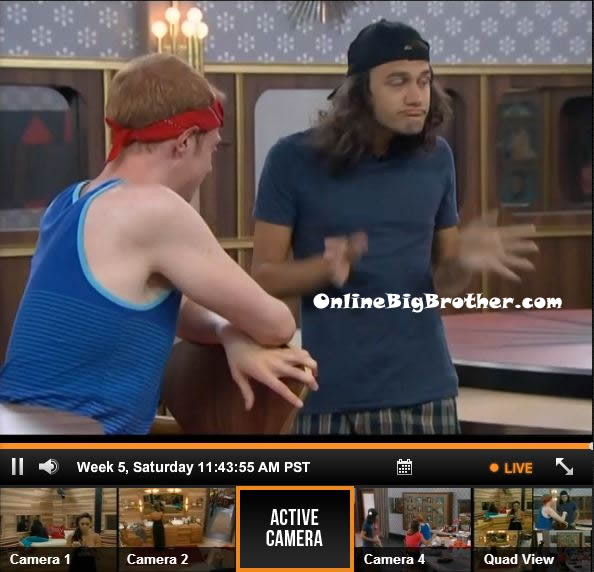 11:55am Aaryn comes out of the diary room and says Hey everyone its time to pick players for the veto competition. She messes up and does it again. Judd says lets DO IT THEN!! Big Brother then switches the feeds to the TRIVIA screen.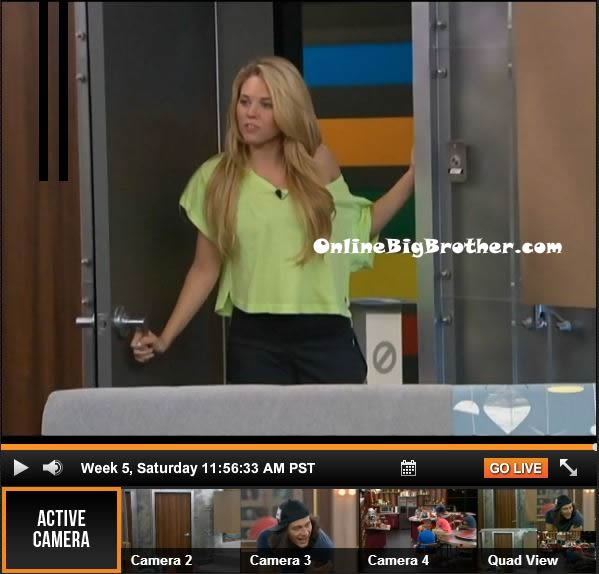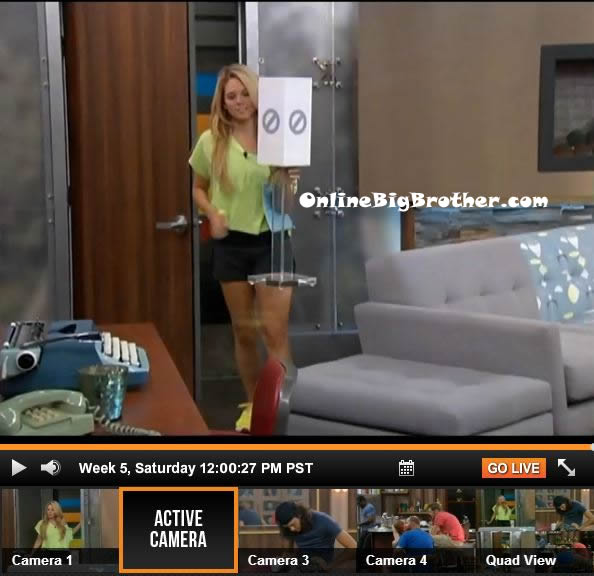 While we wait for the MVP nomination / Veto Competition results today. Fire up your Big Brother live feeds and use the FLASHBACK feature to check out the BB15 N!p Sl!ps / N*des
| | |
| --- | --- |
| [polldaddy poll=7277508] | [polldaddy poll=7277150] |