POV Holder:
Jessie
Next POV
Aug 10th
POV Used
?
POV Ceremony
Aug 5th
HOH Winner:
GM
Next HOH:
Aug 8th
MVP:
AMERICA
Original Nominations:
Candice, Jessie, Amanda (MVP Nom)
Current Nominations:
Last Evicted Houseguest
David, Nick, Jeremy, Kaitlin, Howard
Have Nots
no have nots this week
9:45am Helen wakes up and heads to the backyard for her morning run. At 10am Big Brother wakes up the house guests. When the feeds come back, Judd is in the kitchen saying we still in this b*tch. He tells Gina to write that in her blog. Judd heads out to the backyard. Helen says it's day 45 people! At midnight we'll be half way! Up in the HOH room – Gina tells Aaryn that the toilet downstairs it all fu*king orange. Gina says ah it's nice to be queens. Aaryn says you the queen, I'm the princess. Gina says no we're both queens. Aaryn says this week.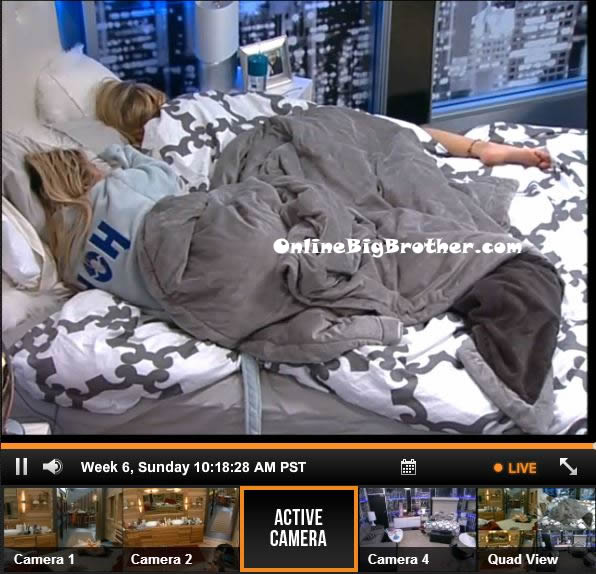 10:30am – 11:05am Out in the backyard – Helen talks to Andy about how she was talking to Elissa last night and she want to keep Candice. I talked to her and she says that she will vote Candice out but it's a constant battle with her each week. Andy says she needs to go. Helen explains that with Elissa here it is a target that people will go after before us. Helen asks Andy to have a talk with Elissa. Andy says he will to make sure Elissa knows its not an agenda that Helen is pushing. Helen says that she talked to Jessie and she really wants to go after Amanda. If Jessie wins HOH Jessie will probably put her up. Helen says that she can't stand the hurtful things that Amanda says. After Thursday we need to talk to McCrae to get him to calm Amanda down. Judd joins them. They tell him about how they need to reassure Elissa that she needs to vote out Candice. Judd doesn't understand why she wants to keep her. Helen says that she is going to vote Candice out but we just need to make sure she knows its the best decision. They all agree that they like Candice but she needs to go. They discuss the possibility of putting Elissa up as a pawn. Judd says but she would be vengeful. Helen says if Aaryn wins and puts her up then Elissa would go after her and not us. They discuss how insecure Jessie is and how they need to continually reassure her. Helen says that she has done me a lot of wrong. Judd says she's done me a lot of wrong too. Helen and Judd agree they can't trust Jessie. Judd says no matter who we put up we will need to get a little blood on our hands. Judd and Helen want Spencer to make it to jury. Helen says Elissa would be a good person to win HOH next week because she would go after Ginamarie and Aaryn. Helen asks Judd who Spencer would put up? Judd says I think we could influence him to put up who we want. Like Jessie. I would rather her go than the blontourage. Helen heads inside. Judd tells Andy that I don't think we should go after anyone in our group until jury even if the opportunity presents itself. Andy says that he think Jessie needs the money but.. Judd says she would be a bitter jury member that all we would need to do is give her a compliment to get her vote. Helen comes back out and they continue to talk about how nutty Jessie has been the last week. They laugh about Amanda and her spray tan. Judd comments that she's not allowed in the pool. Andy says we should have a pool party today. They laugh.
11:10am – 12pm Candice joins Andy, Helen and Judd on the backyard couch. Candice talks about how she was glad that she got to know the real Howard. Judd comments that he never talked to him much but that he must be talkative to have made it on the show. They talk about yesterday's POV competition and past events of the house. Judd tells Clownie Candice is just about as cool as regular Candice. Andy says that he doesn't want to condone fighting but I would love to see one more fight in the clown outfit. Candice says oh there will be another one for the things that Gina said in her speech. She had no need to call me those things and slander me on national tv like that. Most of what she said was hearsay and things that she was never a part of, she could have told me that in private. Helen comments to Judd that when she first met him she didn't know how much was up there but after getting to know him she thinks he is quite smart. They talk about the fights in the house and wondering which ones made it to tv. Candice says that she doesn't understand how Gina can call me a rat and then be nice to me the next day. When I see her I want to rip her f**king face off and when I see Aaryn all I see is her flipping my mattress. They continue to talk about random things. Scariest place to be dropped off: Judd says the jungles in China. Candice says the tribal areas of Africa.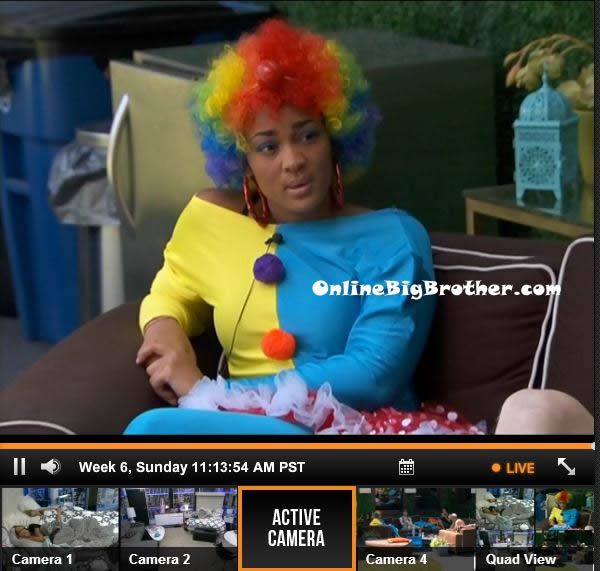 Use the Big Brother Live Feeds to FLASHBACK to SEE what they can't show you on TV:
BB15 N!p Sl!ps / N*des