POV Holder:
Jessie
Next POV
Aug 10th
POV Used
?
POV Ceremony
Aug 5th
HOH Winner:
GM
Next HOH:
Aug 8th
MVP:
AMERICA
Original Nominations:
Candice, Jessie and Amanda (MVP Nom)
Current Nominations:
Last Evicted Houseguest
David, Nick, Jeremy, Kaitlin, Howard
Have Nots
no have nots this week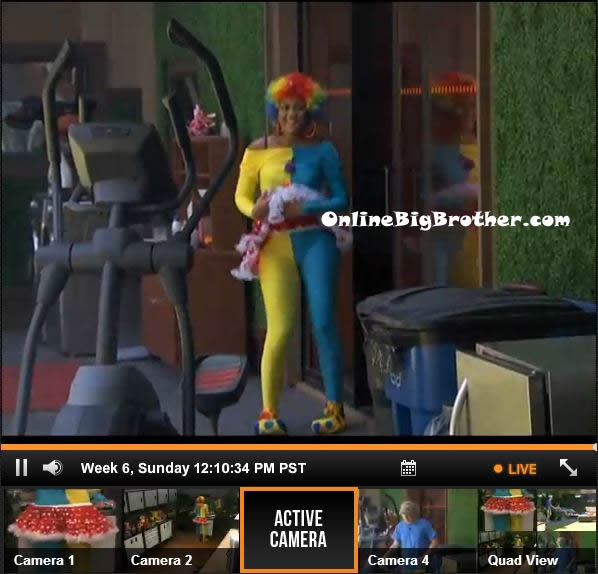 12:05pm Andy, Judd and Candice are out on the backyard couch talking. Candice gets called to the storage room. She says yay, I hope its my new clown suit. She says that she asked for a child size suit. She heads to the storage room and finds a smaller suit. She changes and then says thanks Big Brother! She heads outside and says it's getting better. Judd says it looks the same to me. Candice says that she just wants it looking god for the live show. So I can pop that pu$$y! Candice talks about Howard. She says that her white mom will really like Howard especially when he has his shirt off because she likes big black men. She says that he black mom probably stopped watching a while ago after the bed flipping. They talk about Jeff & Jordan and meeting Jillian the winner of BBCA. Andy heads inside. Judd asks Candice if she is still offended. Candice says that she is more offended by Gina's comments about her being a rat than the mattress flipping. More because she doesn't know me and has never taken the time to get to know me. It was just slanderous to do during the nomination ceremony. Candice says she said "I think you're really beautiful but you're a rat!" Candice comments that Gina called me a drama queen but she is the one that had a fit when Nick was evicted and carried his hat and cup around. Candice says that Gina has only been in one beauty contest and I have won a lot. That's the real reason why she is jealous of me. Come check my china cabinet and well see how has won more. Judd says that he hopes Candice wasn't offended that he was laughing. Candice says no. Judd says he just laughs when people say something unexpected that he doesn't think about. Judd thinks both Candice and Gina are great people but that they just didn't get a chance to get to know each other. Candice says Gina is ignorant, she can't hold a conversation without it being all about her. Candice says she doesn't like Gina or Aaryn. Judd talks about how he is worried about going home – whether he still has a job or not and hopes that the way he acts isn't reflected on the people of where his is from.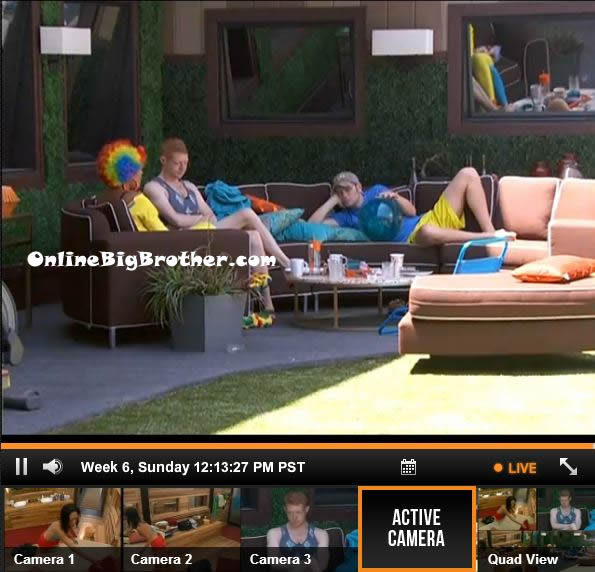 12:50pm – 1pm Andy joins them and tells Big Brother to call Amanda out to tan. She is fast asleep right now. Judd says they're scared of her. Andy comments on what would have to happen for him to lose his cool. Judd says like if I threw milk in your face. Andy says that he would jump in to defend someone if they were being attacked. Judd comments that he wouldn't unless it was a bunch of people ganging up on someone but not if it was just one person and they weren't defending themselves. Candice comments that she would never, never, never want to get to know Gina. Andy asks what has been your most memorable moment. Candice says that night when the mattress was flipped when Howie and I stayed in the air plane room and got to know each other. It was a tragic but memorable night. Candice and Andy discuss past events of the house. Candice says that she just doesn't like people judging her without getting to know her.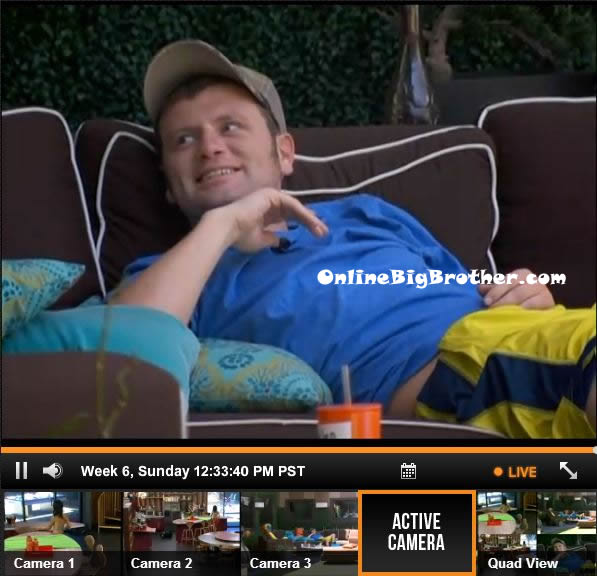 1:10pm – 1:20pm Jessie and Judd join Candice and Andy on the backyard couch. They discuss last nights veto competition. Judd talks about how he asked other if could count it as a win. He says people told him he could. Jessie says that she had to give up stuff to win. Andy tells them that they both won it. Andy says Judd won the competition but Jessie won the veto. Andy says Candice lost it. Candice agrees. Jessie says that this is a bad conversation to have around Candice. Candice says it's okay. Big Brother calls for an indoor lock down.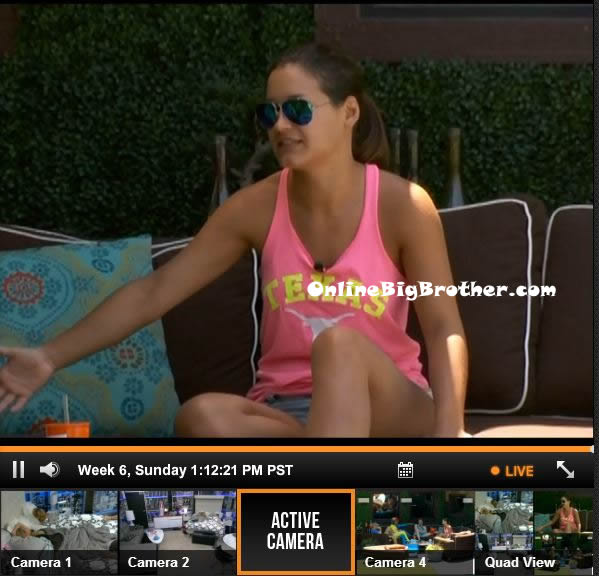 1:20pm Judd goes to see Amanda and he laughs at how orange she is. He comments that she isn't wearing a bra and her rope opened and he saw that whole shabang. Judd calls Jessie and they all laugh at how orange Amanda is. Candice comes in and starts laughing saying umpa-lumpa, umpa-lumpa. They ask her how many times she's done it and Amanda says 3 times. Amanda says that she isn't allowed to shower until the punishment is over. Judd says it wouldn't be so bad if you didn't have to wear the goggles. Jessie tells her that it doesn't look that bad, it just looks like you got a sun burn. Amanda says this is only 3 times. Judd says he thinks they are scared to make you spray again. Amanda asks why do you say that.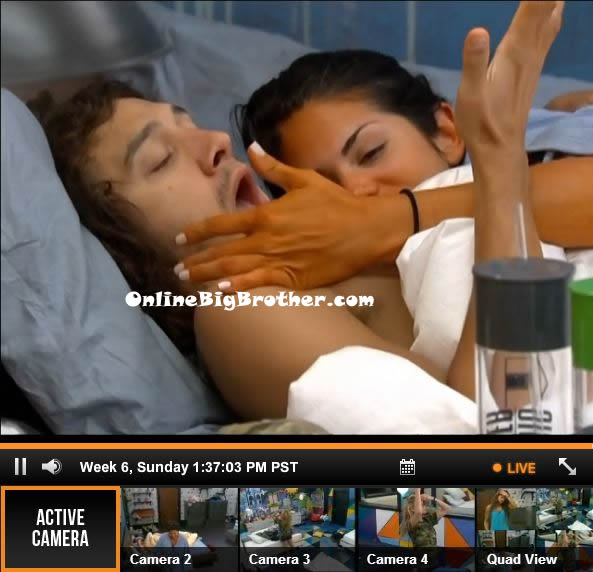 1:40pm Helen says that the BBQ will be in a half hour. Helen and Jessie discuss in the bathroom about getting out Amanda this week and how they could get out Candice next week. Helen says we will talk more later about it. Helen says we would tell McCrae at the last minute. She says we could then work with McCrae after she is gone. Helen says that we have to make sure Judd, Spencer and McCrae don't work together once we get to jury. Helen says we would have to put them up together so that they couldn't vote for each other to stay. Helen says again we will talk more about it later but for now we'll just enjoy the BBQ.
2pm Up in the HOH room – Gina is doing her makeup with her cone of shame on. Gina then heads down stairs to visit Judd, Spencer, Helen, and McCrae in the bedroom. The talk about dogs and what type are good for your life style.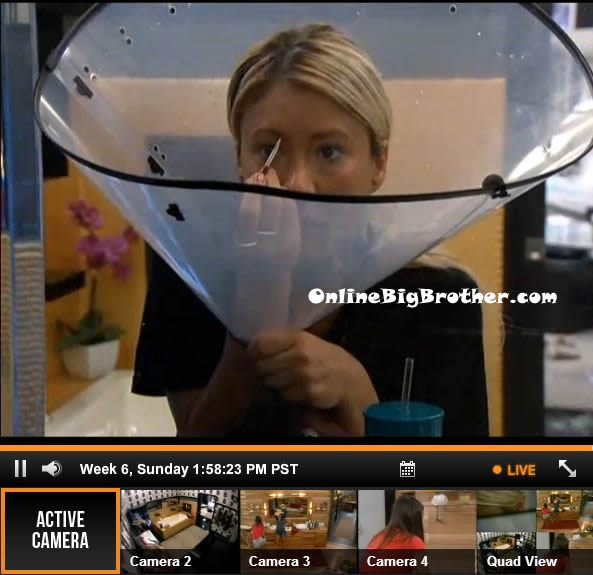 2:20pm – 2:30pm Helen announces that the BBQ will only be an hour and a half.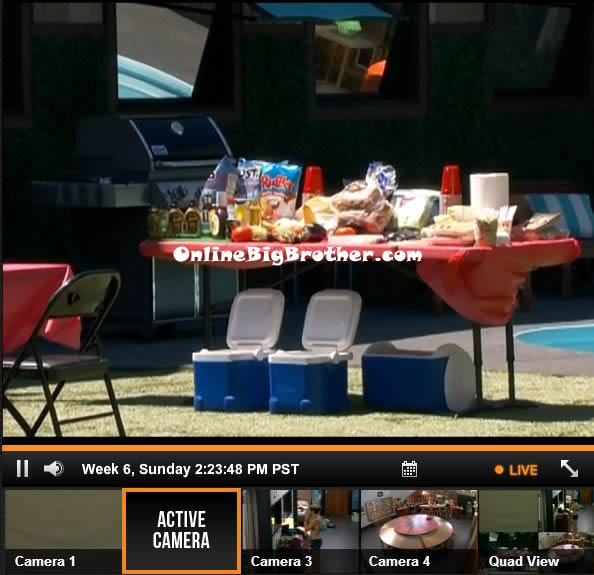 Helen, Jessie, Aaryn and Elissa head out to their backyard BBQ. Helen does a speech telling them all to enjoy themselves and says no game talk. They light the BBQ and start looking at what they have. They have Chicken, Steak, Hamburgers, and Sausages to grill. It takes them a few minutes to light the BBQ. After only being outside for a few minutes Elissa asks when they will be allowed to go inside to go to the bathroom.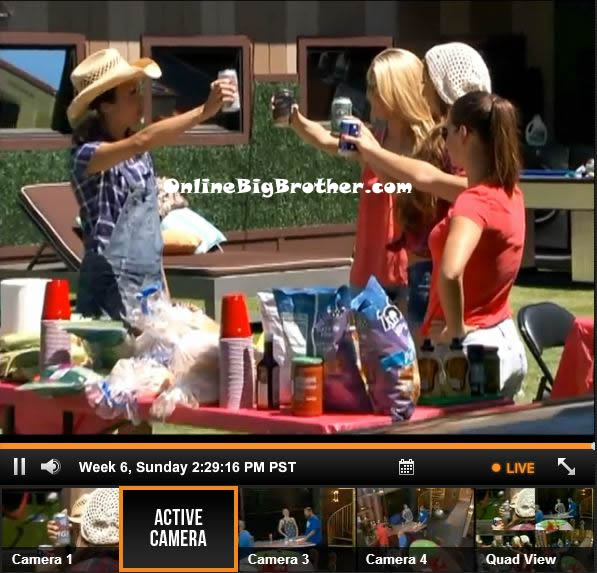 2:45pm In the kitchen – Amanda says I would f**k Jeremy. They tell her no just the house guests that are still here. Amanda says Marry Andy, F**k McCrae, Kill Spencer and Frame Judd. Judd says Marry Gina, Kill Amanda, F**k Elissa.
2:50pm – 3pm Up in the HOH room – Spencer says this will be a stressful week. Andy tells Spencer that Helen is rock solid in getting rid of Candice. Spencer says good. He says I really want to be a part of someone's long term game. McCrae joins them. Andy reassures McCrae that he is voting out Candice. Andy says he doesn't hate her like a lot of other do. They discuss who the MVP could be. Spencer thinks its America because it would be hard for someone to keep it a secret this long. McCrae tells Andy that he has to win HOH next week. He says that Amanda will keep going up as MVP. He says it sucks.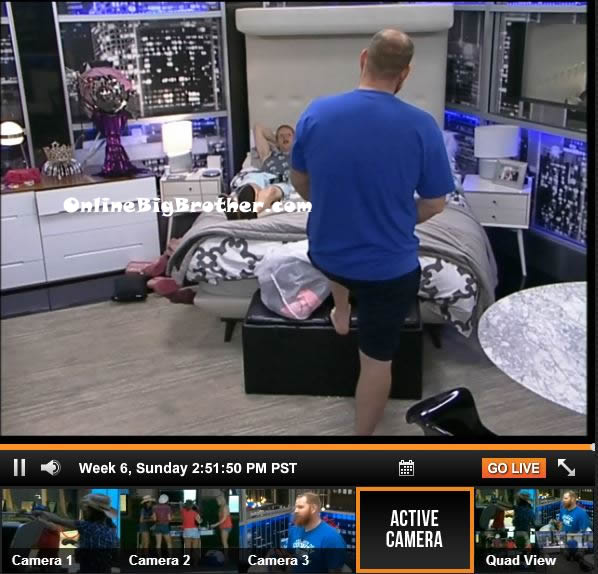 Use the Big Brother Live Feeds to FLASHBACK to SEE what they can't show you on TV: BB15 N!p Sl!ps / N*des