POV Holder:
Jessie
Next POV
Aug 10th
POV Used
?
POV Ceremony
Aug 5th
HOH Winner:
GM
Next HOH:
Aug 8th
MVP:
AMERICA
Original Nominations:
Candice and Jessie
Current Nominations:
Last Evicted Houseguest
David, Nick, Jeremy, Kaitlin, Howard
Have Nots
no have nots this week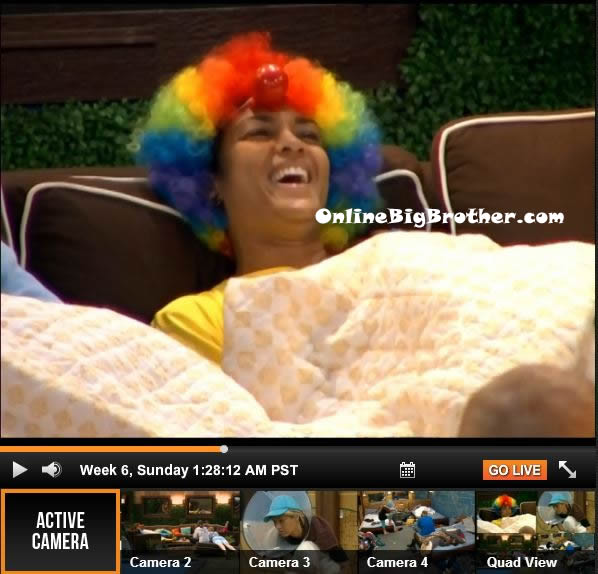 1:30am Out in the backyard – Andy, Elissa, Helen, Candice, Jessie and Spencer are talking. Candice looks at her clown-tard and says I HAVE A HOLE! They gave hole! I think this is a pee hole?! This is a pee hole! They gave me a pee hole! Spencer says it's going to be hard to navigate that. Canidce says maybe it's for a pen!s? Andy says only for a tiny pen!s. Andy asks like what size of a pen!s can fit through that?! Candice says maybe yours! Andy says that's true. They start talking about Amanda's tanning sessions that will happen throughout the night. Candice says I am definitely staying in bed because everything I get up I have to put this sh*t on. Jessie suggests Candice stay in bed all day. We could bring you food and stuff. We could just come to your bed to hand out. Candice says I like Jessie's idea – I should just stay in bed all day because I don't have to put this clown suit on. They asks Andy to do some improv. Elissa says its funny Andy has been doing improv every day to me about you guys. Andy says it's funny she points a gun at me and makes me do it naked. Elissa says no Andy. Andy says at 6am she comes and puts a gun to his head and says get the f**k up get the f**k up Andy! And then she takes me to the backyard and holds a gun at me and makes me do naked improv. Spencer then does "Saw" movie impressions house guests.
Spencer says in a saw voice:
"Candice I want to play a game with you, you've spent your whole life talking sh*t to people and keeping it real! I want you to poop in a 5 gallon bucket and then eat it all before this time clock ticks down to zero and it blows off your face."
"Nick I want to play a game with you, you've spent your whole life acting shaddy and weird, and eating nutritious! I want you to shove this whole box of granola up your nose till it engulfs your brain and you turn into a massive retard."
Spencer then does Howard, Jeremy, Kaitlin and David. Candice says I love these impressions I hope they play them on tv. Andy says there is absolutely no way they will play that on tv. Andy and Jessie head inside to bed.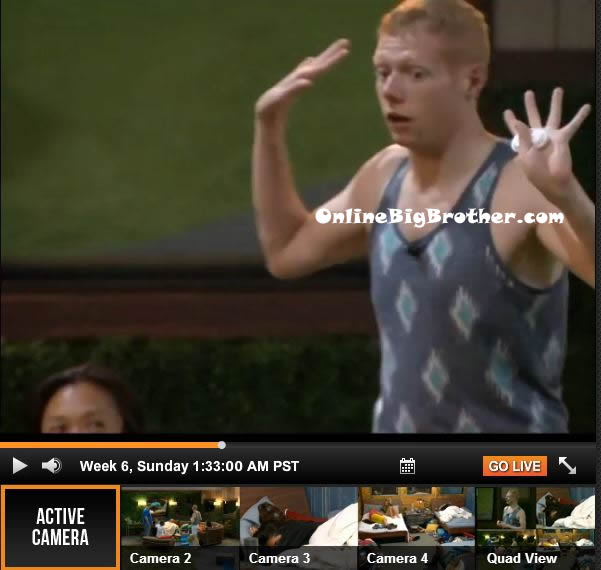 1:35am In the bedroom – Judd, Aaryn and Amanda are talking. Amanda asks what is my character, like a villain? Aaryn says no not a villain, more like a hard a$$ like Janelle. Aaryn and Judd comment of rants of Janelles on youtube were she is going off on people. Amanda says oh my god there are going to be so many rants of mine. Aaryn says if you really pulled your boobs out that will be up there. Amanda says no they don't allow that on there. Aaryn says you'll be on p*rntube then. Oh my god you're going to be in a p*rn. Judd comments that Amanda looks really tanned. Amanda says look at my feet. Aaryn comments that she has duck feet.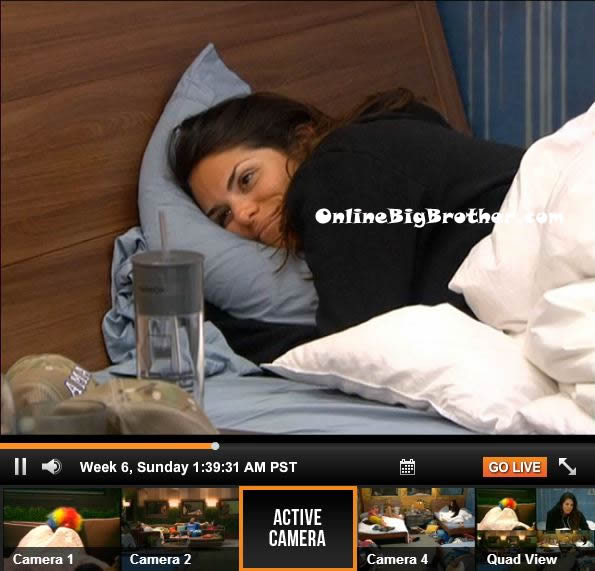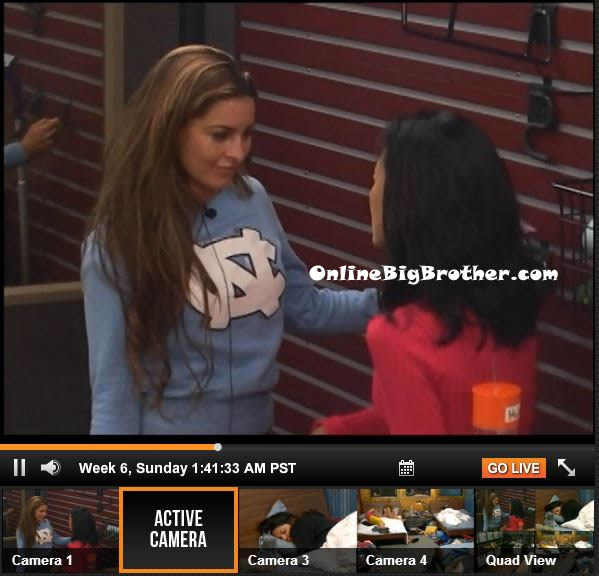 1:45am Meanwhile – Helen and Elissa head into the storage room and talk. Helen asks I wanted to know how you felt about it too. Because you have to vote out Candice, you know that right? Elissa says that she wants Spencer out. She says that Candice has the same targets as us so I don't see why we want her out. Helen says that Gina wants Candice out so we are just going with what she wants. Elissa says but we have the votes. Helen says that Gina and Aaryn would be pissed. Elissa says I really don't care about Aaryn and Gina. Helen says Amanda and McCrae want Candice out. Elissa asks what about getting Amanda out. Helen says Jessie wants her out too but right now isn't the time. Helen says if you vote out Candice there would be no targets on your back. If you vote out Spencer there would be a target on your back. Helen says I don't think its this week to get Amanda out, it's too early. Elissa says it would be me, you, Andy and Jessie. That's all we would need. Helen says that Andy wouldn't do it. We would only do it if Andy and Judd were on board. Elissa says no one would put her up after this, which means she would be in the final two or three. Helen says I don't think we can do it this week. I think if we can get Jessie's trust we can get her to do it. Elissa says getting out Candice sucks for my game, last week sucked for my game. I think it sucks to do what Gina wants she wasn't a part of the group and no one cares what I think. Helen says forget we even talked about anything. The leave the storage room.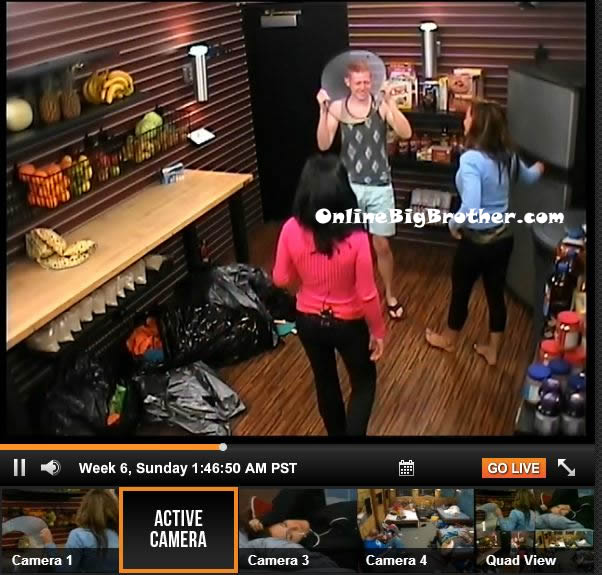 2am Out in the backyard – Spencer and Judd talk. Judd tells Spencer that even if he does go up he will be safe 100%. Spencer says yeah. Judd says Gina asked me no matter who goes up your voting out Candice right? And she is asking everyone that, if people don't do what she wants she will be pissed you know. Spencer says well I would be pissed I I get voted out. I am scared that Elissa will conjure up some plan to keep Candice. Judd agrees and says well you are definitely safe this week. Spencer says he wants to be part of someone's long term game plan. Judd says you or I need to win HOH. Judd says that these girls are really going to start going after each other soon. Spencer says congratulations on the 5G's. Judd says it's a lot of money I only make $400 a week. Judd tells Spencer that he is relevant to his game. Judd says if you are in the final two I will vote for you and I hope you do the same. Spencer says you might as well call your bank and say you've got a big cheque coming because I would vote for you. They talk about how Howard wasn't cut out for the game. Judd and Spencer head in to go to bed.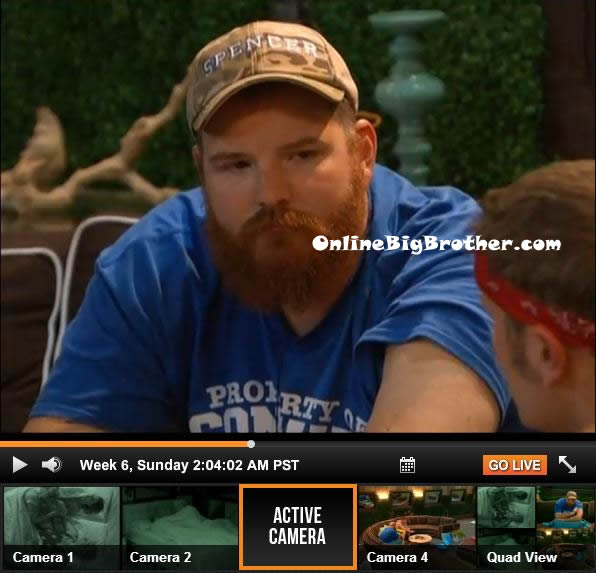 2:25am Amanda and McCrae head out to the backyard to have a smoke. McCrae says that he is tired of sh*t. Amanda says this is going to be a long night. McCrae agrees and laughs. Amanda asks him what he is laughing at. Will you come? McCrae says yeah just wake me the fu*k up. They head inside to get ready for bed.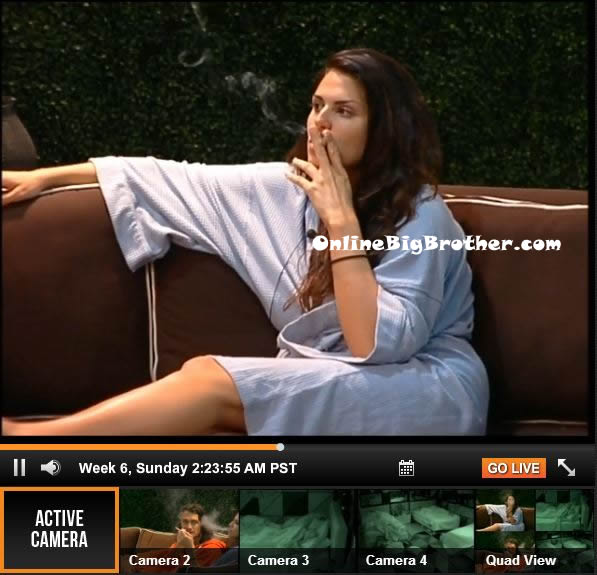 2:30am All the house guests are in bed.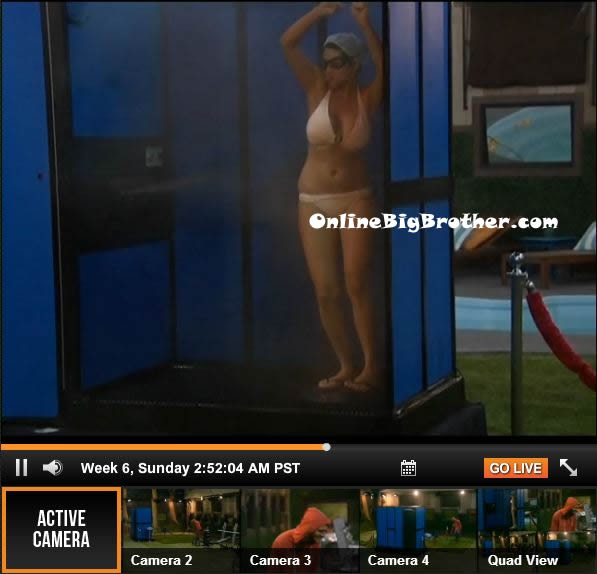 2:45am The music plays for Amanda to take another spray tan. She and McCrae head out into the backyard. She gets in the booth and does her spray tan while McCrae laughs at her then entire time. They the head into the bathroom where Amanda looks at her butt in the mirror and says "EWWw.. I look like SNOOKI!"
Big Brother 15 Live Feeds: FREE 2 DAY TRIAL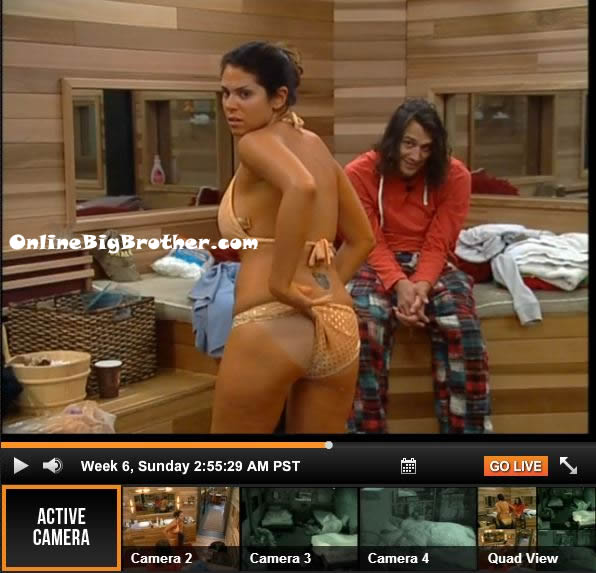 5:50am All the house guests are still sleeping..
9am – 9:20am Big Brother plays the music again for another spray tan. She gets her spray tan and then heads into the bathroom to shower. Big Brother tells her to stop that! Amanda says I can shower, it says I can shower after 6 hours from my last tan. It's been more than 6 hours. She then runs to the diary room to talk to them. When she comes out she heads to the bathroom and uses the blow dryer to dry the tanning spray. (Big Brother told her she can't shower.) Elissa joins her and says looking good girl! Amanda goes into the bathroom stall and then comes back out and starts wiping some of the spray off her legs. Big Brother says Amanda SHUT IT DOWN! Amanda says I'm sticky, the toilet seat is stained now! I'm sticky! Amanda then heads back to bed. She tells McCrae that she smells like a umpa lumpa.
Use the Big Brother Live Feeds to FLASHBACK to SEE what they can't show you on TV: