POV Holder:
Jessie
Next POV
Aug 10th
POV Used
YES
POV Ceremony
Aug 5th
HOH Winner:
GM
Next HOH:
Aug 8th
MVP:
AMERICA
Original Nominations:
Candice, Jessie and Amanda (MVP Nom)
Current Nominations:
Candice, Spencer and Amanda (MVP Nom)
Last Evicted Houseguest
David, Nick, Jeremy, Kaitlin, Howard
Have Nots
no have nots this week
11am Helen, Aaryn, Judd and Andy are on the backyard couch talking. Aaryn says that she feels bad for Candice because she is going to be going home in a clown suit. Aaryn says that she thinks Candice realizes that she is going home for the way she treated people in the house. They discuss how Candice expects other people to do the campaigning for her and thinks she doesn't have to do anything. Judd says Candice's whole campaign to me was I will make you breakfast. Helen explains that the public lynching was what made her feel bad for Spencer. If people want to get him out that's fine, I just didn't feel like that was right. Judd says that made her look bad if you want to do something like that you do it in private. Aaryn says that whole thing with Spencer ruined my HOH photo time. Judd comments that most importantly we need to make sure Jessie doesn't get HOH this week. It would be just as bad as GM getting it. Two random people would go up. Helen tells Judd that she doesn't think Jessie would put him up, she is in love with you. Judd says I don't get it, I don't act like it. She is even jealous about Aaryn and I. Judd says she needs to keep my damn name out of her mouth. Judd says I am 26, single and female attention is nice but she is just crazy. Judd heads inside. Aaryn asks if someone or if Jessie told Helen that Amanda wanted to back door her. Helen remember that Jessie did tell her that. If Amanda wants to do that so be it. Helen says that Amanda needs me. Aaryn says that Judd is going back and forth between her and Jessie. Helen says don't worry I have your back. Helen says that Judd is just playing Jessie for her jury vote. Helen tells Aaryn that she should be leery of him. Aaryn says that she thinks Judd is the MVP. Helen agrees. Helen talks about how they can't let McCrae play with those boys. Aaryn wonders if she would come after me. Helen says I will threaten her that if she puts you up we will not work with her.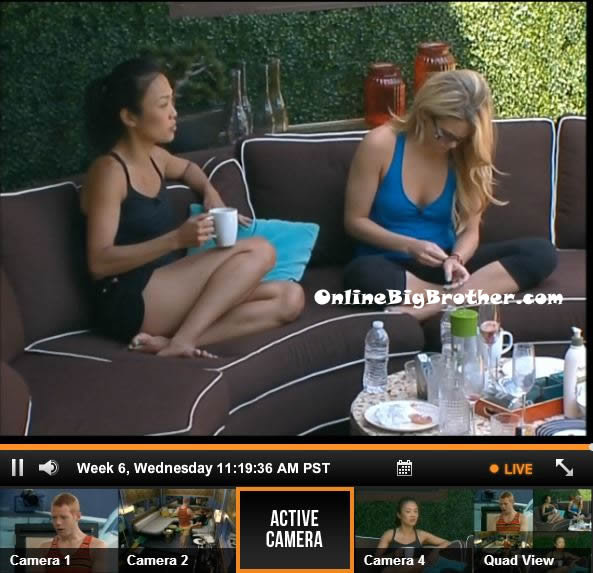 11:30am Andy and Judd are in the lounge talking. Judd tells Andy that Jessie told me that Jessie had said that we had kissed but it doesn't mean anything. Andy says oh I don't care. Judd says benefits! Judd says I will vote her out. Andy agrees he would too. Judd says that hard part would be picking someone to go up against her. Andy tells Judd that he thinks everyone knows that there isn't anything going on with him and Jessie. Andy says that he really wants this HOH. Judd says she just gets so territorial and I don't like it! I would never date her. Judd laughs and says I would never move to Texas for her!
11:35am – 11:55am Judd heads back out to the backyard. Judd joins Aaryn and Helen on the couch and says that hardest parts is deciding who to put up with Jessie. Helen says that Amanda is not coming after us. Helen says we need to get McCrae out before Amanda. Andy joins them. They talk about how delusional Ginamarie is about Nick. Helen says that she really hopes Nick really does like her because I would hate to see how heart broken she is when she finds out he doesn't like her. Helen says that she has talk about going on dates with him and their kids. Aaryn says that anyone that says anything bad about Nick they are on her radar. Helen says has anyone told her? Aaryn says that she tried to but Gina blew up on her. Aaryn and Helen feel really bad for Gina. Judd says we could all be really wrong though. Aaryn says no.. Brother cuts the feeds and when they come back that house guests are talking about random things. Candice joins them with her breakfast. The conversation turns to talking about eating placenta. Candice says she drank her girlfriends breast milk before. Aaryn says people say it's bad to not drink breast milk as a child but I didn't drink it and look how I turned out.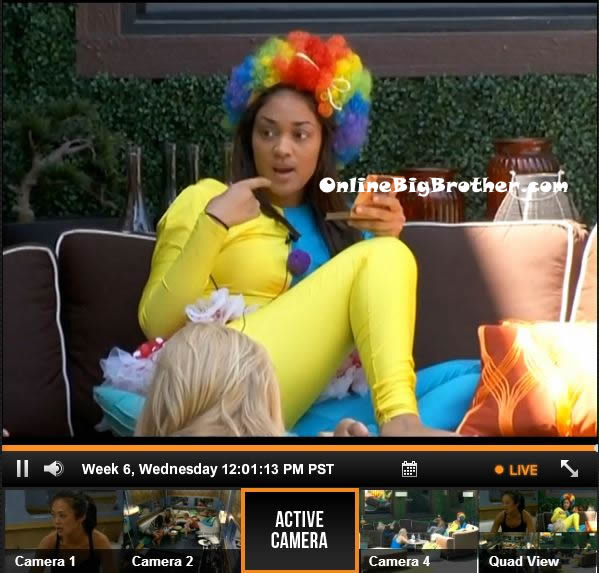 In the bathroom Helen tells Amanda that she would stay over McCrae. Andy joins them and Helen says we will talk later. Andy says what are you guys talking about I heard Amanda get called out for talking about production. Helen tells Amanda that people are gong to pit us against each other but we can't let them. Helen says Candice is going home no matter what tomorrow.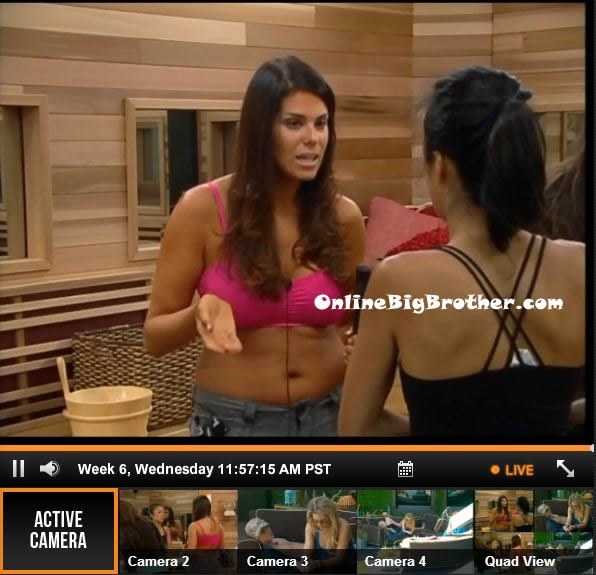 12pm – 12:10pm In the lounge – Amanda, Helen and Andy talk about back dooring Judd if any of them get HOH. Helen says that Judd keeps talking about wanting Spencer to stay in the game. He wants himself, Spencer, McCrae and Andy to go against all of us. Amanda says that McCrae is skeptical about Judd too. Amanda asks is there any possibility of keeping Candice here? Or would that piss too many people off. Helen says it would piss too many people off. Amanda says Judd is at the centre of all of this. They say we need to get out Judd or Jessie next week. Helen says we need to nominate Spencer and Jessie, then back door Judd. Amanda says that scary thing about Judd is that he can quickly get back into your good graces. Helen says oh I know. Big Brother blocks the feeds and when they return, Amanda is doing her makeup in the bathroom. Meanwhile out on the backyard couch – Candice, Aaryn and Judd are talking about Candice being adopted.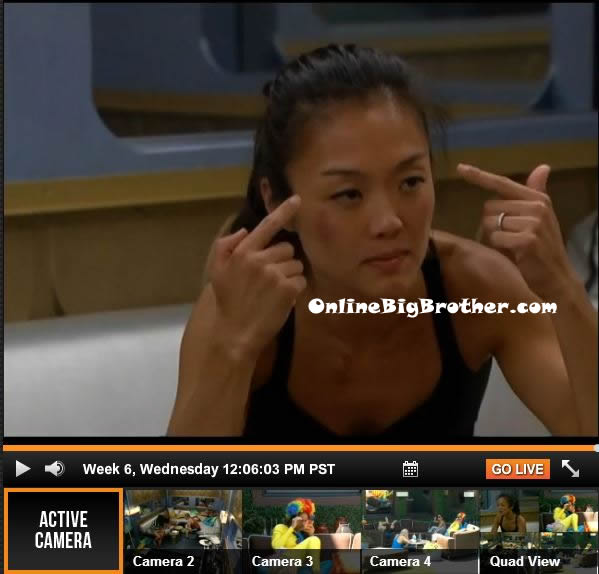 12:20pm Jessie hides out in the havenot room by herself studying the past events of the house for the upcoming HOH competition.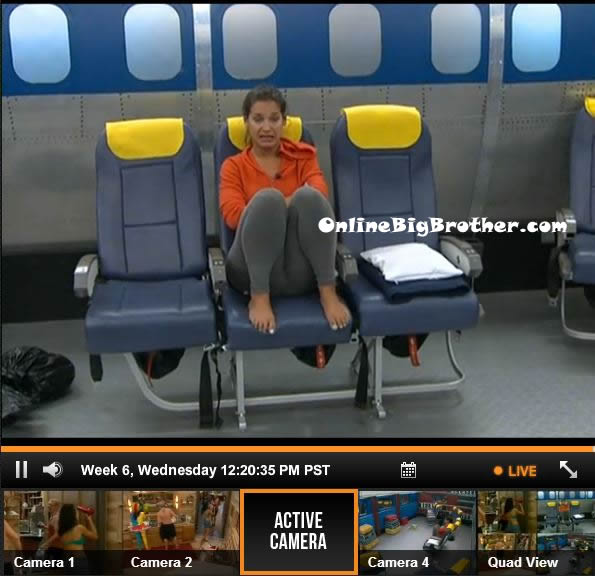 12:25pm – 12:35pm Andy and Aaryn are talking on the backyard couch about their relationships in the house and the fights they've had with other house guests. Aaryn comments that Judd is being super shaddy. Aayrn says that she really wants to confront Jessie and ask her about who said Helen was going to back door Amanda. Andy asks do you think it was Judd. Aaryn says yes. Andys asks who Aaryn would nominate if she won HOH. Aaryn says Spencer and Jessie. Andy, Judd and Elissa get ready to run laps around the backyard. Elissa says we should stretch first. Judd says no, that's the worst things to do before running. Andy asks is that a Judd-ism? Judd says yeah.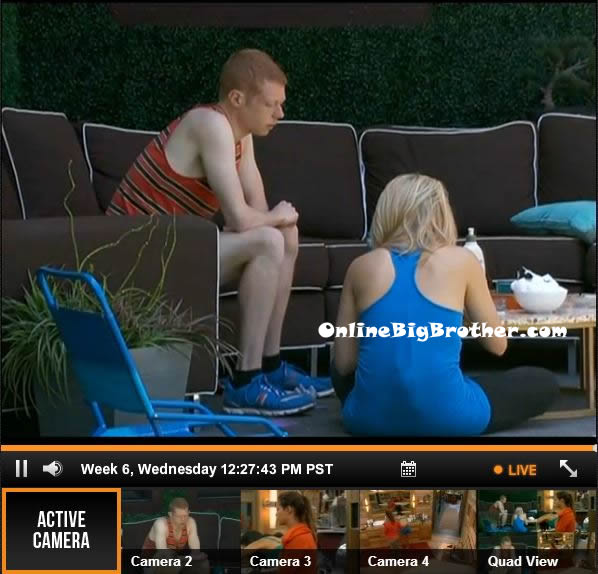 12:40pm Amanda tells Candice and Jessie that she thinks the cucumbers only work for your eyes. Candice says no.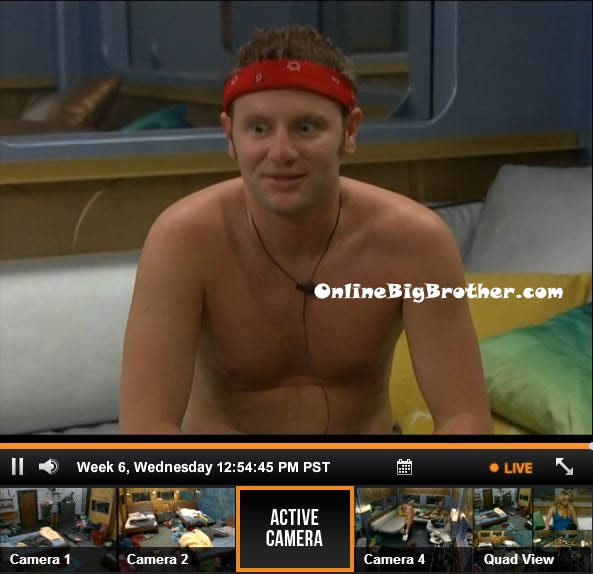 12:55pm – 1:10pm
Aaryn and Judd are in the lounge room. Aaryn says that she can't wait to get out and see everything that was said about her. She says she knows it will be negative. Judd tells Aaryn that people only said bad things about her the first week. Aaryn asks what Judd said bad about her in the diary room. Judd says just about throwing holy water on her. Meanwhile Amanda is packing in the bedroom. Aaryn tells Amanda that Ginamarie hates Amanda. Amanda questions it and doesn't understand why. Aaryn says its not a big deal its not personal its just game wise, she hated me before too. Aaryn leaves and Amanda tells Elissa that Aayrn just told her that Ginamaie hate her. Elissa says Aaryn lies and makes up a lot of stuff. Amanda says yeah I don't believe her. Amanda goes back to packing her bags.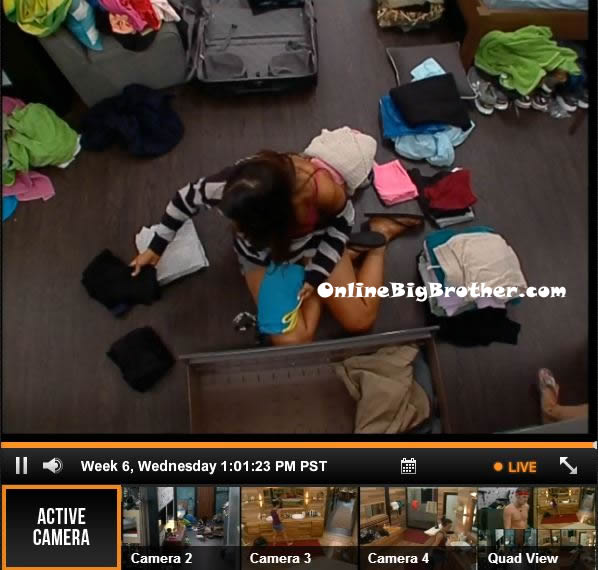 1:15pm – 1:30pm Spencer asks Jessie if he is still good tomorrow? Jessie says you should already know that you are good. Spencer says that he is just worried there is a plan to get him out. Jessie tells Spencer that he has nothing to worry about. Jessie says its good of you to check though. If I hear anything I will tell you. Jessie says it's just crazy that if there really is a final four deal between certain people.. Spencer says yeah I know what you mean. Jessie says if it is true we would never have the votes to get anyone out. Spencer says that he is just worried about Candice pitching one last effort to get me out. Amanda joins them. They discuss the possibility of Candice having another keeping it real with Candi. Amanda says I think you and I are good Spencer we haven't been talking about anything and hanging out more. Amanda says that next week is going to be the scare week. Amanda grabs Jessie's butt and tells her she has a NICE A$$!! It's nice and JUICY! You have an apple bottom. Spencer agrees. Amanda says I was told I have a pancake a$$! The conversation turns to talking about whether or not there will be a 9 person jury. (Which there is going to be – CBS officially announced it today.)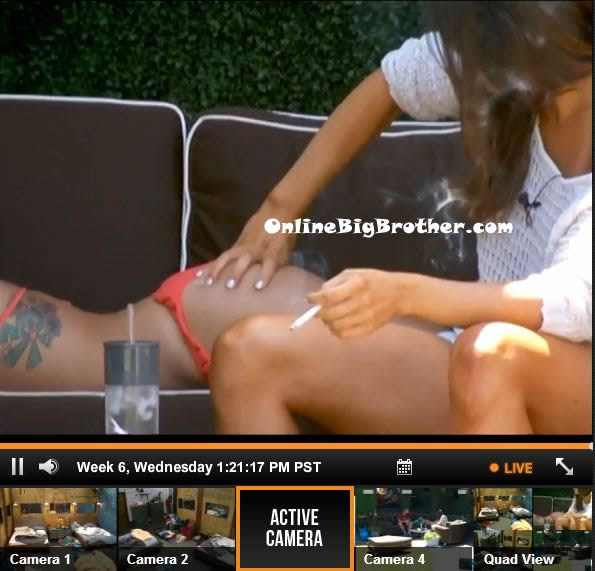 Use the Big Brother Live Feeds to FLASHBACK to SEE what they can't show you on TV: BB15 N!p Sl!ps / N*des