POV Holder:
Jessie
Next POV
Aug 10th
POV Used
YES
POV Ceremony
Aug 5th
HOH Winner:
GM
Next HOH:
Aug 8th
MVP:
AMERICA
Original Nominations:
Candice, Jessie and Amanda (MVP Nom)
Current Nominations:
Candice, Spencer and Amanda (MVP Nom)
Last Evicted Houseguest
David, Nick, Jeremy, Kaitlin, Howard
Have Nots
no have nots this week
9am Big Brother wakes up the house guests. When the live feeds return, Judd is up and out in the backyard. Jessie is in the bathroom stall and yells for Andy to grab her toilet paper from the storage room. Andy goes and grabs her some. Ginamarie is in the kitchen frantically looking for Crystal Light in the kitchen. Andy heads out to join Judd on the backyard couch. Judd fills Andy in on how Ginamarie flipped out last night. Judd says that Ginamarie had a tear running down her face. He says Gina said that's her's and Nicks bed. Andy was supposed to save it. Andy says if I was more immature I would call a house meeting and say that no bed is no ones bed! Andy says just because we were havenots for week one we now don't have a bed because we couldn't claim one. Judd says yeah we got f**ked out of a bed. Judd says Aaryn doesn't have a bed, she hops around. Andy says Jessie is one of the smallest people here and she has the biggest bed. Andy says Ginamarie would have an aneurysm if someone took that bed from her. If Candice got in that bed Ginamarie would drag her out of it. Judd says we have two looney toons and one of them is going to make to jury. It's our fault though. Gina comes out and says that she talked to Helen and she said she would give my bed back. She says I just like that bed because of the whole Nick thing. Judd asks why don't Andy and I have our own bed, everyone else has their own bed but us. Gina says I don't have my own bed I still sleep with someone in it. Judd tells Gina if she is a havenot he will save that bed for her. Gina heads back inside. Andy tells Judd you know she went to bed and was anxious about that all night. Judd says he was walking on the boarder line of pissing her off. That's bullsh*t but I don't want to piss people off because people already think I am grouchy. Judd says I hope Gina is a havenot this week.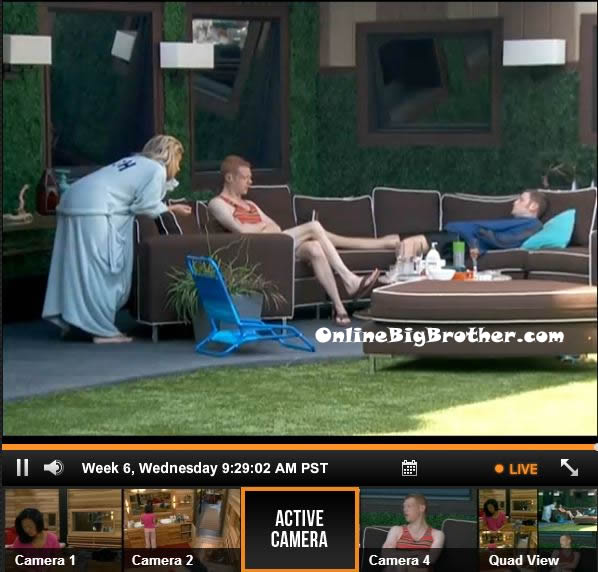 9:40am Jessie asks Judd why are all these rumours about you and Aaryn. (Jessie is jealous about Judd hanging out with Aaryn.) Judd says we are just friends. Jessie asks so are you all working together. Judd says no we are just friends we don't hang out any more than anyone else. Jessie asks why he always gets weird about it when someone asks him about it. Judd says other people make it weird. Andy joins them again. The conversation turns to each of them wanting to win HOH this week. Andy gets up to fill the pool with water. Jessie tells Judd he got really defensive about the bed the other day. Judd asks what's on your mind? Jessie says I am just trying to get to the bottom of it. Judd says there's nothing to get to the bottom of. Jessie heads inside to change her mic.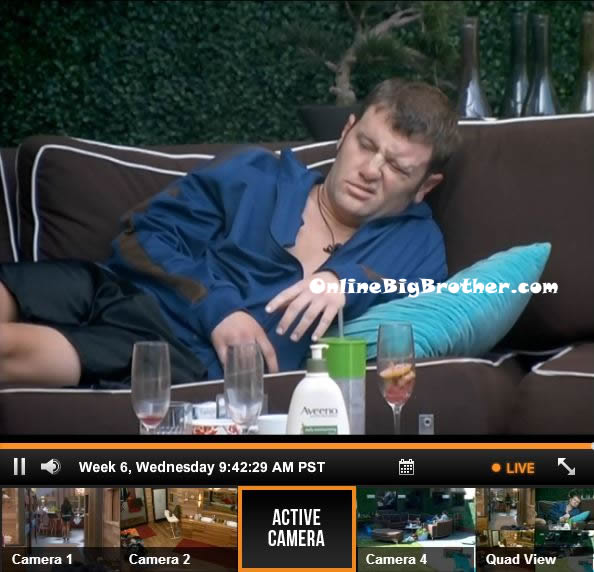 9:55am – 10am In the bathroom – Helen talks to Amanda while she is in the shower. Helen says that it's Candice that wonders why people want to keep Amanda over her and Spencer. Helen mentions that she thinks he will try and throw it anyways because he doesn't want blood on his hands. They talk about voting out Judd and how they have the numbers to do. They discuss how Jessie is trying to help Candice because Jessie knows she is next and low on the totem pole. Helen tells Amanda if she wins HOH she will put Judd and Jessie up. Hellen says that Judd needs to go. Helen says we need to blind side Jessie and Judd, I don't want them to know it's coming. Amanda agrees. Helen leaves the bathroom.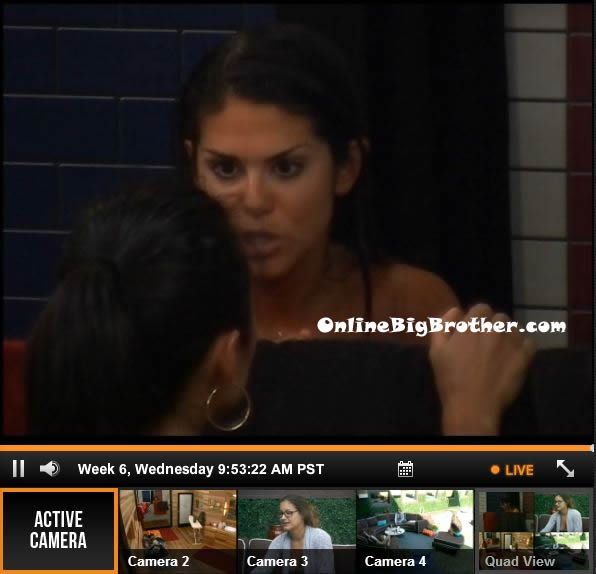 10am – 10:20am Judd talks to Amanda in the bathroom about how upset Gina got that Helen and Elissa slept in her bed. Judd comments that Jessie needs to go, we need to blind side her. They talk about how Jessie is trying to protect Candice and they don't understand why. Judd says that if something shaddy goes down I will put Jessie and Candice up on the block. Amanda says if you, McCrae or Helen win HOH we still have the votes if I happen to go up on the block again from the MVP. They talk about being optimistic and not thinking that Amanda will continue to go up. Amanda says that if it's the same person putting me up its probably pissing them off that its not working. It will piss off the live feeders. Amanda says the MVP twist will probably go soon. Aaryn joins them. Judd comments to Aaryn that Jessie was acting weird about us and asking questions. Judd says that he is about f**king over it, on a personal level I am over it. It's not like I can drive down the road and escape from her. Judd then tells Aaryn about Ginamarie flipping out about Helen/Elissa sleeping in Nick's bed. Aaryn says I am getting frustrated with that. Aayrn says you know when you lie a lot and it becomes true in your head – She truly believes Nick likes her and he doesn't. When she gets out of here and he tells her he doesn't want to have anything to do with her, she is really going to need therapy.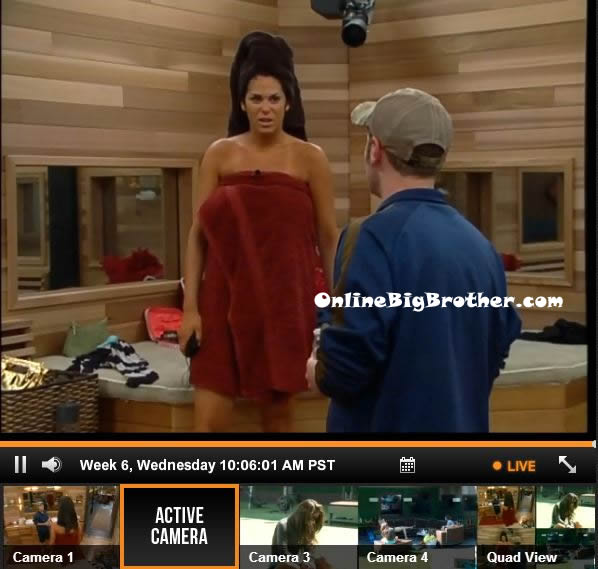 10:30am – 10:50am Out on the backyard couch – Helen tells Judd that Jessie is telling me that you guys are kissing and stuff. I don't know if she is telling other people or not. It's just really bad for your game. Judd says yeah I want her out bad. Helen says I just wanted to tell you that, don't say it came from me. Aaryn joins them and the conversation ends. Helen goes back to running. Aaryn starts talking about zits. Amanda and Andy join them. They talk about how after Jessie goes home it is going to get harder to send people home. Aaryn says that its a good thing if we feel emotional about sending people home once we get to jury. Amanda says that she will play this game on game play even if one of the people in the end got me out I will vote for them if they had a better game. Andy and Judd agree. Aaryn says I have never been able to lie in my real life so it was hard to switch who you are when you come in here. Amanda agrees. Helen joins them and they talk about Amanda/McCrae's wedding next week. Aaryn asks who would walk done the aisle with me, I guess Ginamarie but I am not going to be the man. She can be the dyke. Amanda starts talking about how she asked her sister to make another facebook page and twitter account for her once the cast was released. She then yells at the camera for people who are watching to contact her sister Amy Zuckerman on facebook and.. Big Brother cuts the feeds. When the feeds come back, Amanda talks about wanting to come back again on anther season. Amanda thinks Ginamarie would be called back too. Aaryn says no she won't they can't handle her, you need to be good at game play too not just bat sh*t crazy.
10:55am The conversation turn to the bed situation. Aaryn says she has slept with everyone in the house, I am a big wh*re! Aayrn says Judd and her almost slept together but he was scared. They talk about how crazy Jessie would be if they did share a bed. Aaryn says that she was so scared of sleeping with Howard because Jessie said she did week one and she said that he was feeling her up and stuff. I was just so scared of him and his big lips.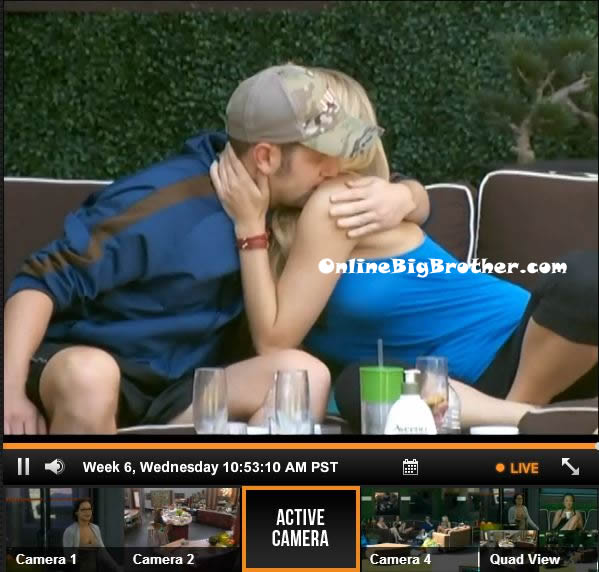 Use the Big Brother Live Feeds to FLASHBACK to SEE what they can't show you on TV:
BB15 N!p Sl!ps / N*des