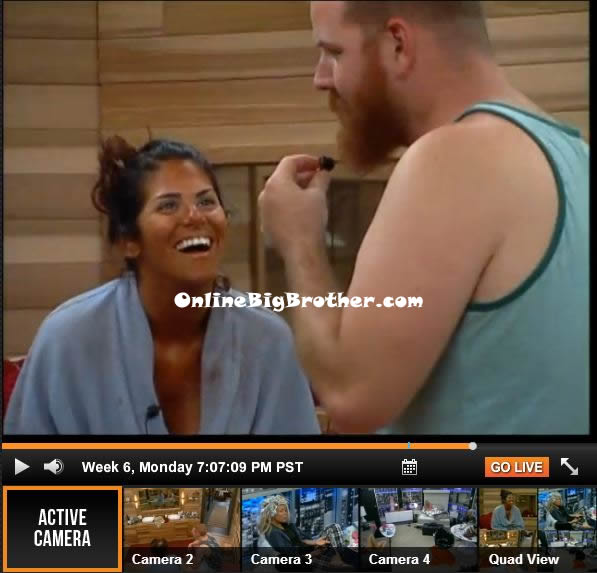 With all the controversy surrounding this seasons Big Brother 15 cast over their racial, homophobic and misogynistic comments aren't bad enough, recently Spencer Clawson "joked" about mast*rb@ting to ch!ld p*rn. As a result after being alerted to the disgusting comments he made the police from his home town immediately investigated him to determine if charges should be laid against him. Understandably, this is a VERY serious matter and it is great to hear that comments like this are not taken lightly. This cast of Big Brother house guests will likely feel the BIGGEST backlash from their comments / views that they have expressed inside the house.
"Big Brother" contestant Spencer Clawson just learned a valuable lesson about child p*rn … don't even joke about that crap … because cops will go after you.

In case you didn't see the clips from this week — Clawson goes off on this really uncomfortable riff about child p*rn, saying, "I like to be@t off to child p*rn. Did I ever tell y'all about that? I love it. Beat!ng off to child p*rn is my favorite thing there is."

You'd think he'd stop there, but no … he kept going, saying, "I love it when they're around three or four years old. My favorite ones are when you can tell they're in a basement."

And the jokes didn't go unnoticed … especially by Spencer's hometown police in Arkansas.

Chief AJ Gary from the Conway Police Department in Arkansas tells TMZ, "The Conway Police Department was alerted to comments made. Due to the nature of the comments, our department moved quickly to look into the matter. At this time we haven't found that any criminal act was committed."

Good news, but still … don't make child p*rn jokes. They're not even funny.
LIVE FEED TIME STAMP: WEEK 6 Monday August 5th, 2013 – 7:07pm Camera 1 and 2
Big Brother 15 Live Feeds: FREE 2 DAY TRIAL
Spencer's employer Union Pacific comments on the issue:
Due to the volume of feedback Union Pacific has received from the public about Spencer Clawson's August 5 comments on the CBS reality show Big Brother 15, the company wants to reiterate that it has taken all the action it can under the Collective Bargaining Agreement until Mr. Clawson is released from the show. Mr. Clawson took an unpaid leave of absence to participate on Big Brother 15. Union Pacific has notified law enforcement of Mr. Clawson's August 5 comments.
Source: https://www.uprr.com/
Source: TMZ.com
Use the Big Brother Live Feeds to FLASHBACK to SEE what they can't show you on TV:
BB15 N!p Sl!ps / N*des